Imagine an airport. What are the first things that come to mind? A cavernous terminal, information displays, long queues, baggage claim conveyors, arriving aircraft waiting to be fueled and catered for imminent departure. Airports have a tight flight schedule with its associated staff management, passenger processing, attention to minute detail, and much more. Airport automation speeds up the processes and improves the quality of service.
We have addressed best practices for
modernizing airline operations
and put our talents to work for
Merlot Aero
advance airline management
. In this article we will take a detailed look at main airport operations and the ways integrated software solutions can facilitate them, as well as describe some integrated airport management suites from key vendors.
Our article consists of two major parts: a general overview of key airport operations, and the description of some of the most widely used solutions on the market. If you know the basics, just skip the first part and go straight to the second one.
Airport operations breakdown
Airport management solutions and key vendors
Airport operations
Before we learn about the software, let's start with the main airport operations. They can be divided into four types: landside operations, airside operations, billing and invoicing, and information management.
Landside operations
are aimed at serving passengers and maintenance of terminal buildings, parking facilities, and vehicular traffic circular drives. Passenger operations include baggage handling and tagging. Terminal operations comprise resource allocation and staff management.
Airside operations
include aircraft landing and navigation, airport traffic management, runway management, and ground handling safety.
Billing and invoicing operations
cover aeronautical and non-aeronautical revenue. Ledger or accounting systems contain information regarding airport finances: flight bills, handling invoices, cash, sales within the airport (points-of-sales), staff payrolls, etc.
Information management
relates to the collection and distribution of daily flight information, storing of seasonal and arrival/departure information, as well as the connection with airlines.
Airport management systems
, as airport software is often called, serve to optimize all these operations: passenger processing, baggage tagging and handling, arrival/departure operations, departure control systems, information distribution, and air traffic control (ATC). Airport software can also include other solutions, like CRMs and environmental management systems. Let's take a closer look at the modules of airport management software.
Modules of airport management software
Airport management systems usually have most of the following modules, but they are not limited to them.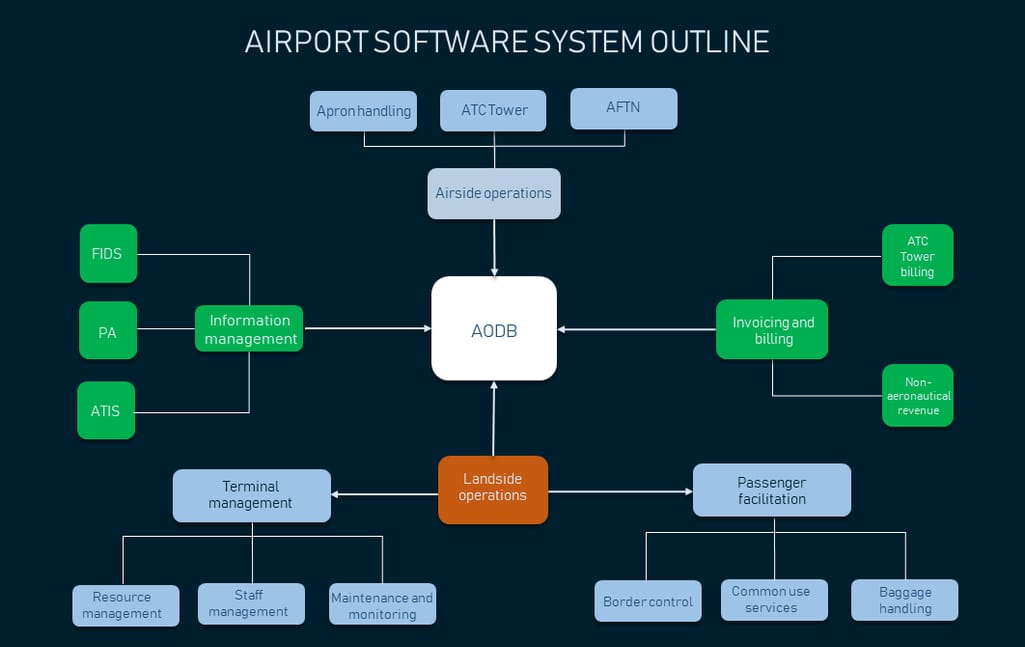 Airport software system
Airport Operational Database (AODB)
Software providers:
Amadeus IT Group, Leidos, SITA, Rockwell Collins, Siemens
Each airport has its own central database that stores and updates all necessary data regarding daily flights, seasonal schedules, available resources, and other flight-related information, like billing data and flight fees. AODB is a key feature for the functioning of an airport.
This database is connected to the rest of the airport modules: airport information systems, revenue management systems, and air traffic management. The system can supply different information for different segments of users: passengers, airport staff, crew, or members of specific departments, authorities, business partners, or police. AODB represents the information on a graphical display.
AODB functions include:
Reference-data processing
Seasonal scheduling
Daily flight schedule processing
Processing of payments
The most important information that this database holds is the seasonal schedule. It displays information about commercial flight movements for a season. Usually, it contains the flight code, type of aircraft, their estimated arrival and departure times, multi-stop flights, operation days of the week, exception dates, and other relevant information. This information entered manually or downloaded allocates such resources as arrival or departure gates, air-bridges and stands, check-in desks.
While AODB stands alone and doesn't belong to any operations, it is the backbone of the airport. Information stored in AODB facilitates the planning and allocation of the physical and financial assets of an airport.
Landside operations
Software providers:
SITA, Rockwell Collins, NEC, ISO-Gruppe, Vanderlande, Cognex, Sabre
Operations performed by this module include terminal operations and airline departure control: passenger check-in, customs, baggage handling, screening, etc. Some airports have
automated biometric control
. Passenger data is integrated into the border management system that allows the appropriate personnel to check a passenger in the databases. Let's look at the services integrated into the airport management software.
Passenger facilitation
services
include passenger processing (check-in, boarding, border control) and baggage handling (tagging, dropping and handling). They follow passengers to the shuttle buses to carry them to their flights. Arrival operations include boarding control and baggage handling.
Border control
(customs and security services)
. In airports, security services usually unite perimeter security, terminal security, and border controls. These services require biometric authentication and integration into government systems to allow a customs officer to view the status of a passenger.
Baggage handling.
Obviously, a passenger must check a bag before it's loaded on the aircraft. The time the baggage is loaded is displayed and tracked until the destination is reached and the bag is returned to the owners.
Common Use Services (self-service check-in systems).
An airport must ensure smooth passenger flow. Various
digital self-services
, like check-in kiosks or automated self-service gates, make it happen. Self-service options, especially check-in kiosks, remain popular. Worldwide in 2018, passengers used kiosks to check themselves in
88 percent of the time
.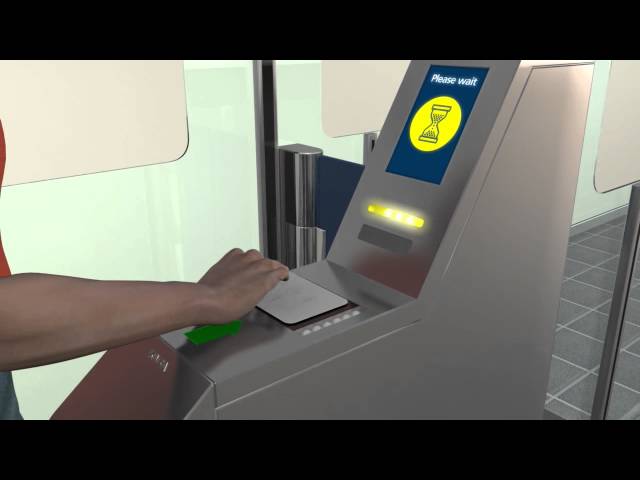 Self-boarding gates at Gatwick Airport
Other landside modules include:
Terminal management.
The software Includes maintenance and monitoring of management systems for assets, buildings, electrical grids, environmental systems, and vertical transportation organization. It also facilitates staff communications and management.
Staff management. 
Staff modules provide the necessary information about ongoing processes in the airport, such as data on flights (in ICAO or UTC formats) and other important events to keep responsible staff members updated. Information is distributed through the airport radio system, or displayed on a PC connected via the airport LAN or on mobile devices.
Reporting.
This module allows the staff to see data on screen or in print to understand the effect of the ongoing processes on business decisions and overall functioning of the airport. Also, it can include reports from airlines, aircraft, operators, hourly activity of passengers and aircraft, movement types, etc. They include an aircraft's timetable, routes, and destinations, as well as traffic distribution.
Air Traffic Management
Software providers
: AIS, Adacel, Transoft, Pacific Controls, SITA, ACAMS Airport Tower Solutions
Airside operations comprise control and facilitation of aircraft handling and parking. This includes air traffic control equipment and management solutions for air navigation. Most airside solutions are oriented toward aeronautics and plane allocation.
Aeronautical Fixed Telecommunication Network (AFTN) Systems
. AFTN Systems handle communication and exchange of data including navigation services. Usually, airports exchange traffic environment messages, safety messages, information about the weather, geographic material, disruptions, etc. They serve as communication between airports and aircraft.
Software for aeronautical telecommunications stores flight plans and flight information, entered in ICAO format and UTC. The information stored can be used for planning and statistical purposes. For airports, it's important to understand the aircraft type and its weight to assign it to the right place on the runway. AFTN systems hold the following information:
Aircraft registration
Runway used
Actual time of landing and departure
Number of circuits
Number and type of approaches
New estimates of arrival and departure
New flight information
Air traffic management is performed from an ATC tower.
ATC Tower.
 The Air Traffic Control Tower is a structure that delivers air and ground control of the aircraft. It ensures safety by guiding and navigating the vehicles and aircraft. It is performed by way of visual signaling, radar, and radio communication in the air and on the ground. The main focus of the tower is to make sure that all aircraft have been assigned to the right place, that passengers aren't at risk, and that the aircraft will have a suitable passenger boarding bridge allocated on the apron.
The ATC tower has a control room that serves as a channel between landside (terminal) and airside operations in airports. The control room personnel are tasked with ensuring the security and safety of the passengers as well as ground handling. Usually, a control room has CCTV monitors and air traffic control systems that maintain the order in the terminal and on the apron.
Apron Handling
. Apron or ground handling deals with aircraft servicing. This includes passenger boarding and guidance, cargo and mail loading, and apron services. Apron services include aircraft guiding, cleaning, drainage, deicing, catering, and fueling. At this stage, the software facilitates dealing with information about the weight of the baggage and cargo load, number of passengers, boarding bridges parking, and the ground services that must be supplied to the aircraft. By entering this information into the system, their costs can be calculated and invoiced through the billing system.
Invoicing and billing
Software providers:
Amadeus IT Group, AIS, Damarel Systems International LTD, iFIDS.com Inc.
Each flight an airport handles generates a defined revenue for the airport paid by the airline operating the aircraft. Aeronautical invoicing systems make payment possible for any type and size of aircraft. It accepts payments in cash and credit in multiple currencies. The billing also extends to ATC services.
Depending on the aircraft type and weight and ground services provided, an airport can calculate the aeronautical fee and issue an invoice with a bill. It is calculated using the following data:
Aircraft registration
Parking time at the airport
Airport point of departure and/or landing
Times at the different points of entry or departure
The data is entered or integrated from ATC. Based on this information, the airport calculates the charges and sends the bills.
Revenue management
. Non-aeronautical revenue management systems are comprised of accounting systems, business intelligence, payrolls, and revenue from ground handling services in airports.
Information management - Airport information systems (AIS)
Software providers:
Rockwell Collins, Siemens, Ultra Electronics Holdings, Amadeus IT Group, SITA, iFIDS.com Inc
This category includes all types of software that collect, distribute, and update information from around the airport, including public address systems and
flight information display systems (FIDS)
. They receive data from airlines and terminals, data on time and gates of arrival that must be sent to the passengers. However, they also can display marketing information or any other non-flight-related types, for example, weather or news broadcasts.
Airport information systems include flight information display systems (FIDS), airport announcement or public address (PA) systems, and automatic terminal information service (ATIS).
Flight Information Display Systems (FIDS)
exhibit the status of boarding, gates, aircraft, flight number, and other flight details.  A computer controls the screens that are connected to the data management systems and display up-to-date information about flights in real time. Some airports have a digital FIDS in the form of apps or on their websites. Also, the displays may show other public information such as the weather, news, safety messages, menus, and advertising. Airports can choose the type, languages, and means of entering the information, whether it be manually or loaded from a central database.
Airport announcement systems or public address (PA) systems
 inform passengers and airport staff about any changes and processes of importance, for instance, gates, times of arrival, calls, and alerts. Also, information can be communicated to pilots, aircraft staff, crew, etc. PA systems usually include voice messages broadcasted through loudspeakers.
Automatic Terminal Information Service (ATIS)
broadcasts the weather reports, the condition of the runway, or other local information for pilots and crews.
Some airport software vendors offer off-the-shelf solutions to facilitate particular tasks, like maintenance, or airport operations. However, most of them provide integrated systems that comprise modules for several operations. Let's look at some of them.
Airport management software solutions and vendors
A small
travel disruption
can have significant consequences. As the airport is a large structure that requires tracking, processing, and maintaining many procedures at once, integrated solutions can be a good choice for management contrasted with multiple software programs jumbled together.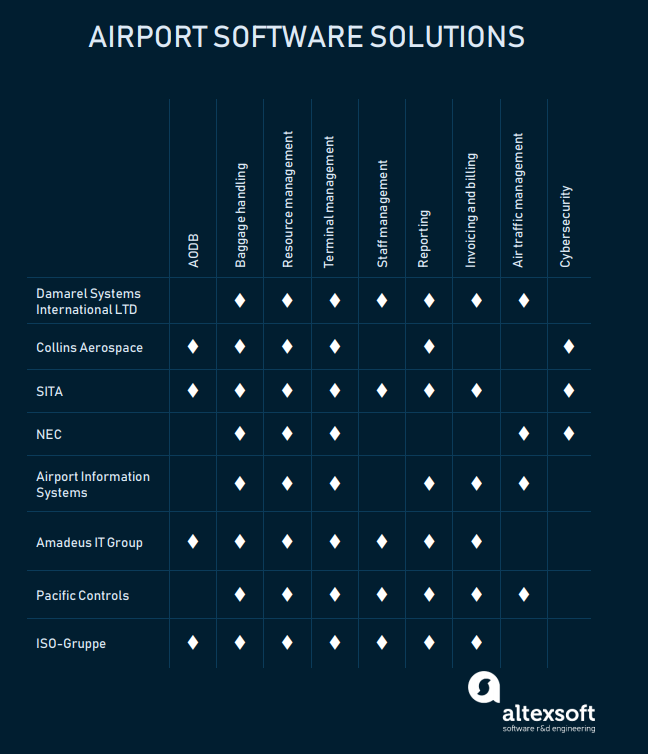 Integrated airport software solutions
Damarel Systems International LTD
Damarel Systems International
offers software solutions for airlines and airport operations. Airport software solutions cover passenger processing, ground handling, and information systems.
There are three solutions for airport management: Ground Handling and Ground Operations Software, Passenger Handling Software Solutions, and Passenger and Airport Security Software Solutions.
Ground handling and ground operations software.
For airport terminal operations Damarel Systems International offers
FiNDnet Suite,
a cloud-based solution. It includes accounting and flight information systems as well as revenue and management modules. The suite modules are:
FiNDnet Operations and FiNDnet Allocations for ground handling
FiNDnet Shift Optimiser for staff management
FiNDnet Services, FiNDnet Revenues, FiNDnet Billing for billing and revenue management
FiNDnet Resources and FiNDnet Demand Planning for resource planning and allocation
FiNDnet Mobile for module software application
FiNDnet Dashboards for business intelligence
FiNDnet FIDS
Passenger handling solutions
are represented by the following modules:
Local DCS for airline departure control and a graphical user interface for airline departure control system called Babel CLF. This module also supports baggage handling.
Embark, a passenger boarding solution with portable version EMBARKmobile, supports self-boarding gates and is compatible with 2D barcode readers.
LodeStone is a load control solution.
Backup DCS supports passenger check-in processing.
Babel ZIP, a middleware solution, enables native airline applications to run on common use platforms.
Passenger and airport security software.
The vendor offers two border control solutions: Vanguard, a self-service solution for large airports with biometric scanning and business intelligence, and Aura, a solution for small and mid-size airports.  Aura replaces check-in and gate facilities with Common Use equipment, which allows for boarding pass scanning and bag tagging functionality.
Damarel Systems solutions work in compliance with third-party management systems, Common-Use Terminal Equipment (CUTE) and Common Use Passenger Processing Systems (CUPPS). Depending on airport requirements, the software can be customized.
Collins Aerospace
Collins Aerospace
, formerly known as Rockwell Collins, Inc, provides solutions for airport self-service, baggage handling, and staff management, as well as landside operations. Collins Aerospace solutions can be easily integrated into existing systems already in use at airports. The product can be deployed both in the cloud and on-premise. Collins Aerospace offers the following categories of airport management operations:
Passenger processing and self-service solutions.
ARINC SelfServ, ARINC Automated Passport Control (APC) Kiosk is a passenger facilitation solution with biometric identity management. Check-in kiosks integrate with passport reading devices, card readers, security cameras, biometric systems, and allow the travelers to tag their baggage. Collins Aerospace common use systems have multi-user system environment (MUSE) applications.
ARINC OnVoy is a solution for remote check-in, also used on cruises.
ARINC SelfDrop is a baggage tag and check-in solution.
Passenger facilitation and biometrics solutions
ARINC Automated Border Control – a system with facial recognition technology and biometric authentication, streamlining border crossing and check-in
ARINC Border Management Solutions and ARINC Electronic Borders – solutions for border control and customs management
ARINC SelfPass – a solutions for biometric authentication and check-in
Airport operations solutions
ARINC AirDB – AODB for data storage, network integration, and information management
ARINC AirVue FIDS platform and ARINC AirPlan – for scheduling and resource management
ARINC AirTQM for turnaround management
ARINC AirPlan – planning and resource allocation solution
Baggage handling systems.
ARINC SmartBag, BagLink, BagMatch, ExpressCheck, and ExpressDrop
Security solutions.
ARINC AIM Physical Security and ARINC VeriPax, and ARINC airport cybersecurity
Also, Collins Aerospace offers maintenance and management services with its
ARINC Managed IT services
program.
SITA
SITA
is a leading vendor of aeronautical software that is used by over 1,000 airports worldwide. SITA offers solutions for airport commercial management. Airport solutions by SITA are cloud-based and cover passenger processing, border control, cybersecurity, business intelligence, airport operations, marketing, day-of-travel services, and near-field communications (NFC). SITA solutions are available in mobile mode.
Airport solutions by SITA include:
Airport commercial management
– solutions for staff management, airport revenue management, marketing, passenger processing, data management, and business intelligence.
Airport operations
– SITA Airport Management includes:
AirportCentral, an AODB and billing module
AirportResource Manager for staff and internal management
AirportVision, a FIDS system, and AirportVoice for information management
SITA ControlBridge, a solution for airport operation management for controlling all operations and airport technologies from one place, with a business intelligence module.
Baggage processing
– SITA BagDrop for baggage check-ins, tracking and recovery, and payments. Also, SITA has solutions for baggage control: BagFast for bag tagging, BagJourney for bag tracking, BagManager for real-time status information, and a BagMessage, which allows passengers to receive messages about their baggage status.
Enterprise management
– SITA Airport MSI (master system integration) monitors the construction and operations of the terminals. It includes a safety monitoring module.
Information and infrastructure management
– SITA's Airport Infrastructure Management suite includes data protection mode, operational messaging, SITA Connect and SITA CyberSeciruty.
Passenger processing
– SITA Smart Path solution with Airport Self-Service Gates and barcode reader, as well as biometric information processing and e-passport reading.
NEC Air Traffic Control and Airport System
NEC
, a Japanese vendor that provides solutions for over ten industries, is a leader in biometric technologies. Their solutions for airports include Civil Aviation Solutions and with the following solutions:
Air Traffic Control and Airport System.
This solution provides modules for such purposes as:
Airport communications (Automatic Dependent Surveillance (ADS) and Controller-Pilot Data Link Communications (CPDLC)
Navigation (Ground-Based Augmentation System), MTSAT-Satellite-based Augmentation System, MSAS Service Volume Monitor System)
Surveillance (Airport Surveillance Radar, Secondary Surveillance Radar)
Air Traffic Control (Transportable Radar Control System and Automated Radar Terminal System)
Airport operations (FIDS, Bird Detection System, Stand management system)
Biometric authentication.
NEC's bio-idiom solution NeoFace delivers biometric identification to airports. This immutable authentication establishes identity using:
Face recognition
Iris recognition
Fingerprint and palmprint recognition
Finger vein recognition
Voice recognition
Ear acoustic authentication
Airport Information Systems
AIS
offers a solution that links the information from FIDS to the airport websites. The vendor also offers its Fuel System with manual input of oil sold and sales analysis report. The software accepts carnet cards.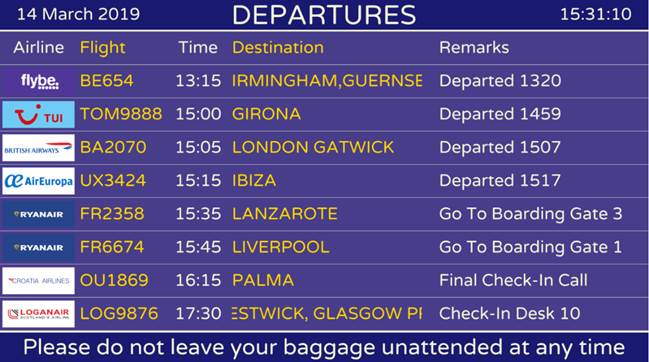 AIS Flight Information Display Source: AIS
This vendor provides the following products for airport operations:
Airport Flight Information Display
Airport Landing Dues Information System (ALDIS) for airport operations management
Cash Invoicing System
Air Traffic Control Administration System
Real Time Apron Management System
ATC Over Flight Billing System
Fuel System
Handling Agent System
Ledger Accounting
Reports System (Timetable, Traffic Analysis Reports, Operations and Hourly Activity)
Boarding control systems (Gate Guardian and Security Sentinel). Gate Guardian allows airport staff to check e-boarding passes at the gate, while Security Sentinel allows passengers to process their luggage. It also has a reporting tool.
AIS partners with
AVIAVOX
to provide multi-lingual flight announcements that update in real time with FIDS.
Amadeus IT Group
One of the leading providers of travel software solutions,
Amadeus IT Group
offers IT products for airports. Amadeus offers its own AODB in compliance with the
Airport Decision-Making platform
. Besides solutions for landside and airside management, Amadeus provides solutions for non-aeronautical revenue (passenger sales and advertising) and
Airport Collaborative Decision Making (A-CDM)
.
The other Amadeus products for airport operations are:
Amadeus FIDS
Amadeus Virtual Airfield Management System (VAMS) – ATC tower solution
Amadeus Resource Management System, Amadeus Fixed Resource Management System (F-RMS) – resource management solutions
Amadeus Baggage Reconciliation Solution (BRS) – baggage processing solution
Amadeus Airport Sequence Manager and Amadeus Turnaround Management – solutions for ground handling
Amadeus Extended Airline System Environment (EASE) – provisioning environment to run airline check-in and boarding software
Amadeus Airport Common Use Service (ACUS) – a cloud management solution for passenger processing
Amadeus Passenger Verification – passenger check-in service with DCS integration
Amadeus PROPworks – payment and administration tools
Also, Amadeus offers
Amadeus Airport Link
, a service for the integration of their software solutions. Another solution for airport customer support training is
Amadeus Customer Services for Airports
, which offer online training and an online hub where airport employees can find the necessary information.
Pacific Controls
Pacific Controls
developed Converged Integrated Airport Solutions (CIAS) for airport automation. These solutions cover all airport operations, including safety and security for both buildings and aircraft. Disparate systems converge on an IP-based platform that facilitates data mobilization using open standards protocols like BACnet, LonWorks, EIB, OPC, XML/SOAP, SNMP, Modbus/TCP. The system's flexibility allows users to add more systems in the future.
CIAS is an integrated system that unites the following modules in one solution:
Reporting, planning, data management (Airport Business)
ATC, passenger facilitation, baggage handling, cargo and transport operations, FIDS, resource control (Airport Operations & Maintenance)
Terminal and field alarming, CCTV, Access Control (Airport Security)
Alarms, seat monitoring, field alarms (Airport Safety)
Airport communications
ISO-Gruppe SKYport
German vendor
ISO-Gruppe
provides software with an integrated, cloud-based solution for airport management –
SKYport Airport Management Suite
. The solution covers air traffic management, apron handling, aeronautical billing, reporting, cargo and collaborative decision-making (CDM). SKYport has a mobile version for tablets and other portable devices. A CDM module features the management and monitoring of aircraft handling and provides a communication platform for airport staff.
SKYport Suite comprises:
Airport operations solution. 
The stem of this system is
SKYport Airport Operational Database (AODB)
, with such modules as:
SKYport Connect – a module for integration with third party systems
Daily Flight Management
SKYport Care – a web and mobile module for processing passengers with reduced mobility
SKYport Billing and Baggage Delivery applications for automated invoicing
SKYport Customer Portal – a module for integration of flight information with airport websites
Reporting and BI solutions:
SKYport Reporting – comprehensive reports in HTML, XML or XLS formats
SKYport Business Intelligence – a module that integrates data from the billing system and creates reports. Another module for BI is SKYport BI for SAP, which creates official traffic statistics and compares the data in Web or Excel. The Business Intelligence module performs strategic planning and analyzes different scenarios.
Ground handling solutions:
SKYport Resources – a module for ground handling and allocation of immobile resource management (gates, parking positions, baggage conveyor belts).
SKYport Activities – a module for staff management and task assignment
SKYport FIDS – flight information display with integrated Web services (weather, advertising, news stream)
Air cargo handling solution
SKYport Cargo
Niche vendors: Sabre, ACAMS, Vanderlande, Cognex, iFIDS.com Inc
Besides complex solutions that cover all or almost all airport management functionality, there are many providers that target a specific functionality. Here are some of them:
Sabre AirCentre
– a suite for airport management by Sabre that focuses on staff management (Staff Planner, Staff Manager, Staff Admin), gate planning and allocation (Gate Manager and Gate Planner), and accounting (Roster Maker and GSE Planner).
ACAMS Airport Tower Solutions
– an integrated solution provider for air traffic monitoring and ATC Tower systems control. It consists of I-TWR, a solution for signal control and air traffic information distribution, ATIS information system for text/data to speech message generation, Technical Control & Monitoring (TCMS) for disruption control, and Airfield Lighting Control & Monitoring (ALCMS).
Vanderlande
– solution for baggage tracking and passenger processing. They offer BAGFLOW and VIBES software suites for baggage handling automation and screening, and a PAX Checkpoint for passenger processing.
Cognex
– RFID compatible baggage handling solution.
iFIDS.com Inc.
– a FIDS and billing software solution provider.
The future of airport operations management
Seamless passenger flow, up-to-date information, and air traffic management are the keys to successful airport functioning. Global technological development impacts airports, creating new opportunities and challenges. In the next three years, airport IT operations will focus on cloud solutions, business intelligence, and cybersecurity, according to
Air Transport IT Insights 2019 by SITA
. Let's briefly look at the future of those trends:
Passenger self-service solutions
. As airports are striving to reduce wait time, they're investing in a variety of self-service solutions. These will include not only passenger check-in kiosks, automated boarding gates, baggage drop and smart tracking, but also mobile integration of airport information systems
Facial-recognition and biometric ID management.
Seventy-seven percent of airports plan to launch programs in biometrics ID management in the next three years.
Business intelligence
.
Airports are planning to improve operations using business intelligence for aircraft turnaround by 2022. Eighty percent of them are planning to use BI in passenger processing and flow management, 80 percent for flight operations, and 78 percent for baggage processing.
Artificial Intelligence and predictive analytics
.  Airlines already use
AI and data science
in their operations. Almost 80 percent of airports are using them in customer service too or plan to use them in the near future as virtual agents and
chatbots
for advertising, personalization, airport and flight status information, and brand perception improvement.
Cybersecurity.
Most of the airports improve cybersecurity, investing in staff education. With 79 percent of airports investing in cybersecurity, the other priority fields for investment are telecommunications, network security, and threat intelligence.
Photo by Eric Karim Cornelis on Unsplash