This is a guest article by Carla Andre-Brown, content marketer from Mailbird
Last year, the clear path the travel industry once had was swept away. This was largely due to the COVID-19 pandemic demolishing the status quo for both international and domestic travel. Now, as the industry begins to examine what the rebuilding process will look like, there are many tools to consider adopting in order to re-establish the once thriving sector.
Email marketing is used in the travel industry to approach typical challenges, like standing out against competition or making use of collected data to create a personalized campaign.
Email can also be used to help manage the new normal. With protocols that are important to public health and safety being released sporadically, email marketing is the most effective way to keep all parties informed.
This article will explain how email marketing software manages to produce winning campaigns for travel enterprises. This guide and summary of some of the best email marketing software will help businesses learn how to find an email tool tailored to their goals.
The Challenges of Marketing to Travelers
Trust
Having a unique experience away from the comforts of home generally requires the support of the destination hosts. Travel is exciting and unpredictable, so it is essential to provide information to give the traveler confidence to counter any feelings of unease.
Protocols to address COVID-19 have made trust more crucial than ever. Marketers cannot rely on social proof like a positive review from 2019 to help convince a customer to choose them in 2021.
When the COVID-19 variants
started to emerge in the news
across North America and the UK, it challenged the travel industry again. The border restrictions became more stringent and a lot of plans had to be put on hold. Keeping customers informed still has murky waters to navigate, especially when companies must respond to government decisions that appear downstream with little warning.
Businesses are challenged to keep their audience well informed while inspiring them to jet-set. In order to instill trust, marketers have to promote safety and hygiene as their number one priority.
Personalization
Thanks to website cookies, collecting feedback and reviews, and providing opt-in preferences, marketers can create a unique
personalized experience
and build strong relationships with travelers.
Sifting through the data and applying it is a challenge because of the volume of users and unique circumstances for travel. One of the common issues with personalization is that it is perishable. Companies must focus on gathering new data all the time to ensure their offers are strong.
McKinsey.com
analyzed the state of the travel industry and suggests it is necessary to invest in understanding the customer through a new, COVID-19 era lens.
They say once marketers have looked at this new data and micro-segmented their customers, it will be easier to deploy tailored promotions and have improved results. Content strategists will have to find new ways to entice their audiences to provide more information about themselves in a time where users are growing skeptical of having their data collected.
Budget
There's of course the major concern of not having the funds to pull off research and campaign development, for instance, when facing an unforeseen decline in revenue. In the same report mentioned earlier,
McKinsey
said,
"The hotel sector has seen revenue declines more than four times greater than during the previous two crises combined."
Considering what a hotelier must lay out to market their business (website design, hosting, maintenance, SEO, social media marketing, paid ads, meta searches, etc.) the numbers add up significantly.
Marketers are under pressure
to streamline processes to not waste resources that they can use for media spending to beat out their competitors.
Finding software that can help marketers quickly reach their lists and design an attractive personalized email -- while not wasting time or money -- is no small task.
What Email Marketing Software Does
Typically a marketer needs to develop strategies and campaigns to do the following:
build a strong base of loyal, well-informed customers,
promote and boost sales,
gain exposure for a product, service, or news.
Email marketing software generally allows you to automate large parts of the process to make it easier to execute these strategies in higher volumes.
Marketers can use email marketing for a variety of tasks relevant to the travel industry. Here are a few:
List Management
Import contacts from opt-ins, bookings, and reservations.
Segment audiences for strong targeted and personalized campaigns.
Easily track the open rate and click rate to test and improve results.
Automate Interactions
Develop drip campaigns to queue up customers for the next step of their journey.
Leverage cookies to trigger campaigns based on specific behavior, like leaving a package in their cart.
Collect Feedback
Request reviews from your audience after their experience.
Enable feedback forms and surveys to learn what to offer next.
Design Great Campaign Emails
Create dynamic emails to share special offers or news.
Use a rich text editor and layout features to ensure that emails are mobile or desktop friendly.
Incorporate great images and video, or gamification concepts.
Newsletters
Nurture leads with compelling information about your product or services.
Improve your readers' upcoming experience by educating them about the area surrounding their destination.
Using a newsletter is a great way for travel marketers to show off some user-generated content.
Welcome Programs
Give your audience the chance to set their preferences and customize their experience.
Introduce the unique selling points of your brand to travelers.
Make special introductory offers like upgrading a room or adding a customized welcome basket.
Loyalty Programs
Travel Industry Wins with Email Marketing
In the past year, we have seen marketers be very compassionate and resourceful. Here are two successful email marketing campaigns that prioritize the brand's relationship with its customers.
Loyalty programs are easily supported by email marketing and fortunately, travelers are still collecting points even without a destination planned.
The Wise Marketer dubs
points
to a major part
of the travel industry's post-pandemic recovery plan.
The Hilton Honors program is a great example of points promotion. Hilton has taken advantage of email marketing to encourage users to stick with their points collection.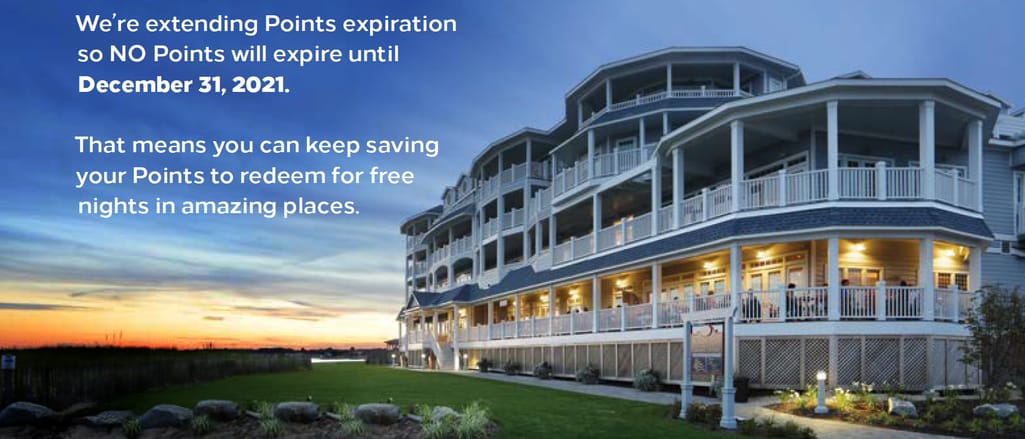 Hilton marketers are busy informing their program members about extensions and reduced tier qualifications.
The second example is from Michele Frolla at
The Intrepid Guide
. Newsletters are a great way to continue to nurture leads even when the traveler's plans are on hold. Frolla made use of her email marketing list during the pandemic to promote the language course content she's created.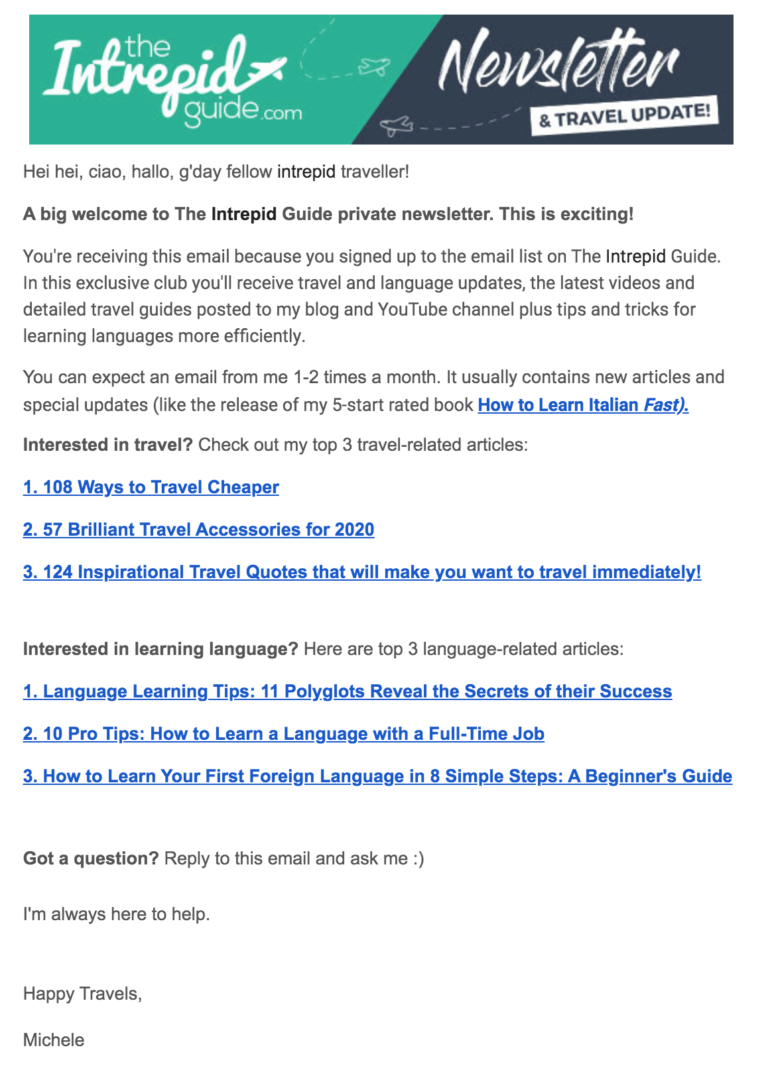 Frolla's dedication to using email marketing and affiliate marketing kept her business running even without her usual ad revenue from the travel industry
Must-have Features for Email Marketing Software
Email marketing plans come in different shapes and sizes because enterprises have different needs at different stages of their business. For instance, a campaign for an airline requires a subscription enabling the marketer to reach thousands of subscribers, whereas a small tour guide company may only need to reach a few hundred people at a time.
That tour guide company could potentially use the same software as the airline and simply choose a different plan, or they might choose a different software entirely because they feel there are too many bells and whistles for what they are trying to accomplish.
Another plan may be selected for the platform's ease of use. A clean layout and a capacity to load pages with a lot of media quickly are necessary to add personalization to travel campaigns, like when
creating a marketing video
to provide virtual venue walkthroughs. Software must reliably embed high-quality videos and look attractive.
From a research perspective, a marketer might lean on the detailed analytics that the software should include to review data like their click-through-rate. In turn, it could help them understand which products to continue to promote and which offers to restructure.
If a marketer is searching for email marketing software they'll want to investigate how well the service performs these email activities.
Transactional emails features
These are emails that a customer is often anticipating and needs in order to continue interacting with the brand.
Important notifications and alerts
Receipts
Confirmation messages
Support or status updates
Referrals
Invitations
Promotional emails features
These are emails that help the marketer increase awareness and move potential customers towards a purchase
Special Offers
New product releases
Holiday or Seasonal sales
Informative content (recipes, whitepapers, etc.)
Integration possibilities
It's worth mentioning that in tandem with email marketing software, there are various applications that integrate well with the software to make it a more powerful tool.
When looking at what integrations email marketing software has, it's common to look for the CRM system already in use, Zapier, Shopify, PayPal, and WordPress.
Many companies have expensive and established business email plans that they can't let go due to other functions it serves (perhaps its connection to the internet provider being used or because of the security it provides). When these companies adopt email marketing software, it becomes difficult to combine both the business email account and the email marketing account.
An email client can help integrate multiple inboxes, calendars and tools into one desktop application. For example, if an organization uses Google Workspace (formerly G Suite), having a
Gmail app
is a great way to keep everything organized.
Top Rated Email Marketing Software
Special attention has been given to online reviews from Trustpilot, Capterra, GetApp, and tech blogs of all five of the following products to find software that is favored for features, price, and performance.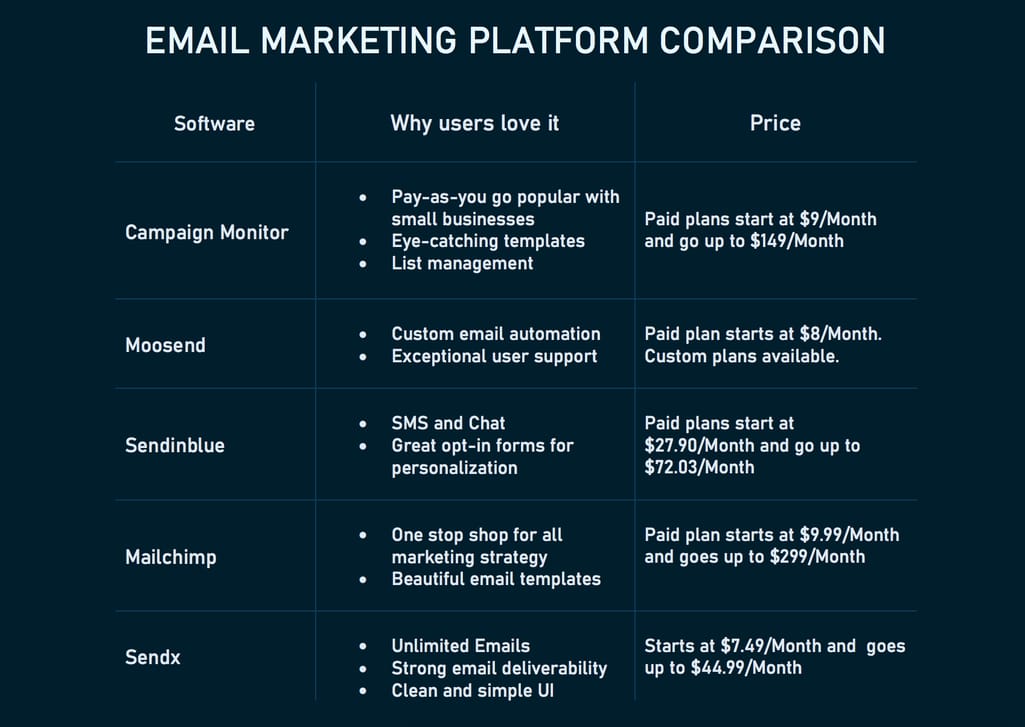 Campaign Monitor
A veteran email marketing software on this list,
Campaign Monitor
is well established and has plenty of features. Their ready-to-go templates seem to really satisfy small businesses that don't have a lot of time or resources to tinker with email designs.
The pricing starts at $9/Month and goes up to $149/Month, but they also offer a pay-as-you-go plan based on the campaign's list size and email volume. Being able to send off the occasional large-scale email without being on a plan keeps the less frequent users happy.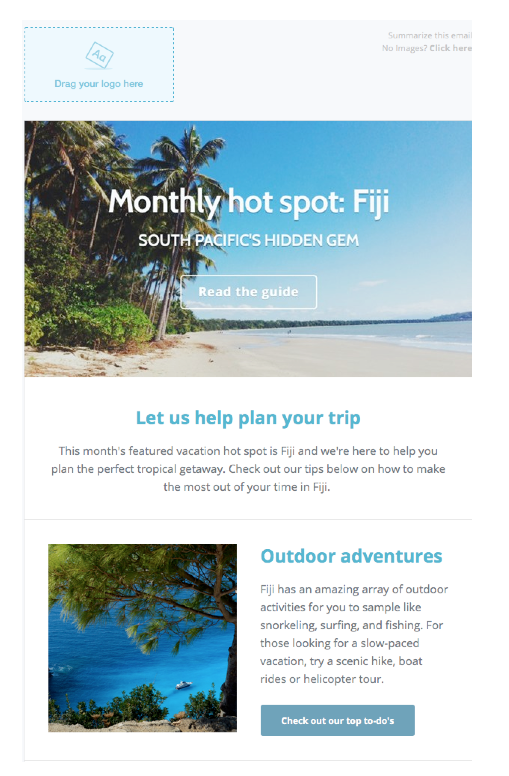 A drag-and-drop Campaign Monitor template.
Moosend
Moosend
deserves a place on this list for a number of reasons, but the primary one is that they make a point of supporting travel industry email marketers. They offer a custom email automation feature and advanced email tracking.
For users who appreciate a good trial period or free account before they continue to a paid plan (starting at $8 a month). Moosend is the best option because you'll get free unlimited emails for up to 1000 subscribers.
According to dozens of reviews, the customer support at Moosend is unparalleled. This platform is great for a budget-conscious marketer who wants to try a variety of automation components.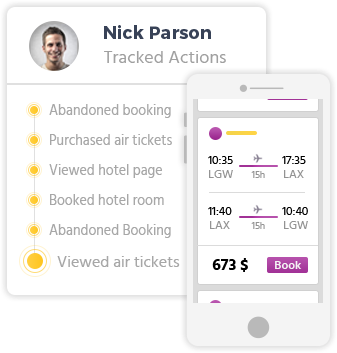 Moosend has features and templates designed for the travel industry.
Sendinblue
The most unique feature about
Sendinblue
is that they offer Chat and SMS marketing on top of email marketing. Users really like that these features are easy to set up and that their opt-in forms are detailed and allow for lots of personalization.
Instead of unlimited emails, Sendinblue offers unlimited contacts and advanced segmentation. It's another one available that's where the free version is not limited to a trial, but the number of emails (300 emails per day). Paid plans start at $27.90/Month and go up to $72.03/Month. They also have a special offer for brick-and-mortar businesses to get six months free.
Sendinblue would be particularly useful to a marketer starting off fresh and running campaigns that would be best served with a lot of personalization.

Sendinblue has a local business support program.
Mailchimp
Another veteran on this list,
Mailchimp
has been at the forefront of lead nurturing through email for two decades. It's known for serving a multitude of marketing duties from surveys to social media ads. That's why they are a one-stop-shop with apps working hard to be included in their fleet of integrations.
The free plan gets you 2000 contacts and one type of audience. Paid plans start monthly at $9.99 and go up to $299.
Mailchimp is recommended for marketers who would like to develop sleek emails alongside a comprehensive CRM and don't mind the learning curve that comes with software with so many features.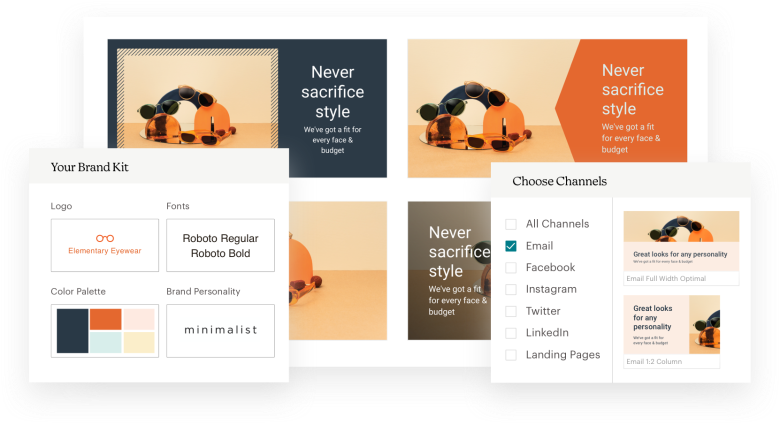 No coding experience required for Mailchimp email design
SendX
SendX
is applauded for its ease of use and a wide variety of features. They have several integrations like Zapier or WordPress, which allows them to provide landing pages with custom domains and pop-ups to help build an email list.
Most reviews consider sending unlimited emails to 1000 subscribers at $7.49/Month very reasonable. The prices increase as you add more subscribers you add. At 15,000 subscribers, users pay $44.99/Month.
The most notable features from SendX would have to be their UI and their dedication to conversion rates. With strong email deliverability, this software is great for campaigns that will involve sending lots of media-rich emails.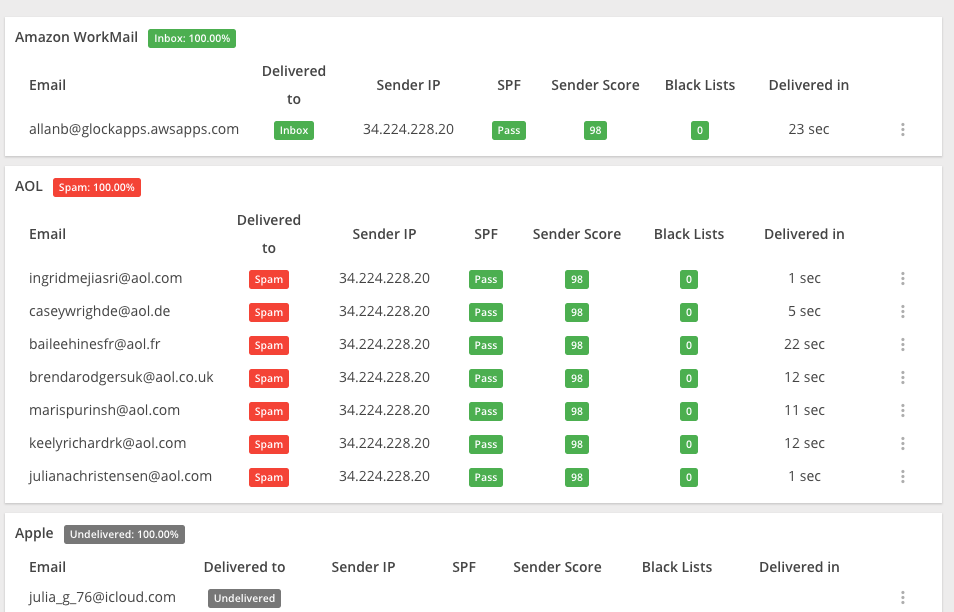 Email delivery tracking via SendX
Wrapping up
Travel companies can use any of the software listed above to develop meaningful relationships with their audience. By finding one that integrates with tools already in use, or with tools to discover, marketers can make a lasting impression and get travelers moving once again.
---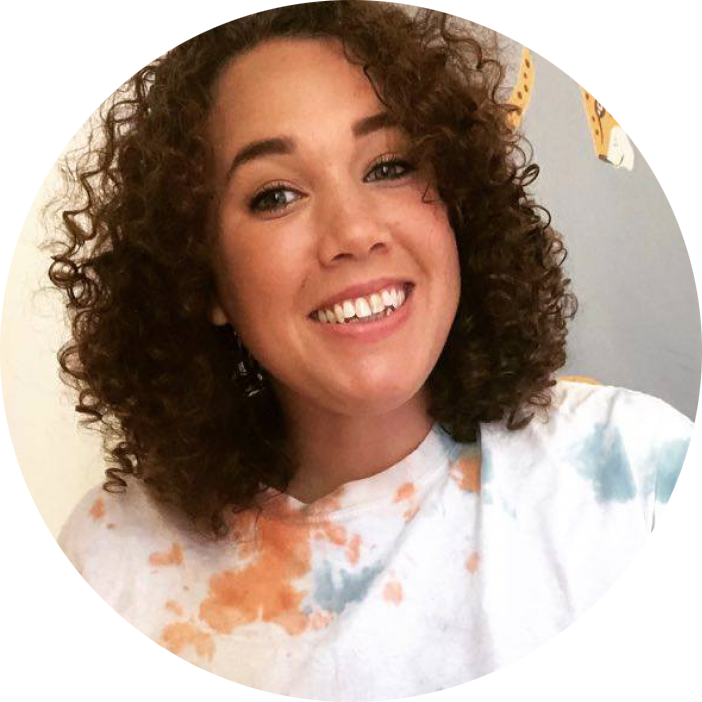 Carla is a content marketer at Mailbird. She enjoys discovering new SaaS tools and writing about creative solutions and ideas. She also teaches Digital Marketing and Social Media at BCIT. Learning about instructional design, coffee, and chuckle-worthy videos have a special place in her heart.
Want to write an article for our blog? Read our requirements and guidelines to 
become a contributor
.