Below is the technology industry news & trends report for March 2017. You can also check out our latest news & trends report to be in the loop of what's shaping the tech industry landscape today.

The speed of technology development is striking. In September, we received the final version of Angular 2.0, and this month, having skipped 3.0, Angular 4.0 is here! The latest Angular iteration is much faster than the previous one. Even the chronic laggards like the logistics and insurance industries try to reach the digital age collaborating with niche tech companies. And Google is aggressively expanding its cloud platform, challenging the top players. You can find all the above and more in this month's news and trends report.
Engineering and UX: Angular Jumps to 4 and Gains Speed
March brought us the new version of a well-known JavaScript framework – Angular. Developers claim that in some cases Angular 4.0.0 can reduce up to 50 percent of code per operation. Google used TypeScript 2.1 to write the framework, which means better type-checking and higher performance with the new version. To get deeper insights about JavaScript development, look through our recent comparison of popular JS frameworks. It's hard to make JavaScript more widely used than it is now, but it seems that Angular will manage to do so.

It's worth mentioning again that high performance on the user side means better experience and better ROI, eventually. One dollar invested in UX design can bring up to $100 in return. And recent research shows that designing a user-centric product can increase sales up to 75 percent. Think of it the next time you design something.
Cloud: Google Platform Challenges the Leaders
Google seems to have ambitious plans for its cloud platform. The company keeps on rolling out new services and tools. And the latest update is Video Intelligence API, which was announced at the Cloud Next conference in San Francisco. The new API allows users to extract insights from video, provides quick search, and recognizes separate entities from noise signals. Google says that they plan to bring their machine learning technologies closer to the developer community. (Earlier, we discussed machine-learning-as-a-service solutions from Google, Microsoft, and Amazon. Explore this story if you plan to jumpstart an ML initiative.)

In March, we got a clue that this cloud expansion by Google had already borne fruit. Coca-Cola announced that it turned to the Google cloud platform to build its new digital signage system. If you look at the Gartner enterprise aPaaS magic quadrant, Google currently occupies the "challenger" spot where the company moved from the "visionary" of the IaaS market 2016. It's a big leap in terms of ability to execute, but the corporation still has numerous barriers that don't allow it to approach the status of cloud leaders, Microsoft and Amazon.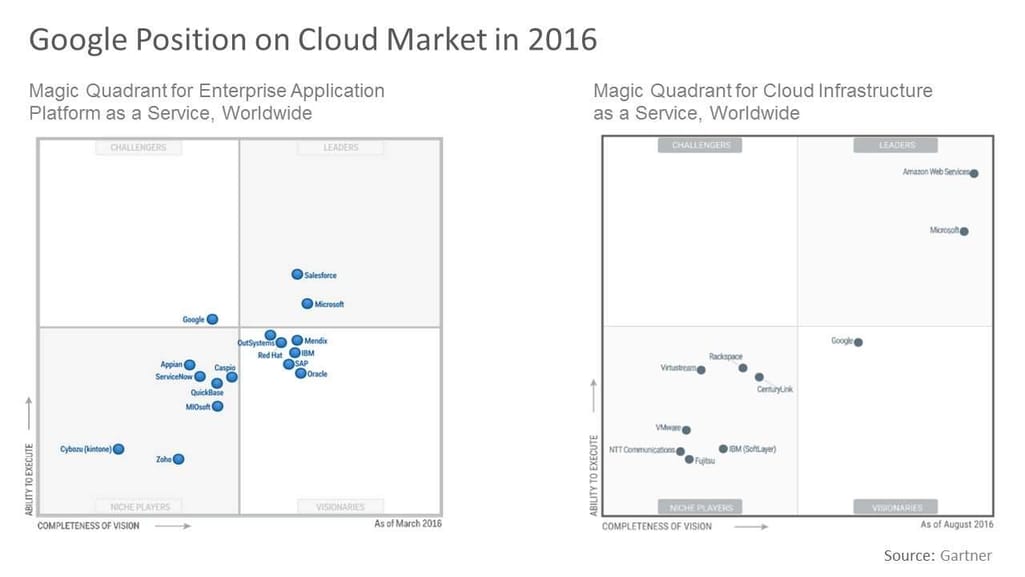 Google isn't the only one taking a run at the big-time cloud leader status. German-based SAP shows impressive results. Now the SAP Cloud Platform environment allows developers to use Java, Node.js, Python, Ruby, and Go. This rebranding is aimed at the enterprise players that are moving to a cloud. In a little while, the provider plans to expand the engineering capabilities introducing iOS tools.
Mobile: Making Fast Food Faster
Although being mobile is mainstream, there's great potential to move forward. The recent Decision-Maker Mobile Technology Survey shows that mobility and digital workspace can boost employee productivity by 25 percent on average. Even large corporations, those on the cutting edge of technology progress, continue to gain efficiency. Currently, McDonald's is testing their new mobile order and payment app. Do you think that fast food isn't fast enough? The app will significantly impact the customer experience reducing the current ordering time of 50-100 seconds to 10-15 seconds even for large orders (8-10 items). The fast food corporation says that the technology will be adopted in 14,000 US restaurants and 6,000 restaurants across the world. Deloitte argues that mobile ordering at fast food restaurants can increase visit frequency by 6 percent and average spending by 20 percent.

And a little update about you exploiting your smartphone for work. Enterprise mobility spending has gone beyond IT; now about 74 percent of it accounts for other corporate departments.
Big Data: Healthcare Stays Optimistic
There are a lot of skeptics about the future of big data adoption. Nevertheless, IDC researchers claim that this market will continue its rapid growth at least till 2020. The revenues from big data analytics-related hardware and software will grow with CAGR of 12 percent and soar from $150.8 to $210.0 billion. Businesses are becoming increasingly more data-driven. We at AltexSoft believe that big data will lead to precise healthcare, better records management, efficient treatment, and ultimately higher ROI for healthcare businesses. However, there are still some barriers.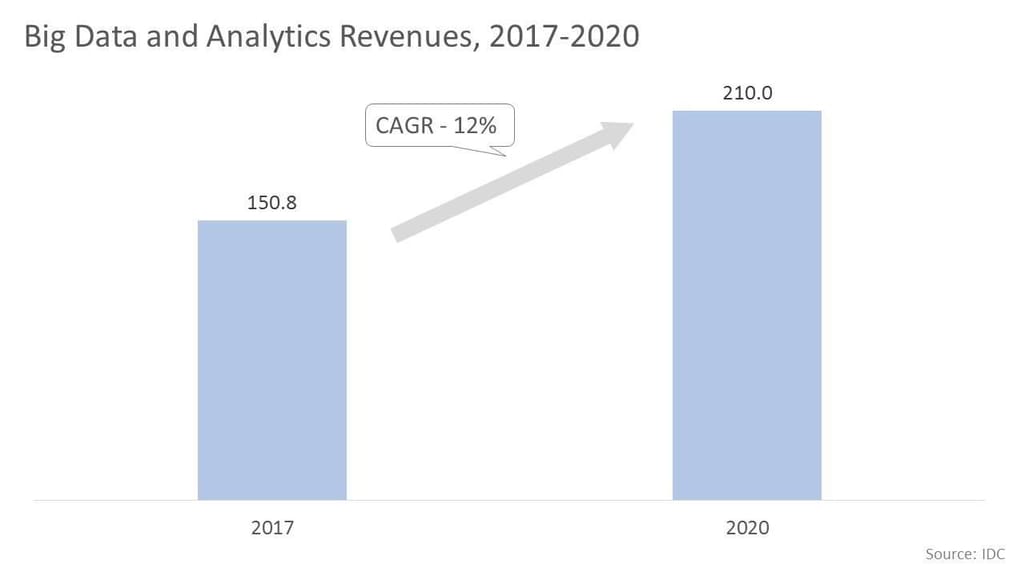 Notable examples are the lack of interoperability, difficulties with collecting data, and time required. But the industry stays optimistic. The NEJM Catalyst survey shows that over 56 percent of healthcare professionals specified effective data utilization. The use of clinical, cost, and claims data could bring many benefits. We're sure that smart data solutions can even save us from cancer in the future.

Joshua Jones, Managing Partner with StrategyWise, says:

"The main barriers to healthcare adopting big data solutions are doctors being willing to re-learn after decades of analog methodologies... and the ability to create an integrated approach that fully accounts for the strategic, technical, and statistical side of any project or endeavor."
Fintech: Insurance Struggles for Digitalization
Fintech continues to disrupt the financial services industry, opening new opportunities. Insurtech is one of the emerging directions here. Today, IoT and AI are driving insurance technology changes. The recent Accenture study shows that these technologies gained share going from 10 to 44 percent of the whole sector investment amount in 2016. That's a good sign for an industry that suffers from routine operations, poor customer experience, and the lack of technical talents (as we previously mentioned in our insurtech article). AI and IoT allow insurance carriers to reach the advanced level of product personalization which is one of the main keys of change. Nevertheless, the insurance business still has a long way to go to achieve its digital goals.

Mike de Waal, president and founder of Global IQX, says:

"...Artificial Intelligence, and sensor technology are taking hold in insurance and providing ample opportunity for disruption. The IoT, the foundation for many emerging technologies, has irrevocably changed the way companies and consumers communicate. These trends are accelerating…"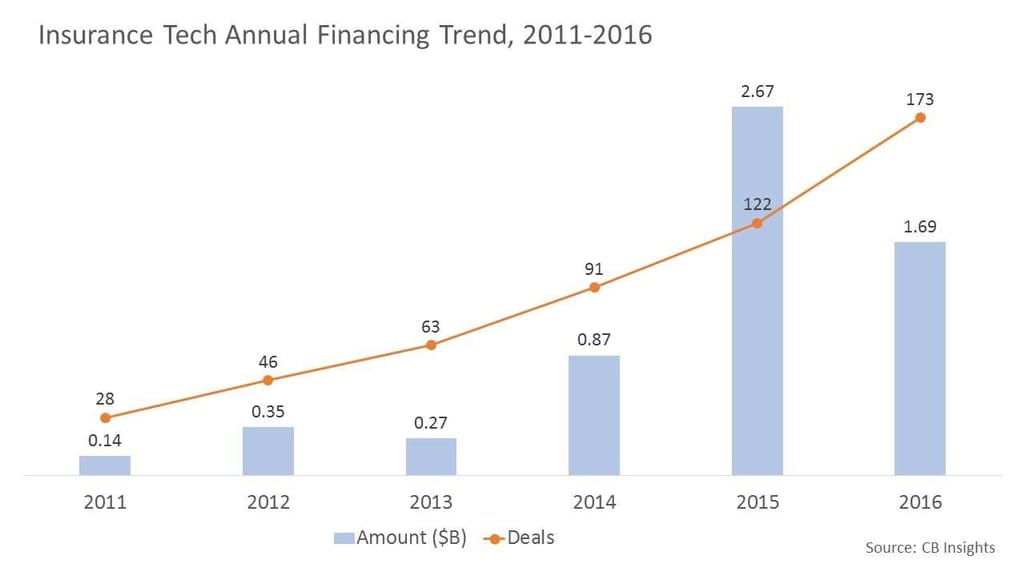 Venture capital is one of the main ways to fund digital transformation in the insurance business. Unfortunately, the volume of insurtech funding has declined since 2015 from $2.57 to $1.69 billion in 2016, due to Brexit and uncertainty after the US presidential election.

The slowdown of insurtech VC funding doesn`t mean that innovation stops. In March, IBM made a relevant contribution for financial domain developers. The company has launched its cognitive platform in beta. Now it's focused on data, wealth management, and payments. Specific features, which earlier were available only for a handful of financial institutions, now can be leveraged by financial developer communities. So, the entry barrier for young digital players becomes lower. And these guys are already more effective than many mature firms.
Travel: Hotels are Losing Direct Bookers
Over the last several years, airlines and hotels faced strong competition for direct booking with online travel agencies (OTAs), which have stolen some market share. In contrast to airlines, which keep diversified portfolios of direct bookers, according to Phocuswright, only 21 percent of direct hotel bookers aren't the members of loyalty programs. There's a rigorous struggle for new customers between OTAs and direct suppliers. The competition may become even higher. There are at least two poison pills for the online travel market. The first one is travel aggregators. Today some of them are actively discussing instant booking technologies. We covered that in our February report. The second pill is the march of technology giants like Google. Airlines should be aware of the competition. The OAG's survey shows that 21 percent of millennials usually look for airline tickets on Google Flights. However, the Google corporation still is not hurrying its instant booking adoption.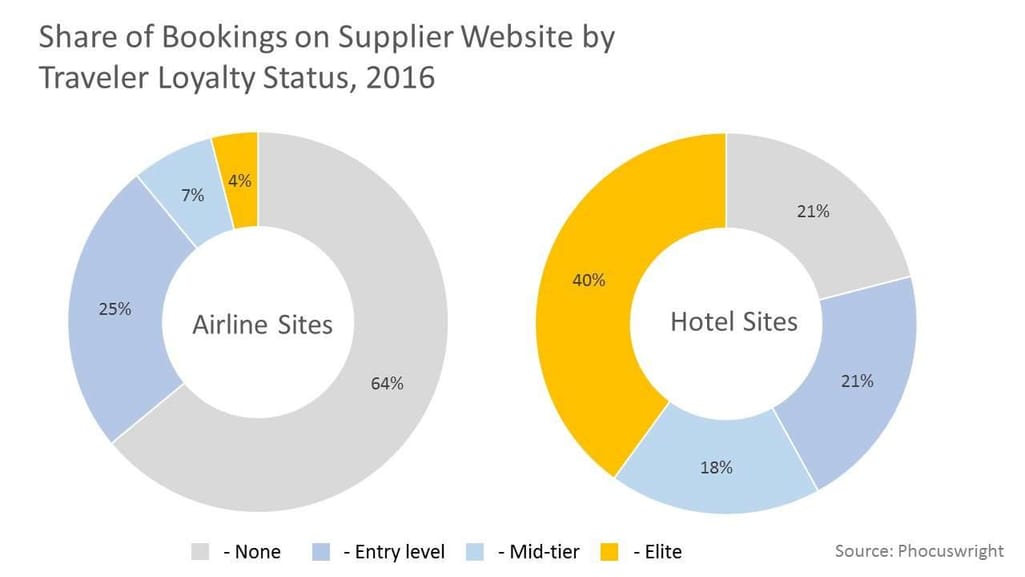 Retail: Going Digital and Back Again
The results of the C2FO's study show that 71 percent of retail executives are going to invest in logistics technologies in the near future. About 73 percent of them believe that digitalization gives a significant competitive advantage. At the same time, 31 percent of business officials confess that they are conservative about implementation of supply chain technologies. Well, it seems that digital transformation now draws the line between keeping or losing control over retail margins. It's interesting though that tech eCommerce giants, Amazon for instance, are exploring the tangible by opening brick-and-mortar stores. But it's hardly a path from digital to physical; rather, it's the physical through digital approach.

Anyway, the old-fashioned strategies are once again under consideration. According to Forrester, total retail sales in the US account for $3,500 billion while $3,000 billion of them happen offline.
Transportation: Investments Rocket by 297 Percent
We're sure that you've already heard about Intel`s acquisition of Mobileye. The deal value was $15.3 billion. But have you wondered about the final goal? It seems clear that Intel wants to grab the $70 billion opportunity for vehicle systems, data, and the service market by 2030. The idea is to combine Mobileye's computer vision technology with Intel computing and connectivity.

In general, the situation in transportation is close to other lagging industries. Legacy logistic companies often use logistics and shipping startups as technology donors. If you look at the rise of US VC-funding in these areas, there's a great potential for emerging technologies. The volume of investments rocketed from approximately $277 billion in 2013 to nearly $1,100 billion in 2016. That's a 297 percent increase! Currently, the trending solutions are eCommerce platforms, sensor technologies, enterprise resource planning, inventory management, trucking, and warehousing.
Healthcare: Proper Data Management is Yet to Come
Do you remember the time when medical records were almost entirely paper? Doctors were putting pen to paper to take down the information, you could hardly share it with other physicians, and what a terrible surprise it was when your previous doctor had an illegible handwriting! But the digital age comes to hospitals or, at least, to their patients. According to Transcend Insights, about 64 percent of patients prefer to use digital devices to manage health and 71 percent are sure that it would be helpful for doctors to get access to information from those devices. Even more than that, 97 percent of respondents say that it's important for any healthcare provider, regardless of location and type, to get personal information. Despite the general readiness to share medical data, the industry still has difficulties in information exchange due to incompatibilities among different systems.

As you see, the role of proper data management is critical for the medical world. To address the problem, Baystate Innovation Center launches the HealthShare platform, which enables healthcare software developers to safely build and test data-driven medical solutions in the real-world environment. That will help the company better understand the efficiency and value of their products.
The Main Thing to Notice
There's one interesting shift that happens today. The recent updates in the Google Cloud Platform, for instance, are symptomatic of the bigger trend. We move from custom and talent-demanding solutions to high-level "as-a-service" products. These don't challenge users with a steep learning curve. Instead, they offer highly specific tools with friendly interfaces. Eventually, we'll reach the point where the change towards digital is more a matter of culture and vision, rather than of deep technology expertise. But cultural change is by no means the simplest one.