Below is the technology industry news & trends report for February 2018. You can also check out our latest news & trends report to be in the loop of what's shaping the tech industry landscape today.
February, the last full month of winter, dumped an abundance of snow on some of us and a ton of interesting news on all of us. Airbnb plans to change the competitive space of the travel industry by shifting their business model from simple apartment sharing as it creates an end-to-end travel experience. With 46 percent of projects closing after fundraising campaigns, ICOs seem harmful to investor financial health. Blockchain succeeds in the travel technology space - TUI and Travel Ledger are utilizing the Ethereum platform for inventory management. We unpack these items and others in our February technology industry review.
Airbnb plans to conquer the airline business
Airbnb gradually moves in the direction of becoming an end-to-end travel solution.  Last year, the company partnered with hospitality development companies to launch branded hotels. In early February,
Airbnb opened up the platform
for hotel distribution. And then the rental giant announced further expansion into the events market, targeting the concert segment. But now they are going even further – Airbnb CEO Brian Chesky says that they are thinking about
adding flight booking
 to their offerings. The most interesting question is how the company plans to enter this market: whether they will acquire an OTA, partner with GDS providers, or airlines directly.
The expansion beyond traditional rental business isn't surprising. The company looks for additional revenue streams, so the rumors of a potential IPO may come true in 2019. If the expansion turns successful, Airbnb will become a one-stop travel shopping platform similar to Expedia and Booking Holdings (ex. Priceline Group). The changes in the Airbnb strategy confirm a big shift in demand for all-in-one solutions in the travel market. Flights, hotels, and cars are now expected to be found within a single interface.
Ethereum-based blockchain makes its first footprints in the travel industry
In January we said that blockchain startups failed to disrupt the travel industry –
so far
. However, there are budding blockchain initiatives worth discussing as spring approaches. TUI Group, the leading travel company,
uses blockchain
to increase transparency and improve inventory management. TUI's problem is its organizational structure. The company owns several semi-independent brands, and as a result, it doesn't have a unified database. TUI plans to use an Ethereum-based solution to introduce smart contracts that will unify data exchange between TUI entities. This can solve the data governance problem and potentially improve revenue management capabilities: The travel agency will be able to swap inventories between subsidiaries in the event of extreme demand.
Another project worth discussing is
Travel Ledger
. UK's Intuitive, Australia's Tourism Technology, and Dolphin Dynamics
partnered to deliver
a blockchain-based billing platform for the travel industry. All payment transactions will be recorded and stored in a decentralized database. The platform will make travel payments more secure, transparent, and cost-effective. Partners will build a project on top of Ethereum technology as well. The network will be governed by a non-profit organization established by developers.
Nearly half of last year's ICOs failed (we'll discuss this in the next section), but blockchain as a data exchange technology may become a strategic focus for midsize and large organizations that strive for transparency, coherent data exchange, and security.
46 percent of ICOs fail, but there are bright exceptions
The
News.Bitcoin.com study
shows that 46 percent of ICOs failed last year. Investors lost over $104 million on burned-out projects. The research covered 902 startups placed on Tokendata. ICO projects often behave like scams: Founders raise money and disappear.  In addition to outright fraud, hundreds of zombie startups exist. These companies often have questionable business ideas and incoherent models. Once they fail to build a powerful community around their projects, these businesses opt for radio silence. Currently, about 12.5 percent of projects are half-dead. This situation will likely lead to a broader consensus about ICO regulation, which will be similar to IPO procedures and stock exchange listing requirements.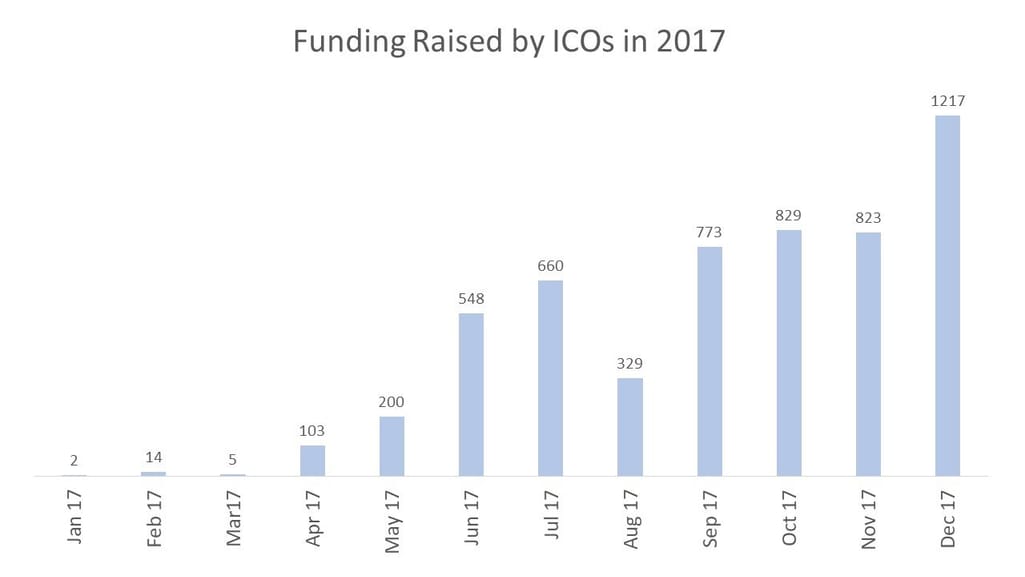 Source: TokenData
On the other hand, some ICO representatives demonstrated impressive results in 2018. Telegram, an encrypted messaging platform, has
raised $850 million
during the pre-ICO stage and plans to raise a proportional sum during the second pre-sale. The potential Telegram deal is staggering. The company plans to get over $1.6 billion. Notably, total ICO volume in 2017 accounts for 5.6 billion. Telegram ICO may become the largest ICO so far.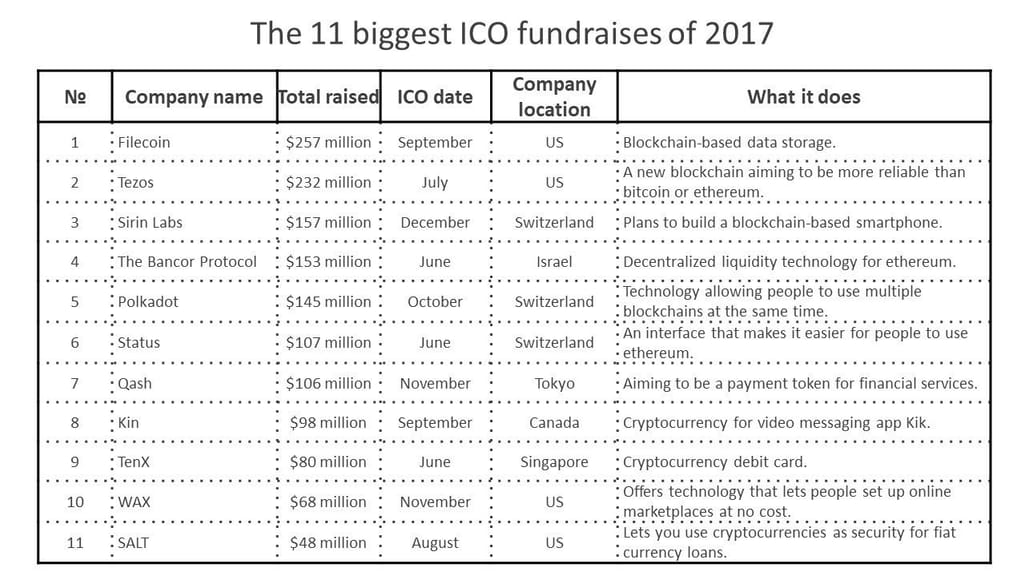 Source: Business Insider UK
IBM and Unity aim to lift AR/VR technology to enterprise scale
IBM and Unity
launched IBM Watson Unity SDK
, which allows for easy integration with
cloud-based AI services
for Unity developers. Unity is the leading graphics engine applied in AR and VR applications by far. Combining it with AI capabilities of IBM, the initiative will lay the groundwork for enterprise AR/VR use. New SDK provides powerful visual and speech recognition support. The potential use cases are language translation, voice-driven interactions, and real-time visual recognition.
Currently, the companies aim to keep working within education and gaming industries. Further, once AR/VR technologies mature, they will be actively used across marketing, construction, and manufacturing.
The mixed reality and AI markets are expected to grow fast. So, the new opportunity from IBM and Unity is a good point to consider in early adoption for companies doing complex visualization work.
AI-based recommendation engines will predict best outfit choices
The eCommerce and retail companies strive for personalization, the new standard in acceptable customer experience. Companies like
Trendage
, a retail B2B tech startup, and beauty retailer Sephora push personalization to a new level.
Trendage works on the
recommendation technology
 that utilizes AI and visual search. The algorithm helps match the accessories and clothes chosen by users with the rest of the items that would pull the outfit together. On top of that, the platform analyzes user body parameters, age, regional fashion trends and their changes to make predictions even more specific. Currently, the Trendage solution uses millions of outfits created by users to recommend clothes, accessories, and shoes. The company raised $1.5 million in funding this month.
Interestingly, Trendage doesn't suggest something revolutionary in terms of
personalization technologies
. But given the new angle of their use, it may have great impact on the existing clothing retail business.
AI startup will use 25 million record dataset to improve cancer diagnostic
IDG
research claims
that 43 percent of healthcare CIOs plan to increase investment in AI next year. Generally, the study confirms that data science is being actively discussed among health industry technicians and decision-makers. But the problems related to the availability of health data significantly slow down innovation in the industry.
Nevertheless, investments in AI-based healthcare startups continue to grow. For instance, 
Paige.AI
is a cancer pathology-detection startup. The company plans to train its machine learning algorithms using 25 million diagnosis slides. The startup aims at making cancer diagnosis more accurate and faster.
Paige.AI
solution can be very disruptive because they've already gathered a substantial dataset. The project
closed $25 million in Series A
funding.
Healthcare AI/ML funding skyrocketed to over $700 million in 2017 with 126% growth year-over-year. The most demanded innovations are automation solutions, computer vision, population health, etc.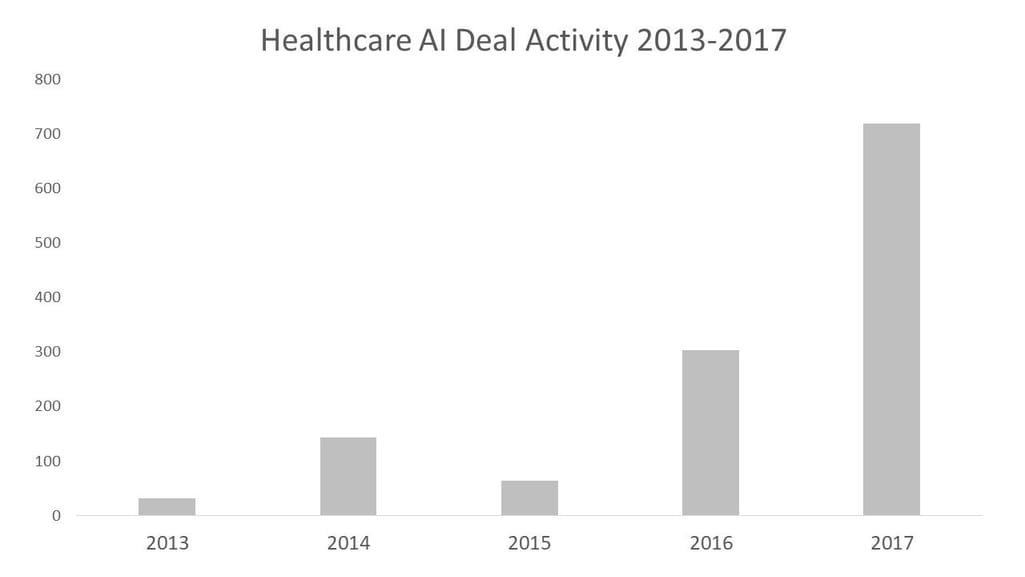 Source: PitchBook
Booking Holdings is a new name of Priceline Group
Priceline Group
changes its name to Booking Holdings
. Booking.com is the core brand in the group's portfolio. The subsidiary generates over 1 million properties and provides access to a more than 1.5 million properties inventory. Glenn Fogel, CEO of Booking Holdings, says that the new name will more accurately reflect the nature of the business.  This step also helps the company boost its brand awareness. So, if you are looking for the travel API from Priceline Group, bear in mind that you should search for Booking Holdings instead.
Google presents beta of the new mobile framework
Google announced a beta release of a new tool for mobile developers,
Flutter
. It's a new mobile cross-platform UI framework, which allows engineers to speed-up native interface development on iOS and Android. Although the framework isn't ready for a stable release, it has already been used in production apps. Flutter requires developers to use Dart, which is marketed as an alternative to JavaScript. Similar to the
Xamarin approach
, Flutter compiles source code into native code in the build stage.
The search giant claims that the key advantages of Flutter are:
High-velocity
Expressive and flexible design
Native performance
If you are considering
which cross-platform mobile framework to choose
, Flutter is yet another option to consider with your engineering team.
Final word
ICOs appeared to be a questionable way to invest in technology as 46 percent of blockchain startups failed in 2017. However, the technology seems to be a viable instrument for solving business problems. TUI and Travel Ledger are good examples: TUI uses it to improve data governance and information interchange. Travel Ledger works on secure and transparent payments.
These projects confirm that viable and valuable blockchain projects sit far beyond the overhyped cryptocurrencies sector. Ethereum powers both these projects. It's a good sign for the technology as the trust of key players will boost the industry interest and put adoption at a new level.
Regardless of failures, ICO as the fundraising method continues to hit record numbers. Telegram made the largest ICO round in cryptoinvest history.