Below is the technology industry news & trends report for February 2017. You can also check out our latest news & trends report to be in the loop of what's shaping the tech industry landscape today.
February, the last full month of winter, was rich in technology news and IT market insights. Reports of the $23.8 billion Snapchat IPO, the gaining momentum of the $1.2 trillion digital transformation campaign, and other interesting tidbits will be discussed in our February technology Industry report.
Software Engineering
The Hadoop market was expected to be worth $800 million in 2016 versus nearly $571 million in 2015, according to Gartner. The technology is still
far from mainstream
, since only a small increase in project deployments was noticed during 2016. The experts say that the cloud might be a breath of fresh air for Hadoop. Last year the technology developer Hortonworks reported $126 million in revenue from its cloud platform (about 63 percent of its $200 million in revenue), assuming that enterprise would be more likely to turn to Hadoop, due to easier adoption of the technology in the cloud environment.
Microsoft has disclosed its
.Net languages development strategy
. The corporation aims to move by way of aggressive innovations regarding C#. Microsoft targets improvement of whole language performance to satisfy all developer communities. Visual Basic (VB) will be kept straightforward and approachable. The company will focus on the cross-language tooling experience, recognizing that many VB developers also use C#. Microsoft will support the F# community by building the necessary infrastructure and tooling to complement community contributions. The strategic target here is clear to make F# the best-tooled functional language.
Here are some apps developed with
C# based cross-platform mobile instrument
.
UX/UI Design
The role of UX/ CX is increasing. The recent UX/CX Industry research, that covers 2,300 experts, found six major insights for the UX/CX industry in 2017. More than 80 respondents mentioned the critical importance of UX for products and services in the nearest future.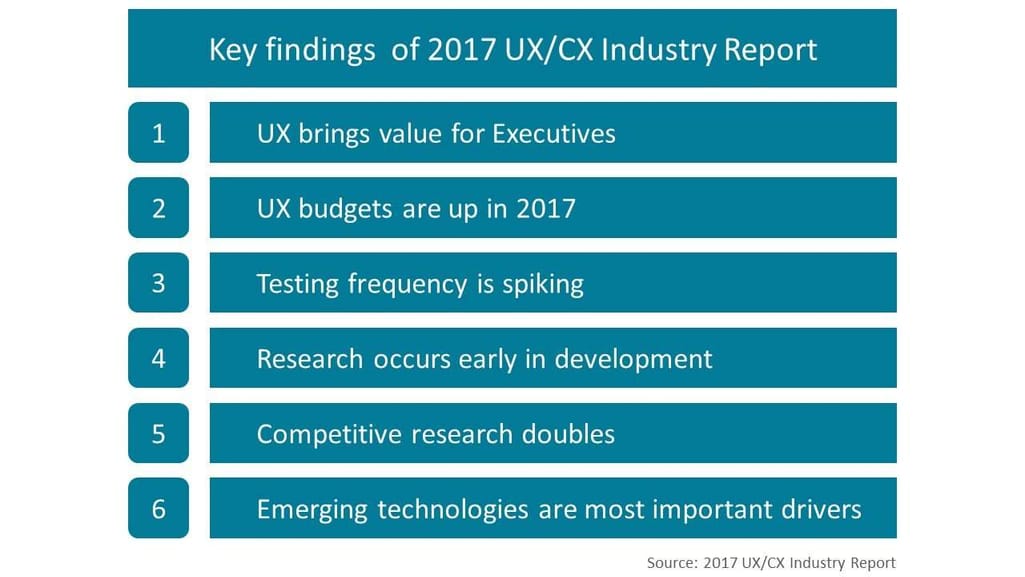 The key value of this merger is getting deeper understanding of systems insights and limitations by UX professionals. HPE shared
8 steps you should follow in order to be sure UX was successfully integrated into DevOps
.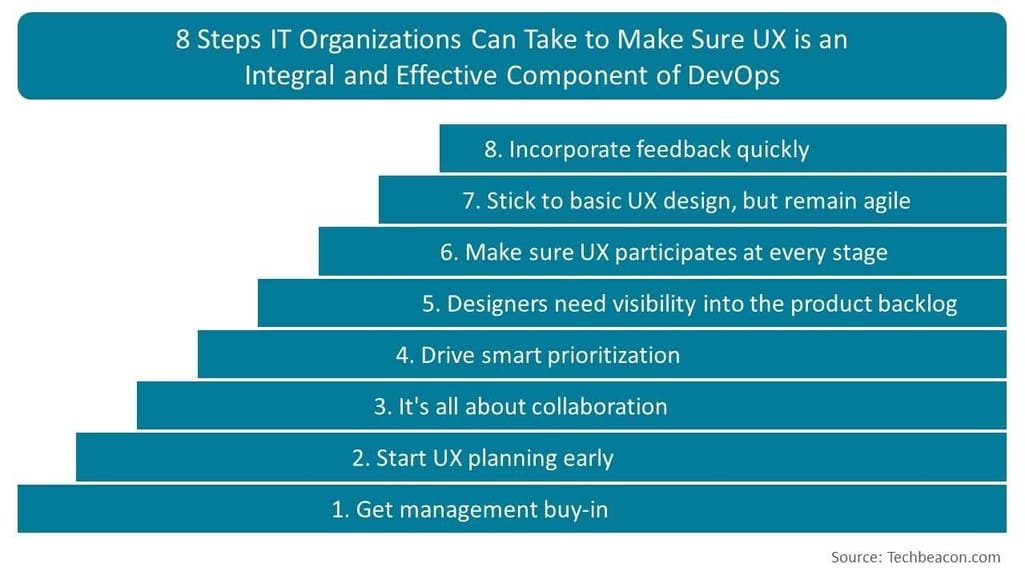 Internet of Things
Gartner estimated that
8.4 billion connected devices will be used worldwide in 2017
. That represents a 31 percent increase over the 6.8 billion connected units accounted for in 2016. The consumer segment will be the largest one, reaching 5.2 billion devices or nearly 62 percent. Hardware growth will also boost Internet of Things (IoT) service spending to $273 billion. Though sensor technologies are still far from wide adoption, some companies have already started to use IoT benefits. For example, the combination of
IoT sensors and machine learning algorithms already brings value for  Hershey by way of saving $500 thousand
with a 1 percent sizing improvement for each 14,000 pounds of product.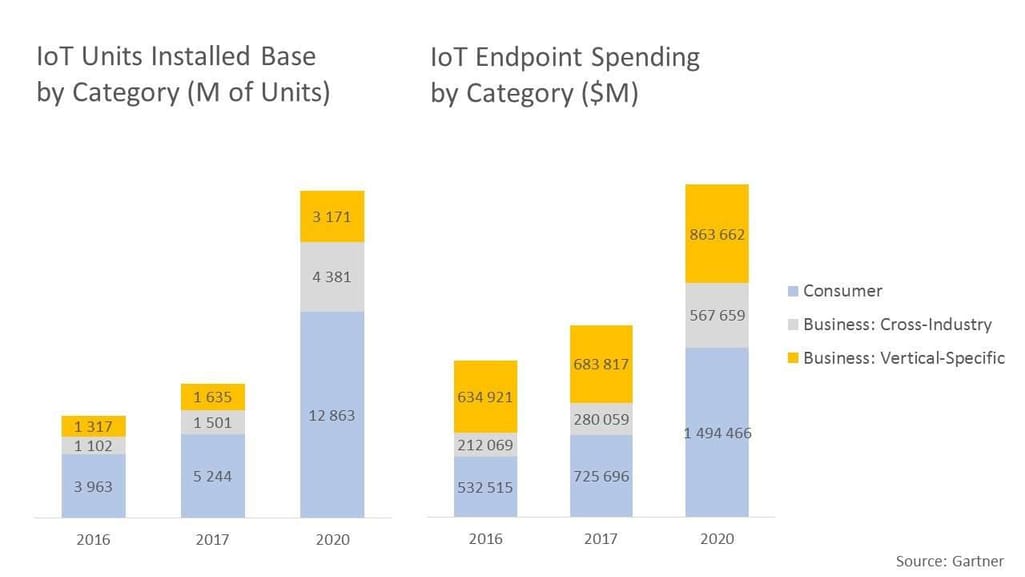 The adoption of
preventive medical solutions based on IoT
will make the healthcare system much more effective by cutting costs and optimizing the process. The demand is driven by a wide range of countries, which are strongly affected by a nation's aging. The average age in Europe will be 50 by 2050. The UK National Health Service reported £2.45 billion deficit in 2016, expecting that it will reach £30 billion over the next five years. The wide adoption of IoT solutions could make monitoring easier and prevent the incidence of illness. The smart sensors will redistribute the workload of healthcare facilities. In addition, the healthcare IoT will significantly boost telemedicine.
Big Data & Data Science
Big data analytics and AI are very important technologies in traditional financial instruction and fintech competition. According to 
Efma/Finacle research
, 58 percent worldwide say that AI, big data, and open APIs will be key industry disruptors in the near future. Such technologies allow us to dive into understanding insights of customer behavior and boost efficiency more effectively than old-fashioned methods do. The respondents emphasized that the key barriers in the way of implementation of modern analytics tools are the legacy technology environment and lack of unified vision (50 and 44 percent of those surveyed). In such circumstances, financial services providers will more likely turn to a partnership with third parties (74 percent of respondents).
Mobile
Android operating system stayed a leader in the global mobile arena, while iOS holds the second largest share in Q4 2016.
According to Gartner
, global sales of Android smartphones accounted for nearly or 81.7 percent market share in Q4 2016. In Q4 2015 the leading operation system was set on nearly 325,390 units, which was equal to 80.7 percent. At the same time, iOS performance was a bit more modest and came to approximately 77,039 and 17.9 percent in market share. Expectedly the biggest losers of the last quarter of 2016 were Windows and BlackBerry. Both of these operating systems dramatically reduced shares by over 4 times.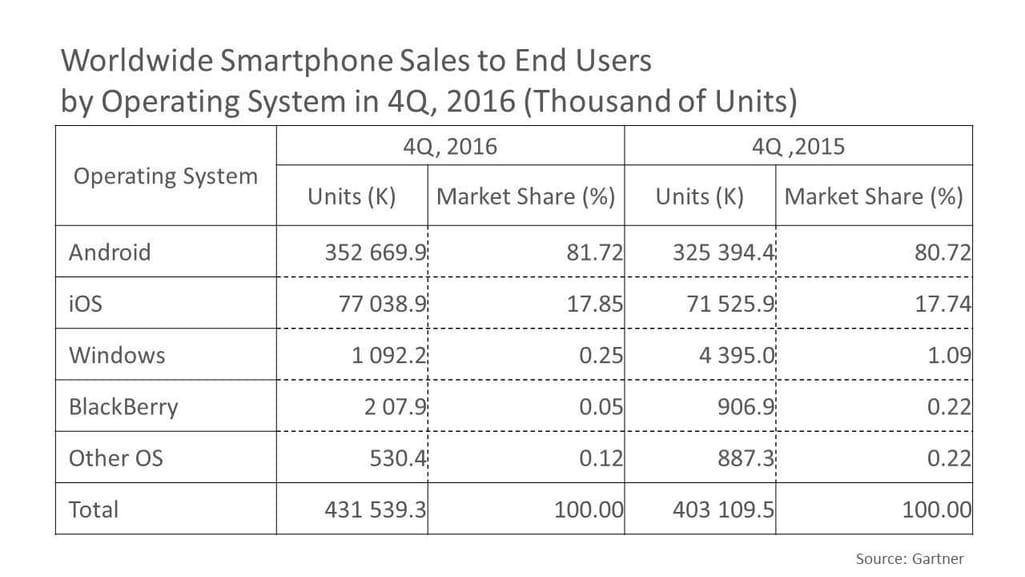 If you are going to build mobile strategy for you company, take a look at our recent article on the topic -
Five Components of Enterprise Mobility Strategy
.
Cloud
The global public cloud services market will account $246.8 billion in 2017, compared to $209.2 billion a year earlier,
according to Gartner
. The cloud growth is strongly fueled by solid demand from enterprises, which have already accessed the pros of the cloud such as agility, scalability, cost-cutting, etc. SaaS remains the second largest segment of the global cloud market. It accounts for $46.3 billion in 2017, versus $40.8 billion in 2016. IaaS will be the fastest growing in 2017. The infrastructure segment will soar from $25.3 billion to $34.6 billion with 36.8 percent growth in 2017, driven by rising demand for AI and IoT. Generally, the consultancy expects a small slowing of cloud market growth by 2020, due to the rise in market maturity.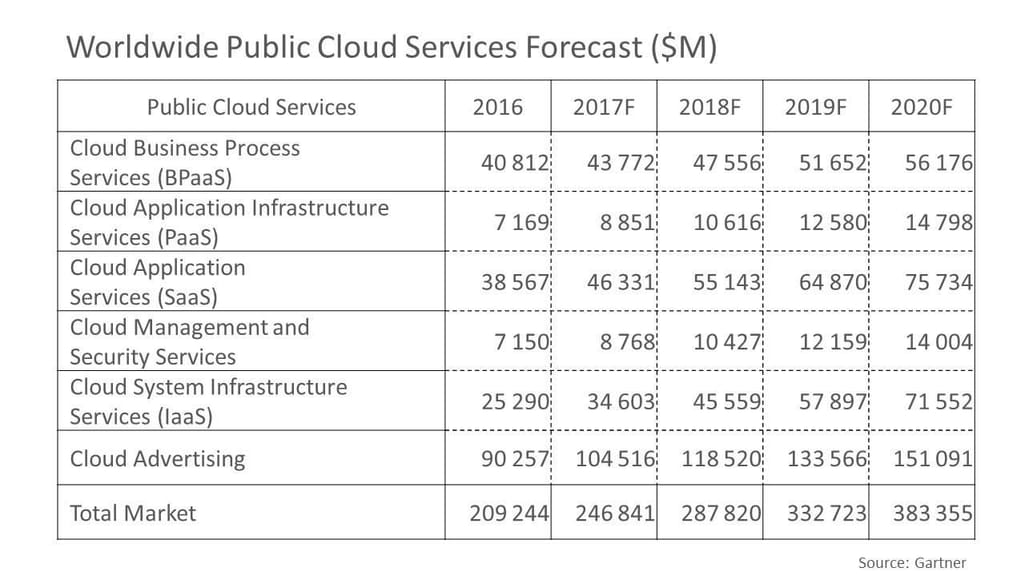 Oracle launches Data Integrator Cloud Service
. The new offering will strengthen Oracle PaaS business. The new service helps clients to simplify and accelerate cross-enterprise data integration that allows support of real-time analytics. It is expected that the Oracle Data Integrator Cloud will make easier and quicker operations with IoT, Web, and business applications data. In 2016 Oracle earned nearly $2.2 billion of revenues in PaaS and SaaS, which is equal to 4.8 percent of $45.8 billion worth Global PaaS and SaaS market.
Technology Consulting
IDC projects worldwide digital transformation spending will reach $1,200 billion in 2017 with 17.8 percent growth Y-o-Y.  Asia/Pacific (ex. Japan) and the USA will generate the largest demand with 37.1 and 30.7 percent in the total structure.  The key directions of spending would be cloud infrastructure, business services, and applications. By 2020 enterprise spending on transformation will amount to $2,000 billion.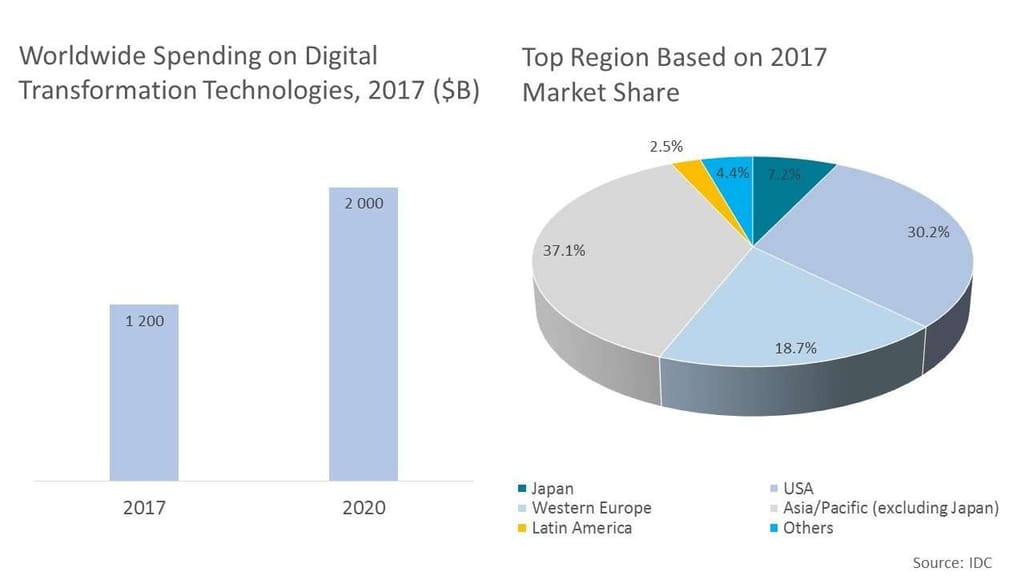 Have you already thought about digital transformation of your business? Learn
13 Signs Your Legacy Systems Need Modernization
.
One of the most interesting things, which was actively discussed by the technology industry in February, is the upcoming Snapchat IPO, which was set on March 1. Before the IPO, the media startup, which lost $514.6 million in 2016, was valued at $20-25 billion.
The deal does not look unfair
if we get deeper into the analytics. As result,
the company has raised $3.4 billion
by going public with the final valuation of $23.8 billion. Expected that funding will be spent to support ongoing operations and ambitions in new areas like wearables/hardware and AR and AI. Some experts even assume that Snap is a company that can reach
$100 billion capitalization by 2020
.
Business Industries
Fintech
Gartner expects
that the banking and securities industry of mature countries in the Asia/Pacific region will increase IT spending from $63.7 to $67.1 billion with 5.4 percent growth rate in 2017. It is nearly 12 percent of global enterprise IT spending of financial institutions (except insurance companies), which is estimated at $561 billion. Japan will be the largest spender among the other countries such as Australia, New Zealand, Singapore and South Korea. The software segment will be the largest one, the investment priorities there will be advanced data and analytics, AI applications. Asia will stay in the focus of fintech industry in 2017.
According to the new KPMG report
, it is the only region that, grew in 2016. The biggest fintech hubs of the USA ($12.8 billion) and the UK ($609 billion) reported the decline, as they were affected by high levels of uncertainty due to Brexit and the US presidential election in 2016. The full year fintech funding accounted for $8.6 billion and 181 deals this year compared to $8.4 billion and 196 deals. Asia has 34.8 percent stake of $24.7 billion funding in 2017.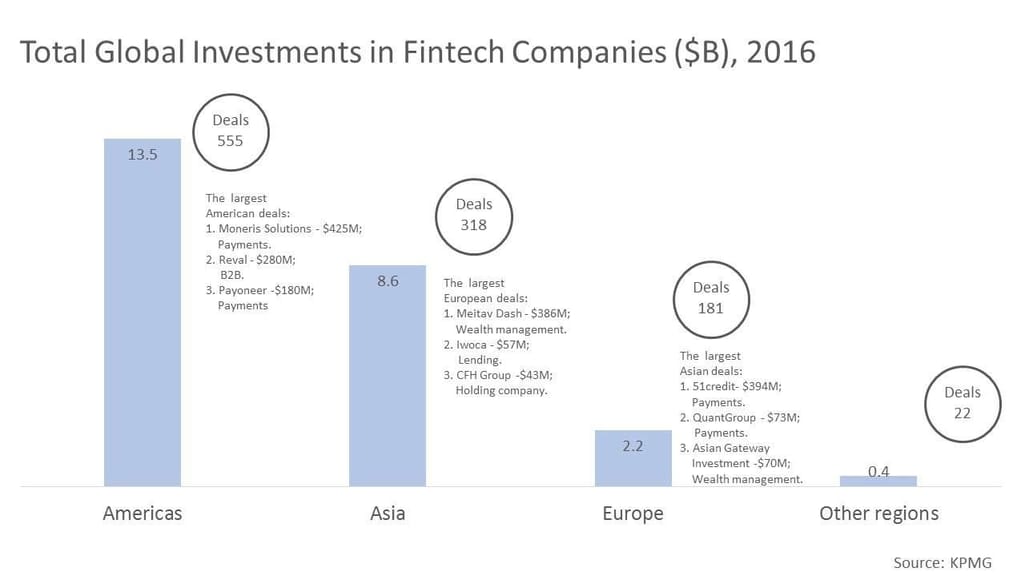 The financial services industry also joins the whole automation trend like the retail industry with Amazon Go in the vanguard. Bank of America opens
3 employee-free branches
, which is nearly 10 percent of 31 new branches opened in 2016. The new ones allow customers to use ATMs and teleconference with bank staff. The financial institution joins the whole US cost-cutting tendency for reducing the count of branches and employees by digitalization and automation of the processes.
Travel & Booking
Recent studies show that
a great number of metasearch company clients are more likely to buy airline tickets
if they can do that directly from their website. Though the key revenue stream of metasearch engines still is the commission from referrals, the major players such as Skyscanner have already taken some steps towards instant booking. There are several causes of instant booking's slow adoption. The key challenges here are the technical problem and the strategic business decision. The bright examples are the recent $550 million of Momondo (Kayak close competitor) and the $1.74 billion acquisition of SkyScanner. Momondo deal was targeted
to enhance the corporate position
on the European metasearch map.
Here's how
AltexSoft helps Fareboom helps to Co-Build Innovative Travel and Booking Solution to Outperform the Competition
.
PhocusWright research
shows that the direct suppliers will continue to lose their share slowly from 61 percent in 2016 to 59 percent in 2020. OTAs will strengthen their positions by the rise in hotel segment and mobile booking. US gross online booking will soar from $162 billion to nearly $199 billion in 2020.
Retail & eCommerce
The role of smartphone involvement is  rising significantly in UK retail. The new report from OC&C Consultants Strategy says that 
27 percent of eCommerce transactions in 2017 were carried out by mobile
. It is expected that this figure will reach 62 percent by 2020. Furthermore, mobile engagement in the £70 billion market will overstate 80 percent in 2020. Researchers also found out that most popular use case of retail technologies is , which was marked by nearly 73 percent of UK consumers.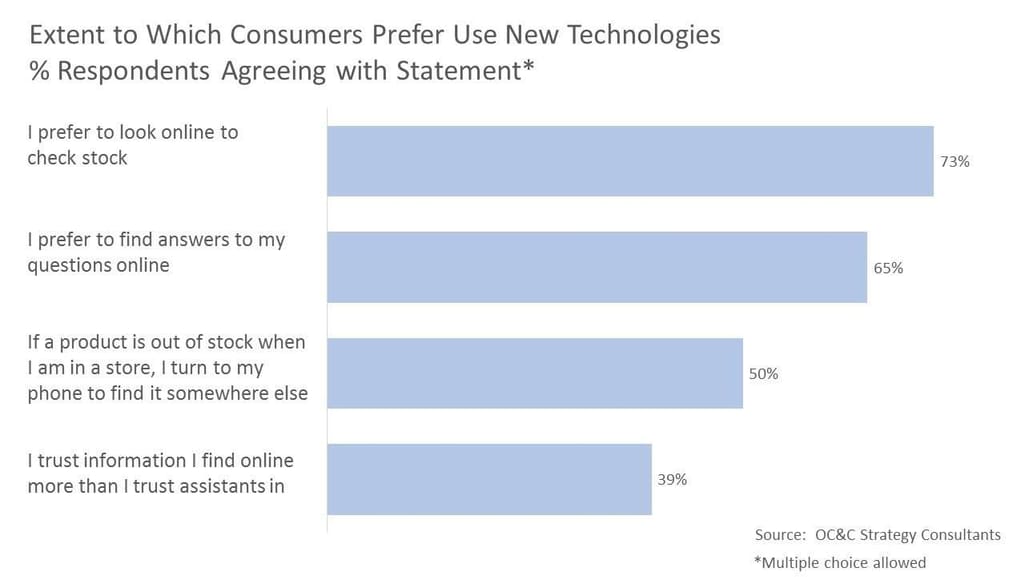 Aviation & Transportation
Ford joins the autonomous vehicle competition by virtue of a $1 billion investment in Argo AI
, aiming to arm its cars with AI driving technology by 2021. According to the deal terms, the vehicle manufacturer becomes a majority stakeholder. Ford officials say that Argo AI technologies meet the needs in AI, machine learning and computer vision technologies of the automotive industry.
HealthCare
Trumpcare might bring more benefits to the IT healthcare industry than Obamacare did. 
Winvale, the research company, claims
it expects government healthcare IT spending will soar in 2017. The policy of the new secretary of the Department of Health and Human Services is targeted towards strict control of efficiency and cost, which will accelerate information technology adoption across the industry.
Marketing
The recent research shows that marketing firms' willingness to spend on technology solutions have grown as has their active use. The
Conductor study
covered 387 marketing executives of web presence management and SEO companies in the USA. Sixty-seven respondents revealed that they used up to 10 technology solutions in their operations and nearly a quarter of them deal with 10-20 tools in day-to-day performance. Different insights, provided by e-Marketer, show that
the level of satisfaction with marketing technology among marketing executives
strongly rose from 50 percent in 2015 to 61 percent in 2016.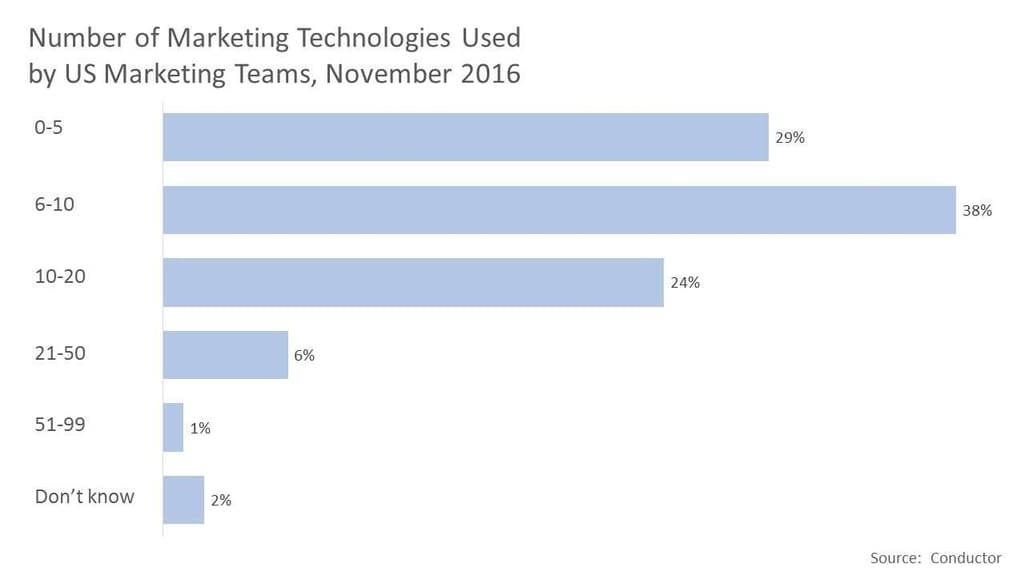 US marketing industry has already been using IT solutions. Here's how AltexSoft can help to
boost your marketing business with digital technologies
.