Below is the technology industry news & trends report for December 2017. You can also check out our latest news & trends report to be in the loop of what's shaping the tech industry landscape today.
Aside from being the year's end, December was a turning point in 2017. Magic Leap finally unveiled their secretive AR set and announced its first shipments. While the company didn't provide any precise information, they promised to show us some magic in 2018. Two travel startups, working on revenue management tools –
Pace
and
OTA insights
, received funding to innovate profit optimization in travel. Revenue management solutions are rapidly climbing to the top of travel technology trends employing machine learning methods. All these news items and more will be discussed in our monthly technology trends review.
Magic Leap promises to present its secretive device in 2018
Magic Leap scheduled the
shipment of AR-devices
 for 2018. The startup generated much buzz around its augmented reality headsets powered by a portable computer. While it was backed by such giants as Google, Alibaba, and Andreessen Horowitz, raising a whopping $4.5 billion in investments, it didn't unveil much information about the product until December 2017. And even the suggested look of a device doesn't tell what's under the hood. This situation fuels the skepticism that continuously haunts the device considering that its main competitor, Microsoft's HoloLens, has been available to the public since 2016. Magic Leap also promises to open the SDK for developers this year. The price and exact dates weren't disclosed, but the announcement itself has energized discussions around AR headsets.
IDC reports that the
AR/VR headsets market
reached around 9.6 million devices in 2017 and is expected to climb up to 59.2 million in 2021. The main market drivers have been low-cost screenless devices, like Samsung Gear VR, and general device price reduction. Magic leap is yet another signal that the need for a new digital medium is here. And the shift in user experience is a question for the next several years. Companies that strive to be mobile-first should take a closer look at the virtual ecosystem now.
Startups boost innovation in revenue management
Pace and OTA Insight received funding for their profit optimization solutions in December. The startups raised $3.3 million and $20 million respectively.
Revenue management
was on the cutting edge of the travel technology industry in 2017 thanks to the rise of data science and cloud technologies. While the former brought accuracy and real-time computing to revenue management, the latter aims to make revenue management systems available even to small companies. Real-time data processing and quantitative methods will change the revenue management approaches in the hospitality industry.
Pace
 is developing a machine learning-based automated dynamic pricing solution for hotels. According to their spokesperson, hoteliers lose around 20 percent of their revenues using old-fashioned manual techniques. So, the startup wants to reshape the current situation by using machine learning.
OTA Insight
works on a cloud-based platform that analyzes information about competitors' rates, market events, ratings, and other relevant data via machine learning algorithms. This allows hotels to set up efficient revenue management systems backed by real-time data. The technology is targeted at the travel industry and has been chosen by 16,000 property owners worldwide.
Revenue management solutions drift toward commoditization, meaning that data-driven software for dynamic pricing and yield management will soon become the industry standard. This challenges other hospitality players to keep pace in digital transformation.
Smooth customer experience and Big Data are exactly what retail banking needs
Financial Brand
surveyed respondents
from over 100 financial service leaders to identify top retail banking priorities for 2018. Banks consider optimizing the customer journey, AI and Big Data, and enhancements in multichannel delivery the key challenges for the industry. Blockchain implementation didn't change position in the rating compared to 2017.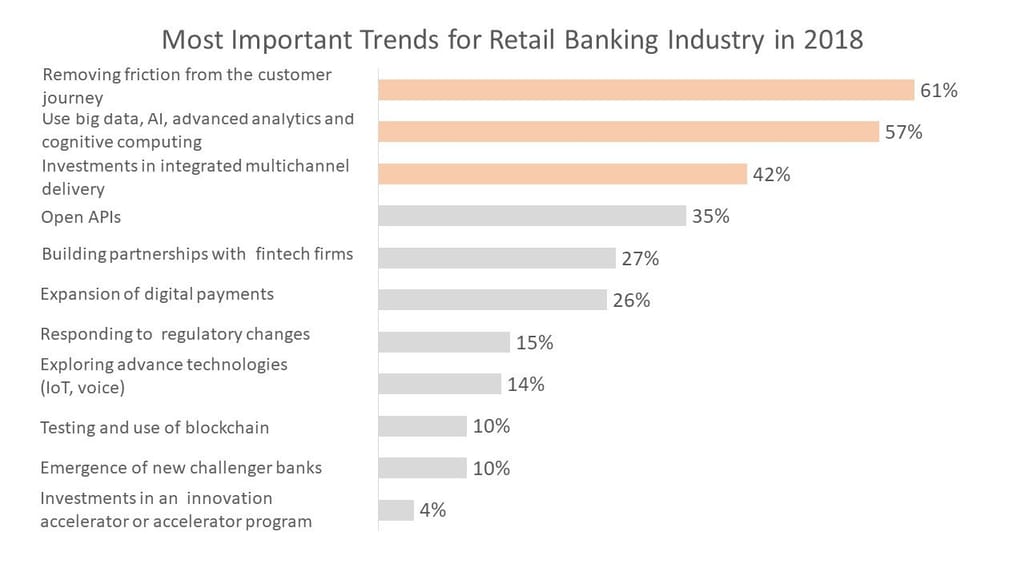 Source: Financial Brand
Generally, the list of priorities hasn't evolved much. The problem is that market players are still too slow in their digital transformation: Over 30 percent of customers claim that all banks share the same problems. Such feedback may hint that there are little to no game-changers yet.
Financial companies should focus on user-friendly digital experience, accessible products, and data-driven services. The situation may change significantly in 2018 as Europe will make a part of the banking data open. This disclosure will stimulate the development of personalized data-driven products. With open data, even small and medium-size financial companies will be able to leverage machine learning techniques and introduce nextgen financial services.
The airfreight industry will get a new payment processing engine
Cargo Network Services Corp, IATA subsidiary,
partners
with US-based PayCargo to build a new online payment processing engine for import operations in the airfreight industry. The new system allows for payments, data transactions, and data sharing within several minutes. The new solution reduces time spent on picking up cargo by importers. Industry players should get ready for implementation of the new system.
From IT outsourcing to blockchain-first destination
Belarus showed its ambitions to become the first
blockchain-friendly country in the world
. The Belarusian authorities legalized ICO, cryptocurrencies, and smart contracts. New legislation is expected to turn the country into an important global blockchain hub. Belarus' agenda is to attract more investments to the IT sector and, particularly, to the
blockchain
segment. The officials claim that activities related to mining, creation, acquisition, and sale of digital tokens will remain tax-free till 2023. The important fact is that Belarus is not alone, Estonia also aims to become an ICO-capital.
The government-level acknowledgement is important for entrepreneurs and investors as Belarus and Estonia pioneer country-level investor protection rights for blockchain. These changes are likely to nudge blockchain companies to consider doing business in Eastern Europe.
Google opens new machine learning APIs for video and natural language processing
Google rolls out Cloud Video Intelligence and Cloud Natural Language APIs for a wide audience. The video API allows for building advanced video search and analysis tools that can recognize objects, scenes, faces, and human sentiment on videos. Also, the API can distinguish between 667 car models, more than 200 types of buildings, etc.
The Cloud Natural Language API is powered by algorithms that can define entities in texts, recognize sentiment, analyze syntax structures, categorize objects, and classify texts by types and topics (news, health, etc.) across 700 groups.
We've already covered the main
MLaaS and ML APIs
from Google, Microsoft, and Amazon. The recent wave of ML API rollouts gives small and midsize companies access to sophisticated machine learning tasks that weren't available to them before. Natural language processing, image, and video recognition tasks are still state-of-the-art machine learning unavailable to most companies as it requires large datasets and deep-pocket investment into
data science teams
. A democratized AI unlocks a variety of opportunities, ranging from call-center automation to detailed market analysis through social media.
Post-Millennials to become a key driver of eCommerce by 2026
Business Insider's recent study
demonstrates that Generation Z will be the most powerful driver of eCommerce spending by 2026. These consumers are more technology savvy and ready for disruptive business models. That's the first generation to be born in the digital era.
Post-millennials are exeptionally demanding in terms of user experience. They can't stand slow app performance, or unintuitive and poorly designed interfaces. While this consumer group still shops at brick-and-mortar stores, they seek digital innovations in existing retail as well.
The main takeaway from the Business Insider research is that businesses should start capitalizing on Generation Z early to develop loyalty before these consumers get older and able to spend more.
Physicians want to build analytic-based healthcare
Precise healthcare is gaining pace.
Forty percent of CIOs
in the healthcare industry plan to adopt enterprise-level
health analytics
platforms in 2018. EHR system implementation and optimization remain the top priorities for 2018 healthcare. Currently, electronic medical records have a number of problems with customization, UX, and data governance.
Besides that, existing EHR systems lack security and big data analysis, which are both considered the main value-added features of future healthcare software. However, big data analysis is still a barrier as patients and regulators are hesitant to share medical records.
Interestingly, the underlying technologies are already here and medical institutions can address user experience and customization problems. But the sensitivity of medical data is the problem that's yet to be resolved.
Final word
Data science and blockchain were the major trends of 2017. While everyone talks about cryptocurrencies, we believe that the largest tech impact in 2017 came from data-driven technologies.
Just look at the travel industry. ML-based revenue management startups raised impressive sums for travel tech. Personalization powered by AI redefines how hotels and travel agencies interact with their customers.
Smart algorithms become increasingly more accessible via a number of APIs, packages, and frameworks. This simplifies data-driven product development among small and midsize players, leading to more new products entering the market and disrupting slow paced industries.