Do you remember the good, old days – just a few real-time years ago – when moving to the cloud might bestow the vaunted competitive advantage? Today, cloud-based software is a fundamental, predictable part of the work process.

Software-as-a-Service (SaaS) is a software delivery model hosted by a third-party vendor that, unlike on-premise (in-house) solutions, allows users to access a product via the Internet. Here are some other key differences between the methods:
SaaS uses an on-demand usage model, allowing for the low entry point. If you want to get on-premise services, you would typically need to pay upfront for the software, customization, and related infrastructure.
Users of cloud offerings can scale resources both up and down with a couple of clicks and a reasonable change in cost. If a customer is rapidly growing, they don't need the on-premise model's significant infrastructure investment to handle the load.
SaaS consumers don't have to use their internal IT resources or employ full-time IT specialists; the vendor provides all the hardware and implementation services, does the hosting and customer support.
SaaS applications usually have only one version, which is why updates are implemented automatically and throughout all user groups.
As you can see, for customers, SaaS is the perfect solution to avoid complicated work on application and database management. Aside from that, they're only required to purchase the services they currently need. For SaaS businesses themselves, this delivery model means simplified deployment and lower customer acquisition costs – your main clients stick for a long time and all clients can be supported with the same product version.

It's estimated that demand for SaaS will only continue to increase through 2020 with 73 percent of organizations running their core business processes on SaaS. Unfortunately, it's no surprise that it's a challenge for a SaaS business to stay afloat and achieve its desired and necessary revenue. That's why we've analyzed the main pitfalls that SaaS startups and established providers experience. Today, we'll dispense some prescriptions on how to cure the most often occurring SaaS ills. Let's roll.
1. Create a buyer persona
If your target audience is "anyone who's interested in your product," you risk failure with your acquisition strategy and pricing model. So, considering a buyer persona is among the initial SaaS building steps.

A buyer persona is a versatile user with actual goals, motivations, a profession, and a long list of features that you develop through research.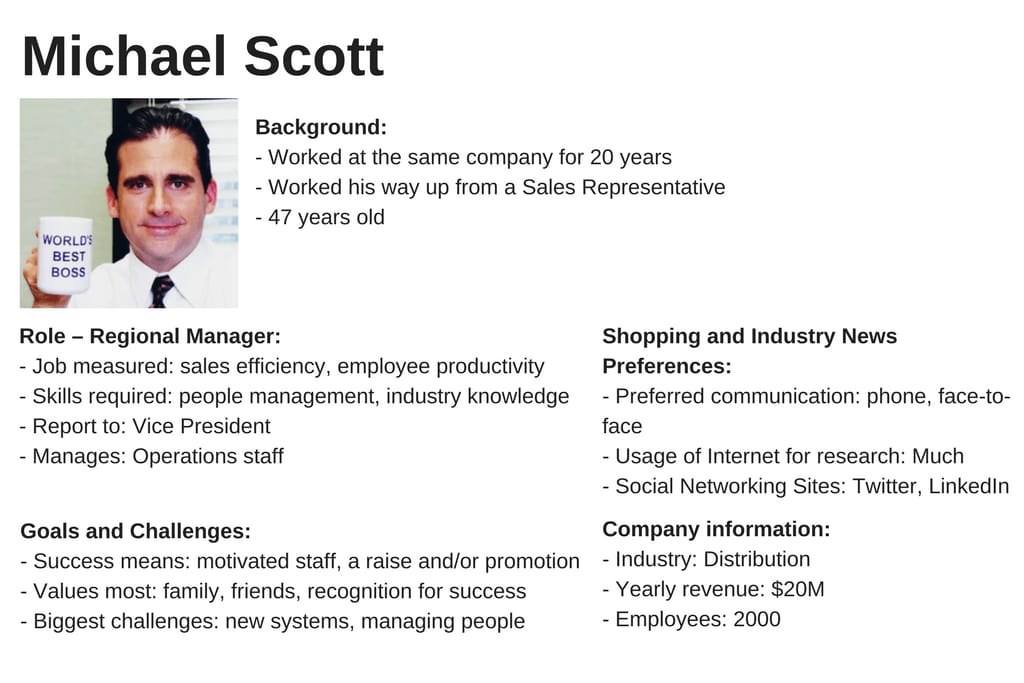 A buyer persona profile
How exactly does a business, especially a developing one, benefit from a detailed profile of its potential customer?

First, by establishing a persona's needs and pain points, you can clearly understand what type of product or service your market currently lacks, which will help specify your niche and deliver a solution that a customer is willing to pay for.

Secondly, a precisely considered buyer persona promotes better understanding of your customers, helps tailor your content and documentation, and discovers which features will be of most value to a user.

If your SaaS company is still in the idea phase, you can start by interviewing your prospective clients based on the persona you've laid out. Then to make sure your persona has been created correctly and to evaluate the feedback, you can build a minimum viable product (MVP). An MVP is a product with just enough features to deliver the core value and find out if your idea is, at the minimum, worth realizing. By testing your assumptions and gauging reactions, you can get valuable feedback.

If your SaaS product is already being used by an adequate number of customers, but you still don't have a buyer persona, there are some questions that will help you define it. Usually, when creating a buyer persona, ask yourself about their basic background. These are questions to consider:
Background: What are your customer demographics (age, location, gender, etc.)?
Relationship with your company: How did you current customers find out about your company and why do they prefer your product above your competitor's?
Making the choice: Where do they search for reviews (YouTube, ask friends, forums)?
If your SaaS solution is targeted towards businesses, note that people who you're going to communicate with work at offices and have specific professional needs and goals. So, also consider:
Company: What is the size of your client's company? What industry is it from?
At work: What are the typical responsibilities and challenges they meet throughout the workday?
Work priorities: Which software features are most valuable to them, and which ones are not worth the effort to develop?
If you're building a B2C solution, consider your existing customers in their day-to-day life and their personal and family environment:
Life priorities: What are they top priorities at life (social life, financial stability, health)?
Context: How will they be using your product? At home alone or shared with their family/friends?
Depending on your business, you can have as many personas as needed, but don't be afraid to start small with as few as one or two.
2. Consider a suitable pricing strategy
Once you know your customers, you can price your product accordingly.

There are several types of pricing strategies:
Flat-rate pricing
This is the simplest pricing plan you can have. One product, one set of features, and one price. The only way this pattern is different from on-premise software is that it uses a subscription fee.

Despite its simplicity and seeming convenience, you will rarely see the flat-rate price among SaaS vendors. Guess why! It doesn't allow them to target multiple buyer personas, limiting them to a narrow span of demographics, budgets, and company sizes.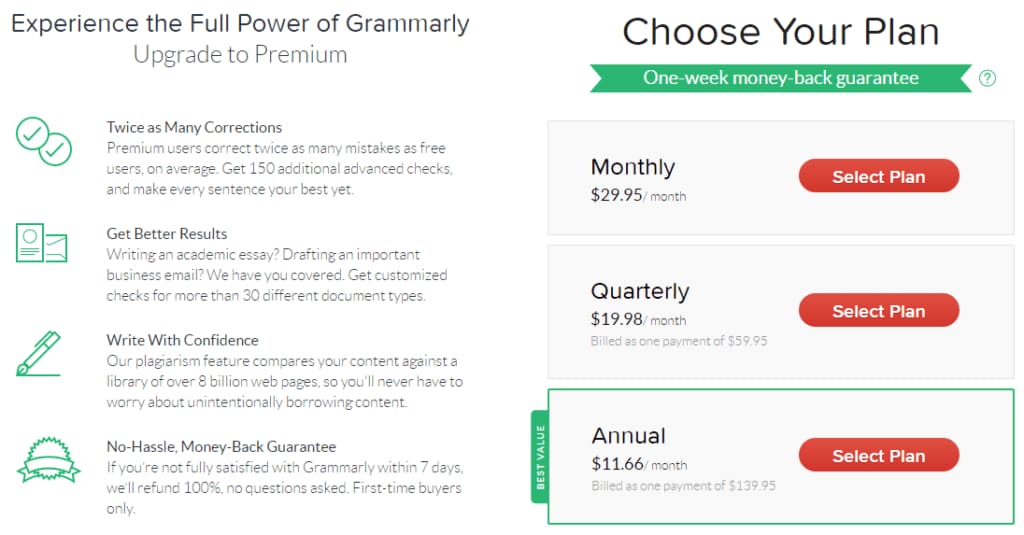 Grammarly's Premium plan is one of the rare cases of flat rate pricing in SaaS
Usage-based pricing
This model is the most common for infrastructure-based SaaS products that work with cloud computing, payment, and data services – basically whenever users must pay for the amount of storage, data, or transactions.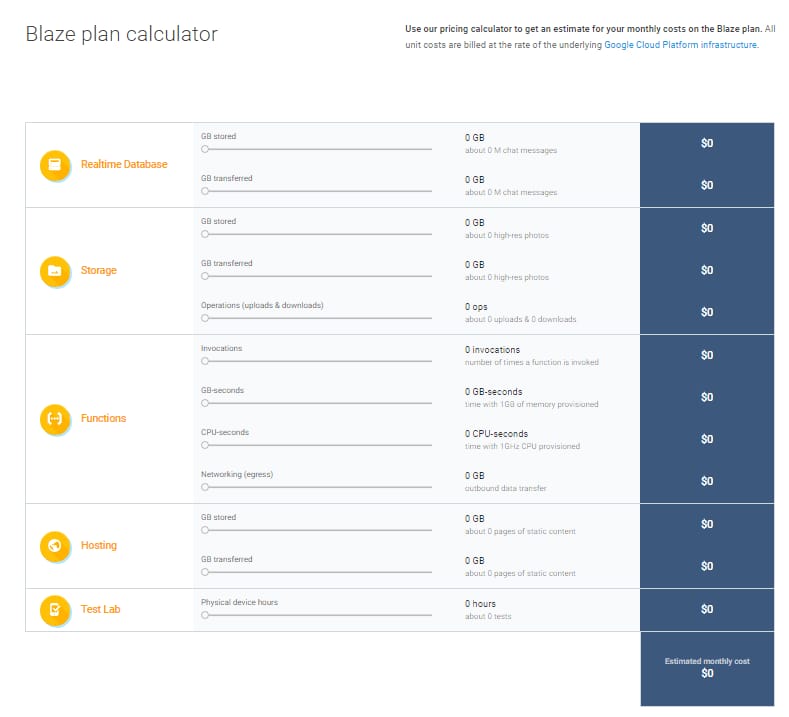 Google Firebase Blaze plan allows users to get an estimate of their monthly costs
The main disadvantage of this strategy is unpredictable revenue for you and cost for your customer. However, many small businesses and startups – with limited data usage or storage needs – will be able to utilize your service and pay only for what they get.
Tiered pricing
This strategy is the most frequently used one, and for good reason. It allows vendors to offer multiple packages, differing by price and features. Tiered pricing not only appeals to multiple buyer personas but also provides opportunity for customers who have outgrown their current plans.

Another commonly adopted approach is a freemium – a tiered strategy where the basic tier is free.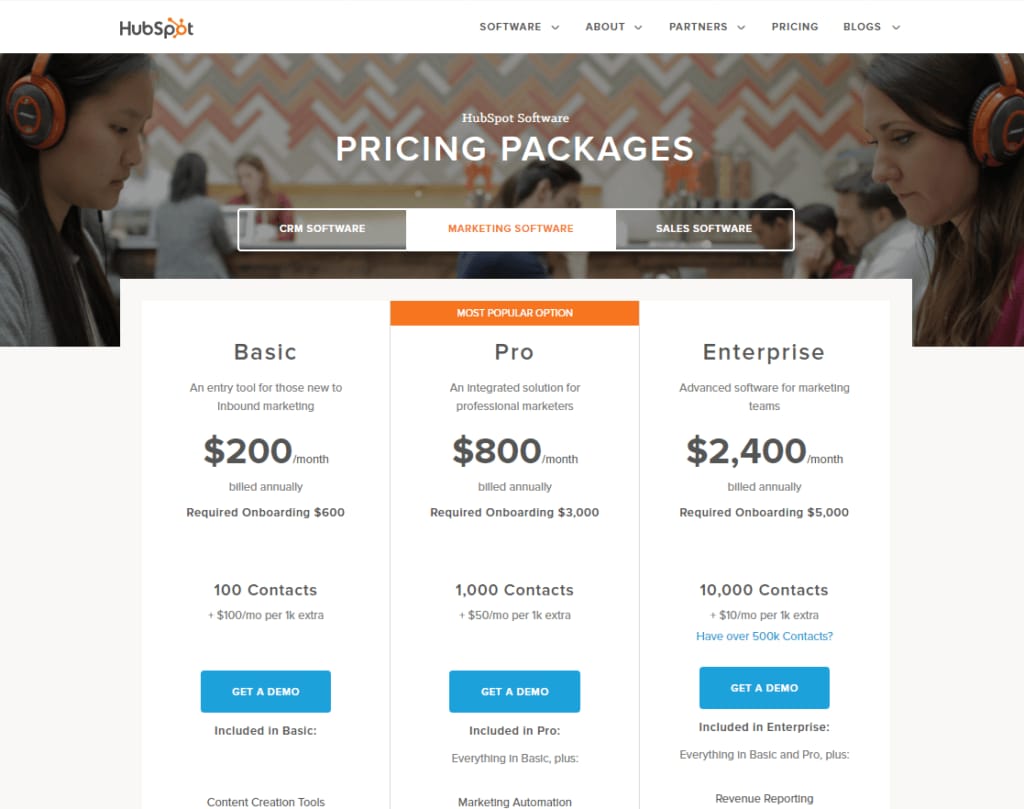 HubSpot's Marketing software is priced according to the tiered approach
Here are some tips for creating tiered pricing packages:
Make it worth it. Let the user gain significant advantage from upgrading to the higher plan and not feel ripped off after paying for more.
Set the bar high. Your top tier should deliver premium added value, while the middle one is usually where your core value sits. You get most of your revenue from it.
Be ready to test. You will probably have to test different price points and functionalities before deciding on the most marketable packages.
Define the roles. What role does each tier play? Luring new customers, optimizing revenue, or setting a reference point.
A buyer persona for each. Make sure you understand the user willing to choose each package.
Limiting users to a number of features motivates them to upgrade to a larger set of functionalities. However, it may be difficult to create truly fair pricing. Be careful not to put your main benefits into the cheapest package and eliminate the need to upgrade. To learn more about pricing, consider checking our story on software product business models and monetization.
3. Focus on user experience and customer service
At the beginning, it's vitally important to encourage users to share experiences inside their circles. You have to make the first impression and it should be good. But your first release isn't going to be flawless. The software will lag, it will have some bugs, a number of UX decisions will reveal their weaknesses after facing the cruel world.

Here're some things you can do to break the ice and retain early adopters:
Eliminate critical bugs prior to launch
It's normal to have some problems with your product. So, be transparent. Reveal issues and roll out improvements in a timely manner. Thankfully, most development crews work on Agile methodology now and should be able to iterate fast enough. Don't forget to notify users about fixes to make them feel cared for.
Practice friendly onboarding
Many companies focus too much on acquiring clients but forget to pave the path for seamless onboarding. Your users need a guide to understand how to make your product work for them. Send welcome emails, provide detailed tutorials, assign a personal assistant – this all is considered plain, old good etiquette. A smooth start is a journey to success.
You can't overcommunicate
Your business may be growing, your users satisfied with a smooth onboarding experience, but if you don't communicate with the customers regularly, they won't hesitate to leave you for a new vendor. A client will have a much harder time breaking the bonds with you if you develop a durable connection with them. Asked-for advice and ongoing feedback not only helps strengthen a bond, it also provides valuable insights that you can use to further improve the product and user experience.
4. Adopt SaaS-specific marketing tricks
It's hard to advertise something that is constantly changing and has no physical presence. In a SaaS model, a terrific product and excellent service are fundamental to a successful marketing strategy. In addition to the standard marketing tools and methodology, let's look at SaaS-specific practices that have been proven effective.
Everybody loves free trials
For a user who's willing to pay, a free trial is not an opportunity to use your product for free, but rather a chance to get to know its basic functionality in practice and understand how valuable it can be to their organization. The freemium pricing plan that we've mentioned above can become a great starting point for onboarding, conducting customer research, and starting to build relationships with hot leads before they become clients.
Tell-a-Friend
"Every customer interaction is a marketing opportunity. If you go above and beyond on the customer service side, people are much more likely to recommend you." said Stewart Butterfield, a Slack's founder.

Don't underestimate the impact of words and create your own customer referral program. In a perfect world, customers tell their friends to use your service just because it's that good, but in reality, even high growth companies look for ways to get more referrals. Here are tips for referral programs that work:
Write a referral letter for them. Auto-fill the referral text for emails and all social media sites your audience frequents.
Explain how the program works. People often don't like referring products because they're not sure what it entails. Provide clear, step-by-step documentation on how it works and what they'll get in return.
Offer something more. People often don't like referring products because they're not sure what it entails. Provide clear, step-by-step documentation on how it works and what they'll get in return.
Reward both sides. Provide a friend with a discount as well. A user may feel better for helping a friend and might even give them a hand during the sign-up and onboarding process.
Everybody writes
The common strategy to starting buzz in the SaaS community is writing about your growth story. Or research the pain points of your target audience and clear them out in a series of blog posts.

Look at Kissmetrics and how they use their content to serve a wide range of audiences. If you want to learn how to consistently refer back to the product while providing value and education, visit Zendesk's blog. Another great example – Buffer – goes into surprising depth with guides directly related to their specialty.
5. Introduce a Customer Success Management (CSM) department
According to Gainsight, Customer Success is real-time visibility into your customers' "health," which is represented by a combination of usage data and contextual inputs.

Often attributed to Salesforce, the term is based on the idea that interaction with your product is so positive and profitable to users that it will variously increase user engagement and loyalty, or even encourage upsell to the services offered. The working CSM strategy should motivate customers to share their success stories and encourage more people to try your service as well. It is often defined as a mix of Marketing, Sales, Training, and Customer Service.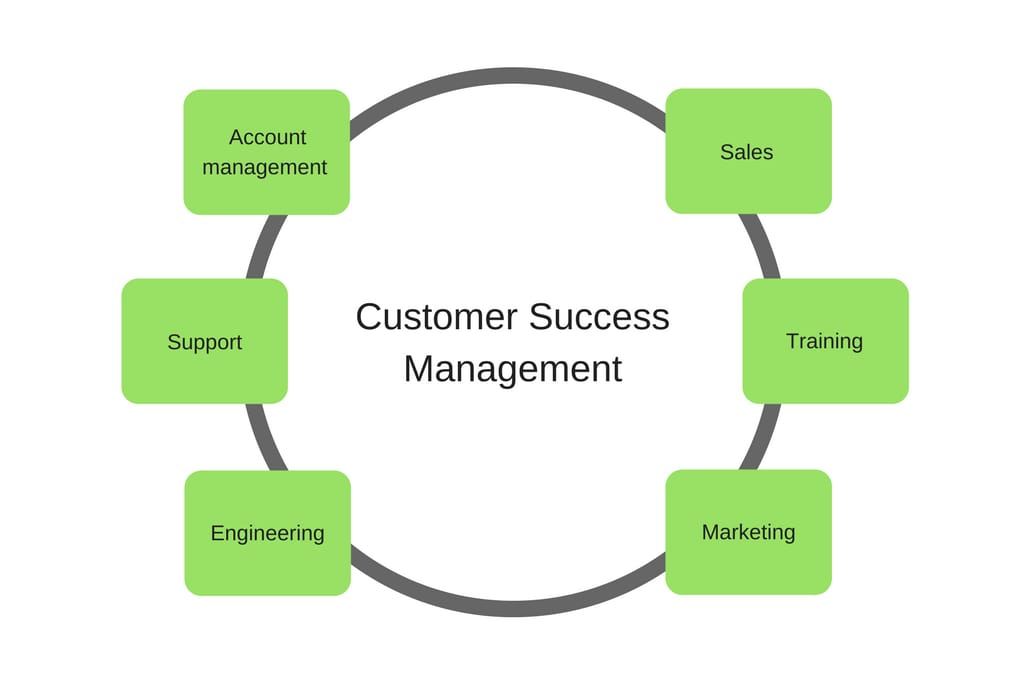 Customer Success Management is a combination of many organization functionalities
Is there a point to introducing a new department that does what other ones are already doing? In theory, if you sell a product and it works well, you don't need a customer success team. But in reality, you always need an additional link between the point where sale happens and the product's functionality. And that's where CSM lives.

Here are the three points that underpin any customer success strategy:
Deliver beyond expectations
Even if it takes more time and resources, delivering above expectations should be an important aspect of CSM responsibilities. The users are counting on your product to help them solve important problems and the members of your customer success team should anticipate the delivered promises. Take extra care in preparing content for different kinds of customers: Organize webinars and presentations to educate and nurture success. After helping a client, don't just forget it, but return in a few weeks with an email "Hey, we gave you advice some time ago. Did it work?"
Saturate your company culture with CSM
Customer success team members should operate across your company departments – and they ought to be empowered to do so for the sake of your customers. CSM shouldn't be siloed and encourage other teams to help resolve customer issues.
Focus on a customer's metrics
CSM should focus on their customers' most important goals so they can detect how customers are progressing against their metrics. Your company's product becomes a retention generator, irreplaceable to a client as you help them grow and hit internal goals.

For example, consider expansion revenue – the percentage of your new revenue that comes from existing customers. Seeing how soon they upgrade to higher-tier plans will help you identify how your customers grow with your product or whether they grow at all. Another useful index could be a net promoter score: Ask your users how likely they are to recommend your product to a friend or colleague and subtract the percentage of detractors from promoters. This helps to predict customer loyalty and suggests how many people will stick around longer.
6. Plan third-party integration in advance
Regarding the web, one of the main things you should remember is that your customers have been there before and they've been using a sweeping range of services. In the world of ubiquitous connectivity, poor integration with services that your personas regularly use may be a death sentence to your SaaS initiative. Customers may consider onboarding and moving their data to your platform too cumbersome to even try. And this isn't limited to synchronizing with the Google calendar and adding social media buttons.

So, what are the points to consider?
Manage data synchronization
Many profitable SaaS applications thrive because they simply build systems on the junction of multiple data feeds. For instance, if your service targets corporate users and entails operations with your clients' customer base, it's reasonable to use Salesforce or other target CRM APIs to support seamless customer base import. Here's an example from the travel tech industry: TripHobo, a trip management service that we covered in our travel tech story, integrates with Airbnb and lets users add accommodation options directly from there.
Streamline data import
Sometimes API-backed integration simply isn't an option. If your target audience is using Excel to store their data but they need your service to process it somehow, don't make them convert files into CSV prior to importing them. You should consider all data formats that your customers may use with your service to make their lives easier. This also means additional engineering effort to enable work with specific formats like PDF or unpacking ZIP archives to enable bulk upload if needed.
Consider making a browser extension
A browser remains the main point of contact with the web for your users. It's likely that when assessing the main data sources that your customers have, you end up realizing that there's no single set. Users may need to work sporadically with multiple sources of information. And cross-integration with tens, if not hundreds, of services isn't possible. Sometimes the services themselves don't have APIs to allow for data import. Browser extensions address these problems by putting your product at hand all the time. The previously mentioned Grammarly checker has its own browser extension, which adds the checker to most text fields across the web. Or CleverStaff, an applicant tracking system, uses a browser extension to let clients upload candidate profiles directly from LinkedIn to the system without actually integrating with it.

This becomes trickier when the user's significant point of contact is the mobile web as those browser extensions don't work here. Mobile first strategy may be your best strategy bet: Build an app first and then scale for other platforms. Another approach is to gradually build an all-encompassing service, like 1Password did. Their solution generates secure and different passwords for every resource where users must log in and it automatically applies them. Today 1Password covers all major operating systems, both mobile and desktop.
Research SDKs of services that your customers already use
If your service aims at corporate clients, it's likely that they use another SaaS infrastructure to manage their data and operations. If you plan to become a part of this ecosystem, making your product according to specific guidelines is worth considering. The smartest move is to research what kinds of ecosystems you want to become a part of and match these ecosystem recommendations. For instance, Microsoft supports a wide range of device and application management software. For your service to be integrated into the Microsoft framework, compliance with specific authentication standards or development using SDK tools that Microsoft ships and recommends is necessary.

The good news is, in most cases, you can make your product compliant with standards of many ecosystems at once to achieve greater user coverage.
Carefully decide your payment options
Payment integration is generic today. Payment systems provide high-quality support for their APIs and it's usually a minor engineering effort to incorporate multiple payment options. However, a frustrating number of SaaS vendors still depend on a handful of systems, instead of embracing the new reality. By deeply studying your audience demographics and their feedback, you'll be able to discover the most common payment options they want and feel safe with. Some people just feel more comfortable with Bitcoin or PayPal than with granting you their main bank card details. You can be 100 percent secure when asking for a card number and CVV, but it's hard to combat the prevailing anxiety.
7. Know your metrics
The SaaS model requires a specific approach to measuring and understanding the key variables that drive SaaS success.

That's because every SaaS business suffers loss in the early years. Acquisition costs are borne right away, but revenue comes much later, over the long haul as customers pay for the service month after month. If you don't understand this, you may give up too soon and hit the brakes right when your business starts to grow. Because of the loss, it's often hard to see if the business is viable and prove to investors the wisdom in continuing. Here's where analytics come in to measure success.
Balance customer acquisition and lifetime value
First, we must measure customer acquisition costs (CAC). By itself, this variable doesn't tell us whether we spend too much and whether we will attain ROI. That's why we also need to calculate customer lifetime value (LTV). Generally, if LTV is 3X or greater than CAC, it's a good sign that the business model is working. Which means that every customer should be paying you $3 for every $1 spent acquiring them.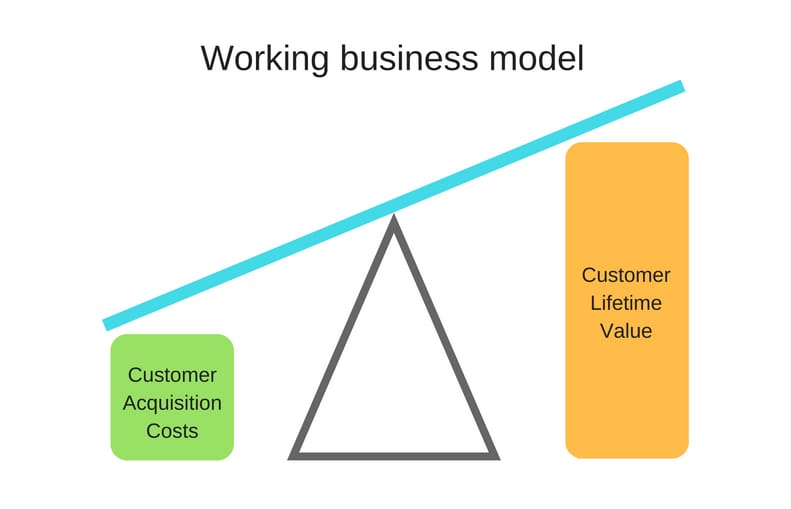 If LTV is less than CAC, something is out of balance, meaning that the company is spending more money to acquire the customer than it generates in profit over the customer's lifetime. This is fine in early stages, but should be alarming once your platform gains some traction. Possible reasons for this occurrence could be a) bad pricing strategy; b) inefficient acquisition strategy; c) customers leaving before they've covered the costs spent to acquire them. The recommended strategy to grow your LTV in the early years is to acquire as many customers as possible and then maintain a healthy balance by retaining them.
Consider the churn rate
Then we need to look at churn in relation to new customers. If churn rate equals the new customers rate, it means that the growth begins and then stops. To overcome churn, add more customers at greater speed, and then retain them with the help of your customer success team.

There are two types of churn: customer churn and revenue churn. Customer churn measures the rate at which your customers cancel subscriptions. Revenue churn shows how much recurring revenue is lost due to unsubscribing. However, customer churn doesn't always equal revenue churn, due to different subscription plans and upselling customers to higher packages. The goal of calculating churn rate is not just in knowing the numbers, but in understanding why the churn is happening. Combine and examine customers with similar attributes to figure out what triggered a result.
Consider billings
Another good index to measure the growth of a SaaS company is to look at billings.

When a client commits to spend money with your company and signs a contract, they have booked your service, but did not yet pay for it. As soon as the service is provided, you recognize that money ratably, over the life of the subscription, and will recognize a portion of that money each month as revenue.

Now, billing is when you actually collect your customer's money – at the time of booking if they're paying months in advance or after you have successfully provided the service, for example, 30 days after the provision if you have net 30 payment terms.

It's better to evaluate the health of a SaaS company with the help of billings than simply looking at the revenue. Because of the recurring nature of SaaS company revenue, your business could show stable revenue for a long time (while you could just be looking at your signed bookings, but no money will be coming to your bank account) which could make the business seem healthier than it truly is.

There are dozens of metrics you can track for your SaaS business. But in real life you will likely focus on a few that actually help you understand what's going on with your company. Make sure to test until you find those most suitable for you.
8. Adopt a multi tenant architecture
When choosing an architecture pattern for their services, SaaS vendors usually have an option between multi tenant and single tenant styles. The difference between the two lies in the way companies share their data on the same software. Single tenant appears to be more customizable, where every customer has their own instance of an application that is stored and supported separately. Multi tenant stores each user application on a shared database, which results in its own advantages. We've illustrated the difference in the picture below.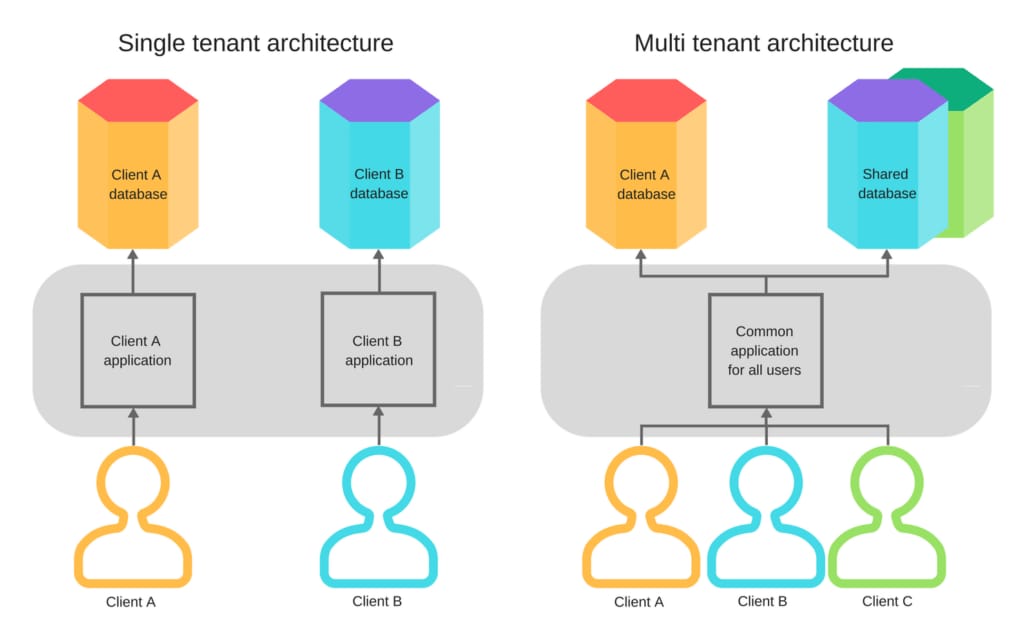 Let's look at the most valuable benefits, drawbacks, and use cases for each approach.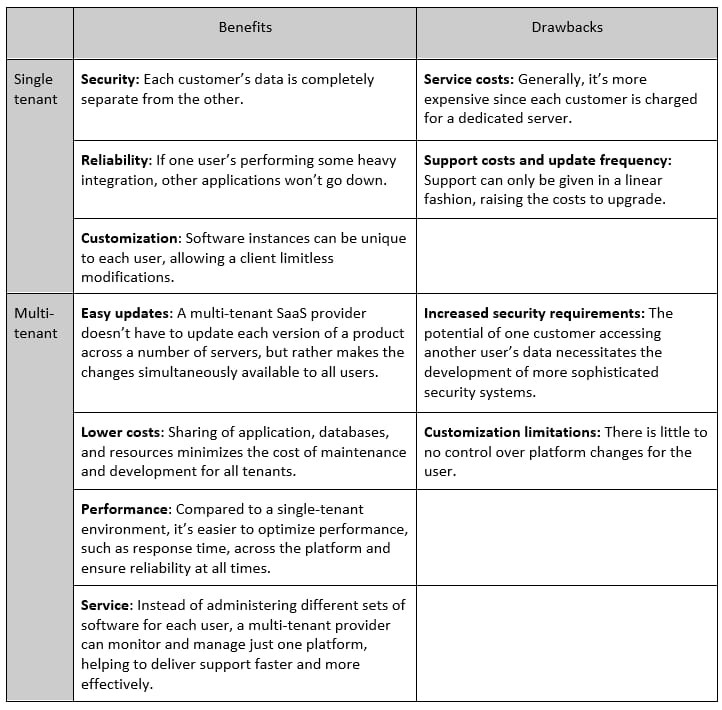 Despite pros and cons for each approach, most SaaS companies are multi-tenant. Due to scalability and cost effectiveness, multi-tenancy is the way to go for most SaaS businesses. Moreover, SaaS vendors are looking to provide services to the customers who can't afford the time or money to build a specific product for their needs, and that's where multi-tenancy is tied to the SaaS environment.
9. Provide a possibility of offline rollout
In the era of constant connectivity, it's easy to overlook the need for offline access.

According to IDC, for the Fortune 1000, the average total cost of unplanned application downtime per year is $1.25 to $2.5 billion. More and more businesses rely on SaaS for their vital operations and the possibility of downtime makes them subscribe to the premium packages of software to ensure synchronization for offline use. Moreover, the growth of enterprise mobility adopted by companies forces people to work on the go. Consequently, they should have at least the access to data that they currently work with. Not to mention that many users struggle with unstable Wi-Fi.

So how to ensure offline access to your customers?
Make an offline mode the default mode. Add an automated or manual update function to sync the documents if a connection is available.
Store information that was added while offline locally. As soon as the connection is restored, the data can be synced.
Make it possible to edit and delete existing information. Allow a user to resolve the conflict by choosing the latest version of the document and replacing the old one.
Provide an export feature. Let users download important files in case of a downtime.
The bottom line
The promise of recurring and predictable revenue attracts many people to SaaS, but the typical struggles that come with this business model may be upsetting and discouraging. That's why it's important to be aware and prepared for the possible obstacles. The crucial step is to embrace the SaaS-specific practices that go into building a profitable company.

So, let's sum it all up. Customer success is more than just another name for sales and support. Also, you can't evaluate how healthy your business is with the traditional metrics. If you want to lower development costs and roll out updates effortlessly, make multi-tenant architecture your style of choice. And finally, create a buyer persona, or even two.

Let us know what pain points you have in terms of building your SaaS business or growing it. And learn how AltexSoft helped Merlot Aero augment the functionality of their SaaS product.