Despite already having online conversations, face-to-face meetings are still irreplaceable. For businesses, consider traveling a double-edged sword that delivers many benefits but also a bunch of risks.
Over
76 percent
of business trips are taken to meet the client on their own turf. While using multiple types of transport to reach the destination, you are obviously worried about natural disasters, terrorist attacks, and political unrest. But the most common travel issues you'll face are routine injuries, overbookings, or other travel disruptions. According to an
Amadeus report
, travel disruption cost is nearly $60 billion per year, which is a cause for concern.
In this article, we will discuss corporate travel risk management as a concept along with technical solutions used to support it. We'll describe what risk management is, which components it includes at the organizational level, and which tools are used to implement security measures.
Corporate travel management process components
To offer convenient conditions for traveling, companies establish corporate travel management inside their organizations or hire dedicated
travel management companies
that offer risk management services. Let's first figure out how the whole process is structured.
Corporate travel management
is a set of measures and guidelines to support employees in a trip organization. Those guidelines may include information on which airlines/hotels are better to be booked, timeframes for booking (e.g. month in advance), and preferred accommodation types, etc. It also includes security measures, budgeting, reporting, and data protection. As such, corporate travel management can be divided into several categories that cover different aspects of the travel process:
Corporate travel program
. Such programs include the general trip-planning rules for travelers. Those may be guidelines for forming an itinerary via a corporate application, or booking flights, hotels, use of home sharing, or on-ground vehicles through corporate booking platforms if there is one.
More specific rules are made in the form of
travel policies
that provide rules for on-travel expenses. Travel policies may cover the following travel expenses:
Legal expenses
Medical (treatment in case of injuries, common illnesses)
Transportation costs
Accommodation expenses
Other in-trip needs (meals, elements of comfort)
Another element concerning budgeting during the trip is
travel expense management
, already spoken about in our dedicated article.
Data management
. Another important component is data management. No matter who liaises with your employees while they're traveling, whether it's a travel management company (TMC) or your company's in-house travel desk, it's vital for that travel manager to obtain all the data. Managing the trip via a single system may include a data dashboard to receive all the necessary information about the traveler in one place. The dashboards may be provided for each department to receive dedicated reporting on the budget, location, or itinerary. In the case of an enterprise-level company,
business intelligence tools
can also be used to consolidate data from corporate travelers.
Data management is closely connected with the other aspects of corporate travel management, as it serves as a source of information for different purposes. Historical data can be used to form travel policies and travel profiles (a brief list of risk for a certain travel destination).
Travel risk management
(TRM)
is a general term that encompasses security measures provided to business travelers. Another name for TRM is the duty of care, which is basically a responsibility for the health and well-being of your employees while on the trip. Travel risk management includes both proactive and reactive methods of avoiding threats, sometimes with the help of constant data flow and location tracking of the travelers. The security measures provided in terms of TRM include the creation of organizational units (e.g. crisis management team), forming plans, or hiring dedicated TMCs.
Travel risk management software
For a long time, TMCs and large corporations used to provide manual support to their business travelers. It was hardly possible to prevent disruptions or provide information in advance to the traveler just by phone. Travelers, in their turn, were unable to receive support in case something was going wrong.
Manual operations in risk management are not a thing of the past, as lots of TMCs and other businesses have stuck with archaic technologies like GDS green screens.
To provide constant support to the travelers and receive all the necessary data for it, companies develop dedicated risk management systems. So let us take a look at how specific software solutions can solve the problems mentioned above, and what risk management systems look like in general.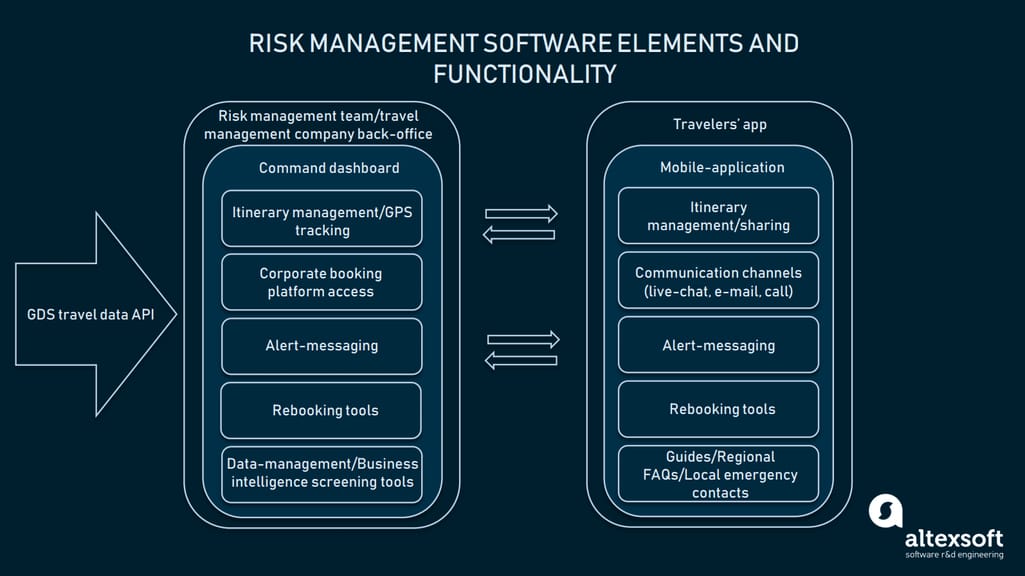 A scheme of a travel risk management software system
Basically, TRM systems include software on the travel management side (whether it is TMC or your own team), which is represented most often by a command dashboard. A command dashboard is a piece of software that gathers all the required functions in a single interface to track, communicate, and store data, and manage information. Using a single interface across different departments, agents are able to receive real-time data sent from the traveler's mobile application, or data sourced from GDSs. Types of data can be different, most often those are itineraries shared between the travelers, or with travel agents, and location and booking data. Dashboards might or might not source travel information from dedicated providers to manage possible disruptions and offer visibility to employees.
On the travelers' side, businesses use mobile (or cross-platform) applications. Mobile applications allow employees to be in contact with the risk management team 24/7, check the necessary data on the go, rebook tickets, and receive alerts. Mobile app functionality might include a connection to dedicated corporate booking platforms and itinerary management instruments. Additionally, GPS tracking is set up to send location data to the risk manager.
To understand how both software elements work when paired, watch a video by
Concur
on their active monitoring software that shows dashboarding, live tracking, and alerts in action:
Concur Locate and Active Monitoring Overview
So, let's have a look at live tracking systems in detail and how they work. Software utilized by businesses to manage travel risks includes instruments that obtain real-time data about the travelers, visibility over the travel destination, and communication with employees. The following pieces of software are tailored to solve general or specific corporate travel risk management tasks and provide control over an employee's trip.
Live tracking and itinerary management
Being able to receive real-time data in a split second helps both travelers and risk management teams to be informed about the current situation. Live monitoring is done with the help of command dashboards on the management side and specific mobile applications on the traveler's side. Receiving information about the traveler, risk management teams are able to lead the client along the way, providing the necessary support.
GDS connection and itinerary management
Global Distribution Systems
or GDSs are the most comprehensive sources of travel data. Providers like Amadeus, Travelport, and SABRE hold a monopoly in the travel industry capable of providing all types of flight, hotel, and even some vehicle rental data. Connecting to GDS pipelines, it's possible to receive flight status, delays, or cancelation to assess disruptions and optimize the trip for your traveler.
GDSs offer the fullest range of content available on the market, considering the fact your travelers will use different hubs and carriers.
XML APIs
provided by GDSs offer wide capabilities on data sourcing and itinerary tracking through TRM dashboards. Additionally, data obtained from GDSs can be used for itinerary management and planning. Some providers offer dedicated products for TMCs, like
Mobile Messenger
app by Amadeus, which can receive updated flight status information.
Travel risk management dashboard
A TRM dashboard is the main monitoring tool that consolidates all the traveler's data in one place and manages it through a single interface. Dashboards are integrated with a GDS's API, allowing you to access travel information, book tickets, rooms, and observe booking changes (or make rebookings). Through a command dashboard, you can track travelers' itineraries or their location via GPS data.
Among the other important functions of the TRM dashboards are:
budget reporting
itinerary management
auto-rebooking tools
live chats with travel agents
Live access to constantly updated data via a command dashboard helps risk management teams to assess possible threats or support a traveler in a crisis situation more effectively. But, of course, it requires a solid technical solution for the traveler on the other end.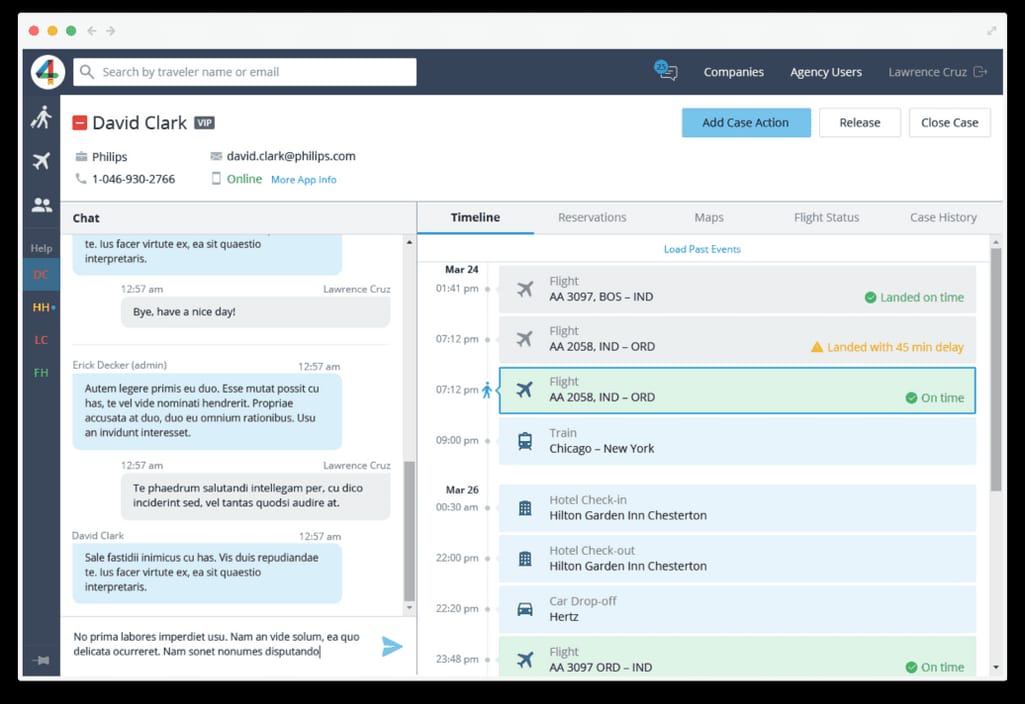 Dashboard example of a risk management tool
If you want to learn more about real-life implementations of TRM technical solutions, check our case study of the
project for Cornerstone Information Systems
.
GPS tracking
To receive updated information on your employee's location, use GPS tracking. GPS tracking established on a traveler's mobile device helps you see where your traveler is and how they're moving in accordance with the itinerary.
GPS tracking can be controversial as it may be considered an intrusion on your traveler's privacy, making the employee less willing to comply with your corporate travel policy. Additionally, tracking may be prohibited by law in some countries
Personal location is required to protect your travelers and give more concise instructions in case support is needed. Also, in some European countries like Germany, there are serious restrictions on tracking people. GPS tracking can be partially replaced by itinerary check-ins, using mobile devices at points of travel. Nevertheless, it doesn't guarantee any support during the trip.
There are also solutions like anonymous tracking by
Voyage Manager
. Anonymous tracking is a service that helps to comply with European laws and solve privacy issues. Basically, it enables tracking the traveler without knowing the traveler's identity. This allows you to maintain contact with the person in case of emergency but keeps everything private.
In certain occasions, GPS tracking can be unavailable. In some countries, mobile networks are simply not maintained, which means there is no mobile internet either. Old mobile devices that support only 2G networks would also be powerless to support GPS tracking. But there are a couple of alternatives. For example, your business travelers may use IoT devices like beacons at the airport to check-in whenever they pass the point. This variant doesn't allow for real-time tracking but can show you how your traveler is moving on their itinerary.
Risk assessment
Risk assessment is a proactive approach to risk management, which entails data analysis to identify, avoid, or resolve possible risks. Risk assessment utilizes data generated by dedicated departments, considering also travel policies and profiles. Using such insights, it's possible to prevent threats and notify your traveler on the go about potential issues. These security measures not only include steps taken by employees themselves, they also instruct on how to contact support or where to ask for help.
The basics of risk assessment are lying in the field of traveler's profiles and assessment plans. Those are documents created prior to the trip and presented to the traveler in the form of briefings to educate them about potential risks and how to avoid them.
Technical implementations like risk alerts and data flow (local news, instructions) help travelers to stay in sync with the risk management team. Let's have a look at a simple example: the traveler is moving through a city in a taxi, while downtown there's a traffic jam because of an accident at a construction site. The employee might know what to do in case of such situations, thanks to briefings. The job of a risk management team would be to track such accidents and notify the traveler.
To conduct an effective risk assessment, your agents should be able to quickly communicate with the traveler and have constantly updated data. Phone calls are ineffective in certain situations. Extreme weather changes, military events, political unrest, or the like may necessitate rapid revisions in plans.
The following technical solutions help to perform a risk assessment with the help of mobile devices, real-time tracking.
Risk alerts
Risk alerts or smart alerts are a way of notifying both the traveler and support team about potential risks. It is an ultimate tool to keep members of the TRM process informed about booking, possible disruptions, accidents in the traveler's area, or any other risks. Risk alerts can be implemented as email notifications, SMS, or push-notifications in the application. The data for notifications can be sourced from publicly available news and media resources that report about local accidents.
Constant data updates
Interactive interfaces both in desktop and mobile applications that can show itinerary, booking changes, alerts, and provide live chat in one place via a mobile device are a good choice for your travelers. Aside from being much more convenient to track changes with a smartphone, the device is always with a traveler, guaranteeing much faster reaction to events that occur.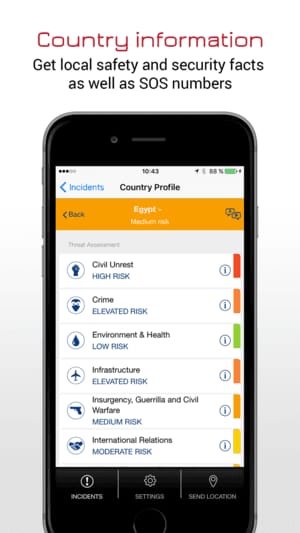 Mobile application for travel risk management, security data screen
Source: applestore.com
A mobile application can also be effective for risk assessment. Briefings conducted before the trip are aimed at widening traveler awareness. Nevertheless, refreshing this information on the road is required.
To provide a convenient way of obtaining information, a mobile application should include:
Live chat with a travel agent
Embedded guidelines
Emergency phone number databases for specific travel destinations (or travel profiles)
Briefing recording or an electronic version of it
That would ensure that your employee has all the country-specific information or has quick access to it.
Crisis management
Crisis management is used to support the traveler whenever a problem arises. Unlike risk assessment, crisis management is aimed at reactive support. To handle such situations, crisis management teams are formed. Those are teams that are capable of providing constant communication with the traveler by any means. Members of the team should include representatives of various departments to make decisions on medical budgeting, transportation, and communicating with third-party vendors.
Travel risk management in general, and both risk assessment and crisis management are data-driven processes, requiring constant channels of communication and real-time data flow. Today's travel management companies that provide TRM services offer a wide range of software both for desktop monitoring and mobile usage. As business travel moves closer to the convenience of leisure travel, mobile devices become a tool for managing risks while on the trip.
24/7 support and communication channels
Communication is valuable for preventing possible risks. Good TRM software should be capable of providing omnichannel support across various devices. Implementing a chat-bot for crisis management isn't a good idea. You should rather think of communication channels (both mobile networks and Internet-messaging) to ensure your traveler is able to call for help. To provide situation visibility and arm your employees with multiple channel communication, think of the following functionality:
Live-chat
. Employees might want to ask for support not only in a crisis situation but also in the case of minor problems. For that purpose, mobile applications include multiple communication channels available on different devices.
Email & SMS
. Not as speedy, but convenient and valuable ways to ask for help.
Voice & video messages
. To provide maximum support, your travelers should be able to convey any kind of information, including visual. Voice messages are handy and less time consuming than typing.
Local authority & country emergency channels
. Databases with local emergency phone numbers are handy in crisis situations. This can be managed by an agent, but still required in the traveler's app. Those contacts traditionally include medical institutions and emergency services.
Communication channels will allow your employees to check in with the support or crisis management team. Traditionally, support agents would be members of your dedicated teams (HR, finance, legal, executive, crisis management, health, and safety), or TMC agents.
Disruption management
Another aspect included in TRM is disruption management. When we talk about possible risks on the road, we should think of not only global threats like terrorism or political unrest. Traffic jams, booking issues, cancelations or flight delays impact the traveler. All the issues that prevent a traveler from being on time are considered disruptions.
Disruptions can be avoided using rebooking software. Those are mobile applications connected to the command dashboard that allows the traveler to receive a cancelation or delay notifications. After the notification is received, the agent or the traveler is able to book new tickets. A good example of such software is the
Ticket Changer
tool, which comes as a part of the Amadeus disruption suit.  Read more about
disruption management
in our dedicated article.
Summing up
Aiming at proactive risk management, you want to ensure full security of your business travelers. To provide it, you need a comprehensive technical solution that will offer constant data updates, omnichannel communication, and fast alerts. Connectivity with the major travel data providers such as GDSs is vital for receiving a robust, real-time picture, as well as historical data for further analysis. Using a mobile application in pair is a perfect choice for merging the convenience of leisure travel experience with the needs of business travel.
According to Amadeus, over
50 percent
of business travelers don't follow company travel policy because of inconvenience. Developing a solid ecosystem that's comparable with the leisure travel experience will make your travelers far more willing – and even happy – to use corporate booking tools and planning applications. And that ensures security for your employees and your organization.