A pharmacy was always more than just a place to get your prescription. Patients treated pharmacists as consultants, someone to help them choose an over-the-counter medicine or make sense of a prescription's dosage and instructions. Always happy to oblige, they rarely had enough information about a person's medical history, allergies, or treatment plans to give more complete advice. This, however, is changing. The healthcare industry is experiencing transformations and pharmacies are no exception.
Patients have access to their medical data and ability to securely share it. Hospitals are encouraged -- if not forced -- to become interoperable and connect with all the other players in the field. Valuable data is collected and transformed into insights that help make life or death decisions with more confidence. Basically, it's much easier to abandon manual processes and participate in patient care instead, all the while growing as a business and staying competitive
on the growing market
.
Let's talk about pharmacy management software (PMS) and how it helps achieve two business goals: 1) having a more efficient, automated pharmacy workflow, and 2) staying above the competition by improving patient outcomes and providing a better customer experience.
This article will be useful to those who:
already have a patient management system and are reviewing more integration options,
want to acquire a PMS and need to know what to look for, or
think about building a custom PMS.
Why you need pharmacy management software
A
pharmacy management software
is any system used in a pharmacy that helps automate the pharmacy workflow. This includes such tasks as reviewing physician orders and preparing medications, controlling the inventory and making drug orders, handling billing and insurance, providing counseling, identifying incompatibilities, and more -- all while following legal protocols and compliances.
And these are just the traditional functions that can be automated. Many more features can give the pharmacy a competitive edge by providing better customer experience and attract patients with more personalized and engaging service. We will talk in detail about such features in the following section. Now, let's go through the main benefits a pharmacy management system will help you get.
Improving pharmacists efficiency
. Pharmacists spend most of their working hours dispensing drugs. This task requires lots of concentration, a great deal of verification,
drug interaction checking
, not to mention making sense of the doctor's handwriting. Is it necessary to dispense drugs manually? Not at all. With seamless computer-computer communication in place, prescriptions can be easily handled by software, freeing more time for pharmacists to interact with patients. Which leads us to the next benefit.
Improving patient health outcomes
. Patients are seeking counseling from pharmacists and a PMS can directly or indirectly help them get better counseling. Apart from spending more time with a customer in person, pharmacists can communicate with them online on a
patient portal
. And by setting up a connection to a hospital's EHR, a pharmacist can access a patient's medication history to make better recommendations. Besides, special medicine adherence tools can help patients manage drugs they take, helping them easily refill prescriptions that are refillable and receive notifications about them.
Preventing medicine fraud
. Pharmacies play a pivotal role in helping manage the distribution of controlled dangerous substances (CDSs) by entering all prescription information in the Prescription Drug Monitoring Program database and checking it when dispensing drugs. A pharmacy management system
integrated with the PDMP portal
allows you to cut down logging time and effort to just a few clicks as information is automatically added to the patient's history.
Keep reading to learn how PMS functionality will help you achieve these benefits.
Pharmacy management system features
There are different types of computer systems used by pharmacists.
Web-based ordering systems
. Often provided by drug wholesalers, these systems allow pharmacists to order medications on a wholesaler's website.
Perpetual inventory systems
. The use of perpetual systems (digital or not) is required by federal law for Schedule II controlled substances, and involves recording the quantity of medications continuously as the prescription is filled and dispensed. This way, the medication is automatically removed from inventory and you always have updated stock information.
Automatic dispensing systems.
These are machines that automatically count and dispense pills for a pharmacist. Some complex systems even print the label apply it to the bottle.
A PMS usually performs the functions of a perpetual inventory system and provides additional features and integrations to manage all other processes. Let's review them.

Main processes and parties in pharmacy management
Inventory management
Inventory management
processes in the pharmacy are saddled with paperwork and manual checks. Order forms are filled out manually and sent to manufacturers via fax, barcodes are scanned daily to update stock information, unclaimed prescriptions must be put back in stock, and so forth. Of course, not all of these processes can be automated due to federal laws and the technical limitations of your suppliers, but a PMS is able to handle some routine tasks.
Stock organization and counting
. Medication counts are done regularly, but even that can't help in the situation where drug amounts are counted incorrectly or not updated in the system on time. A PMS can keep a detailed log of your inventory that can be easily filtered by the required storage conditions and expiration date, allowing you to prevent dangerous errors.
Medication ordering
. A PMS uses reorder points or par levels set up by the pharmacy to generate automatic orders. The system calculates how many items are needed to raise the stock level and adds this quantity to the order. The orders are then sent via an
electronic data interchange (EDI)
method.
Reporting
. A PMS generates reports allowing pharmacists to easily determine the better performing wholesalers and vendors and understand what factors come into play when ordering medications. This can help them better prepare for the flu season when certain drugs are in demand, and automatically calculate par levels.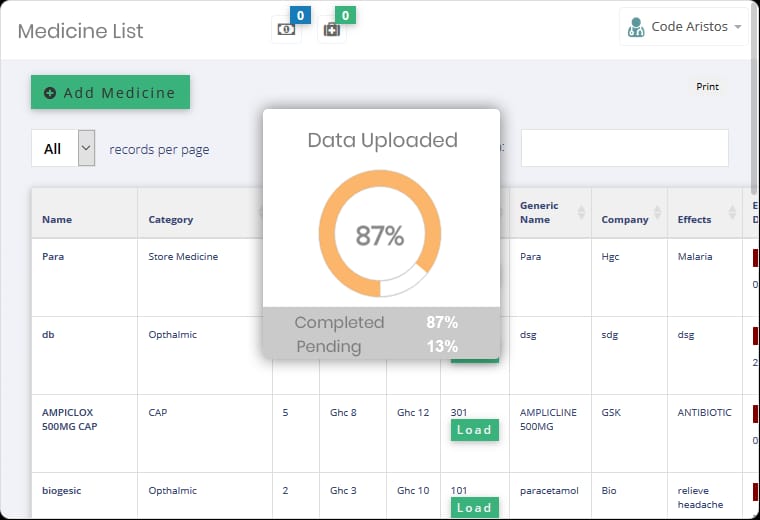 Inventory management interface Source: Matellio
E-prescribing
The process of e-prescribing involves the electronic creation and transmission of a prescription between a prescriber and a pharmacy. Using an EHR or more particularly a
computerized provider order entry (CPOE) system
, a doctor creates a medication order and sends it to a patient's pharmacy via secure connection. The pharmacy can then communicate that the order was received and filled, and even notify if the patient hasn't picked up their medication. Renewal requests can also be made in a couple of clicks.
This eliminates paperwork and helps ensure that the order is never lost or misunderstood -- the dosage is always accurate since the possibility of human error is minimized.
The system-to-system communication is enabled by a special XML-based standard called
SCRIPT
. All prescription software should be certified by
Surescripts
(which functions like
EHR certification
), so check their database to see whether your PMS vendor supports it or get your system certified.
Compounding
Compounding features are tightly intertwined with inventory management and prescribing, so they're often presented as one solution. There are several ways in which a PMS can ensure accuracy in the process of drug dosing.
Scale integration
. A PMS will be able to connect to scales and automatically log weight, even sending alerts when the weight is out of tolerance range.
Batch support and multi-batch compounding
. Software can easily create compound batches, manage their quantities, and organize them. You can also combine batches into one prescription with all information detailed to easily track them down.
Automatic compound pricing and billing
. The system will calculate prices for your compound items based on average wholesale prices of the ingredients.
Let's cover more features that help improve customer experience.
Medication therapy management
In a previous article, we talked about the importance of patient engagement, particularly in a hospital setting and during patient-doctor interaction. The pharmacy environment presents even more capabilities to influence patients' adherence habits and consequently improve customer relationships. This set of services provided by pharmacists is known as Medication Therapy Management.
MTM includes such processes as:
Creating a medication treatment plan
Resolving drug-related problems
Providing patient education and training
Here are some features of PMSs that support MTM activities.
Collecting patient information.
A PMS works similar to the way a CRM does, gathering information about the patient from different sources, including the current medication list, medical history, and test results from their hospital's
EHR
, and data provided in conversation with the patient, such as lifestyle habits, socioeconomic factors, and health goals.
Patient information analytics
. The collected data is then put to use by being translated into analytics. Such software called
clinical decision support (CDS) systems
can highlight problems depending on a patient's goals and propose the most effective and safest medications.
Developing a patient care plan
. Here, medication adherence tools in the form of notifications and calendars can be used. A physician and a pharmacist collaborate on the medication therapy plan and then follow the results.
Implementing and evaluating medication therapy
. Once again, pharmacists and physicians assess any medication problems and side effects that arise during therapy and modify care strategies.
For these strategies to work, a pharmacist should have a strong collaboration with a physician and a reliable communication channel with a patient.
Point of sale and billing solution
A modern point of sale system goes beyond processing credit card payments, supporting a shopping experience patients are used to and helping to manage the inventory.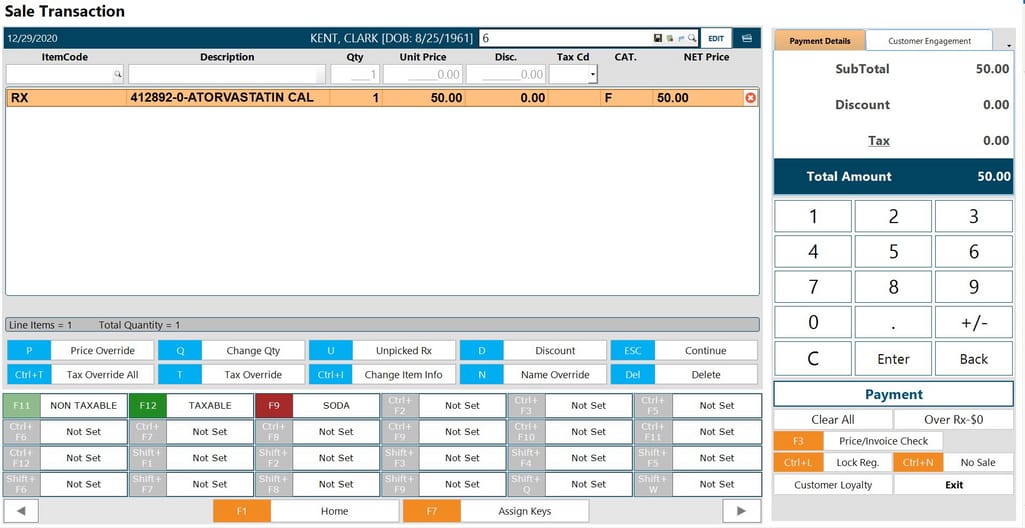 PrimePOS interface
This includes support for:
processing different payment types and returns -- support for credit and debit cards, FSA/HSA cards, Apple Pay, online payment requests, and fund returns processing.
electronic signature capability -- capturing HIPAA-compliant electronic signatures in store and at delivery that are automatically verified with patients' records.
real-time inventory management -- updating inventory at checkout.
financial reporting -- generating customized reports.
loyalty program management -- creating and managing the rewards program.
sales, coupons, and gift card management -- generating custom benefits and applying sales rules.
As is often the case with enterprise software, it's acquired in modules, meaning that you get to choose what features you need depending on your current budget or needs. This is particularly relevant since the pharmacy software market is fragmented with lots of players who offer different opportunities, modules, and integrations. So, what can you get above the base software?
Pharmacy management system integrations
Apart from the basic PMS features, there are many integrations a pharmacy can benefit from. Let's look through some examples.
Delivery and shipping solutions
. If you're not doing deliveries on your own,
integration with FedEx or DHL
will be helpful when managing orders, sending delivery notifications, and automating fulfillment processes.
Interactive Voice Response systems
. HIPAA-compliant IVRs are popular in the pharmacy setting when the floor is busy and the phone keeps ringing. Providers like Digital Pharmacist and Omnicell work with pharmacy management systems.
Prescription labeling
. Systems like ScriptAbility plug in to PMSs and create accessible labels with large print, Braille, Controlled Substance Safety and Dual Language labels.
Pharmacy management system providers overview
Using data from software review website
G2
, we're giving an overview of five most prominent PMS products on the market.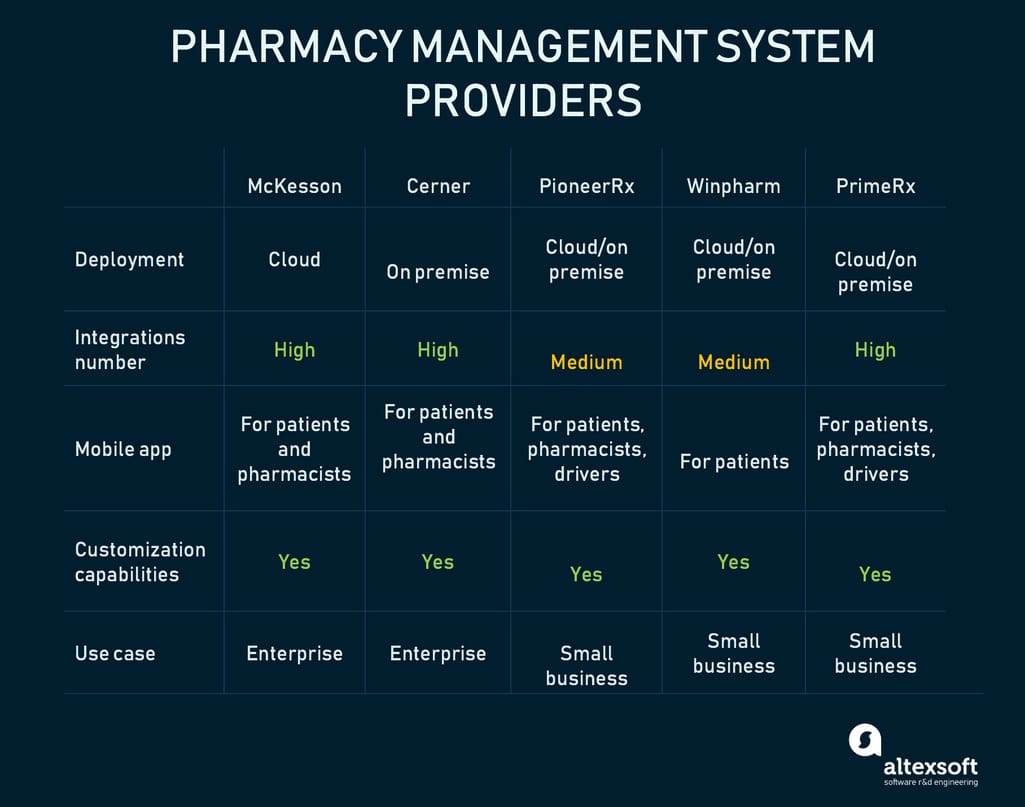 Pharmacy management systems comparison
McKesson
McKesson is a provider of software for pharmaceutical manufacturers, wholesalers, and distributors, so they have a whole family of products to not only support your pharmacy operations, but also build a profitable business.
Its main solution is called
EnterpriseRx
. Implemented in the cloud, it offers tools for
automated prescription refills,
drug delivery,
medication adherence,
seamless communication with patients and physicians, and
reporting.
The base software can be augmented using tools from McKesson Pharmacy Business services, which offer Interactive Voice Response solutions, preconfigured health plans, video counseling, and more.
To get more from McKesson's wide suite of products and industry network, you can design a custom solution with them and collaborate with equipment manufacturers. McKesson partners with vendors of many pharmacy-related software and provides EDI and
API
interfaces to connect with them.
Cerner Retail Pharmacy
One of the EHR provider leaders,
Cerner's pharmacy solution
leans hard into connectivity and ensures the data flow across processes. Namely, it supports
SMART on FHIR
data elements that simplify interoperability in healthcare.
This solution is a suite of features including
the hosting service for multi-location businesses,
a workflow automation tool,
a point of sale product, and
a medical adherence service.
They also have a wide selection of interfaces for third-party integration.
PioneerRx
Unlike Cerner and McKesson,
PioneerRx
is focused on developing pharmacy software. It provides a fully integrated feature set with top-tier customer support.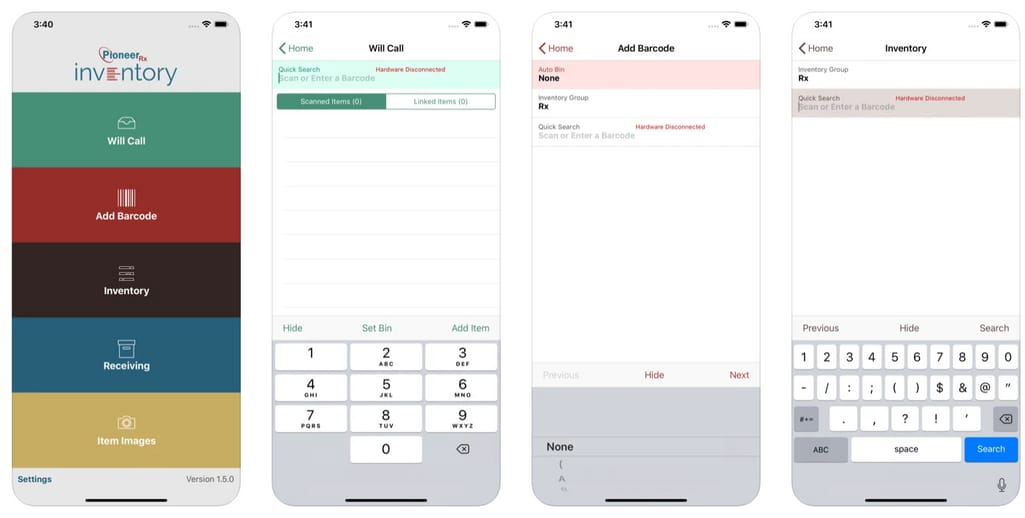 PioneerRx Mobile Inventory interface
Apart from a rich set of standard features that we described in a previous section, PioneerRx offers a few mobile apps for both patients and pharmacists:
RxLocal Mobile serves as a patient portal allowing people to leave refill requests, get reminders, access health information, and exchange messages with a pharmacist in a HIPAA-compliant manner.
Drive-Thru collects customers' signatures during curbside or drive-thru pickup.
Mobile Delivery helps drivers pick the best routes and accept payments.
Patient Counseling gives pharmacists access to patient profiles.
Mobile Inventory allows staff to manage inventory on their phone.
Winpharm
Winpharm
is developed by Datascan Pharmacy -- a family-owned business with a 40-year-old history. Similar to PioneerRx, it also boasts a wide feature set in a standard software package.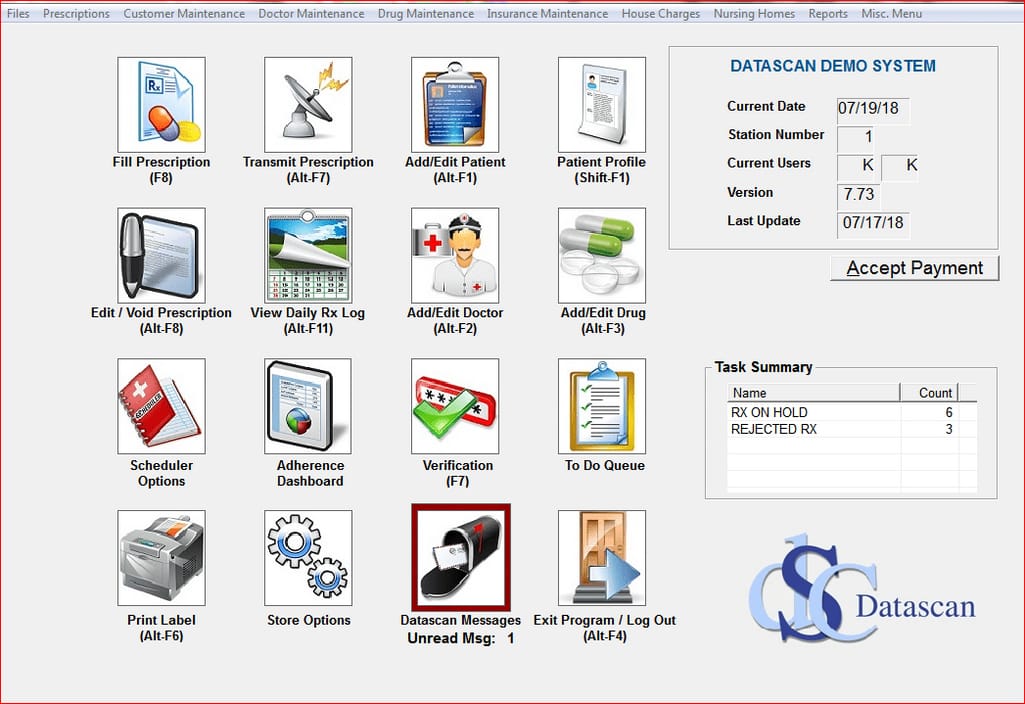 Winpharm home page
Additional services include
designing custom labels,
discounts on credit card processing,
after hours customer service,
custom development, and
hardware upgrade and repair.
There's also a Mobile Scripts app for patients to order refills, set reminders, and review drug information and a selection of third-party vendors which they interface with.
PrimeRx
Micro Merchant Systems allows you to compile customizable software using many of its pharmacy solutions:
PrimeRx as the base PMS
PrimePOS to manage transactions
PrimeESC for electronic signature capture
PrimeDMS for document management
PrimeDELIVERY to capture delivery signatures on handheld devices
PrimeWEB that serves as a patient and physician portal
PrimeCENTRAL for multi-store management on the web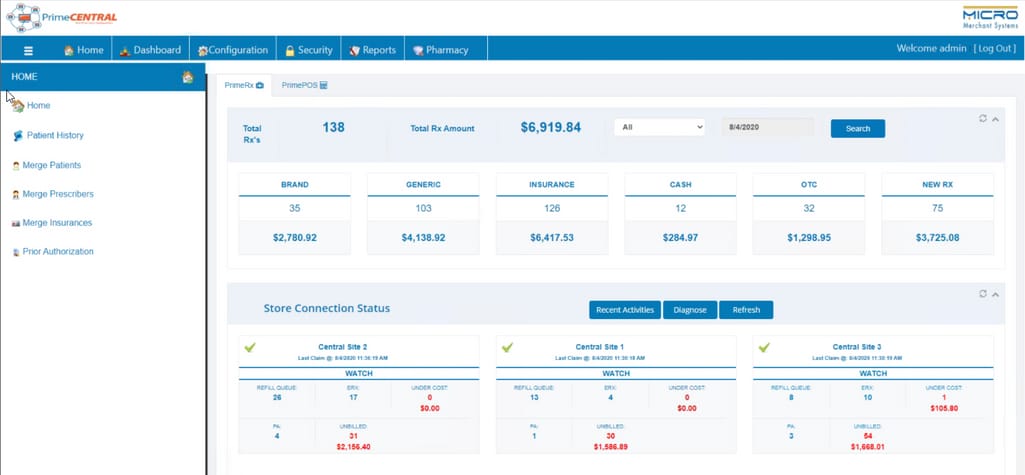 PrimeCENTRAL interface to control all operations from one location
More than that, Micro Merchant Systems has mobile apps for patients, pharmacists, and delivery drivers, and a long list of interfaces with ready-made integrations, from wholesalers to payment systems and accounting software.
Buy vs build: when to develop a custom pharmacy management system
There are some great providers on the market, businesses that understand the ins and outs of the industry and can provide you real value. But there are some considerations to purchasing a PMS:
Vendor lock-in poses integration challenges and prevents pharmacies to adopt from the outside of the product's reach.
Outdated design and UX creates extra burden on pharmacists who need to learn to work with an old clunky system.
Inevitable customization is often necessary with enterprise tools.
Basically, pharmacy management software can't be purchased out of the box -- it normally needs a ton of tweaking and customizing before you're ready to use it. This will be a complicated digital transformation task. So, in many cases, it may be wiser to consider fully custom development. These are some of those cases.
You never had pharmacy software before
. If you never had a PMS before and managed your operations chaotically, in notebooks and spreadsheets, it will take a long time to organize and migrate this data to the system. Especially if you have limited IT capabilities. You'll be able to get more value from a collaboration with an independent software developer who will help you safely transit all data.
You have specific requirements
. Whether it's custom UX to help your pharmacists work more efficiently or integration with software you've been successfully using, these requirements are much easier to meet when you're working on the solution instead of trying to find them in existing products.
You're forward thinking and want to innovate
. Some innovative ideas can only be achieved in custom development. Implementing IoT sensors in your refrigerators, AI-based analytics, or
robotic process automation
isn't easy when you're stuck with a particular vendor.