Gone are the days when having a personal computer or a smartphone connected to the Internet conferred bragging rights. Digital technology is getting more and more accessible, influencing how people work, relax, and plan their vacations. People's expectations for a hotel experience have grown and hoteliers had better keep pace with innovation. Let's imagine you have to choose between two hotels offering rooms for the same price. The former provides facial recognition check-in and a chatbot that answers your questions in a couple of seconds, while the latter has only comfortable rooms to offer. What hotel would you book? The answer is obvious.
The previously mentioned features are based on AI and data science. We talked with data scientists, start-ups, and hotel representatives to find out how hotels use AI and data science to evaluate their performance and provide an innovative guest experience.
1. Revenue management
Revenue management
(RM) is the application of data and analytics to optimize product price and availability for maximum revenue. In other words, a
revenue management specialist
is looking for ways to sell the right product (i.e. a room) via the right distribution channel, for a reasonable price to a customer who is ready to buy.
Specialists monitor various metrics to understand how successful a property is compared to others in the same price range and type in a given area. The number of key performance metrics is extensive and includes such indicators as average daily rate (ADR), revenue per available room (RevPAR), average occupancy rate, gross operating profit (GOP), and gross operating profit per available room (GOPPAR).
Calculating and analyzing these performance metrics data, revenue managers can forecast room demand and customer behavior to adapt room prices. This approach is called
dynamic pricing
.
Dynamic pricing automation
Data science allows hotels to predict demand and patterns of customer behavior more accurately. That's why global chains such as Marriott International and AccorHotels
have data scientists and analysts on board
. These specialists develop and deploy pricing models using data about hotels and their competitors.
Some hotels rely on RM solutions to be in control of their revenue. Such software defines the optimal room rate in real-time using machine learning. These RM systems automatically consolidate and analyze large amounts of internal and external data from multiple sources to detect patterns and anomalies.
One such solution, the
OTA Insight
platform, for example, is used by Carlson Rezidor, AccorHotels, Fusion Hotels and Resorts, Sydell Group, Hilton, Crowne Plaza, and other global and regional hotel brands.
The platform includes three modules, each of which is designed to solve a specific revenue management task.
Rate Insight
allows managers to set reasonable room prices using real-time data about past, current, and future competitor rates to forecast room demand in the region. The platform provides specialists with data about property ranking and rating performance. Event analytics is available as well.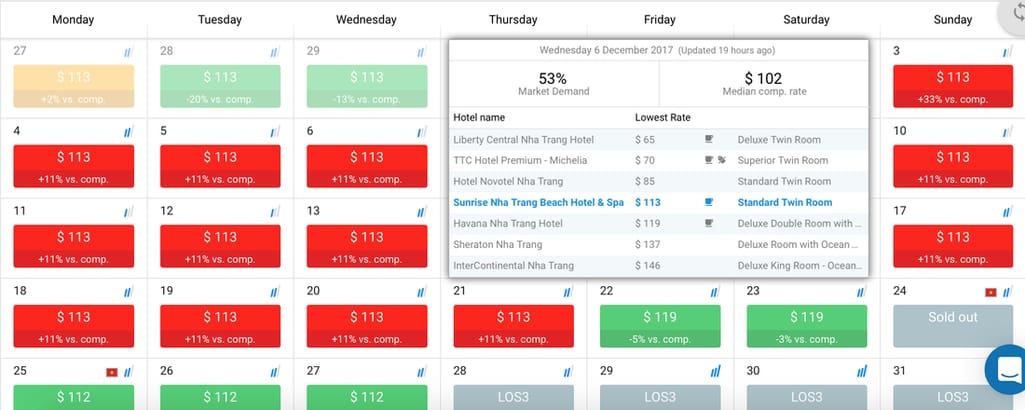 OTA Insight provides a demand calendar based on rates from all connected OTAs. Source: DC
Parity Insight
compares rates on the main OTAs and metasearch engines with the ones on a hotel brand website to identify parity issues. For instance, hotels with consistent rates on both an online travel agency and their own site can reduce their dependency on it and avoid guest confusion.
Revenue Insight
combines past and future performance to provide users with "smarter hotel analytics." The platform consolidates reports on hotel KPIs, allowing for a quick and easy year-over-year performance comparison.
Use case: Starwood Hotels
Starwood Hotels, now merged with Marriott International, leverages data analytics to price rooms accordingly. In 2014, the hospitality company
introduced
its Revenue Optimizing System (ROS) in which it invested more than $50 million.
The system, written in the R programming language, uses IBM CPLEX optimization software and proprietary machine learning algorithms.
The solution allowed revenue managers to skip manual spreadsheet entries and price recommendations for every single room. ROS integrates internal and external data and analyzes it in real time to forecast demand and suggest optimal rates.
The internal information that the software cross-checks includes data about historical and current reservations, cancellation and occupancy, reservation behavior, room type, and daily rates. Such factors as reservation behavior and customer type (transient traveler or one of a large group attending a specific event) influence pricing as well.
The revenue management software also analyzes climate and weather data, competitor pricing, booking patterns on other sources, and the presence of music or sports events in the property area.
Rates that adjust to ever-changing conditions allow the hotel chain to eventually get the maximum profit out of its inventory and ensure proper staffing.
2. Operational analytics
The hospitality business doesn't know what a day off or a holiday is, which means hotel software systems work without a second-long break generating all types of guest and operational data. Whether someone books a room or orders a Caesar salad in a restaurant, a housekeeper alerts about a lack of cleaning supplies, or an event manager reserves a conference room, a property management system captures this data.
Real-time observation of internal processes done through operational analytics allows hoteliers to find missteps and look for ways to improve. Businesses may conduct a competitive analysis, forecast customer behavior for each season, monitor brand mentions and reputation on social media by analyzing feedback, or determine why website users start bookings but don't complete them (churn analysis). The number of data science applications depends on IT infrastructure and staff skills.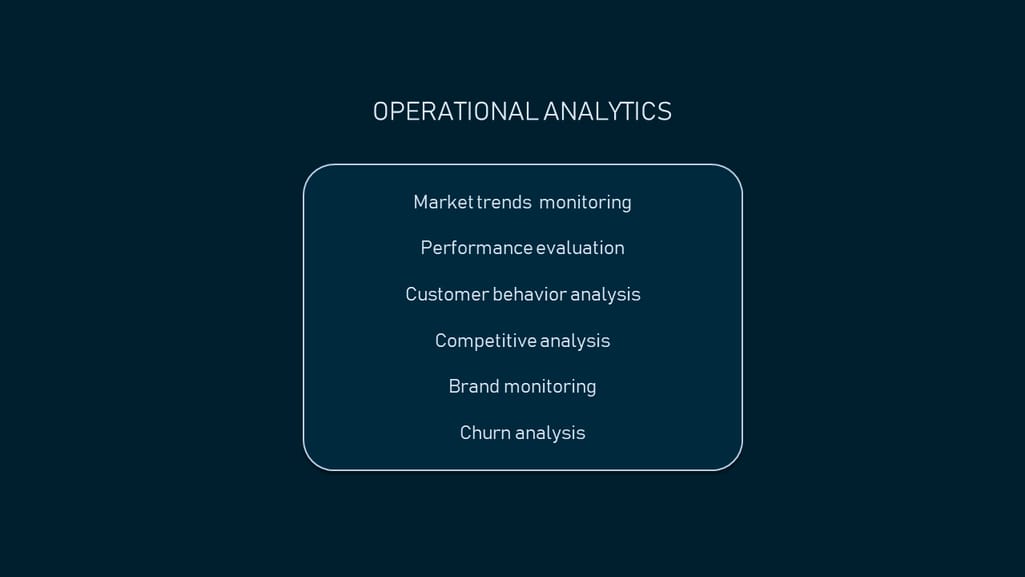 Operational analytics techniques
The importance of
data management strategy
grows with reliance on data for long- and short-term planning, notes senior sales manager at
iDashboards
Andrew Gissal
. "
With the increased use of hosted data solutions, organizations see silos of information, which can lead to discrepancies in this information from system to system. This becomes a big issue when trying to explain or reconcile conflicting data sets in order to report, or worse, make decisions. Anything less than absolute confidence in reporting data leads to headaches and second-guessing."
Organizations striving to make data-related decisions and choices faster and be sure these decisions will help them run a business more efficiently must manage their data in a way that provides clarity, concludes Andrew.
iDashboards introduces a data visualization platform with which users can retrieve, combine, and transfer data from various sources into one dashboard to make graphic reports. The platform supports hundreds of chart types and provides fully customizable layouts and patented visuals. The iDashboards Data Hub automates data preparation with a drag-and-drop ETL (extract, transform, load) tool. So, the platform "has users covered from data prep to data viz."
Performance evaluation
With data visualization tools, hotels are able to collect relevant operational data across departments to monitor, evaluate, and improve their performance. A hotel group from Texas utilizes iDashboards to gain organizational transparency, the company representative shares.
"The staff members were operating on old data, and those old reports caused a disconnect between daily job performance and the bottom line. They use the software in their sales department – tracking rooms, events, and referrals. The hotel can now correlate a revenue amount to the referral program. Additionally, employees can take 'ownership' with the dashboards by showing how their specific jobs impact the organization."
Brand monitoring
It may take someone a couple of minutes to write and post a review about their hotel stay that potential travelers will read. Since negative comments usually stick better in people's minds, brands have to quickly assess and react to them. AI and NLP (natural language processing) solutions for customer experience data analysis can help businesses keep up with the speed at which people exchange information on their services.
Opinosis Analytics
is one of the companies building tailor-made software that leverages AI and NLP. Company founder and GitHub data scientist
Kavita Ganesan
together with her team develop analytics and summarization models on user reviews and customer feedback data. Specialists use data graph-based natural language analytics and deep learning to help hotels define their operational problems. Once deployed, these models extract insights from feedback data about customer pain points.
"
Since we provide a customized service to surface insights to businesses based on unstructured feedback data, we were able to directly work with some of these hotels to pinpoint areas needing attention. For example, in one case the hotel found that its employees were very arrogant towards its customers. They immediately addressed the issue and when we re-analyzed their feedback data several months after the change, we noticed a drop in the mention of "arrogance,"
shares the data scientist.
Competitive analysis
Competitive analysis of customer feedback on social media allows hotels to understand who their customers are, what they think makes a perfect guest experience, and what customers feel about staying in a hotel. What's more important, hoteliers can learn
why
people evaluate a brand in a certain way. In this regard, AI is here to capture and process feedback with a speed and accuracy a human isn't capable of achieving.
"We have implemented competitive analysis models to show how these hotels are doing in comparison with their competition on very specific dimensions leveraging large amounts of feedback data. For some of this analysis, the hotels already had their own data, and we primarily helped with the data science,"
says Kavita Ganesan.
Use case: InterContinental Hotel Group
InterContinental Hotel Group (IHG) is a hospitality company that provides 799,923 rooms in 5,367 hotels across 15 brands. The hotel group plans to increase its global presence with almost 2,000 hotels in the pipeline. IHG develops its technological capabilities to be able to process a constantly growing amount of operational data.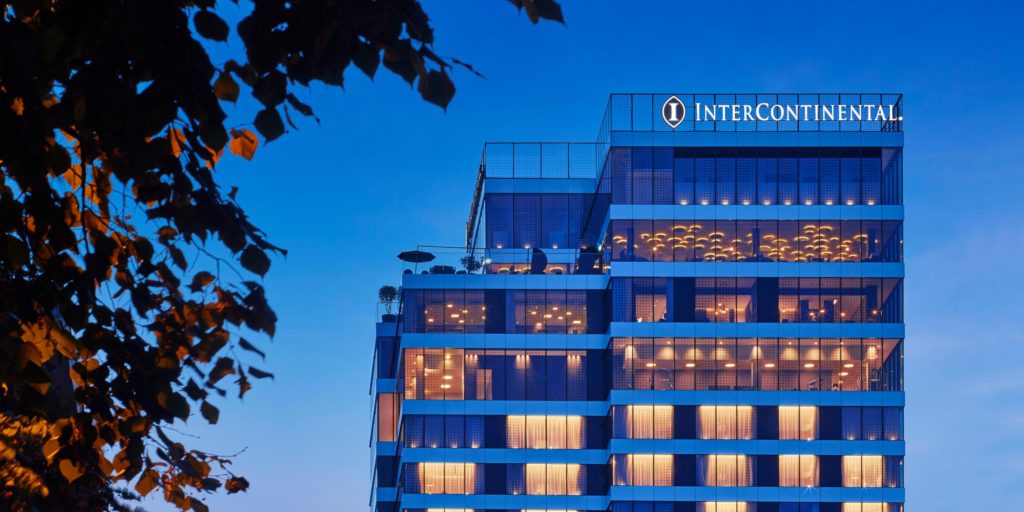 The building of the InterContinental Ljubljana hotel. Source: InterContinental Hotels & Resorts
More than 1000 hotels worldwide are currently using the cloud-based guest reservations system IHG Concerto.
The company co-developed the system with
Amadeus
to increase revenue and gather more data for decision-making. Concerto allows hoteliers to drive direct bookings by providing
personalized offers
based on past reservations and suggesting a wider set of booking options (i.e. search by room type, open dates, or budget.) Currently, the hotel chain is
trialing
an attribute-based booking centered on a bed type. The platform supports multiple languages and provides access to its IHG Rewards Club loyalty program data in real time.
Concerto will later integrate with the multiple hotel software, such as revenue and property management systems, sales, catering, and point-of-sale. IHG plans to
fully deploy the platform
by the end of 2018 or early 2019.
IHG
surveys
guests regarding their in-stay experience and then combines these insights with economic and industry performance data to see a greater picture of how they run the business. This approach to performance evaluation helps InterContinental to understand both internal and external factors affecting the quality of their service. The company gathers large amounts of metadata about their properties and personnel, for instance, hotel location, building age, amenities and number of rooms in each property, as well as employee experience and tenure. Such information as demand drivers and a number of competitors in the area is also collected and explored to find patterns.
Use case: Radisson Hotel Group
Radisson Hotel Group also takes the data-driven approach to maintaining its marketing, communication, and brand strategy. The hotel group tracks market trends and analyzes customer behavior to meet their expectations.
"We believe data is key,"
states Radisson Hotel Group vice president of digital
Remy Merckx
. "
We have recently partnered with Accenture Interactive to support us in building an advanced intelligence model to start predicting buying behaviors and patterns, better understanding our customer's online journeys and the way they prefer to choose, book and stay with us; and connecting it to the demand and business generated for our hotels worldwide. These predictive models help us in getting most of our investments and initiatives, and also help us engage on a more personal level with our guests."
3. Hotel energy consumption management and predictive maintenance with IoT solutions
Working all year-round, hotels are among the
top five facilities based on energy consumption
in the tertiary building sector. On average, hotels in the US spend nearly
6 percent
of all operating costs to pay for utility bills. The positive thing is that energy expenses can be controlled via energy management. Modern approaches to energy consumption have gone far beyond the installation of energy-saving lighting systems, changing building standards, or the use of information cards in bathrooms.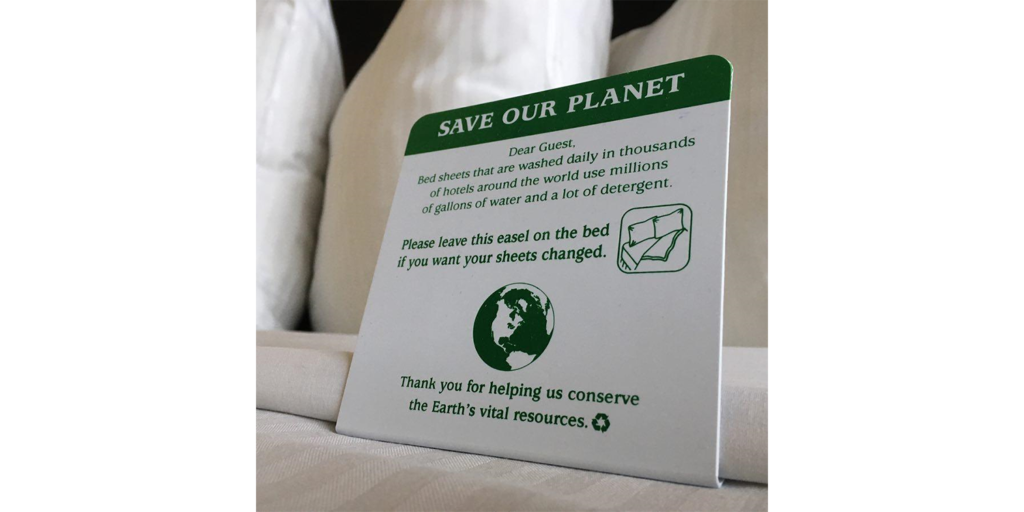 An information card encourages visitors to be more environment-friendly. Source: Aston Waikiki Circle Hotel
Consumption management
Hotels move towards energy efficiency with cloud-based software. Smart energy management platforms supported by IoT devices gather real-time information on energy usage and monitor temperature, humidity, air pressure, and air quality inside the building. This software can also track weather data and utility rates, while monitoring occupancy to adjust the work of HVAC (heating, ventilating, and air conditioning) and lighting systems. As a result, these systems provide property owners with energy use patterns – energy profiles. Received information helps hoteliers understand where they can use fewer resources to achieve energy efficiency goals. The access to data is usually available from both desktop and mobile devices.
Using sensor data for predictive maintenance
Software for energy consumption control enables predictive (condition-based) maintenance. This type of technical support entails monitoring machinery during normal operations to forecast its malfunction. Systems automatically send notifications if they detect anomalies, allowing technicians to fix equipment, for example, a room air conditioning system, before it completely breaks down and a guest notices a failure. With these systems, staff can also schedule maintenance more efficiently as they know about the technical state of every device. So, energy management solutions can help prolong equipment lifespan and cut maintenance costs.
Use case: Embassy Suites Denver
Embassy Suites Denver used equipment by
Telkonet
to become an eco-friendly hotel and receive
LEED
(Leadership in Energy and Environmental Design) certification. Thermostats and occupancy sensors reducing the energy usage for heating and cooling of unoccupied rooms were installed in the hotel. As a result of this improvement, the hotel became the first property with LEED Silver certification in both the Denver metropolitan area and the Embassy Suites brand portfolio in 2011.
4. Customer experience improvement
When people go on vacation to take a break from their fast-paced lives, they demand that any problems are solved as quickly as possible. Travelers want to enjoy a comfortable stay while seamlessly accessing all the pleasures a hotel has to offer.
Messaging automation
Harris Interactive market research agency conducted a
study
on behalf of OneReach and found out that 64 percent of consumers who can choose between texting and voice as a customer service channel would prefer the former. In addition, 44 of respondents with texting capabilities would rather press a button to start messaging instantly than wait for a customer service agent to respond.
Hotels that adopt messaging support with AI-backed virtual assistants can enhance guest satisfaction by making them feel welcomed and taken care of.
"The guest is busy and has no time to download an app or learn how to use a new device. Guests love communicating on their terms, which makes virtual assistants the most efficient way to communicate,
" notes the founder and CEO of Go Moment
Raj Singh
.
The company
introduced the Ivy automated guest communication platform for hotels powered by
IBM Watson AI engine
.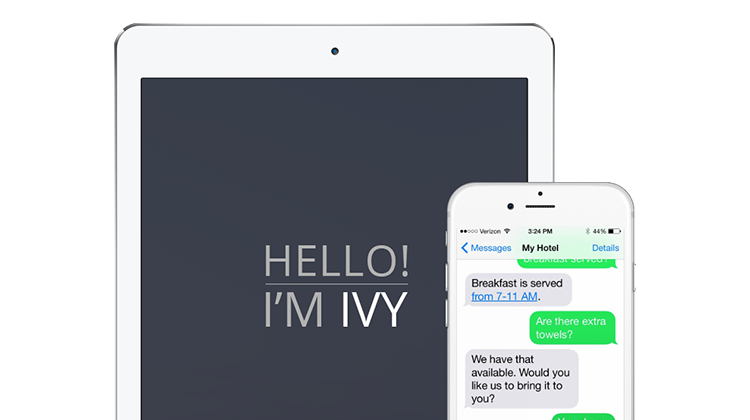 Ivy responds to guest questions in about 2 seconds. Source: Go Moment
Travelers can use Ivy right after providing their cell phone numbers. Staff uses the Ivy Dashboard as a single command center, explains Raj. Employees have access to feedback in real-time and can use this data to study guest behavior via analytics.
"Since Ivy serves as the first line of defense, hotel staff only need to answer more complex questions instead of answering basic questions like "What's the Wi-Fi password?" or "Where is the gym?" dozens of times a day."
That way humans and machines work as a team, immediately answering questions and providing a timely support.
Ivy also integrates with Alexa and Google Assistant voice devices and can address systems like Botlr robot we'll describe below.
Check-in with facial recognition
It's not only airlines that delight customers with self-service capabilities to prove they value their time. Facial recognition check-in allows hotel guests to skip waiting in lines at a front desk and practicing forgotten handwriting skills to fill in registration forms.
Marriott International is
testing facial recognition check-in machines
in two hotels – Hangzhou Marriott Hotel Qianjiang and Sanya Marriott Hotel Dadonghai Bay. The enhancement, which was introduced in July, is a result of collaboration with Alibaba's Fliggy travel service platform.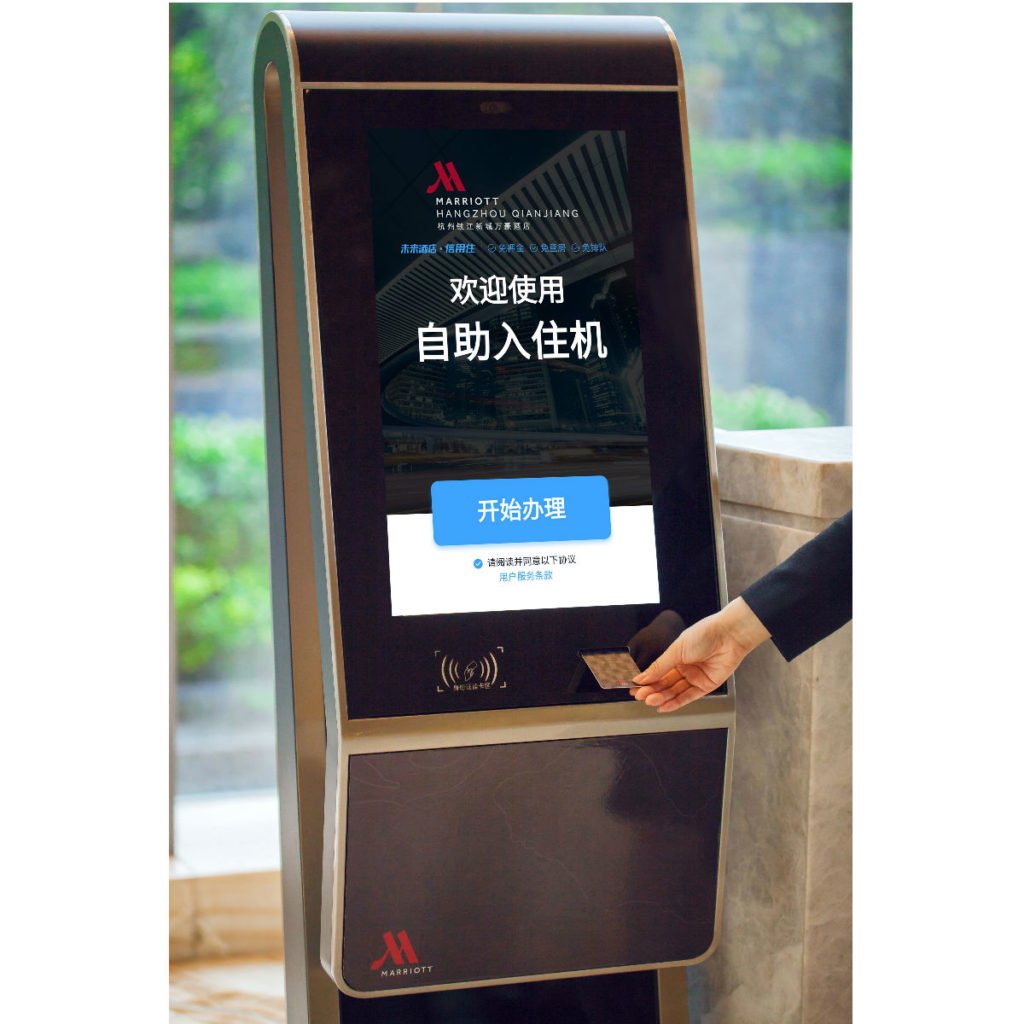 The facial recognition check-in terminal installed in a lobby of one of the hotels. Source: Marriott International
Check-in that usually takes three minutes or more can be done in less than a minute with these terminals, the hospitality company notes. Facial recognition kiosks are easy to use. Travelers scan their IDs, take a photo, and provide their contact information, Then, the machine verifies their identity and reservation information and issues a room key. Marriott aims to launch self-service machines across its properties around the world in the future.
Smart rooms with voice-control systems
Each person has their own habits and everyday rituals. One person likes to wake up to the sound of the ocean, while another enjoys keeping the curtains closed until the noon. Following the trend of automation and hyper-personalization, hotels give guests the ability to adapt room amenities according to their preferences. Hotel chains literally make guest voices heard by upgrading rooms with voice-control systems.
Aloft Santa Clara hotel in San Jose encourages guests to book
voice-activated rooms
"equipped with an iPad running a custom Aloft app giving guests entirely new ways to interact with their room." Using Siri, a guest can tell the device to turn on purple and blue lighting, play a music video on YouTube or a series via Netflix, or set a desired temperature – whatever can make a guest happy.
Voice-activated rooms are one of the innovations that Aloft Hotels have presented in the
Project Jetson experiment
.
InterContinental Hotels Group recently
introduced AI-powered smart rooms
at its hotels in China. The hospitality company has sealed a deal with Baidu, a local technology solution provider, to provide an innovative guest experience. A control system, powered by Baidu's DuerOS AI platform, allows for controlling room amenities like thermostat, lighting system, or TV.
Two hotels currently offer smart rooms – the InterContinental Beijing Sanlitun and InterContinental Guangzhou Exhibition Centre. The IHG management plans to equip 100 AI-powered suites across key destinations within the country by the end of 2018.
Guest service with a robot's help
Some are afraid that robots will completely replace humans and leave them without jobs. As for today, these smart machines free human employees from routine tasks like housekeeping, room service, and concierge services.
Crowne Plaza in San Jose, for instance, delights guests with Dash, the robot. Dash delivers food, toiletries, and provides information on hotel amenities and attractions. The robot independently moves around the property and can even call the elevator using a Wi-Fi connection. Dash calls a guest before coming to the door, delivers the desired items, and goes back to the lobby. The robot also tracks its power usage and connects itself to a charging station when needed.
Botlr
is another robot servant that helps staff in Aloft Hotels. Guest can send requests about snacks, towels, or whatever simple things they need via the SPG app on their smartphones, and Botlr will quickly deliver them.
Botlr assists a hotel staff and delights guests.
Both robots are built by Savioke engineers.
Opportunities for data science in the hotel industry
With AI and data science, hotels have advanced tools to evaluate and improve performance. Hotels use operational analytics to find more efficient ways of spending their resources, reduce energy consumption, introduce and develop revenue management strategies, as well as automate staff workflow with smart virtual assistants.
"There are department-specific opportunities but from a broad approach data science can be used to find correlations and improve operational efficiencies,"
notes Andrew Gissal from iDashboards.
Data science that provides tooling for the guest service operation can be further extended to enable the guest and management to better control the entire hotel experience, thinks Go Moment CEO Raj Singh.
Founder of Opinosis Analytics Kavita Ganesan points out that data science allows hotels to understand customer needs and address them, and sees many opportunities for operations enhancement it brings. "
We have barely scratched the surface. As we get more and more data in the form of feedback via phone and email, reviews, blogs, etc., extracting insights from these scattered sources is going to be paramount in improving user experiences and coming up with new hotel features that customers would absolutely love. With all this data we should even be able to predict loyalty. And this knowledge can help us with things like revenue forecasting, checking in if we are hiring the right people or introducing the right features,"
sums up Kavita.