2022 was… well, something else. As it comes to an end, people the world over are anticipating the changes 2023 will bring along – and want to celebrate the "
new beginning
" in some special way.
As recent trends show, post-pandemic travelers are now looking for something exceptional, for
breathtaking experiences
and unforgettable moments. And Christmas holidays celebrated worldwide are the best time to arrange an extraordinary voyage, plunge into a once-in-a-lifetime adventure, and feel the tingling touch of magic throughout the journey.
For our Christmas post this year, we've explored the most interesting and unusual holiday traditions around the world and now suggest to you our bucket list of Christmas tours that include the most fascinating
attractions
and experiences. We're sure that whether you're a leisure traveler looking for vacation ideas or a travel business expanding your holiday portfolio, you'll find something noteworthy. So, take a seat in our sled, buckle up, and off we go!
Christmas in Lapland: Santa, Northern lights, and saunas
Lapland is the northernmost region of Finland and is the world-recognized best Christmas destination. It actually offers a variety of outdoor activities all-year-round as it boasts the cleanest air (according to some ratings), endless expanses of wilderness, and gorgeous landscapes. But wintertime is an absolute treasure trove of attractions, so here's what you can include in your Christmas tour.
Christmas flights to Lapland
The Finnish carrier
Finnair
has been "
the official airline of Santa Claus"
since 1983, so if you get lucky with the flight, you might have Joulupukki (Finnish name for Santa) sitting next to you.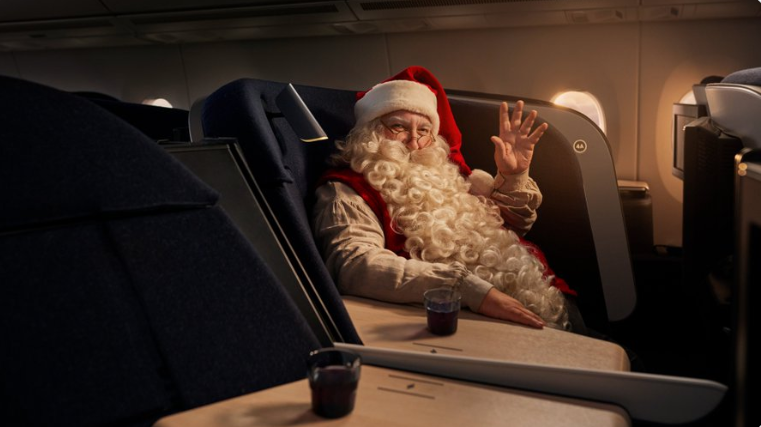 Santa is traveling the world with Finnair. Source: twitter
Christmas tours and attractions in Lapland
Visit Santa Claus Village
. Well, this is the reason why Lapland is unique and why every Christmas season it's packed with tourists from all over the world – Santa Claus Village. Located in the Arctic Circle, the city of Rovaniemi is the Lapp capital and is known as "
Santa's official North Pole residence.
"
To get there, travelers first have to go through the unique "
crossing the Arctic circle
" ceremony performed by an old shaman (a local magician) in a traditional Lapp hut by an open firepit. Afterwards, they can wander around the decorated village with food stalls and souvenir shops, meet Santa Claus himself as well as his Elves, watch them in their workshops, and taste traditional gingerbread cookies.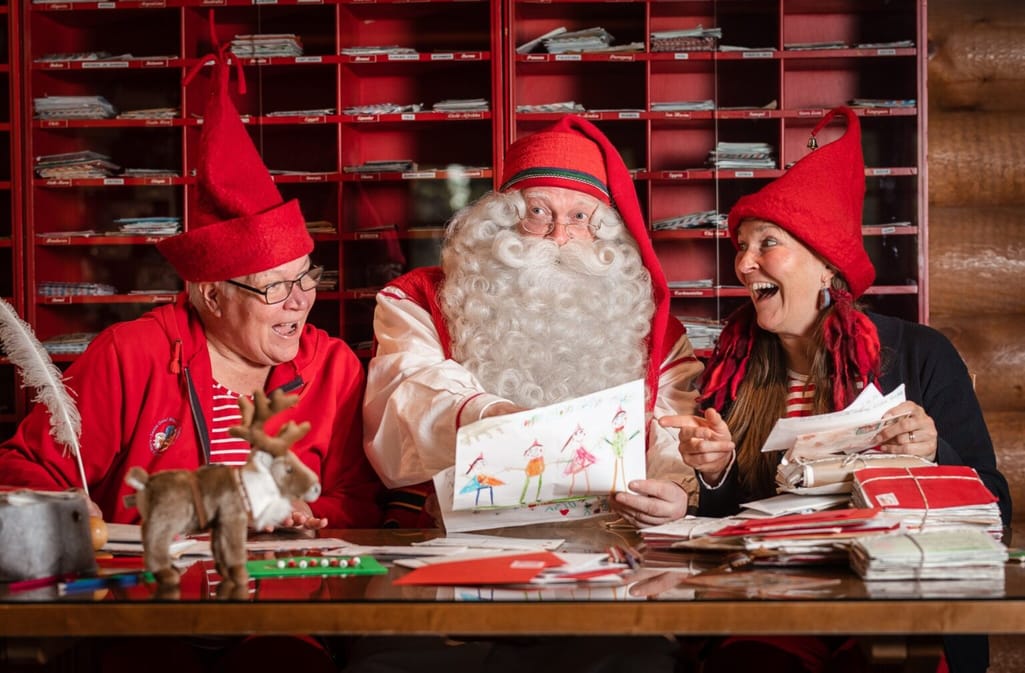 Meet Santa Claus. Source: Visit Rovaniemi
There's also
Snowman World
amusement park where every family member can find something fun to do, whether it's ice skating, sliding down an icy hill on a tube, enjoying a drink in the ice bar, admiring the snow art, riding the Lapp sleigh-go-round, and so on.
Admire the Aurora Borealis
. In northern Finland, you can enjoy the magic of the Northern lights just about every other night from September to March. The further away from city lights, the greater the chance to see the full-scale mesmerizing sky illumination and witness nature's most spectacular light show.
Such Aurora hunting tours are often combined with a safari or other activities and include a picnic (snacks and warm drinks) at some picturesque spot, so even if you don't get lucky enough to observe the lights, it's still an adventure.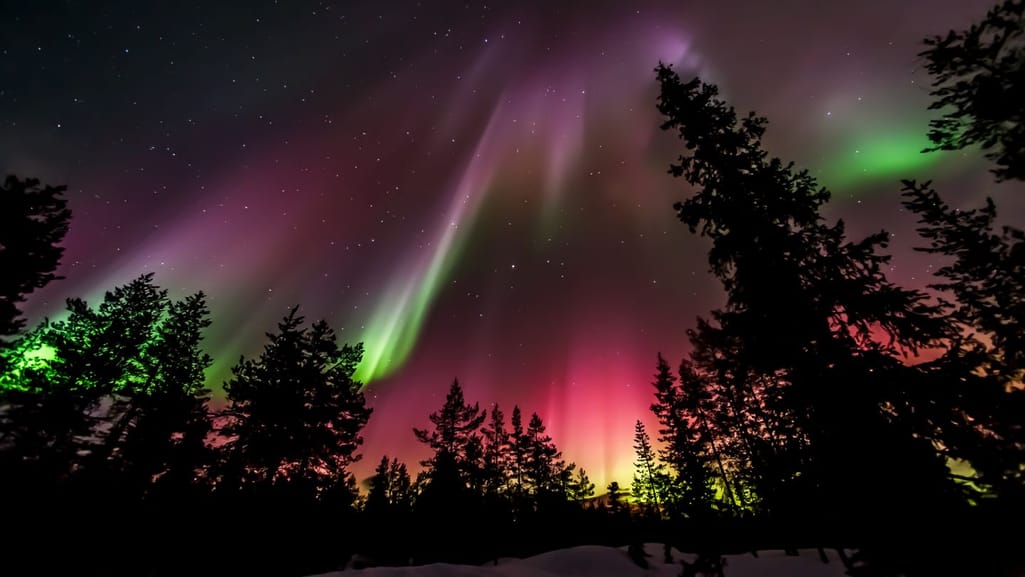 Aurora borealis in Lapland. Source: Lapland – Above Ordinary
Arrange a dogsled race
. A visit to a husky farm to interact with friendly, playful doggies is an experience in itself. And followed by a speedy mushing in a sleigh through the snow-covered forests and over open plains, it's definitely not leaving anybody bored.
Tip:
Check if winter clothing is provided (thermal overall, boots, warm hat, gloves, and balaclavas).
Go on a reindeer safari
. Visit an authentic reindeer farm, learn about local everyday life and herding traditions, feed the magnificent animals, and enjoy a sleigh ride.
Thaw in the sauna
. The Finnish sauna culture is world-famous. Actually, the word "
sauna
" itself is of Finnish origin and the only Finnish word in the English dictionary. There are around 3 million saunas in Finland (for a population of about 5.5 million), and up to this century they were used as places for childbirth. Probably, these few facts are enough to realize that saunas are indeed an integral part of local everyday life.
In contrast to steam rooms or Turkish hammams, the traditional Finnish sauna is dry and hot – usually from 80 to 100ºC (176 to 230ºF). So, after enjoying the freezing outdoors, it's the perfect time to soak up some heat and just relax.
Tip:
Don't forget about precautions (e.g., health issues, alcohol consumption, etc.), risks (like dehydration), and safety rules (e.g., don't stay inside for too long and cool off gradually).
Other attractions
. There are a lot more activities to pack in a Lapland Christmas tour:
winter fishing through a hole in the ice,
hurtling down the slopes in the world-class ski resorts,
cruising on an icebreaker ship,
snowmobiling through the wilderness,
exploring Lapland's frozen waterfalls,
making Christmas decorations and gingerbread,
tobogganing, and enjoying tons of other wintertime fun stuff.
But before you totally fall in love with the area and start booking your trip, let's move on to other locations – right after we discuss where to stay.
Accommodation in Lapland
Even lodging in Lapland can become a source of memorable experiences. Select a traditional rustic log cabin to have a personal sauna and fireplace – or go with a boutique heated glass igloo to watch the Northern lights all night long through a transparent roof (our advice: try both).
For the most adventurous, Lapland offers snow or ice hotels with room temperatures around 0ºC (32ºF) so that guests have to keep warm in sleeping bags under reindeer blankets.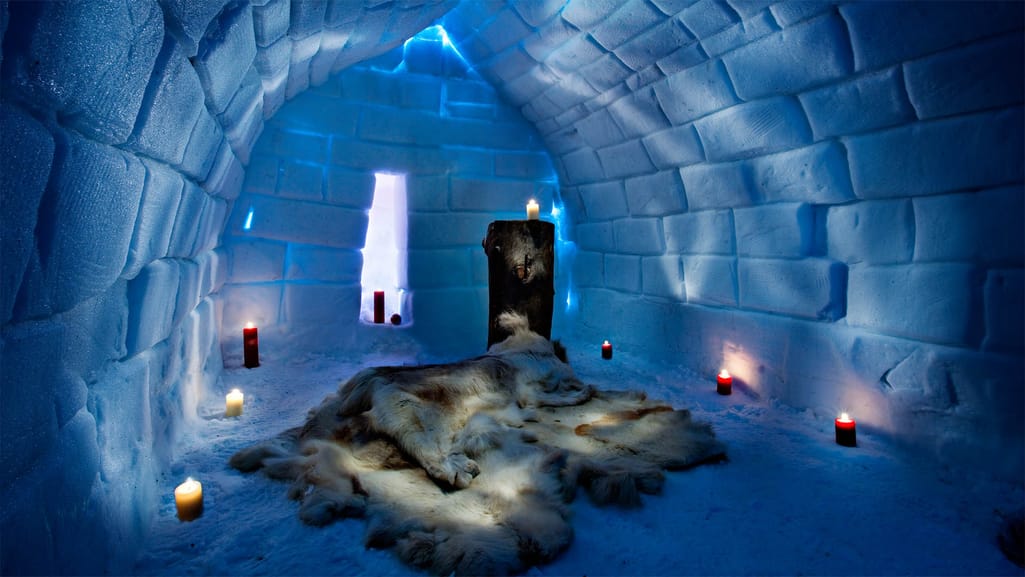 Snow Hotel in Lapland. Source: Nordic Visitor
Where to get a tour to Lapland
Tours to Lapland are provided by multiple operators big and small, from such giants as TripAdvisor, Viator, or GetYourGuide to focused, niche suppliers such as
Tours to Lapland
,
50 Degrees North
,
Santa's Lapland
, or
Visit Finland
.
Christmas in Europe: markets and castles
Christmastime is a huge thing throughout Europe with traditional holiday markets starting early November and lasting until mid-January. Decorations, lights, Christmas trees, the smell of mulled wine and ginger cookies – all this creates an incomparable winter holiday vibe that attracts thousands of tourists yearly.
Every big European city tries to outshine others in this unspoken competition of splendor and showiness, so we'll only mention some of the locations and events. But first things first – the flight.
Christmas flights to Europe
European airlines also try to create a holiday experience for their passengers. For example, in 2018, Eurowings crew
gave
all passengers holiday sweaters, treated them with hot chocolate and punch, sang "Jingle Bells," and then presented a €150 (about $160) voucher for future flights!
Eurowings 2018 Christmas flight. Source: The Points Guy
British Virgin Atlantic once
invited
Santa to pay a flying visit to its passengers and last year the carrier
prepared
special Christmas meals with mince pies and champagne on selected flights.
Unfortunately, you can't know about such surprises in advance (or they wouldn't be a surprise), but Christmas is the time of magic, so who knows what carriers have in store this year…
Christmas tours and attractions in Europe
Viennese markets and Krampus festival in Austria
. Vienna is famous for its numerous Christmas markets of all sizes that pop up around the city starting in early November. Christkindlmarkt on the central Rathausplatz square is the biggest venue but the ones near gorgeous Belvedere and Schönbrunn palaces are also worth visiting along with dozens of other locations.
In addition to indispensable Christmas trees, shopping stalls, local handicrafts, and mugs of mulled wine, some locations also have kids playgrounds, horse-drawn carriage rentals, live music, and other attractions.
What's special about Christmastime in Austria is their Krampus Parades held in early December. Krampus is a half-goat, half-demon mythical creature that chases and punishes misbehaving children. During Krampusnacht (Krampus night), men dress up as horned evil demons and parade along the streets, wildly dancing, menacingly ringing a belt of cowbells, and scaring away any kids they meet along the way.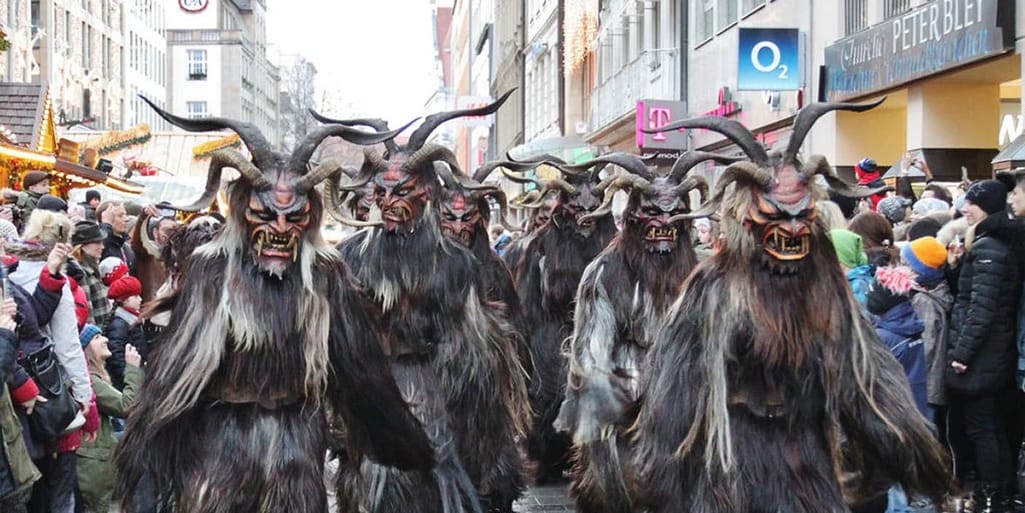 The Krampus festival. Source: GAHMUSA
The festival is held in many cities across Austria, Germany, and other central European countries. The tradition is actually so big that it even found its way to North America and is now celebrated in Milwaukee and other cities with a big European community.
Budapest and Prague markets
. Within just a few hours' drive from Vienna, two other classy European capitals welcome holiday travelers for their share of festive magic. Both cities are gorgeous and are worth visiting any time of the year, but for the Christmas season they house multiple markets and fairs all over the place. Taste local delicacies for a real gastronomic adventure, shop around for unique handicrafts, enjoy diverse artistic programs, and just roam the streets to admire the most impressive historic sites of Central Europe.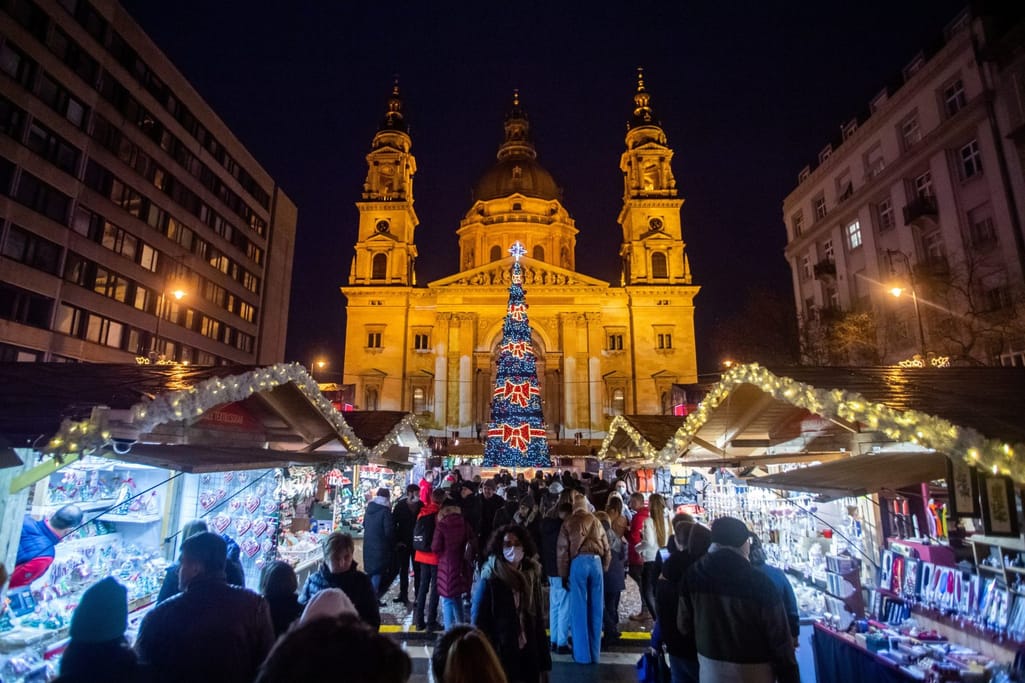 Budapest's Christmas market in front of St. Stephen's Basilica has been voted the best European market of 2021. Source: Hungary Today
Italian witches and a Vatican mass
. Italians celebrate Christmas just like most other countries – with decorated Christmas trees, nativity scenes (these guys totally love them), and festive markets.
However, they also have some traditions of their own. For example, they usually don't eat meat on Christmas eve but indulge in sweets instead. Also, everyone is welcome to visit a free Midnight Mass in the Vatican held by the Pope himself.
If you stay to bring in the New Year, be sure to wear red underwear – Italians believe it brings luck. And if you stay even longer, don't forget to leave out some cookies and a glass of wine on January 5th if you want a Christmas gift in your stocking. According to tradition,
la befana
, or "
the good witch
," pays a visit to households (in the good old days she'd squeeze in through the chimney) to give presents to good children and sweep away the bad luck of the past year with her magic broom.
La Befana is celebrated in many places around Italy with ladies dressing like old witches and parading along the streets, dancing, singing, and tossing sweets to kids. The town of Urbania, which is believed to be La Befana's home, even hosts a yearly La Befana festival – with costumed processions, fireworks, and some hu-u-uge stockings.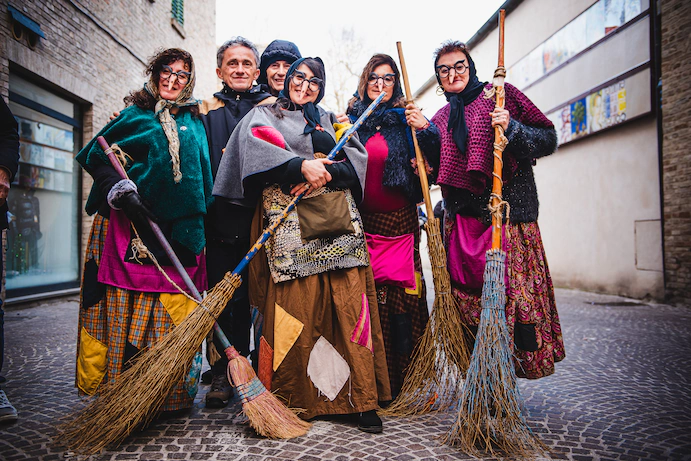 La Befana festival. Source: Washington Post
Dutch cave market
. The municipal Christmas market of Valkenburg (southern Netherlands), is located down in the caves. Lighted by Christmas tree decorations and holiday illumination, the two caves house over 50 stalls with food, souvenirs, and other sweet Christmas stuff.
Tip:
you can buy tickets online in advance.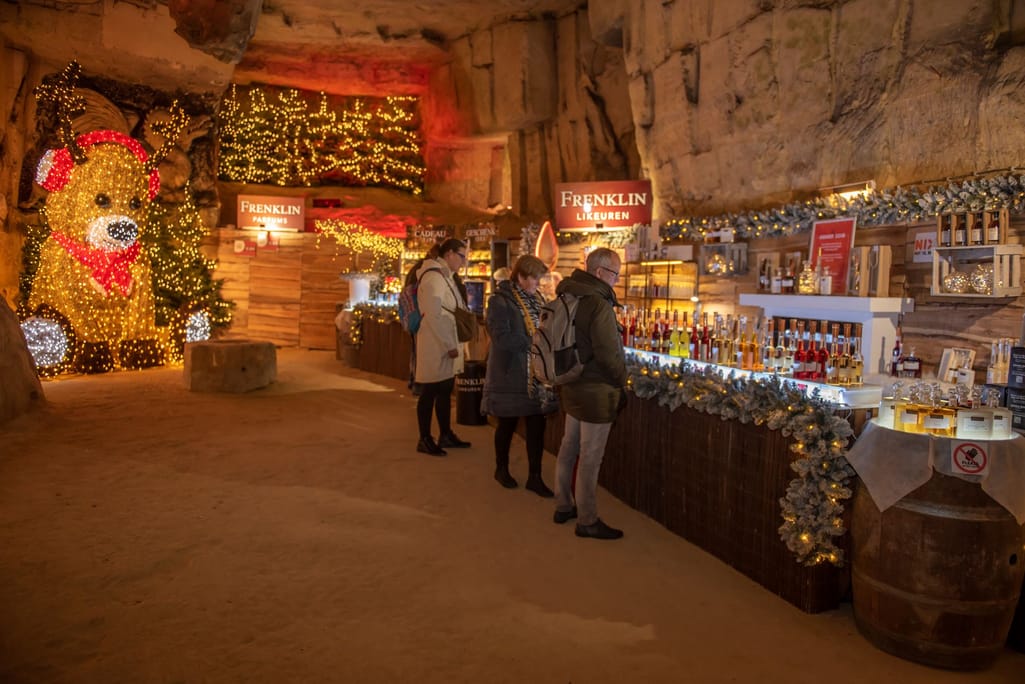 The underground market. Source: kerststad valkenburg
For other attractions in the area, travelers can watch the Christmas parades and street shows, visit a local amusement park Sprookjesbos, explore 14th century castle ruins, or drive to other nearby cities of Maastricht, Aachen, or Cologne for more Christmas markets.
Other attractions in Europe
. Europe is rich with traditions, places to visit, and things to see. Depending on the traveler's preferences, one might choose to go to Belgium for a sip of world-renowned hot chocolate, visit the Swiss Alps for some top-notch skiing, or watch the sunset from the Eiffel Tower in Paris.
Accommodation in Europe
A stay in a real historic castle would make any Christmas trip truly unforgettable (though more costly). There are a number of those to choose from depending on the itinerary. For example, the
Ashford Castle
in Ireland,
Hotel Schoenburg
in Germany, or
Castel Brando
in Italy would definitely add a medieval charm to the holiday vacations.
For those who just want to relax, unwind, and get some pampering, lots of European hotels (especially on the luxury side) offer Christmas packages that might include
welcome drinks on arrival,
Christmas Eve dinner,
a cocktail party,
presents,
Christmas movie watching,
Christmas games and quizzes,
free entrance to the spa or other amenities,
carol-singing and other shows,
master classes,
treasure hunting, and other activities for kids and adults.
Check out Christmas offerings from the chain of British
Macdonald Hotels
, the Irish
Great Southern Killarney
, or German
Sauerland Stern Hotel
to get an idea – and then find something of that kind in a place that sparks your interest.
Tip:
if you stay in Europe on December 5th, leave an empty shoe outside the door, and who knows, maybe St. Nick will fill it up with gifts and treats.
Where to get a tour to Europe
To get the most out of their vacation, some travelers opt for a multi-day bus tour or a river cruise that allows them to visit several cities. A huge range of packages for any date, duration, and budget is offered by numerous
tour operators
.
To have the best choice, take advantage of a tour aggregator such as
TourRadar
that collects tour
inventory
from hundreds of providers and has a convenient filtering and sorting functionality. The industry leaders such as Viator, GetYourGuide, or Trafalgar have lots of tour options too.
Christmas in New York: shopping and ball dropping
Interestingly, most classic Christmas movies take place in New York. So, despite its reputation as a main US business center, lots of people from around the globe flock to NYC to experience the magic of the holiday season. And for a reason. For those who choose to spend their Christmas vacation in the Big Apple, there are tons of activities to get busy with.
Christmas flights to New York
The airlines of North America are keeping up with their European colleagues in terms of holiday surprises.
For example, every year, WestJet arranges a Christmas Miracle, like
giving
passengers the presents they asked Santa for, having passengers choose if they want to
Give or Receive
presents, or
launching
a Christmas Miracle Mile program.
In 2018, JetBlue announced a holiday "Go Get Gifted" contest where five winners would be gift-wrapped from head to toe and taken to their destination for free, while Alaska Airlines
gives
passengers who wear ugly Christmas sweaters free priority boarding for several years in a row, and so on.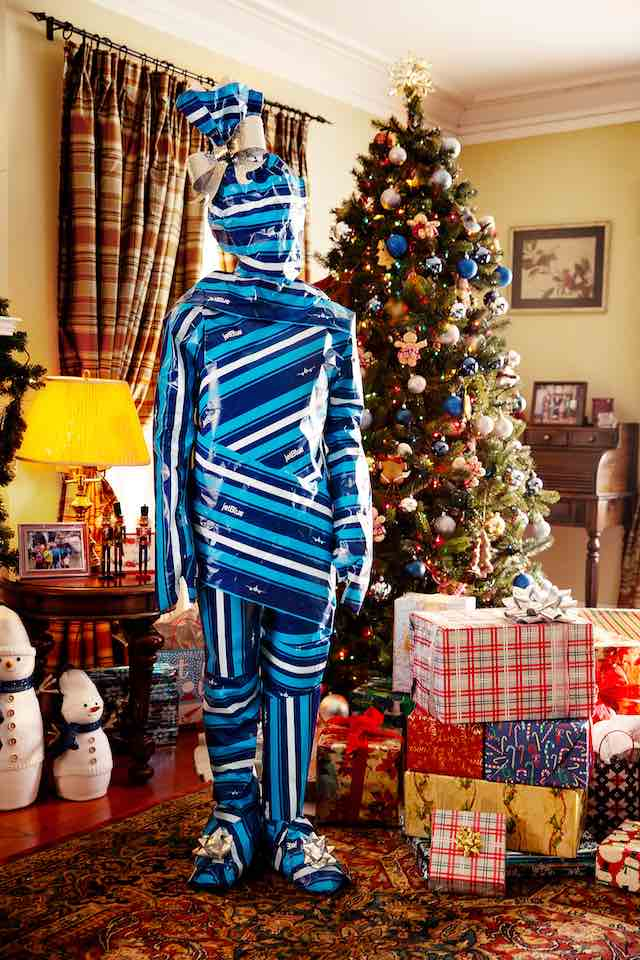 JetBlue's Go Get Gifted contest. Source: GNN
Christmas tours and attractions in New York
Explore Central Park
. In addition to the possibility of a white Christmas, NYC's most iconic recreational area offers a variety of activities to enjoy: ice skating on the Wollman Rink, exploring the Belvedere Castle, horse carriage riding, grabbing a bite at the famous Tavern on the Green, and being awed by the Annual Tree Lighting and Christmas shows.
(Window) shop on Fifth Avenue
. It's the most popular shopping area in New York, so whether you want to buy some presents or just stare at the exquisite window displays of the luxury brands – that's the place to go. All the storefronts are lavishly decorated – and some of them are interactive too!
For example, the Saks 5th Avenue light show is one of the most popular attractions. It features more than 600,000 lights "dancing" to different Christmas-themed songs and takes place every 10 minutes from 5pm to 11pm.
If you start from Central Park, you can stroll along 5th Avenue watching the shows and decorations, and end up at Rockefeller Center.
Admire the Rockefeller Center Christmas Tree
. At 82 feet tall and weighing 14 tons this year, the Rockefeller Center Christmas Tree is a holiday symbol of New York and an absolute must-see.
Tip:
Don't go there on the weekend if you don't want to get stuck in line (or even injured in the crowds) for the whole day.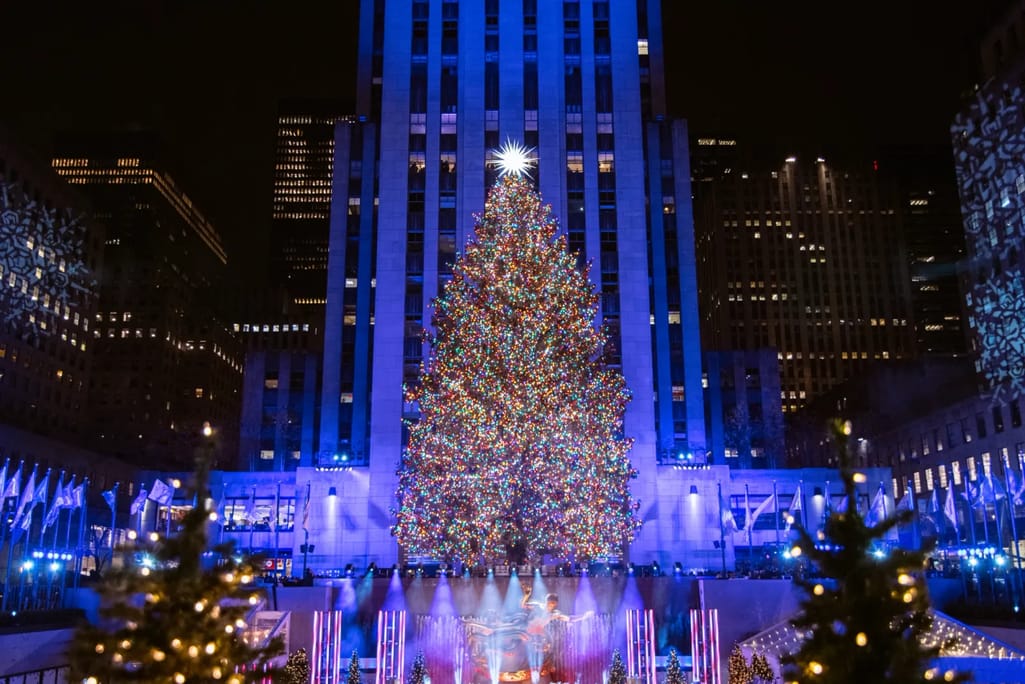 Rockefeller Center Christmas Tree
Visit the holiday markets (Union Square, Winter Village, etc.)
. The largest holiday market in NYC houses numerous stalls – and huge crowds of visitors too. Besides this one, there are lots of others, e.g., Grand Central Station Market, Columbus Circle Holiday Market, and so on. And the Winter Village at Bryant Park, in addition to food, drink, and shopping booths, houses NYC's only free-admission ice skating rink of 17,000 square feet.
Watch the Ball Drop at Times Square
. If you're adventurous, aren't afraid of crowds, and are able to stand in one place for hours without access to restrooms, visit Times Square to witness the annual New Year's Eve Ball Drop in person.
Check out NYC Christmas attractions for kids
. We wouldn't recommend attending the Ball Drop if you travel with kids, but there are tons of other options like
Macy's Santaland – a 13,000-square-foot annual winter wonderland where little ones can have a private chit-chat with Santa,
the Holiday Train Show at the New York Botanical Garden that presents model trains racing through a display of 190+ replicas of New York landmarks with spectacular illumination,
"Peter & the Wolf" classic musical performance at the GuggenheimMuseum, and so on.
Gape at NYC light shows
. For more incredible light displays and sparkly holiday decorations, visit
the Dyker Heights Christmas Lights display,
Lightscape at Brooklyn Botanic Garden,
Amaze Light Festival in Flushing, or
Bronx Zoo Light Show.
The list is nowhere near exhaustive as there are way too many places to go and things to enjoy in fabulous New York during the Christmas season.
Tip:
for a short visit to NYC, it's worth getting a 7-day metro card for unlimited rides and one of the City Passes to visit multiple places of interest.
Accommodation in New York
Most NYC hotels get festive and Christmassy every winter. They wrap themselves up in garlands and decorations, install extravagant Christmas trees, create giant gingerbread villages, arrange meet-and-greets with Santa, treat their guests with special holiday delicacies, and host all kinds of festive events.
Packages are often available too. Options are many:
The Plaza
is the best choice for Home Alone fans,
The Peninsula
on 5th Avenue boasts breathtaking decorations and a huge New Year Eve's party, while
The Lowell
holiday package includes some gifts from Santa in your stocking.
Where to get a tour to New York
All sorts of tours are offered by both local and global tour operators: city tours (walking, bus, or hop-on-hop-off), holiday market tours, NYC movie tours, gastronomic tours, boat or helicopter tours, and a lot more. Big tour operators such as Viator or GetYourGuide offer a bigger selection, while smaller providers such as
Best New York Tours
or
New York Welcome
typically create something more exclusive and can tailor their packages to travelers' likings.
Christmas cruises: beaches and carnivals
For those who look for something completely different from traditional, snowy celebrations and want to spend their Christmas vacation somewhere warm, a cruise might be a great option. Multiple lines, including Disney, Carnival, Princess, Royal Caribbean, and others offer diverse holiday itineraries and themed Christmas cruises and sailings for any duration and budget.
Not only do they include special holiday catering and tons of themed festivities such as an ugly holiday sweater contest, carol singing, gingerbread baking, Christmas trivia, and writing letters to Santa. In addition to that, cruises are always a great opportunity to visit multiple destinations and experience local holiday celebrations. And the beaches, of course.
Junkanoo (Bahamas)
Junkanoo is celebrated on Boxing Day (December 26) and January 1 in many Caribbean countries, being most prominent in the Bahamas. It's the biggest national celebration that takes place as a street parade with colorful, intricate costumes, wild drum music, and dance performances. Participating groups compete for a crown for best costumes, best music, and best theme.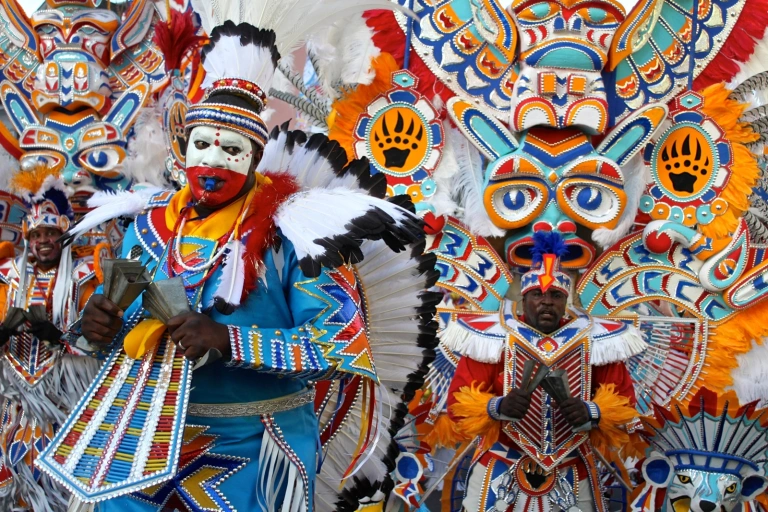 Junkanoo in Bahamas. Source: Repeating Islands
St. Kitts and Nevis National Carnival
Another huge festival happens on the islands of St. Kitts and Nevis – locals call the event
Sugar Mas
. It runs every year for around six weeks starting late November and culminating on January 2, basically being a nation-wide party full of costumes, dancing, colors, and fun, celebrating the end of the old year and the beginning of the new one.
A similar though smaller carnival takes place in Montserrat. Other Caribbean festivities include the Carriacou Parang Festival of Grenada, the Conch Festival and Maskanoo Parade in the Turks and Caicos, and huge New Year beach parties all over the islands.
Most unusual Christmas experiences
If tropical carnivals are still not exotic enough, we can share several most unconventional holiday options rarely spoken of – just between us, in confidence. So, to experience something completely out of ordinary, consider going to
Dublin
– dare yourself to join a traditional
 12 Pubs of Christmas
drinking contest. Groups of friends wearing ugly Christmas sweaters and other themed costumes go on a pilgrimage to 12 different bars and have a drink in each (or at least attempt to). A series of ridiculous rules are added like speaking weird accents, no toilet visits, or calling bartenders some silly names – with penalty drinks for rule-breakers and badges for survivors.
Spain
– try your luck at the yearly Christmas lottery El Gordo. It's been held since 1812 and considered the biggest lottery draw worldwide with over €2.5 billion (around $2.65 billion) in prizes. One of the reasons El Gordo has become such a huge national event and a holiday tradition is that at its core, it has the idea of sharing the prize between family members and friends who buy tickets of the same series.
Antarctica
– plunge into a once-in-a-lifetime adventure and join a real polar expedition to the world's most remote destination. Cruises usually depart from the southernmost tip of South America (the city of Ushuaia) and give travelers a chance to witness the whale migration, marvel at stunning permafrost landscapes, icebergs, and glaciers, approach penguins, seals, and other wildlife, take some unique photos – and have a
very
special vacation.
Feel free to share your most unusual Christmas experiences (already tested or just dreamed-of) in the comments below – and Merry Christmas to you and yours!