Below is the technology industry news & trends report for August 2017. You can also check out our latest news & trends report to be in the loop of what's shaping the tech industry landscape today.

While August is traditionally vacation time, the last lazy days of summer stuffed a lot of interesting tech news into our mailbox. Uber's new CEO was revealed this month. A Walmart/Google partnership bets on a voice-based shopping search. Amazon is arming itself with AR to combat retail and search giants. Fintech accelerates wealth management transformation. Financial service leaders claim that we'll soon see the rise of machines. Although it won't look like any scenes from the Terminator movies, robo-advisors will become an integral part of the industry. Let's flesh these factoids out in our monthly technology trends report.
CEO plus IPO for Uber
Uber elected a new CEO. The board members voted for Dara Khosrowshahi, former CEO of Expedia. Mr. Khosrowshahi spent 12 years with the leading travel and technology company, building the most powerful brands in the travel industry with Hotel.com, Trivago, Orbitz, etc., under the Expedia umbrella. The new Uber CEO outran two other candidates: Meg Whitman, an HP Enterprise CEO, and Jeff Immelt, a former General Electric CEO.

Khosrowshahi will face a lot of challenges as he copes with several lawsuits inherited from the previous management (Uber vs Google, etc.) and works hard on reestablishing the corporate culture and its public image. The new CEO has already set a distinct target for Uber: go public in 2019 -2020. The initial public offering (IPO) of the $68 billion company is interesting, since we believe that investors may expect tangible improvements in Uber's financial performance.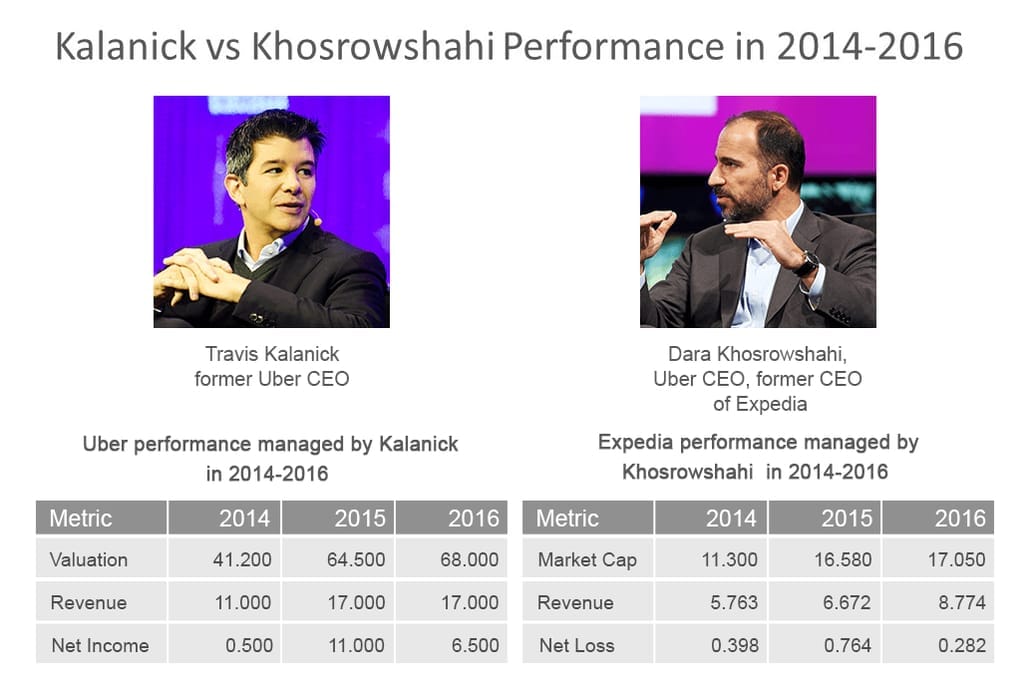 Source: Business Insider, TechCrunch, CNN
AR will be powered by Android
Google presented ARCore, the preview of their upcoming AR SDK. The development kit allows Android engineers to experiment with the technology and get an idea of how it may work for the real production software. Now, the technology can easily spread across the industry as additional hardware is not required, and you can test it on your typical Android phone. The new SDK focuses on three features:
providing accurate placement of objects via a phone camera and IMU sensor data;
detecting horizontal surfaces;
making objects more realistic by estimating the light sources.
And this coincides with the growing interest in AR and VR technologies. Currently, the AV/AR market accounts for $11.5 billion and is expected to reach $215 billion by 2021, according to IDC. Earlier this year, Apple, Google's main mobile competitor, released their own ARKit for iOS 11 for a wide development community. AR/VR is expected to impact nearly all industries by 2025. The largest consumers of this technology will come from gaming, healthcare, and engineering spheres.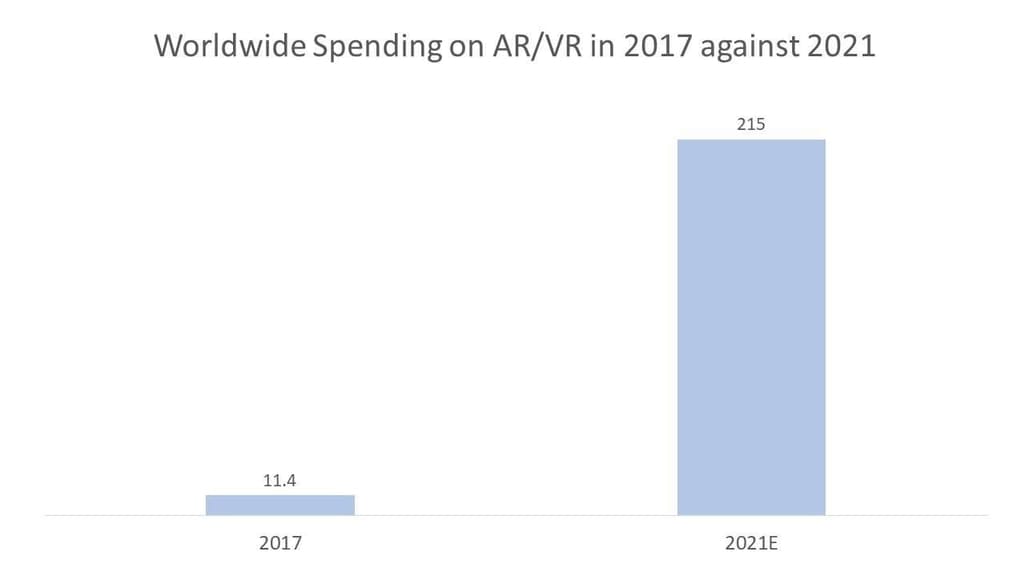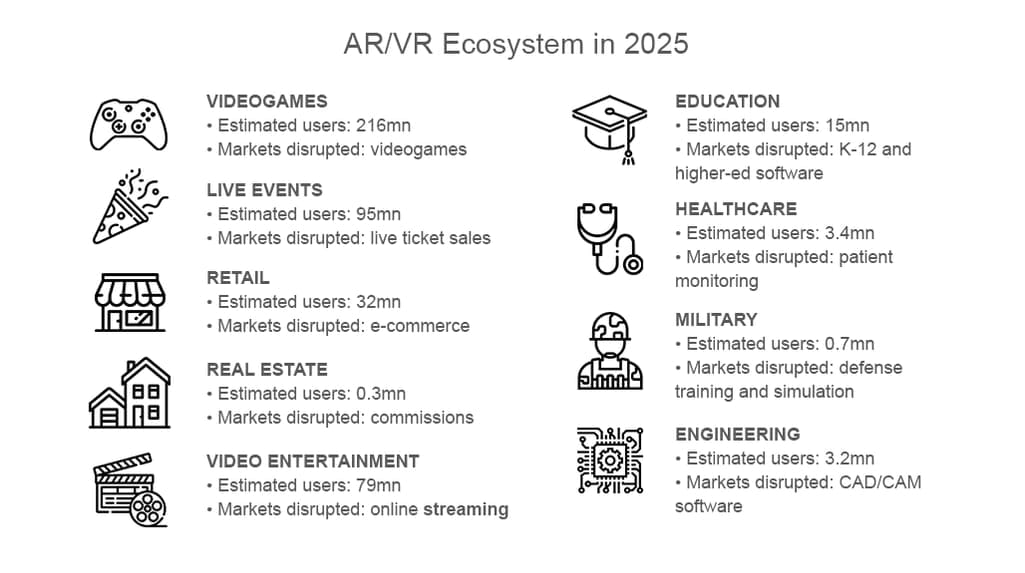 Source: IDC, Goldman Sachs
AR/VR technologies are disrupting the retail industry
Amazon plans to provide a new level of shopping experience. Recently, the company filed two new patents for AR-driven eCommerce. And they look like game-changers.

Unlike Microsoft, Amazon doesn't focus on AR headsets, settling on mobile for now. The company talks about creating an AR-based dressing room. Imagine making a couple of clicks on your smartphone, pointing it at yourself, and seeing whether a new dress or suit is right for you. Such applications may significantly affect brick-and-mortar (B&M) stores, as customers will get an opportunity to "touch the goods," if the try-on precision is up to the task.

Another Amazon idea is to project furniture or decorative items into a real room, allowing customers to be certain that new piece is the perfect match for their home and order with confidence.

Obviously, the patent is a general description of the technology and doesn't guarantee anything. The most optimistic scenario: It will take several years to deliver a complete project or at least the first prototype.

But these patents, if realized, may become a powerful weapon in the competition against both online and traditional retailers. But, these ideas are not new. Ikea has been actively working on AR/VR applications for five years. For instance, the Swedish company announced the launch of an AR app on the iOS platform which allows for overlaying images of different furniture across a customer's home and experimented with VR by launching a pilot app for buying kitchen furniture.
Voice computing technology blows up eCommerce
Walmart, Amazon's main B&M rival, keeps going digital. In August, the retail titan announced a voice search and shopping partnership with Google. We have Walmart with its eCommerce ambitions and, on the other hand, there's Google with its Voice Assistance and Google Express, the shopping and delivery service. This cooperative effort may challenge the Amazon Alexa dominance in voice-driven online shopping. The battlefield looks even more intense as Amazon fuels the fire. They announced their collaboration with Microsoft on voice assistants. We wouldn't be surprised if some large retailer like Target or Alibaba partners with Apple or Samsung to get into the fray.

According to Gartner, 30 percent of web browsing sessions will be done without screens by 2022. And so far in 2017, Amazon owns over 70 percent of the voice search volume in the US, according to eMarketer.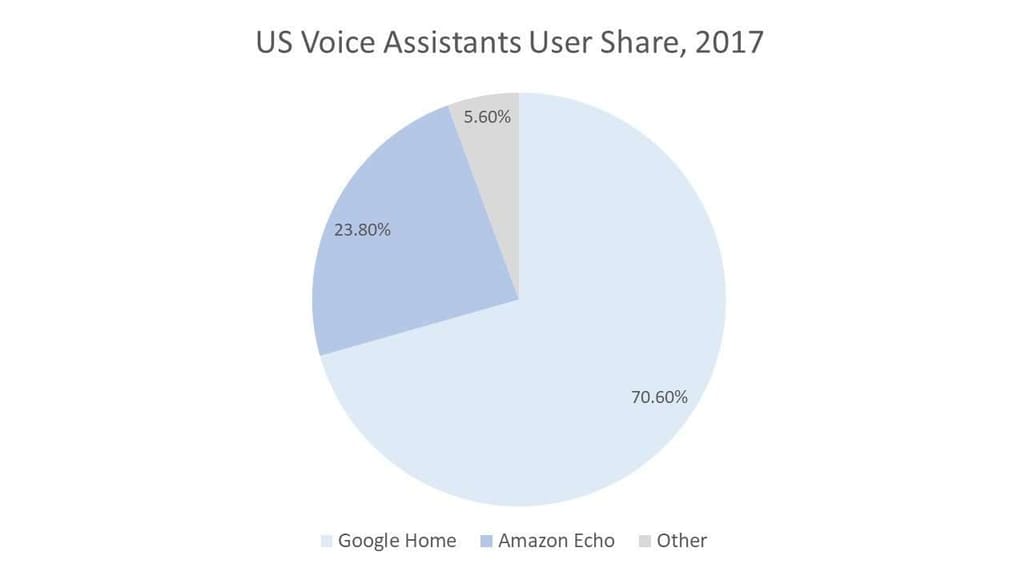 Source: eMarketer
Java EE may go even further down the open source path
Oracle announced the release of Java EE 8 at the JavaOne 2017 conference. Java EE is a collection of APIs that helps developers deliver enterprise-scale applications. David Delabassee, the Oracle evangelist, says that even more components of Java EE can become open source in the future. Oracle wants to make it more agile and innovative. The technology has already been managed in a semi-open source manner. The company aims at strengthening the performance of its cloud database software products this way.

Java has a large engineering community, so the technology will likely develop more dynamically.
Technology changes the lives of human advisors in the wealth management industry
Fintech companies accelerate the pace of innovations in the financial services industry. As the discussion on whether fintech companies are just a part of the financial industry or the worst enemy of traditional institutions keeps going, we've found an interesting report from World Economic Forum and Deloitte. They claim that a good opportunity for industry newcomers isn't establishing a wealth tech startup, but launching a wealth management company that utilizes disruptive technologies. It seems that the role of human advisors will change significantly soon:
Customers will focus on asset management services with a higher level of return certainty. Currently, most people aren't certain about their investments. So, they are likely to choose offerings that have guaranteed outcomes, even if this confidence comes at greater cost.
The rise of robo-advisory. AI-driven advisors – discussed in our piece on data science opportunities in wealth tech – can cover most manual and repetitive operations that human advisors do. The change will have several consequences for the industry. First, business focus will shift from portfolio management to distribution and customer relationships. Adoption of more sophisticated technologies will result as companies compete for providing unique, high-quality services, even initiating a boom in value-added services.
The demand for low-cost, automated advice will increase. It will accelerate the growth of B2B wealth tech as wealth management companies adopt robo-advisors. As a result, the market will be represented by large digitalized companies serving the mass market and firms with special domain expertise and value-added services.
Though world famous brands predict the wealth tech revolution, they believe the advisor's role will be significantly changed – but not supplanted – by robo-advisors.
Priceline Group continues expansion on the metasearch market
Priceline Group continues an aggressive expansion into the metasearch market. In February, the travel leader acquired its European competitor Momondo for $550 million and now it's further enhancing its position with the Mundi takeover in South America. The deal's final bid wasn't disclosed.

Priceline will serve 1 million desktop and 1.6 million mobile users in Brazil under the Mundi brand and Kayak technologies on back-end. Another powerful competitor here is Google: Google Flights are now available in Portuguese, which heats the competition for the Brazilian market.

The acquisition seems a wise step in the competition with Skyscanner owned by Chinese Ctrip. Mundi used to collaborate with the Chinese metasearch company.
Final word
Call August the augmented reality month. AR is still far from wide adoption, but the main technology brands are already working on it. Google launched AR SDK for Android developers. And earlier this year, Apple released their ARKit for the iOS community. That means that AR technology now covers the lion's share of the mobile ecosystem.

Meanwhile, Amazon can alter the distribution of power in retail by putting eCommerce and traditional retailers on the equal footing. The competition between both groups is intense but neither can replace its rival. One group owns brick-and-mortar stores and the other corrals excellent customer experience and data on customer behavior. While Amazon is seemingly reinventing the wheel after Ikea apps and other AR-driven retail solutions, this time the eCommerce giant has a chance to change the rules of the game.