Below is the technology industry news & trends report for August 2016. You can also check out our latest news & trends report to be in the loop of what's shaping the tech industry landscape today.
Time marches on as information technologies continue their rapid development. There is still a shortage of skilled software developers. Analytics, security, and DevOps skills are still trending as the new stars, as AI and the Internet of Things (IoT) are rapidly catching up. The popularity of Java is on the rise while investments in fintech are declining. All these things and much more follow in this  – our August report.
Software Engineering
Google published
early results of new operating system development
on GitHub. With no official announcement about the new open-source project called Google Fuchsia, a lot of details are still unknown. Nevertheless, it is crystal clear that Fuchsia will significantly differ from both Android and Chrome OS and will not run on Linux kernel. Based on what may be limited information, various experts have put forth various suggestions about the new project's uses.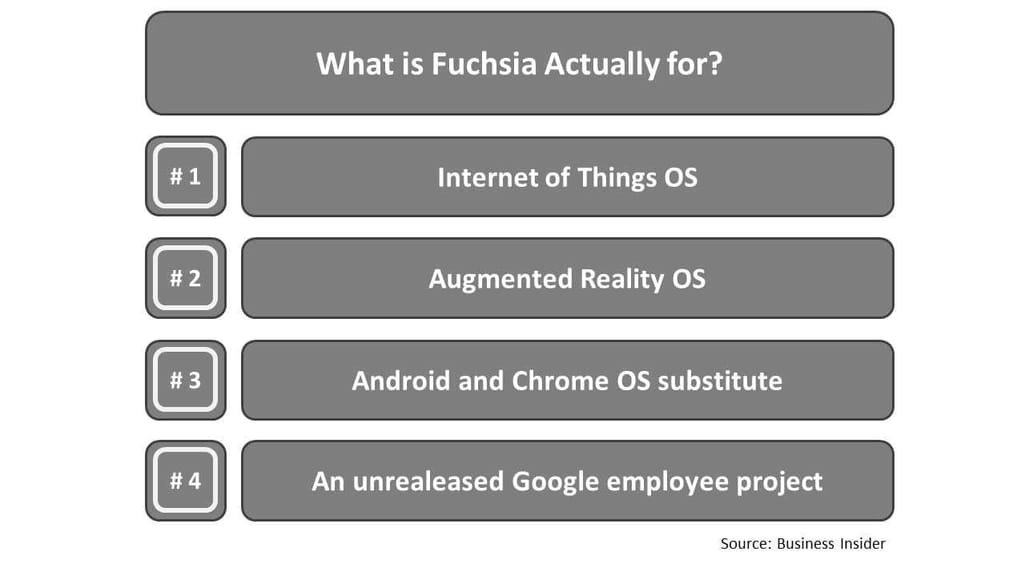 The C programming language
is dropping in popularity
. In August it reached 11.303 percent score of popularity according to Tiobe's language index (The programming language popularity index is calculated by counting hits of the most popular search engines). This is its lowest score since the rating started in 2001. The downward trend is expected to continue caused by technical limitations present in C, but not in Java, C++ and C#. Java is in first place in August rating with 19.01 percent, while the rising star is Go, which moved from 95
th
to 20
th
place.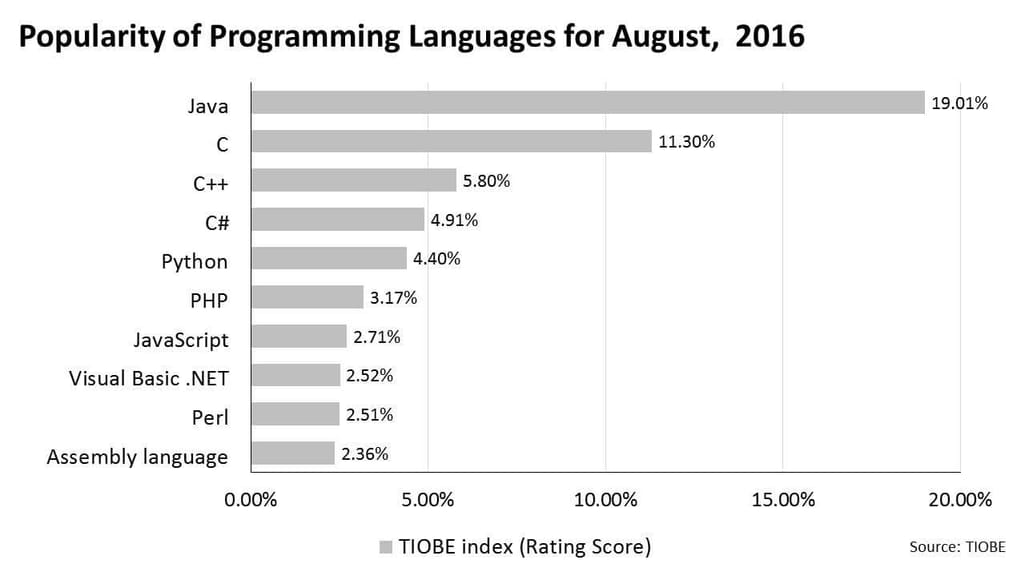 Another outlook on languages' popularity is provided by Packt.
According to its Skill Up 2016 report
, which based on survey of 11,500 IT professionals from the USA, the UK, Germany and other countries, the most popular languages are JavaScript, Python, Java, C and SQL. Swift has the strongest position among the new languages, thanking to its strong positions in iOS development. Respondents also named the highest paid languages by median salary, according to
Packt`s Skill Up 2016 Report
: Bash – $100,000, Perl - $95,000, Scala - $90,000, SQL - $70,000 and Go - $60,000. The demand for technologies will be driven by the needs of big data, cloud computing, the Internet of Things, and
mobile development
.
UX/UI Design
MarTech Advisor named
5 design ideas for mobile apps
that should boost engagement and conversions through better user experience. 1) Color strategy. The colors should provide a deep, lasting impression. Experts advise using brand colors in apps with the single dominant color making it easier to draw and retain customer's attention. 2) Streamlined scrolling. Businesses have to understand the customer's behaviors and characteristics to apply them in app design. 3) Image search. The future of eСommerce lies in the area of advanced image search. The mobile user is usually unsatisfied with the results of a text search, so it is better to look for products through the objects recognized in the picture they like. 4) Voice-support. The voice-search will break down all barriers between the marketer and online shopper. 5) Chat and image sharing. One of the foundational needs is eСommerce socialization: The shopper should be able to freely share their thoughts about products.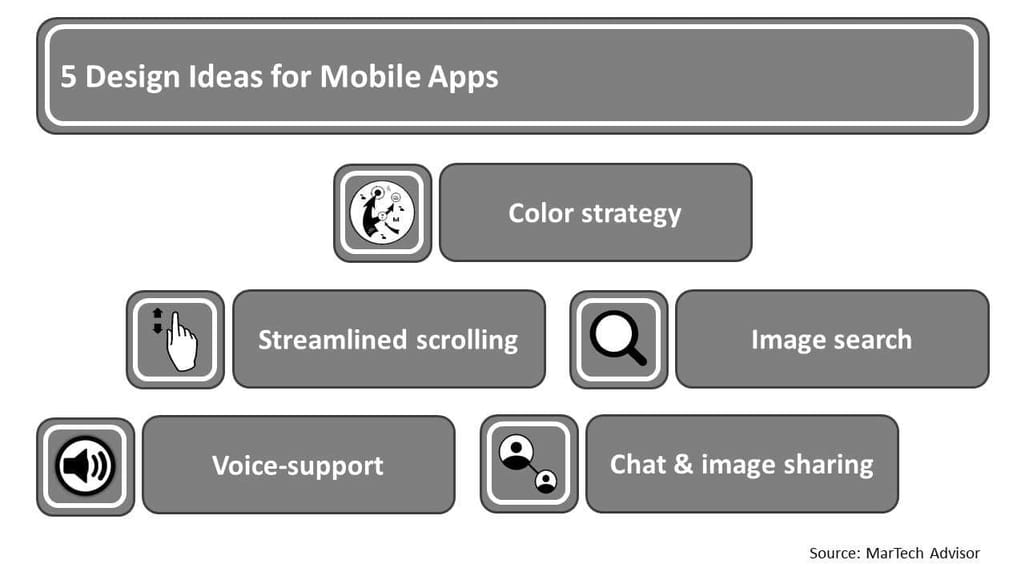 According to a survey of 1,986 developers who use m-commerce platforms in their apps, 66% of them name the
smooth user experience as the key factor in selecting the payment method for m-commerce
. The results of VisionMobile's study also demonstrate the most user friendly methods of billing.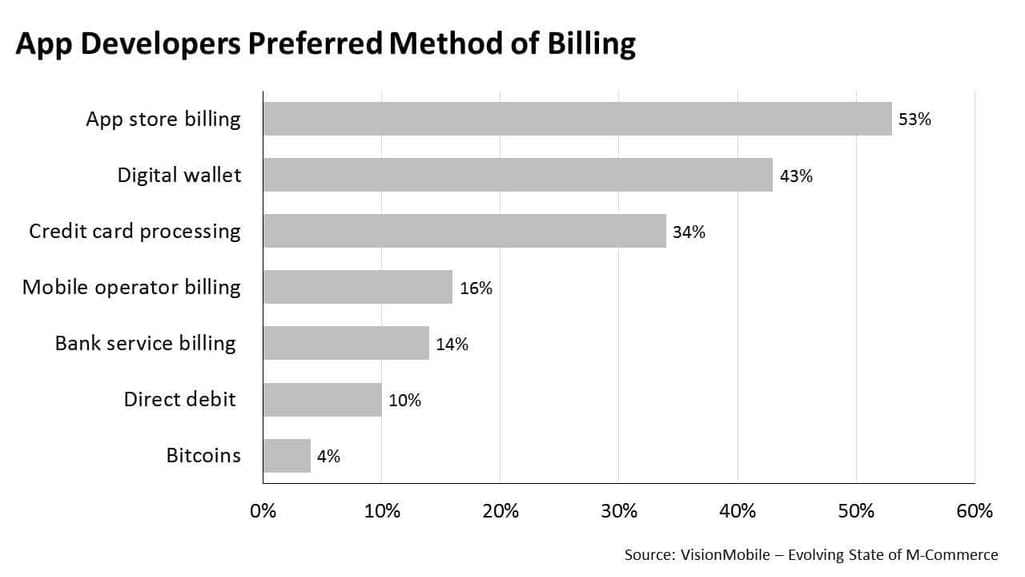 Internet of Things
This month Forbes provided 6 predictions for how the Internet of things will change the face of online marketing and SEO. 1) Conversational queries will dominate in the traditional search. 2) Organic click-through rates will fall as some user`s functions will shift to IoT technologies. 3) The Search Result Page will be transformed or even disappear. 4) The IoT search technologies become one of the main focuses in search optimization. 5) The personalization technologies will deepen individualized experiences and become more feasible. 6) Residential marketing will increase in importance.
VMware
boosts its partnership network
by adding Bayshore Networks, Dell, Intwine Connect, Deloitte Digital, PTC and V5 Systems. The main goal is to address integration and infrastructure concerns raised by enterprise adoption of IoT technology. The partnership looks highly promising, due to high demand for IoT technologies from the operations side of the business. Earlier VMware announced "Liota" (Little IoT agent). Liota is an SDK for building secure IoT gateway data and control orchestration applications.
Big Data & Data Science
Apple
acquired Seattle-based startup Turi
, which provides the toolkits simplifying development of machine learning models, for $200 million. This deal will boost companies' positions in building recommendation engines, fraud detecting, improve better targeting etc. as a result Apple will get additional strength in the big AI competition.
The California startup
People.ai works on machine learning solution
, which enables the assessment and analyzation of sales rep behavior via email scoring, calendar activity, comparison of those metrics to sales results. The project's main value is that it identifies the best way to close the deal, though it doesn`t uncover precisely what the salesperson did. The founders say that the main competitive advantage of People.ai is its data entry process automation. For example, Salesforce already has a similar product, but it requires manual data entry. People.ai, despite having a small development team, already has placed its solution with about 50 B2B companies. The founders compare their project with GitHub, which enables assessment of the developer`s work while maintaining privacy.
The popularity of machine learning is growing,
becoming one of the most highly demanded skills in data science
. According to an Evans Data Corp study based on a survey of 1,000 professionals, 36 percent of developers use machine learning in big data projects and 30 percent of data scientists have advanced degrees and higher levels of expertise. The study also shows that the researchers have the strongest professional skills, while business professionals have the weakest level among four groups of respondents.
The interest in AI-based chatbot technologies is growing and soon such technologies should cut labor costs in a wide range of industries.
The release of new fetcher for bot creation platform API.AI
will boost the usage process, thanks to the launch of one-click integrations. Additionally, the bots on different platforms will be able to share knowledge with each other.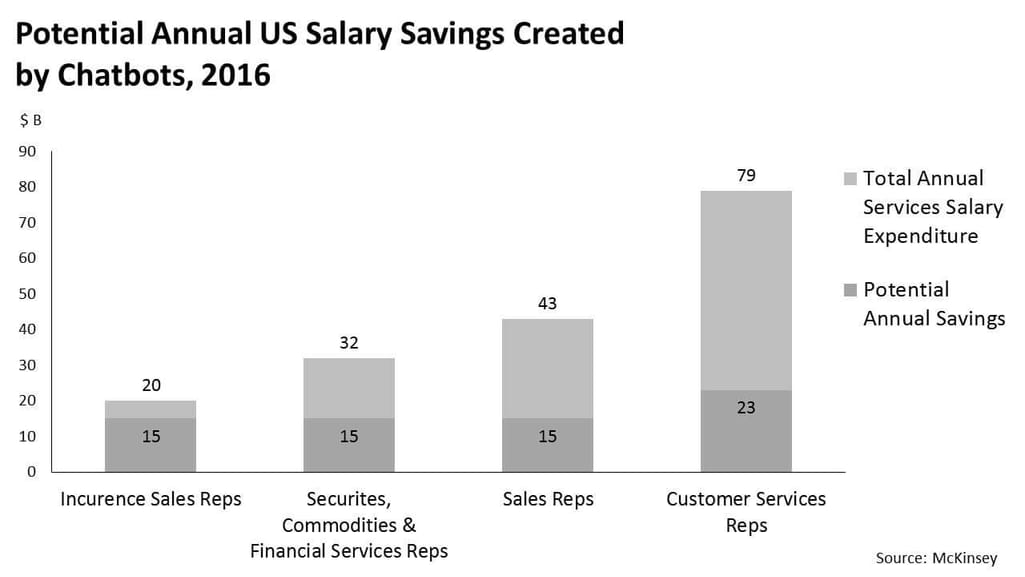 Mobile
The domination of the Android platform over the iOS
is not as strong as it would seem at first glance
. In order to clearly understand the insights of mobile competition, we should take into account more variables than Android sales volume only. Google's platform positions seem less strong if we look at the competition from the profitability side, where iOS has a stronger position. In addition, Android depends heavily on Samsung as a core partner, so the consequences of relationship dilution would be painful, for both parties.
TECH.CO named
4 ways 5G mobile technologies will impact customer experience in the near future
. 1) data speed provides an opportunity for quick access to nearly all apps for customers. 2) The faster connection will boost Internet of Things technologies. 3) 5G will widen the range of devices used by the enterprise. 4) The speed growth will increase the productivity.
iOS 10 opens the prospect of voice interaction with apps by using Siri. So far, it is able to read texts, assist in using built-in services, search photos and call using voice. The
new ToolKit in iOS 10
allows developers to use cutting-edge voice recognition technologies in third-party apps. Currently, there is a similar voice recognition service, Alexa from Amazon, which provides the same functionality. But Apple`s technology creates larger opportunities for developers as it is already installed in millions of devices. The decision to open innovation to third-party developers should significantly boost the growth in the iOS platform.
Cloud
Gartner presented its
Magic Quadrant for cloud infrastructure services
. Amazon Web Services (#1) and Microsoft (#2) were ranked as leaders of the Infrastructure as a Service (IaaS) market. Google ascended to visionary level. Google tries to overtake the leaders through numerous partnerships and cloud services acquisitions. The other players were identified as niche players. Though Amazon still occupies the lead position, Microsoft significantly strengthened its space in the IaaS market. Microsoft beats Amazon in
the war for Boeing
. As a result, the aviation giant uses Azure now, which boosts Microsoft's cloud and accelerated growth.
Microsoft announced
its partnership with Citrix
in the area of remote desktop and application space. Because of this, the technology giant will stop the distribution of Azure RemoteApp in October, 2016 and product maintenance at the end of August, 2017. The decision was based on customer feedback and market dynamics. Microsoft will also be assisting Citrix in developing a next-generation Citrix XenApp
IDC expects
the Cloud market will soar
to $195 billion from $96.5 billion with a compound annual growth rate of 20.4 percent for 2020 over 2015. The key growth driver is significant shift to cloud software development.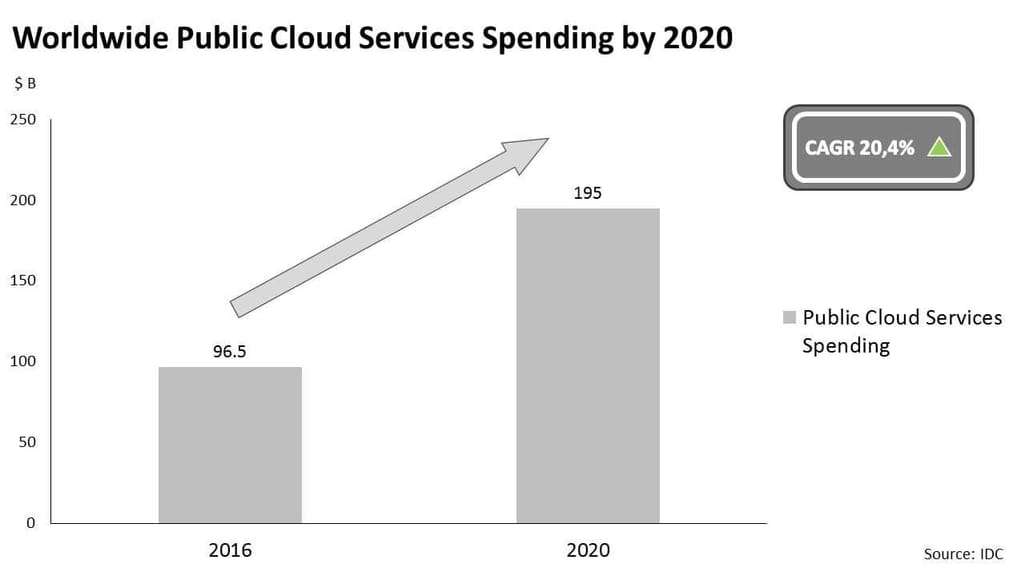 Technology consulting
EY invests in its data and analytics services business. This month it  
acquired Society Consulting
, a big data and analytics consulting services firm. Approximately 150 of Society Consulting's employees will join EY. The strategic decision is explained by transformation of client business to data-driven models.
Business Industries
Fintech
The crowdfunding platform Crowdcube 
raised £8 million in crowdfunding round
. The sum of raised capital has broken the previous UK record, when Fintech company GoHenry received £3.9 million in crowdfunding. Crowdcube will spend money to create a trading platform for private equity. The project's success will depend not only on powerful funding. The company would have to overcome some barriers in the taxation, business valuation, and inexperienced investor protection areas.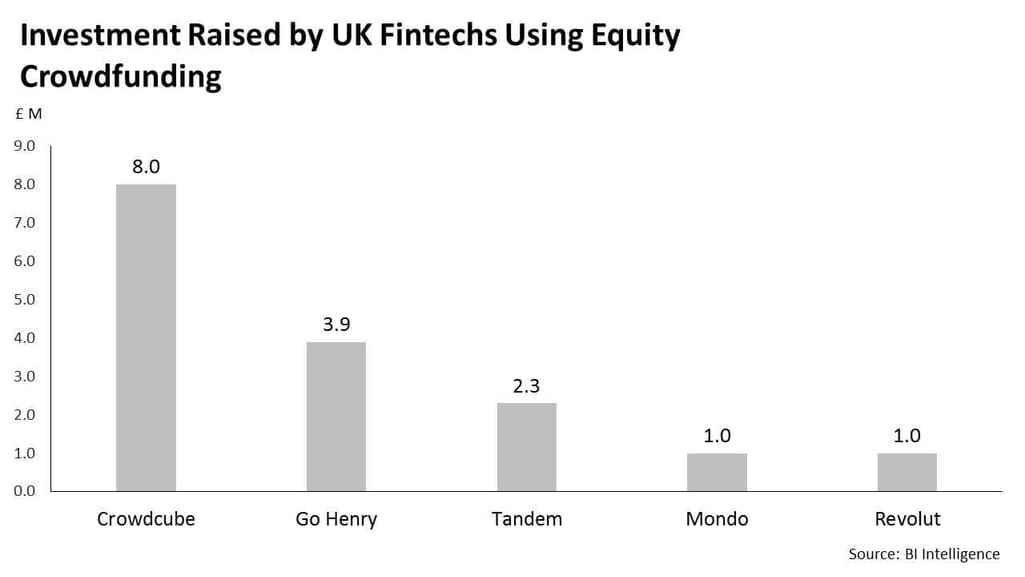 About 50 percent of US Internet users claim that they
six
months. The key users of mobile wallets are millennials. Forty-three percent believe that they would deploy an application like Apple Pay, Android Pay or Samsung Pay. Though the popularization of mobile wallet is slow-going, experts expects a warming trend in user sentiments.
KPMG and CB Insights claim
significant decline in VC-backed fintech funding in Q2 2016
. The deal activities have slowed. Funding fell by 49 percent from $4.9 billion in Q1 2016 to only $2.5 billion in Q2. The number of deals has dropped to 195 from 221 in Q1. Fintech performance was driven by these events: 1) A lack of super rounds drove the overall decline. 2) Insurtech and alt lending continued boosting fintech in Q2 2016. 3)For the first time, German fintech funding beat the UK's. The struggle between traditional businesses and fintechs is strengthening. The time for digital strategy rethinking has come.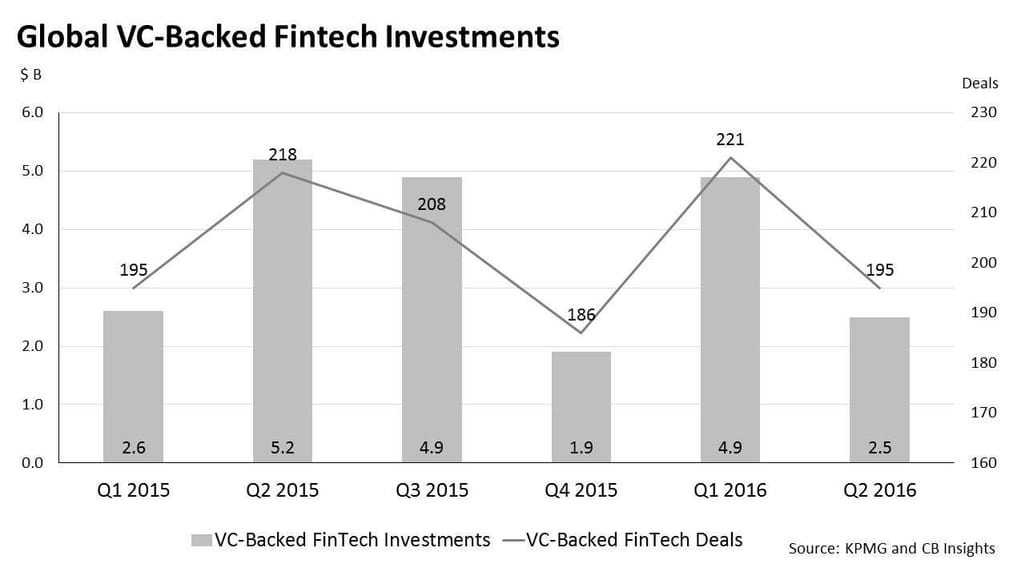 Travel & Booking
Microsoft rules in the bots segment, as the major tech player presented the bots framework in the spring. Currently, the company is trying to strengthen its position in the bots market and joined Facebook and Apple in the
AI-bots competition
. As a result, Microsoft announced its collection of Skype bots (Hipmunk, StubHub, Skyscanner IFTTT and
Spock
). The Skype bots are focused on assistance and specialize in travel and booking services.
Retail & eCommerce
Walmart
announced its Jet.com acquisition
. The deal was valued at $3 billion. The purchase aims to strengthen both Walmart's online and offline presence. The strong side of Jet.com is its popularity among millennials.
Aviation & Transportation
According to PointSource survey
, based on answers from over 300 decision makers across different industries, the supply chain professionals are not satisfied with existing mobile solutions. Around 24 percent of firms don't use mobile technologies at all. The survey also showed the high-promise areas for mobile technologies vendors: 1) Seventy percent of all respondents require mobile technologies that will help keep company content consistent and up to date. 2) Sixty percent need inventory management solutions. 3) Fifty percent demand solutions for quality and safety standards improvement.
HealthCare
Florence Healthcare
 has raised
$1.7 million in seed funding
. The Atlanta-based startup is working on a solution that allows pharmaceutical researchers to digitatize the results of clinic trials, relocate them to and exchange them in the cloud. The market for such services is currently estimated at $10 billion for the pharmaceutical industry worldwide. The company will use the money to increase adoption and improve user experience of its software product, Florence eBinder Suite.
A CareCloud Corp. survey
, based on responses from 1,443 consumers, says that Baby Boomers more than other groups have turned to digital healthcare services. Around 62 percent of individuals between the ages of 51 and 69 use digital healthcare products. Nevertheless, the popularity of digital healthcare systems is still low. Only 26 percent of consumers tend to interact with their doctors online.
Marketing
Hootsuite, social media marketing and management software company, claims to have achieved positive cash flow. The company's CEO and founder Ryan Holmes announced
the IPO
, emphasizing the need to raise capital to achieve further growth. The marketing software industry is becoming extremely competitive with the increase of large cloud providers, who add various marketing features to their services. According to results of a highly structured valuation, the business is already worth over $1 bln.
Media & Entertainment
Unity joined
the Unicorn club
after it raised $181 million in a Series C round. The funding will be spent to develop virtual and augmented reality apps tools. The emergence of virtual reality will boost the demand in the 3D game development services market (Ninety percent of games use Unity).