April had an abundance of groundbreaking news. Google launched new features for conversational interfaces, including Dialogflow Enterprise Edition. This cross-platform suite simplifies development and support of chatbot and voice agents. The sharing economy disrupts traditional business models as home sharing becomes a new hospitality trend. Marriott enters the private rental segment with one of its existing brands. We'll talk about these and other news and trends that defined this month in the technology world.
Amazon goes international
Retail giant Amazon 
expands operations
beyond the USA, Western Europe, the Middle East, Singapore, and Australia. The company added new shipment destinations and now shoppers can use Amazon services across more than 100 countries. Nevertheless, the retail giant isn't establishing local presence. Amazon just made its products available for shipment in new regions via the mobile app that helps customers calculate full shipment cost and additional fees.
Amazon's expansion is an important sign for the eCommerce industry: The US retail wars go global. In April, some rumors claimed that both Walmart and Amazon are
interested in buying Flipkart
, an Indian eCommerce company. Later in May, Walmart beat Amazon in the competition for Flipkart. The offline retailer will buy a 77 percent stake in the Indian eCommerce company for $16 billion. In India, the online retail market is expected to reach $200 billion by 2026. And both companies attempted to establish operations in India, nevertheless, both competitors didn't succeed. Amazon invested billions to compete with Flipkart, while Walmart managed to open only 21 physical stores across the country being constrained by foreign investment policies. And finally, the rumors have been confirmed: Walmart is about to buy the Indian online retailer. Flipkart will benefit from the merge with Walmart's offline business.
Google boosts conversational interface offerings
Google makes
Dialogflow Enterprise Edition
 generally available. Dialogflow is a development suite for building AI-based
conversational interfaces
. The technology comprises 30+ pre-built templates, which speed up project delivery. Dialogflow simplifies the development of text and voice applications, and is simple enough, that it can be used even by engineers having no prior experience with conversational interfaces.
Dialogflow targets these four main areas
The new technology is built as a cross-platform solution, which ensures that it can be used across major devices and supports Google Assistant, Amazon Alexa, and Facebook Messenger. The expansion of Google cloud services and its cross-platform nature makes the suite even more competitive as businesses have to spend less money on supporting their products.
Lyft expands operations in corporate travel
Lyft
announced its integration
with American Express Business Travel. Currently, corporate travelers can book
ground transportation
from the online cab company. But American Express officials claim that this collaboration will redefine the traditional resale model in ground transportation as Lyft allows for building highly personalized ride-sharing programs.
Being a direct competitor to Uber, Lyft is focusing a significant part of its efforts on business travelers. As a result, Uber's share in ground transfers on Certify, popular travel and expense management platform, declined from 99 percent in 2014 to 81 percent in Q1, 2018.  This is yet another signal for traditional ground transport providers to start transforming their businesses. Otherwise, such digital ride-hailing companies as Uber and Lyft will crowd out the taxi and car rentals from the market.
Marriott launches a home-sharing product
The home sharing market is a hot spot on the travel industry map, as it attracts large OTAs and major hospitality brands. Airbnb, Booking.com, Expedia,
AccorHotels
, and Hyatt have already embarked on home sharing. Some of them own home-sharing brands, like Expedia with HomeAway. Some operate under their own brands, like Airbnb.
The USA private accommodation rentals market was valued at $32 billion in 2016. Phocuswright expects that the home-sharing industry will grow to $37 billion by the end of 2018. The sharing economy has helped Airbnb grow from an ordinary startup into a travel industry giant, looking for ways to compete with Expedia, Booking Holdings, and other major players.
Recently, Marriott joined the competition. The hotel chain
launched a pilot project
with Hostmaker: Marriott clients will be able to book any of 200 shortlisted homes placed on Hostmaker via TributePortfolioHomes.com, one of Marriott's portfolio brands. The rentals available for Marriott's clients meet all safety, design, security, and service standards. Guests will also receive 24/7 dedicated support, in-person check-in, and participation in the loyalty program. The Marriott operation model is unique as they are looking to transform one of the existing brands into the home-sharing leader.
Ant Financial is close to becoming a $150 billion company
A Chinese startup, Ant Financial, is close to becoming
the largest startup in history
. The fintech company plans to raise about ten billion dollars. As a result, its valuation will reach $150 billion, twice as much as Goldman Sachs, the world-famous investment bank. Ant Financial operates in business payments, wealth management, and microfinancing. The company has already been backed by Alibaba, which owns about a 30 percent stake. It also reached profitability earning $2.1 billion in profits last year.
The Ant Financial mega round is a sign of the renewal of fintech activity in China. As fintech regulations become more transparent, the investors are ready to pour money into the industry. Today, increasingly more Chinese unicorns can successfully seal their initial public offerings (IPOs), and it's likely that Ant Financial will raise pre-IPO funding.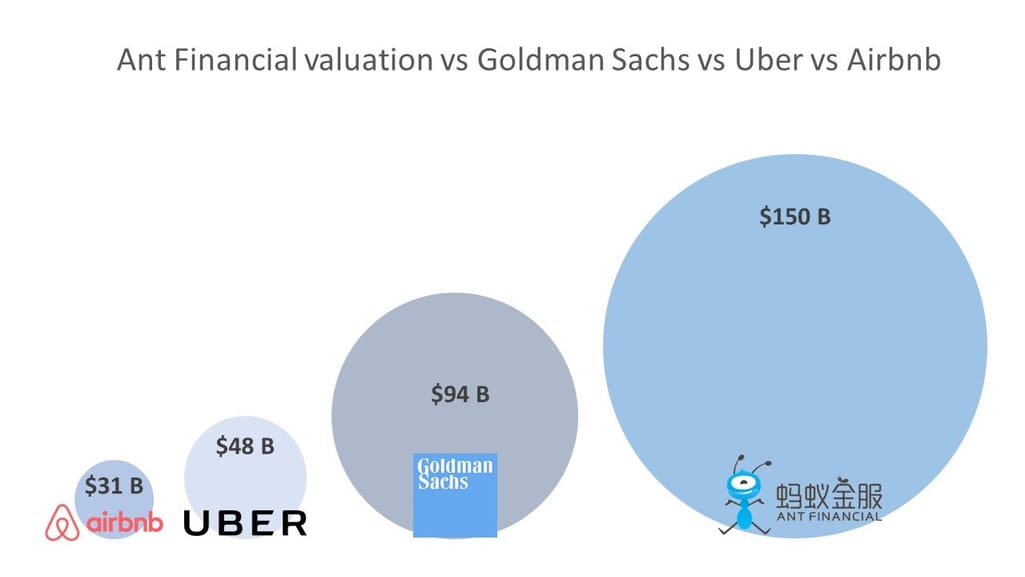 SenseTime is the highest valued AI startup
SenseTime is the highest valued startup now on the artificial intelligence scene. The Chinese company works on dynamic and static facial recognition, ID authentication solutions, the AR platform, and BI solutions. Their customer portfolio includes around 400 businesses across fintech, automotive, and hardware industries. The company managed to
raise $600 million
during the last funding round. SenseTime will use the funding to expand operations beyond Asia and develop new
AI solutions
. The last round allowed the company to reach $4.5 billion in valuation.
Over 200 AI companies got $4.5 billion in funding in China during 2012-2017, which allows the country to aim for the position of worldwide leader in AI technologies by 2030. Chinese authorities have already planned to invest over $7 billion in the next several years. These investments will create opportunities for other AI startups to repeat the SenseTime success. In China, AI companies are usually independent entities backed by tech giants as opposed to in the US, where AI development is mostly driven by tech giants or their wholly-owned subsidiaries.
Biometric technology automates cross-bordering in Mexico and the UK
Biometric technology has created a lot of hype in the travel industry since JetBlue and SITA have begun testing the boarding solution that employs facial recognition. SITA kiosks take passenger photos via an embedded camera or request fingerprints and check identities using machine learning. The trend is emerging, and SITA's technology is extending biometric solutions coverage to Brisbane Airport in Australia and British Airways at the Orlando International Airport. The technology has also received support from the Indian government. Finally, in April the Mexican government and the travel software company have agreed to install 100 kiosks across three major airports. The technology will automate border control by checking identity using fingerprint recognition.
Biometrics in travel is an attractive startup opportunity due to low competition and the early adoption phase. For instance,
Iproov
, a facial recognition startup, plans to partner with the government to
solve border crossing problem
between Northern Ireland and the Republic of Ireland. The company will apply the algorithms that are already used by iProov's customers from the financial industry: DNB in Norway, Rabobank in the Netherlands, and the U.K.'s tax agency. The solution mostly uses mobile devices to make a short video record and then check identity. The company claims that their system is 100 times more accurate than a standard identity checking procedure.
Apple ambitions in healthcare are too high
Apple healthcare ambitions may be overhyped. We still don't know much about their progress in glucometer integration with Apple Watch. So far, skeptics have many doubts about the success of Apple Health, a health record app. The application allows for gathering, storing, and sharing patients' medical data. Apple Health is already connected to over 39 clinical solution providers across the USA.
Although the solution seems to be a great addition to the standard
EHR systems
, in reality, users still receive very limited access to their records. In addition, physicians say that the initiative will have a limited impact if Android users won't be able to participate. The situation remains controversial as
Healthcare IT News survey
claims that users are optimistic about app adoption, but skeptics imply that the functionality won't be available for patients of small hospitals and private practices.
Final word
The sharing economy is a powerful force that changes the landscape in travel and transportation. Ride-sharing and home-sharing platforms disrupt traditional business models. Uber and Lyft take consistent strides in crowding out car rentals and taxi companies from the business travel domain. Airbnb enforces other digital and traditional players in hospitality to join the private rentals segment. In order to enter the market, large travel brands establish new home-sharing brands, as others acquire or merge with segment incumbents.
Private rentals are non-standardized, less controlled, and secure. So, major hospitality brands prefer to be perceived as separate from their apartment-sharing subsidiaries. In April, Marriott broke this rule and launched the private rental product under one of its portfolio brands. This decision will boost standards and regulation activities, and as a result, travelers will get cheaper apartments, and hospitality brands will benefit from acting on the $40 billion market opportunity.