"To improve is to change; to be perfect is to change often."
– W. Churchill
Being able to thrive in today's competitive environment is a challenging task. As almost every industry is rapidly evolving, fueled by technology advances, businesses need to find ways to keep up with the times. In order to remain sustainable and efficient, many of them choose to adopt an agile mindset.
Business agility is the capability of a company to rapidly change or adapt in response to changes in the market
.
The concept itself is centered around handling operations and resources in a flexible, responsive manner in order to drive maximum business value.
At the same time,
digital transformation
is the updating of business processes using modern technologies to speed up performance and increase overall efficiency.
Today, "Agility is especially important for traditional companies that are going digital, because what made them successful in the past is not necessarily going to make them successful going forward,"
says Jeanne Ross
, MIT Sloan Principal Research Scientist, as quoted in a
Harvard Business Review
webinar.
So how does adopting business agility help drive digital transformation and what actual steps can be taken to make it work?
Adopting agility on different levels
Based on the
agile project management philosophy
, this business approach continues to gain wider adoption among innovative organizations. It helps them identify and grab potential opportunities ahead of the competition. The three major areas for improvement companies focus on are
strategy
, organization, and operations.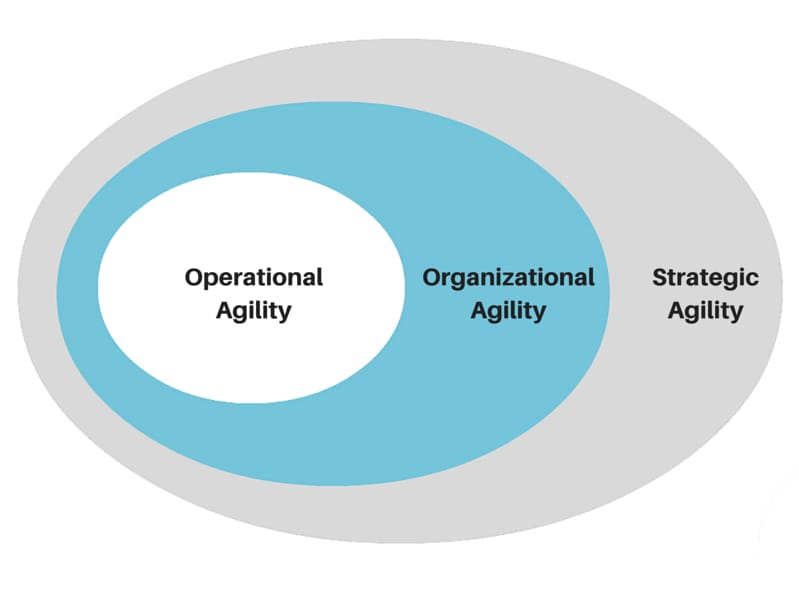 Levels of agility adoption
Strategic Business Agility
Can you spot an opportunity and assess its potential value before the competition? This ability to sense emerging market challenges early and identify their potential for long-term outlook is crucial to building a commercially viable business.
At this stage,
awareness
about everything that is happening in the company's business environment and
data-driven decision-making
are the two factors that determine a company's success. To gain this awareness, it's necessary to develop a system of qualitative and quantitative trackings of
metrics and KPIs
, to enable top-management's getting the data needed to monitor all the processes and make strategic decisions.
A great example of such an approach is Western Union's pivot to the money transfer industry. Despite being an established telegraph market monopoly, the company was able to foresee the death of this kind of communication and focus on an alternative service – money transfer, which eventually became the company's primary business. With a market cap of around $9 billion, the company currently owns about 12 percent of the global money transfer market.
Organizational Agility
Can you quickly adapt your business to emerging market challenges? Serving as a link between the strategy and its execution, organizational agility focuses on how flexible the company is. It targets the overall business processes optimization and reasonable resource allocation, supported by a strong leadership and culture.
Here, the
agile mindset of senior executives
is crucial. Changes begin with the the top management's adoption and commitment to development and transformation. Agility has to be thought of as the culture - that has to be initiated and supported at the top - and then transferred and maintained throughout the entire organization.
According to
Forbes Insights 2020 survey
, 35 percent of respondents say the CEO is responsible for organizational agility, 83 percent of respondents cite an agile mindset/flexibility as the most important characteristic of today's C-suite, and 87 percent view the CEO as the biggest proponent of agility.
Surprising but true, agile approach, practiced by smaller teams for years, remains incredibly uncommon at the corporate level.
Self-organization is the heart of the agility approach. But if you have more than a handful of people in your company, you need someone to coordinate the work of different teams, create a comfortable working environment, and keep an eye on the big picture. The agile mindset of such a leader would denote trusting employees with decision-making, prioritizing customer satisfaction, and flexibility and readiness to react immediately in response to feedback, changing market situation, or customer requirements.
Terri Bresenham, former chief innovation officer for GE Healthcare, a US-based global leader in medical technology and products, explains how their top-level executives practice agility by motivating generation of ideas: "Top management encourages our teams by asking, 'What assumptions are we making for an idea to work? How can we test these ideas across different cultures, different continents, different sophistication levels of healthcare? Did we think through the whole workflow?'" By testing thought processes, in Bresenham's opinion, C-suite's behavior and example can encourage teamwork and inventiveness both of which will satisfy customers and improve products.
Flattening hierarchy
and elimination of redundant management levels is also one of the most discussed and widespread agility practices. It suggests creating the right kind of team dynamics that allow for collaboration and quick iterations, getting rid of organizational silos, and empowering teams closest to information to speed up decision-making processes.
Self-organizing teams
in any department - whether sales, HR, customer support, or marketing - lie at the core of business agility. With a value-driven approach, they are given the freedom to make tactical decisions, take risks, and embrace responsibility, letting top management focus on strategic progress. The synergized collaboration of multi-skilled members also increases a team's overall knowledge and expertise, making it more self-sufficient and self-sustainable. In this case, a traditional manager is transformed into a mentor or leader who guides the work process and creates a comfortable work environment.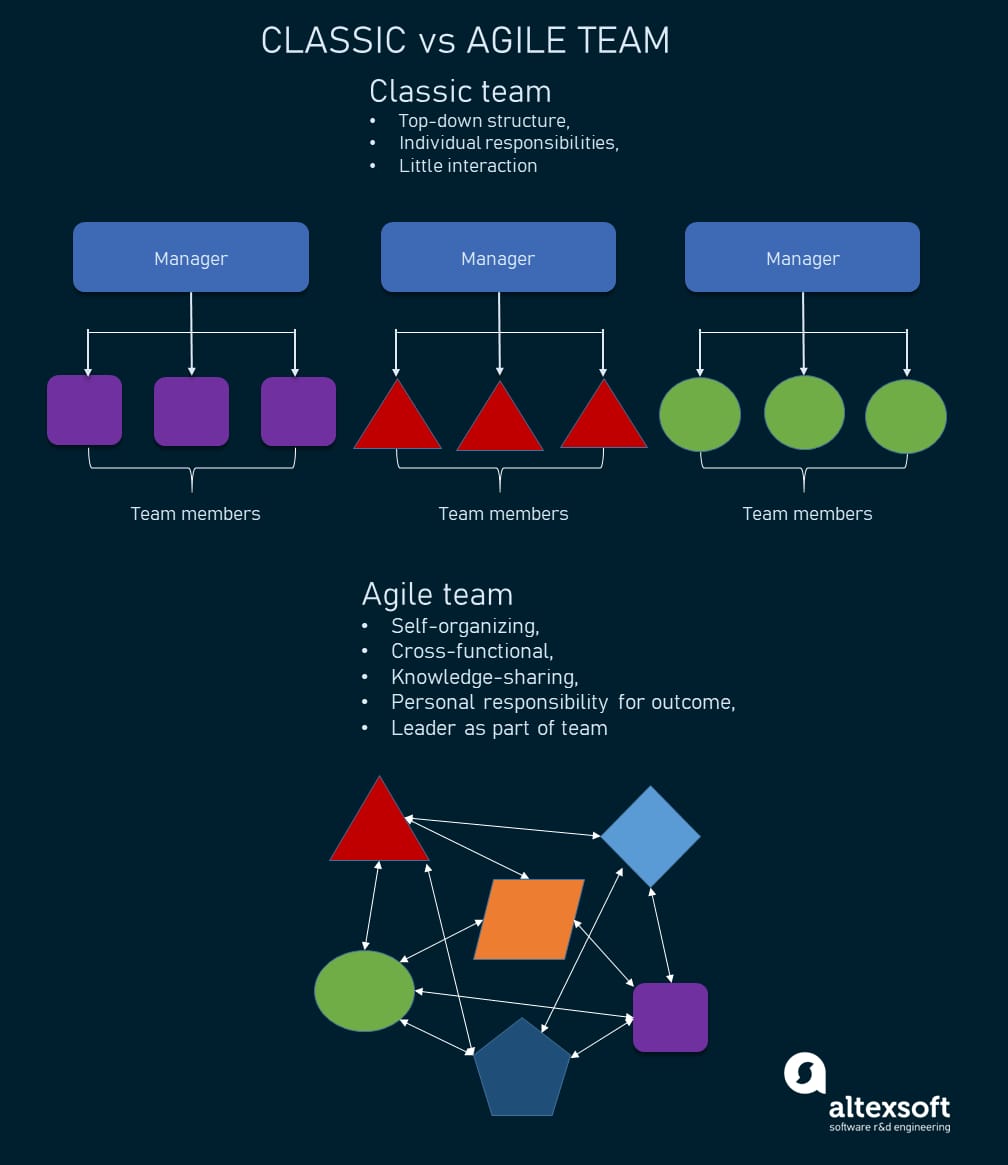 Classic vs. agile team structure
Forty-five percent
of businesses indicate that
breaking down silos
between business and IT is a main driver in their shift towards agility, encouraging cooperation, making technology part of strategy, and establishing a new, technical way of working.
As the
distributed agile teamwork
became a "new normal",
81 percent
of companies indicate that they have teams that are not colocated. Being part of digital transformation today, it is possible to work remotely and still be effective by using
technical tools
such as video conferencing, file sharing, and instant messaging.
As an example, the digital transformation of The Independent required significant changes in the corporate structure and wise resources management: Almost 100 out of 150 of its journalists were laid off as the newspaper went online. However, this transformation resulted in a 33.3 percent monthly audience growth and an expected 50 percent revenue increase within a year.
Operational Agility
Can you quickly deliver measurable results? Speed and quality lie in the foundation of an agile business. It's achieved through solid technical practices and efficient communication between the team, the stakeholders, and the end-users. It results in a company's ability to ship the product with a fast time to market and with minimum waste in the process.
When people mention agility, they often mean adopting one of the frameworks such as
Scrum
(used by
58 percent
of companies that adhere to agility), Kanban, Lean, or XP. Most of the frameworks take an iterative approach to project management that gives value to teamwork and involves constant cooperation with the customer. That, in turn, provides better visibility and flexibility to make required improvements at any stage in order to deliver best results.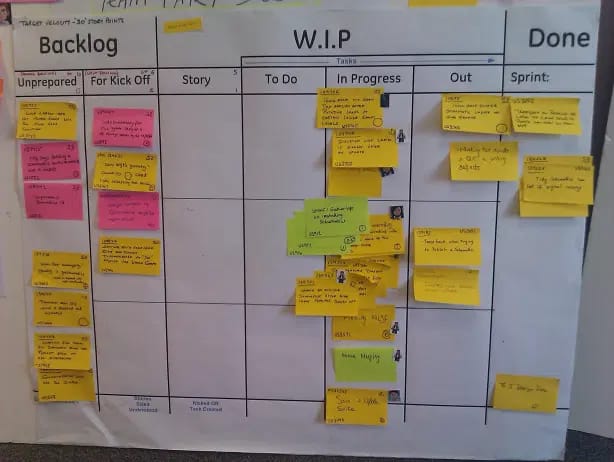 Example of Scrum Board, source
As part of the digital transformation process on the operational level,
adopting a business management software
can be very beneficial. It can help automate and manage all the core business processes (such as employee management, financial management, sales, marketing, reporting, and more) in one system.
Technological changes as part of adopting business agility
The obvious advantages of business agility include an ability to adapt quickly while increasing customer focus, which results in significant revenue growth, steady cost reduction, and more efficient risk management. In order to reap these benefits, the forward-looking CIOs turn to IT as the principal instrument for achieving business agility.
Technology finds its application in all three aspects of business agility listed above. From predictive analytics and big data used to define strategic opportunities to using software solutions to improve team collaboration and streamline product delivery, IT serves as a basis for running a competitive and viable business.
Accenture
states: "If agility accelerates growth, innovation is the driving force to achieve it." The company has found that 90 percent of business leaders consider technology innovation to be crucial for business success and growth. At the same time, 61 percent of executives struggle to identify their technology architecture as nimble. Most enterprise-level businesses carry the burden of legacy solutions and increasingly complex software architecture.
In order to establish technology and business agility, technology executives need to invest systematically in
simplifying
and modernizing
existing IT architecture, operations, and the business model. Let's take a look at some of the steps that can be taken.
Identify redundancies
. Finding and removing any existing redundant data and functional elements or "dead code" (which, unfortunately, inevitably appears as the growing company's software gets more complicated and tangled) will significantly reduce the time and cost needed to enhance the overall IT structure.
Pinpoint bottlenecks
. Even one component with limited capacity that can't process the necessary amount of data will slow down the entire system. Bottlenecks have to be identified and addressed by disposing of non-value activities, adding more resources to the problematic process, investing in solution optimization, etc.
Simplify IT infrastructure
. Reduction of software platforms in use as well as the switch to cloud solutions and converged infrastructure can help drastically cut maintenance cost and efforts.
Modernize software architecture
. Legacy systems require systematic architecture review and optimization to future-proof business. Take a look at our whitepaper that gives detailed recommendations on
how to manage legacy software
.
Automate as much as possible
. Autonomous business operations speed up processes, reduce the risk of human error and ensure end product quality. Check our dedicated articles on
robotic process automation
(RPA) for automating the simplest processes,
machine learning
and artificial intelligence (ML and AI) for addressing more complex tasks, and
DevOps
as a powerful agility tool helping to speed up the product development and releases.
Track results
of the simplification process according to key metrics, such as: performance, stability, security, total cost of ownership, time to market, and business value.
Agile or Die
In its
special report
, Raconteur states: "Staying agile is essential as the tech revolution has much further to run while the mobile internet and powerful cloud-computing become ubiquitous." According to recent research,
81 percent
of respondents consider agility to be the most important characteristic of a successful organization. Interestingly, in 2019,
58 percent
reported increased customer satisfaction as the main benefit of becoming agile. While in the troublesome 2020, the
majority voted
for improved communication and increased collaboration resulting in faster delivery time and reduced expenses.
On the other hand, the list of companies that failed to adapt to changing market requirements and thereby went broke is impressive. These include such big names as Kodak, Nokia, Yahoo, Xerox, social network Myspace, and Blockbuster Inc., a video rental company that couldn't survive in the age of Netflix.
The conclusion is clear enough: in the era of digital transformation, business agility is no longer an option. It is a vital element of any successful business. Today, as technology is changing the world at supersonic speed, you need to be agile enough to adjust and develop along with it. Following the practices and strategies described in this article can help you stay ahead of the competition and thrive, regardless of the circumstances.