Connectivity and mobility drive innovation in the travel industry. Those who regularly travel for work value the ability to manage a trip on the go without discussing every nugget of minutia with travel managers if something goes wrong. And there are enough situations that can go wrong to make travelers nervous.
The study by the
GBTA Foundation and Sabre Corporation
reveals that the most difficult aspects of a business trip are time spent in transit (61 percent), layovers (48 percent), and the need to change a flight or train reservation. Besides being thrown off balance by the temporary work environment, business travelers also struggle with preparing expense reports (37 percent) and rebooking accommodations (29 percent).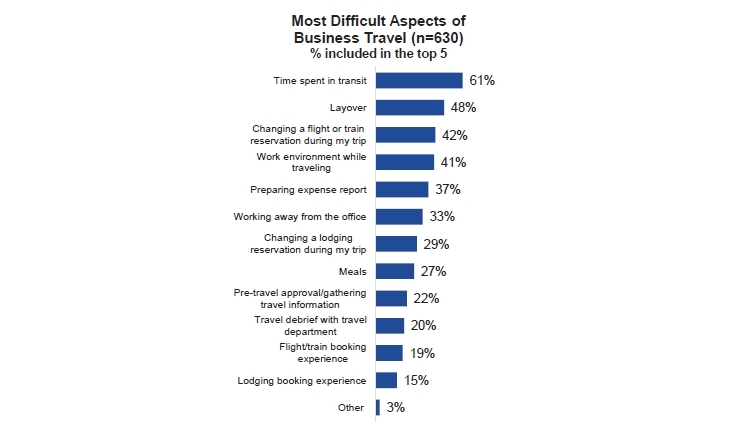 GBTA and Sabre surveyed business travelers to find out what frustrates them the most.
That's when self-service technologies enter the equation. Travel management companies (TMCs), already providing road warriors with both travel-agent assistance and software solutions, are now starting to focus on the automation. This strategy entails giving travelers more control over the trip by providing them with the technical means to deal with disruptions and monitor even possible ones. At the same time, it allows TMCs to make their employees proactive by granting them access to real-time travel data.
Mobile-first business travelers understandably appreciate the TMC initiative towards self-service technologies. According to another survey by
GBTA and Sabre
, 78 percent of US business travelers prefer using self-service technologies to manage their trip.
The automation of day-to-day tasks allows
corporate travel management companies
to dedicate more of their time to strategic operations like reconsidering and developing company travel policy, analyzing travel data, considering new technologies, negotiating contracts or rates with vendors, etc.
Main features of travel management software
Corporate travel policy — a set of rules and recommendations on trip planning and management — that fits both a company and its workers is the goal for every leader. A well-designed travel policy allows for expense control and visibility, standardizes expense reporting, and leads to employee satisfaction. So, TMCs strive to provide software solutions ensuring that corporate travel policy compliance and frictionless travel experience merge.
What solution can contribute to a seamless travel experience? The one that allows for managing all the aspects of a journey, from planning and booking to expense reporting for reimbursement. The solutions we'll discuss below empower business travelers independently control and manage their trips, no matter at which stage an issue occurs.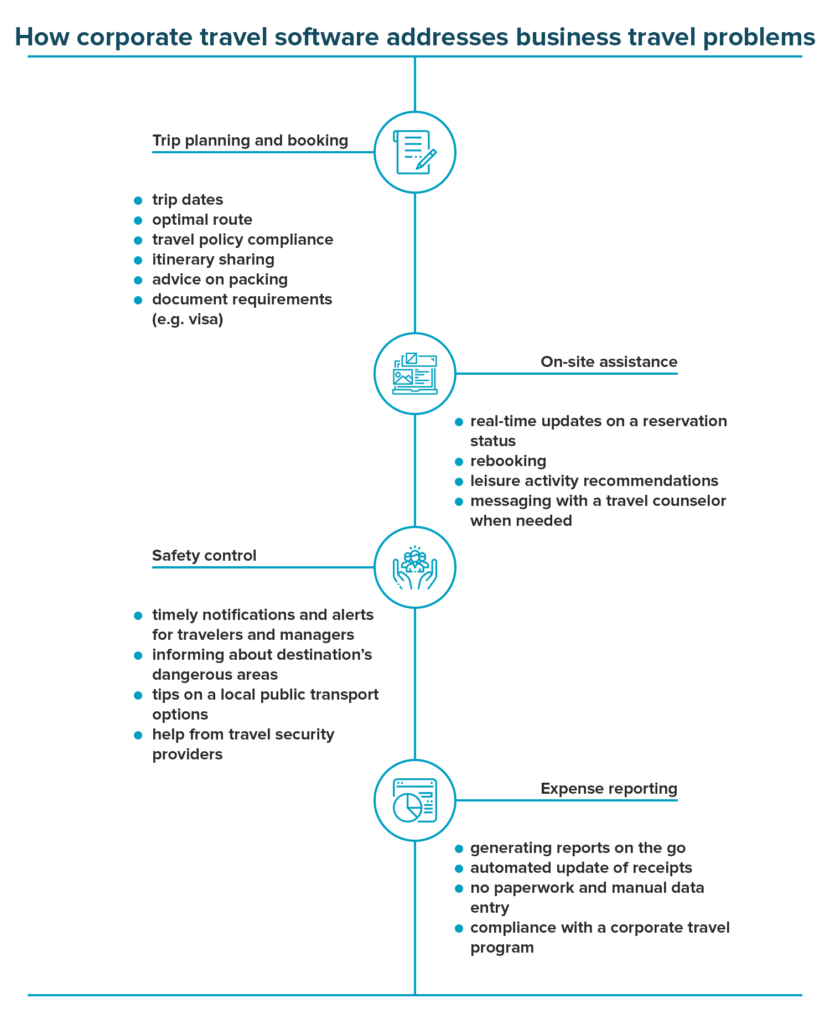 Trip planning and booking
Travelers have an extensive choice of travel aggregators and OTAs to search for transport and accommodation options. Organizations deploy online booking tools (OBT) to bring consistency to the planning and reservation. Unlike consumer online booking websites such as Expedia or Kayak, OBTs are designed for corporate use. They only show travel options that are compatible with the company travel policy and preferred providers.
Usually, such travel bookings records can be recorded in an OBT provider's security tracking and expense reporting systems, as well as saved as templates to ensure faster, future reservations.
When booking via OBTs, employees don't have to deal with numerous apps, scroll through email histories to check on recently booked flights, accommodations, or cars. In addition, travel managers can use these booking records when negotiating with suppliers for lower rates.
Travel chatbots
can substitute for human assistants and advise travelers of the most efficient ways to get to a destination regarding price or time spent on the road, recommend hotels in the certain area, and so on.
On-site assistance and disruption management
Traveling employees armed with apps and digital travel assistants aren't helpless in such critical situations as a flight delay, cancellation, or a gate change. They receive push notifications and alerts regarding their booked properties and transport. Workers can also get help and timely advice from their travel managers who have access to real-time data from GDSs and monitor trip disruption via
cloud web dashboards
. We wrote an article about technologies and tools for
disruption management in the travel industry
, so check it out if you want to know more.
Safety control
Corporate travel solutions usually come with a traveler safety feature. Employee care may entail informing via emails and real-time maps about dangerous locations or events that can endanger travel. In brief, product functionality is aimed at providing employees with safety tips and their managers with real-time data, tracking topical incident alerts, and helping them if an adverse situation couldn't be prevented. Software vendors usually partner with travel security providers to be able to assist employees in trouble and managers responsible for their safety.
Expense reporting
Before expense management software appeared on the market, expense reporting was nothing but a headache. Employees had to keep paper receipts on them, check emails with booking confirmations, and get credit card reports to combine all this information into one document. The latest 
travel and expense solutions
make manual entry of data history and allows travelers to make and update expense reports on the go. Travel managers, in turn, get a real-time view of the expenditures that may amount to 
10 percent
of the company expense budget.
Now that we know which trip challenges travelers can handle with business travel management solutions, let's take a closer look at some of them.
Travel management software overview
Carlson Wagonlit Travel (CWT): tools and counselor assistance for stress-free business travel
Carlson Wagonlit Travel
, one of the world's leading and largest business travel management companies operating in its present form since 1994, stays current with travel technology trends. Well, to smoothly handle 105 corporate events a day and serve clients from nearly 150 countries, cutting-edge technologies for internal operations and providing self-service software are a must.
CWT To Go
. The organization offers several solutions for trip management. The first product we'll talk about is the 
CWT To Go
mobile app. As of today, the app has more than one million downloads. It allows for booking hotels and airline tickets, making changes to an itinerary if needed, and syncing trips with calendars. It's worth mentioning that only employees whose companies are CWT clients can use this app.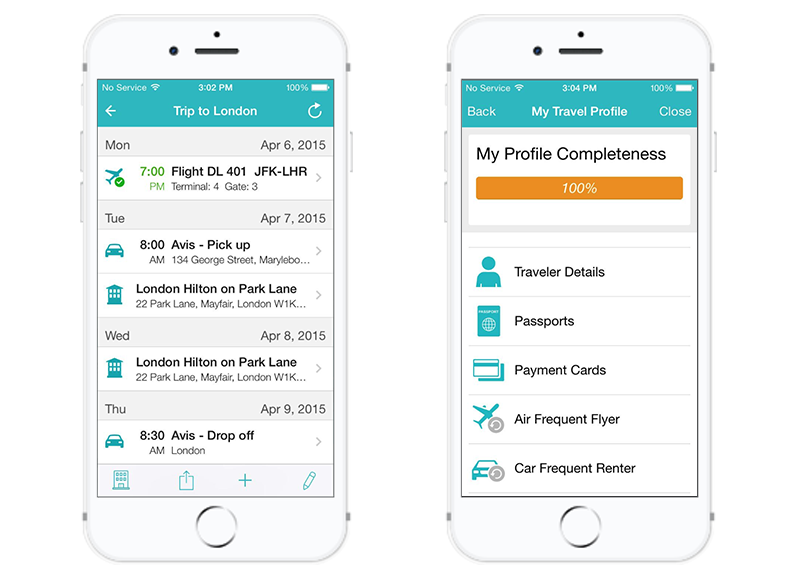 CWT To Go stores information needed for a stress-free trip. Image source: appcrawlr.com
Users have their profiles with information like previous trips, reservations, payment cards, and loyalty points. Booking data updates automatically right after any changes have been made. By using historical data, the app allows users to book properties faster if they plan to visit the same destination again. Travelers also receive real-time notifications regarding flight status of all major airlines. They can get help from CWT travel counselors when struggling with making or canceling a reservation.
Carla.
Gone are the days when having a travel assistant was kind of a privilege. Travel bot development is flourishing with TMCs, aggregators, and software vendors offering dozens of digital travel assistants. Carlson Wagonlit Travel has its own personal travel assistant —
Carla
. Whenever a user wants to find the cheapest or most convenient way to get to a destination, find out local weather, or learn about visa requirements, Carla will answer. She can recommend the most efficient connections (by combining flights with trains), tell the user if a transportation choice complies with the company's travel policy, and give advice on the nearest hotel to a business event. The chatbot is currently in beta version.
BCD Travel: a single TripSource app for solving various travel problems
BCD Travel
is another corporate travel management provider listed among the global top-earning companies. It has provided travel management and data analysis solutions as well as expert advice to organizations from 109 countries since 2006. The main goal of BCD Travel is to help companies optimize and grow the value of their corporate travel policies.
TripSource.
The
TripSource
app is TMC's core product for business travelers that aims at keeping them "organized, informed and in control" of their trip. The app's functionality allows it be a single tool for solving various travel-related issues. Travelers can search and reserve a hotel or a flight and be sure their choices don't go against an organization's travel program (the app "remembers" company-preferred properties.) In addition, TripSource provides for about travelers' peace of mind by sending them real-time risk alerts and notifications regarding their trip reservations.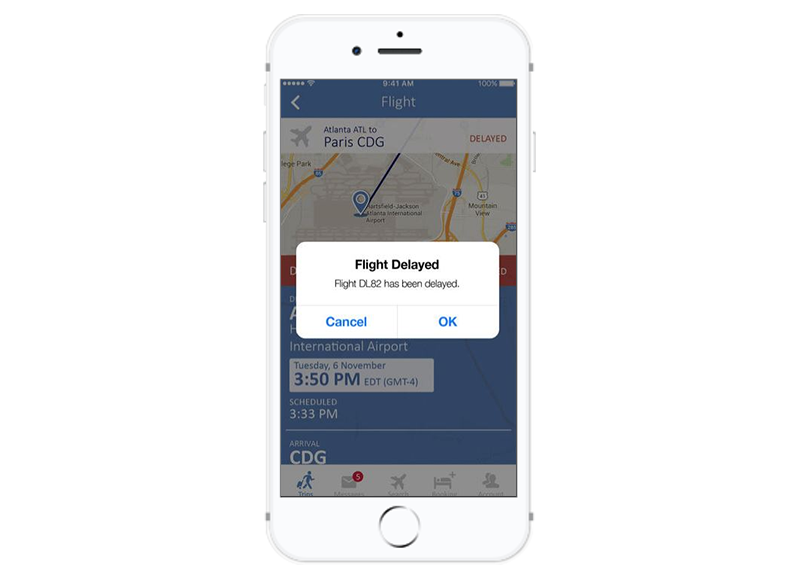 TripSource keeps travelers informed about disruptions.
BCD Travel emphasizes that the app users get everything they need in one place. For instance, TripSource has a receipt capture feature, stores all trip details, even the custom ones like business dinners and events. It synchronizes with calendars and corporate emails, so travelers can keep their colleagues informed about their plans. Developers recently added an automatic logout after 30 minutes of inactivity and unlock capability with Touch or Face ID. However, the Android users criticize the app more than those who have iOS devices.
Like the CWT To Go app, TripSource is available for BCD Travel client companies and their employees.
American Express Global Business Travel (AEGBT): software solutions for trip planning, on-site assistance, and proactive traveler care
American Express Global Business Travel
, a trusted global player in the business-travel management market, operates in nearly 140 countries. As this TMC provides end-to-end travel and meeting program management for businesses of all kinds and sizes, its range of services is wide. It includes booking, traveler on-site help, consulting on savings and travel program enhancement, as well as analytics and reporting.
Besides the services of travel counselors taking care of road warriors 24/7, managers working jointly with clients on feasible travel policies as well as event planners, the TMC assists companies with software solutions.
The company also provides
online booking tools
(OBTs) allowing customers to make direct property or transport reservations from the TMC's supply list at negotiated fares. Reshopping is another time- and a cost-saving feature OBT users can benefit from that entails optimal-deal searching and rebooking.
Amex GBT Mobile.
AEGBT clients can make their travel hassle-free with
Amex GBT Mobile
app. The app features handle three main tasks: trip management, traveler messaging, and proactive traveler assistance.
Users can "juggle everything at once": check flight or hotel reservations, search for restaurant recommendations, share itineraries via email and synchronize them with personal calendars. By the way, itineraries update in real-time, as in previously described apps.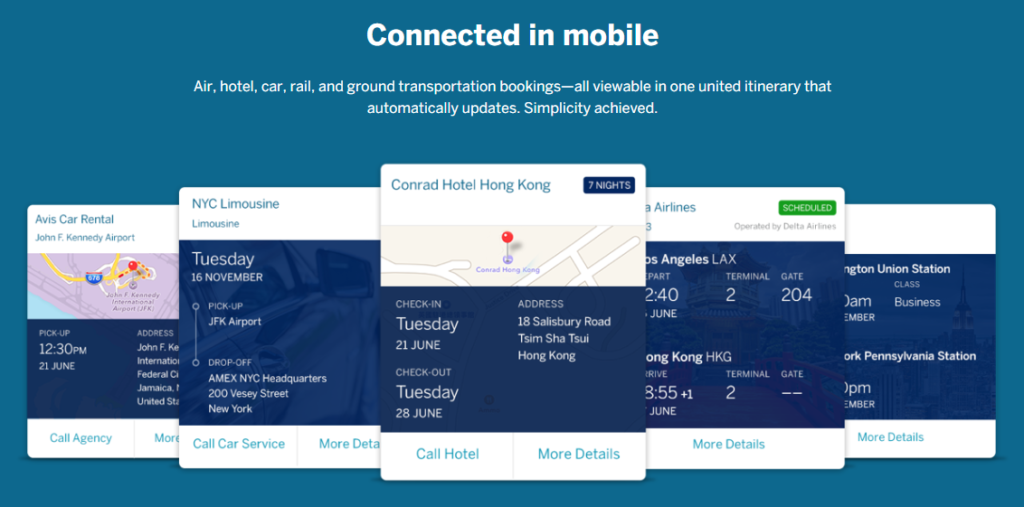 Amex GBT Mobile keeps all the reservations organized.
Travelers always know if something goes against a plan because the app sends real-time notifications. For example, Amex GBT Mobile can notify if it automatically rebooked a flight due to bad weather or send a reminder that it's time to check in. It supports two-way messaging, which means an employee can start a chat with a TMC counselor with one tap. So, the app makes it easy for business travelers to control the whole trip.
SAP Concur: top notch expense management software vendor
SAP Concur
is a SaaS company providing businesses with services for handling business expense reporting. Keeping in mind that travel and expense (T&E) is the
second most difficult operation for companies to control
, solutions capable of automating and simplifying expense reporting are in high demand.
The company provides numerous products for expense and travel reporting, invoice management, payment and expense reimbursement processing, and employee safety maintenance. While the functionality of these solutions is defined by specific tasks, their main goal is to add visibility to business operations and allow their representatives to manage travel-related duties with less hassle.
Concur Expense.
With
Concur Expense
, business travelers can create their reports on the fly, adding both cash and credit card expenses to it. Concur also captures e-receipts data.
Users can capture paper receipts with a mobile device camera, upload them to the expense folder and submit a report. Concur then does the rest of the work: updates a report and categorizes expenses according to receipt images. Travel managers can easily access and review these reports from any type of device, which speeds up reimbursement. So, Concur Expense acts like an integration platform for expense management.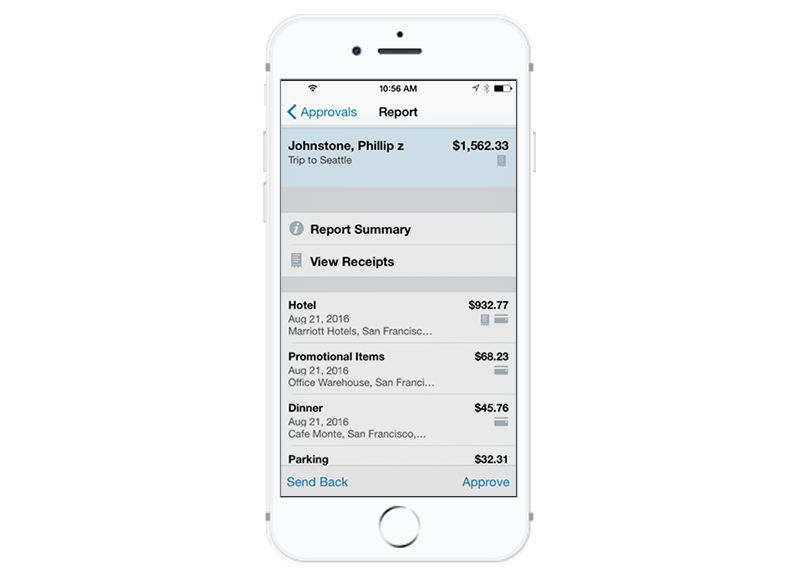 Concur simplifies expense reporting.
Concur Travel.
Concur Travel
is an OBT that focuses on bringing all your travel to one place by organizing "the booking process from beginning to end." Users can employ the software solely for booking or integrate it with expense tracking and reporting.
Every trip starts with planning, and Concur Travel allows for planning wisely and according to travel policy. By interacting with another solution,
Concur Request
, travelers can make sure that their itineraries comply with their travel program (that's built into the solution.)
Business travelers can search for air and ground transport and hotel offers from multiple GDSs and choose among Concur-approved vendors. Concur Travel runs both on desktops and mobile devices, giving users the flexibility they need.
Final word
Solutions by TMCs and software vendors create great opportunities for organizations to pursue their travel programs more conveniently. If you plan to innovate the employee travel experience, consider these factors when making a choice:
a number of processes requiring automation and self-service (i.e. Amex GBT Mobile facilitates managing itinerary data, supports real-time updates on reservations but isn't designed for booking);
the most common type of operational platform your staff uses (i.e. TripSource performs better on iOS);
integration capabilities with tools and services like maps, calendars, and emails.
It's also worth noting that software by TMCs is available for their clients only. If your company isn't ready to engage with these providers, give your employees solutions from various software vendors.