People often associate air travel with waiting. A comfortable in-flight experience is often paired with hours of standing in line to check in, get through security, and finally board. The experience is tiresome for passengers, airlines, and airport workers. A long line becomes a reason to tweet a few angry messages to #iHateTheWait.

But the lines do more than annoy passengers and airport staff. Airports receive a substantial part of their revenue from in-terminal stores. Americans, for instance, tend to be "gate huggers" when it comes to boarding. That means they usually blow by stores on their way to their gate and park themselves close to them as they wait to board, because they're nervous about missing their flight.

Over the past few years, the digital transformation in the airline industry took on the challenge of improving customer experience and reducing waiting time. Airports and airlines strive to adopt self-services and new digital systems to streamline the boarding experience. The changes happen in several areas:
check-in
passport control
boarding process
passenger flow analysis
baggage management
So, let's discuss how technology addresses problems related to these aspects of the travel experience.
Check-in and passport control self-services
According to the SITA Passengers IT Trends Survey, June 2017, almost 98 percent of passengers carry at least one mobile device while traveling. It would be reasonable to assume that they would gladly use mobile check-in, as it saves time and effort. But in reality, that's not the case. Forty-six percent of air travelers still prefer face-to-face check-ins.

The switch to online check-in is indeed happening, but more slowly than one would expect. The good news is that travelers checking in through websites, self-service kiosks, or apps are more satisfied than those who choose personal contact with an agent in a standard check-in line.
Online check-in
The reason for higher satisfaction from online check-ins is simple: Passengers want to feel in control of their trips, quickly go through all formalities, and avoid standing in line. Mobile applications and websites provide a great opportunity to avoid lines. Currently, online check-ins are supported by most major airlines. A passenger books a ticket online, checks in through a mobile app or a website several days before the departure, and receives a boarding pass.

Some airlines use ready-made solutions for online check-ins provided by Amadeus, SITA, and other major IT-suppliers in the travel industry. Others, like Delta, develop their custom apps to accelerate boarding. AirBaltic, for instance, sends boarding passes to either the PassBook or PassWallet application. Qatar Airways and Air France have their own applications for these purposes. However, online check-ins through apps are not as popular as those through websites. People say that if an airline or airport application has a bag-tracking feature, they install it without a thought.

AirlineCheckins.com launched by Lufthansa Innovation Hub, is another approach to digitalizing check-ins. This service can be used for checking into any flight automatically. Customers book the flight through a preferred reservation system, register on AirlineCheckins.com, send a booking confirmation to the system, and tell it their seating preferences. The resource checks them into the respective airlines as soon as possible and customers receive emails with a boarding pass, leaving passengers worry-free about missing check-in time.
Automated passport control
Passport control during international flights requires a lot of time and effort both from passengers and airport workers, including Customs and Boarding Protection officers (CBP). Installing automated passport control kiosks can address this problem. Passengers complete identification through a kiosk by themselves and then show a confirmation receipt to officers in a fast-track lane.

Since the first implementation of such a kiosk in Chicago O'Hare Airport back in 2013, the practice of ID controls has been greatly transformed. The changes range from improving user interfaces at kiosks to applying biometric data for boarding. The adoption of automated kiosks reduced stress for passengers. Machines don't make as many mistakes as humans do and the risk of unfairly denied boarding is lower. Automated terminals have also minimized misidentification threats, and airlines have been able to reduce departure delays, because fewer passengers had to go through extensive document verification.

Similar to the check-in software, automated passport control systems are provided by large technical vendors in the industry. For instance, IATA developed the Timatic Solutions pack. One of its components, Timatic AutoCheck, puts the XML interface into the screening program database, which can be integrated with most check-in and booking systems. While passengers scan their documents for the flight, the airport system combines their personal and itinerary data and transfers it to AutoCheck. The AutoCheck database contains information about regulations and recommendations for passport information, visas, health papers, airport taxes, currency and customs regulations, which are all necessary for passport control.
Biometric boarding
Airports and airlines use biometric data to accelerate boarding and improve security systems. Biometric screening includes facial recognition, fingerprints, and iris scanning. Biometric data is much more reliable than its paper counterpart as it can't be faked. From the passengers' side, biometric boarding is much faster than traditional passport control.
Facial recognition
In the beginning of 2017, JetBlue announced the implementation of a facial recognition system. Supported by SITA software, JetBlue declared that this new method is all about customer convenience and national security. To adopt the practice, JetBlue collaborated with US Customs and Border Protection (CBP) and has requested SITA to help create an integrated facial capturing solution. A small camera takes a passenger's photo, then matches the image to the one from CBP's passenger database. Then CBP confirms the identity. "It's actually US government that's implementing the biometric matching system that does all the hard analysis and crunching of the data," says Sean Farrell, a portfolio director for government solutions at SITA.
Fingerprints and iris scanning
In June 2017, the Transportation Security Administration (TSA) announced that they were testing biometrics scanning at the airports of Denver and Atlanta. By scanning fingerprints and irises, TSA wants to reform identification and simply get rid of boarding passes and related ID documents to let passengers skip to the head of TSA lines. The software is provided by a private identification company, CLEAR. The only complication is that CLEAR requires passengers that don't want to stand in lines to become members, which costs $179 a year and mostly suits people who travel a lot. Currently, CLEAR operates in 21 airports.

While CLEAR's solution works at the passport control stage only, the Bengaluru International Airport installed the more advanced fingerprint scanning system, developed by Morpho. MorphoWave's three biometrical gates authenticate passenger identity in the check-in area, in the security zone of passport control, and next to the boarding zone. The system uses the Aadhaar ID number, which contains fingerprint scans, to confirm passenger identity. Morpho believes that biometric identification is an efficient way to improve the passenger experience and accelerate the boarding process. Its low error rate is attributable to biometrics, because, as the company claims, it "is the only fully universal data model."

According to the mentioned Passengers IT Trends survey by SITA, facial recognition – and biometrics in general – boost customer satisfaction. Fifty-five percent of respondents said they had used biometrics at departure security gates, 33 percent had used it for boarding, and 57 percent of the passengers said they would use it on their next trip. According to the survey, people are highly satisfied: They rated their experience as 8.4/10, while face-to-face transactions at passport check-in were rated as 8/10.
Baggage handling
In 2012, The New York Times journalist Alex Stone wrote an article about the psychology of waiting in a queue. He mentioned that Houston passengers spend about 88 percent of their time waiting to claim baggage. While the situation has improved since then, in 2016, the travel industry spent $2.1 billion on recovering and returning baggage. In 2017, airlines and airports have opportunities to reduce these costs.
Bag-drop and bag-tag
Bag drop check-in allows passengers who've checked in online to tag and send their stuff to the handling system by themselves or with the help of an agent. Getting their baggage to a bag-drop desk, passengers confirm their identity, print a bag tag, and apply it immediately. Then the baggage goes on a conveyor belt to the kiosk, and then to the handling system. This technology saves time as passengers don't need to wait in line to communicate with airport workers. Airlines and airports, from their side, save money thanks to the faster throughput of bag drops. Some suppliers also augment their bag-drop systems with terminals where passengers can pay additional, unexpected baggage fees.

The SITA BagDrop solution and a mobile application for it display a full overview of all baggage that is going through systems and sends status notifications, which also handles little problems like the ones when passengers can't print tags themselves. The software also determines if the baggage has gone through all needed procedures, and provides remote control tools for crews. Moreover, the data processed by this system can help airport and airline managers to monitor performance indicators to analyze and improve baggage handling in the future.
Tracking baggage with RFID
In 2016, IATA and SITA released a report predicting significant cost savings in airports that adopt the radio frequency identification systems (RFID) to track baggage. It's expected to reduce the number of mishandled bags by 25 percent.

In a nutshell, RFID tags are smart devices that keep information about tagged objects and send information by way of a tiny antenna. A chip usually has a unique serial number, assigned by a manufacturer, and a memory bank to store information. When the information transmitted with RFID tags is received by connectivity devices, the signal travels through a wireless network to the baggage tracking operational software. This gives real-time visibility to baggage items that can be monitored by airlines, travel agents, and passengers themselves.

The RFID-tags are actively used by Delta Airlines and allow for real-time baggage tracking by passengers. According to Delta, in 2016 RFID-tracking was available in 84 airports in the US.
Smart baggage
RIMOWA, a German suitcase manufacturer, approached the misplaced luggage problem from a different angle. The company created "the first fully-integrated digital suitcase" that has an electronic tag. Passengers can check in their luggage from home through RIMOWA's app: They must enter a personalized E-tag number when baggage check-in is available, and the flight data will be shown on the E-tag in seconds. E-tags are equipped with displays using electronic ink. These tags also have Bluetooth to gather data in real time. If a carrier doesn't support electronic tags, passengers can simply tweak the display to show contact information. The RIMOWA solution is now supported by Lufthansa and SWISS airlines.

According to the SITA 2017 report, nearly 58 percent of passengers were checking their bag location upon the arrival. The total number of people who used that service increased from 31 percent in 2016 to 47 percent in 2017.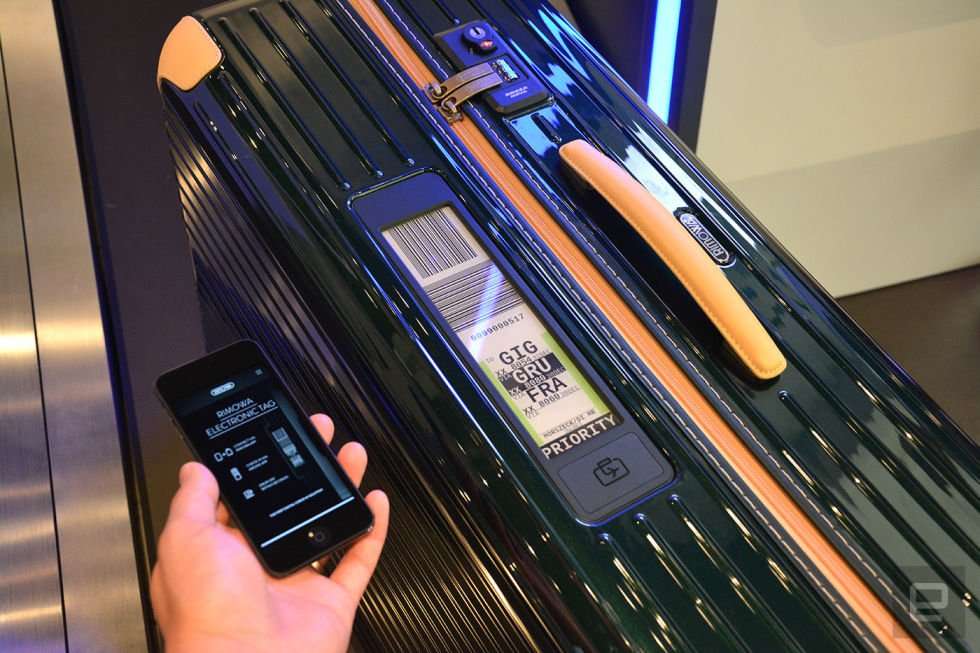 RIMOWA suitcase
Luggage 3D-scanning
In June 2017, TSA and American Airlines started testing a 3D bag-screener at Phoenix Sky Harbor International Airport and Logan Airport in Boston. That technology is expected to reduce issues with laptops and liquids carried by passengers and streamline the screening itself. Old 3D-screeners were too big to put them in an airport facility, but now they've finally evolved to fit security checkpoints. These systems are provided with computer-aided tomography equipment and an x-ray camera. A camera spins around a bag taking hundreds of shots to create three-dimensional views. American Airlines says that the system automatically detects banned items.
Flow measurement
The data gathered by wireless real-time locating systems such as beacons and Wi-Fi sensors is a useful source of information about passenger movement and behavior patterns. Not only can this data help to better navigate passengers, but it will also suggest placement of restaurants and stores as airports receive nearly 39.8 percent of their revenue from non-aeronautical sources.
Beacons
Beacons are short-range wireless devices that use Bluetooth to detect other Bluetooth-equipped devices, usually smartphones. When the connection between devices is established, a beacon can send the map of an airport, notification about the boarding time after check-in, announcements about gate changes, or any other flight details. We reviewed beacon functions when we discussed disruption management techniques.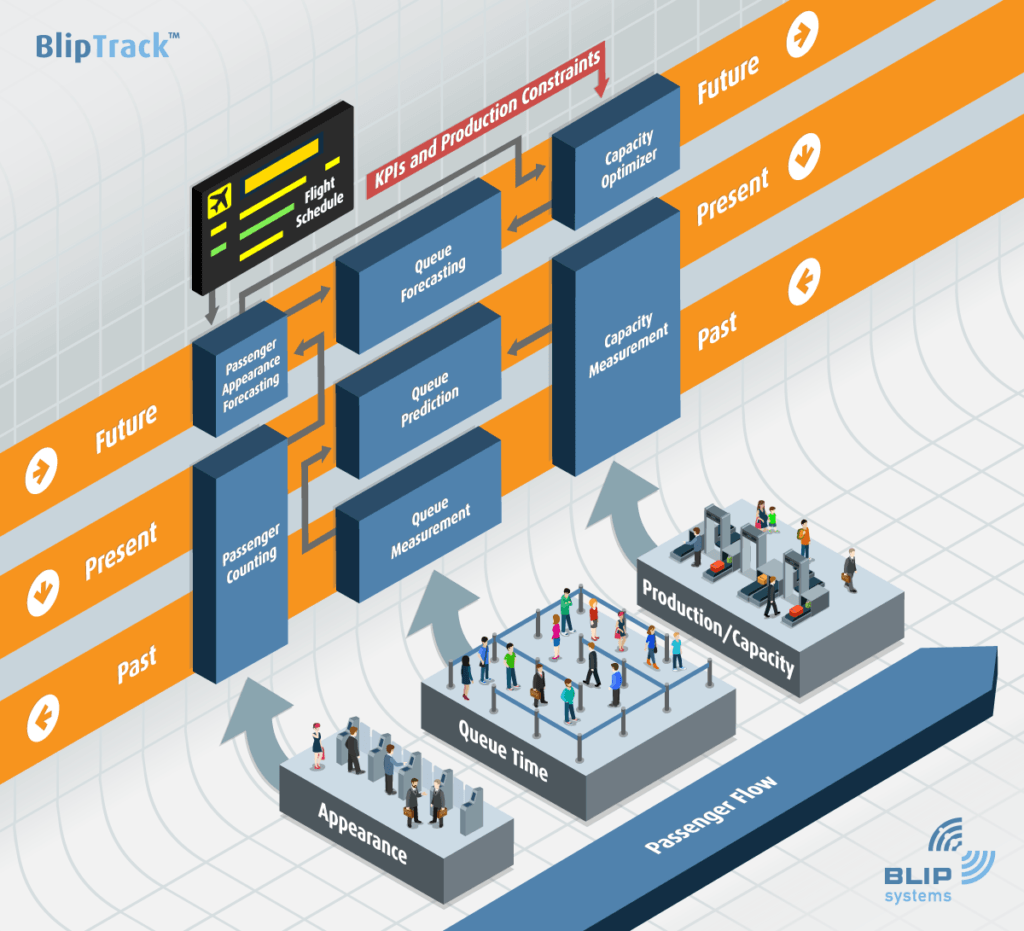 How BlipTrack works
BlipTrack, a beacon-based technology from BLIP Systems, allows airports to understand how passengers move through the facility. The system gives an overview of passenger flow from the moment they arrive to the moment they leave. Beyond obvious information about passenger movement patterns and how they spend time, BlipTrack contains tools for queue management. The expected time in line is displayed at the airport information desk. According to its developers, BlipTrack and its "Optimiser Module" predicts possible queue length accounting for holidays and other time series events. With this data, airports and airlines can figure out when they're going to have a tough day and prepare customer care for handling the situation. The solution is currently installed in many European and American airports.
Wi-Fi-tracking
Wi-Fi-monitoring can be useful for queue management and passenger flow tracking, because very few people use Bluetooth constantly. To implement the technology, airports install Wi-Fi-based real-time locating systems - sensors - which detect the Wi-Fi-enabled devices and send information about their location to the dedicated software, usually based in cloud architecture.

Helsinki Airport uses the Walkbase Wi-Fi-tracking solution for passenger flow measurement. It helps analysts develop the understanding of airport visitor behavior and use that knowledge to utilize airport space, increase operational efficiency, and non-aeronautical revenue. In the airport, Walkbase sensors cover the entire passenger path from parking lots to departure gates. Heikki Koski, a member of the airport management team, believes that this retail technology will "offer passengers [a] smooth airport experience."

The BlipTrack solution works with Wi-Fi-sensorseither, as beacon technology can be combined with the Wi-Fi-tracking systems.
Flow measurement with cameras
Some airports use cameras to measure passenger flow; the software with a face-detection algorithm helps understand airport visitor movement patterns. The camera based way of flow measurement and management isn't common because video data is too heavy, and its processing and analysis takes a while. The difference between passenger flows during different day cycles can't be measured quickly enough. On top of that, this method requires many cameras to detect every spot in the airport where passengers can be. However, some airports use camera tracking and extract value from the data obtained.

MFlow, a SaaS-solution from Human Recognition Systems, is installed in the London City Airport. It's based on "non-invasive facial recognition technology," which helps airport administration measure passenger flow. According to a case study, there are three MFlow cameras installed in the airport. They send the real-time information about passenger flow to an operational dashboard, so airport workers can immediately respond to passenger inconvenience.
Implement innovation-driven self-services
The implementation of automated, digital-driven self-services is vital for today's air travel. Most airlines and airports understand that well: According to IATA, by 2020, 80 percent of global passengers will use a complete self-service set developed under standards set by the Association.

The implementation of self-services will save up to $2.1 billion for the travel industry. Also, it will reduce the number of lines and free up space in facilities as the self-service checkpoints require less space than traditional security desks. Implementation of flow measurement tools will also maximize retail revenues. Passengers, on the other hand, will get tools to enable full control of their travels and possibly speed up this process.