No matter how a hotel business grows, its technical capabilities should expand, too. Ten years ago, you might have started as a small B&B with a couple of beds, but today it's a huge business with hundreds of rooms, its own spa, restaurant, and conference facility. Or you may have kept your boutique property small and cozy, but still want the opportunity to make improve guest services.  No matter where you are on the size, no matter what type of lodging you provide, technology can get you where you want to be. We've already described the basics of a
hotel property management system (PMS)
, explaining how hotels can effectively function using software solutions. In this article, we're going to talk about third-party connectivity products that will help you manage and elevate the guest experience.
What is Hotel Property Management System?
A
hotel PMS
is a software that facilitates a hotel's reservation management and administrative tasks. The modules of a PMS help manage the following operations: inventory distribution management, reservations, check-ins and check-outs, front-desk operations, revenue management, marketing and customer relations, housekeeping, reports and analytics, and back-office management.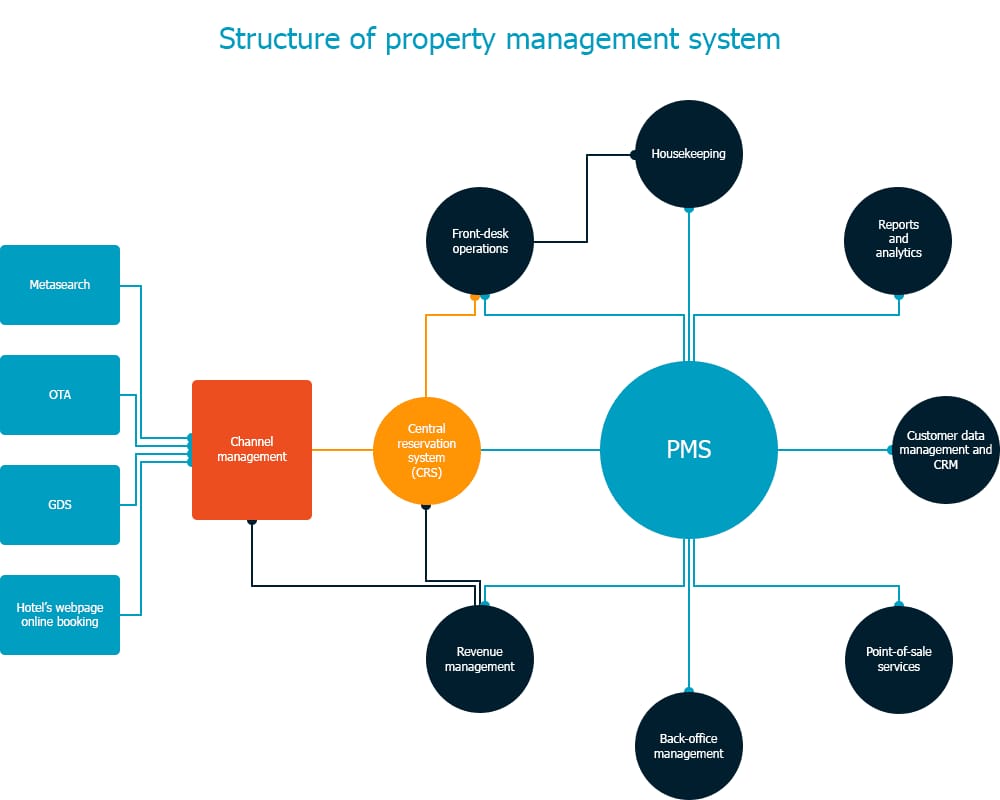 Structure of a hotel PMS
Not all hospitality businesses use the whole functionality of hotel PMSs – in fact, today not every hotel has one. That's one of the reasons why software vendors sell their solutions in separate systems that solve a particular problem, and connect to PMSs via
APIs
.
Max Starkov
, a hospitality tech expert and Adjunct Professor at New York University Tisch Center of Hospitality, defines the following categories of hotel PMS connectivity solutions:
Guest Engagement, Acquisition, and Retention Technologies
, and
Guest Services Technologies
. For convenience, we decided to split these into three discrete categories below, describing the systems that serve these purposes.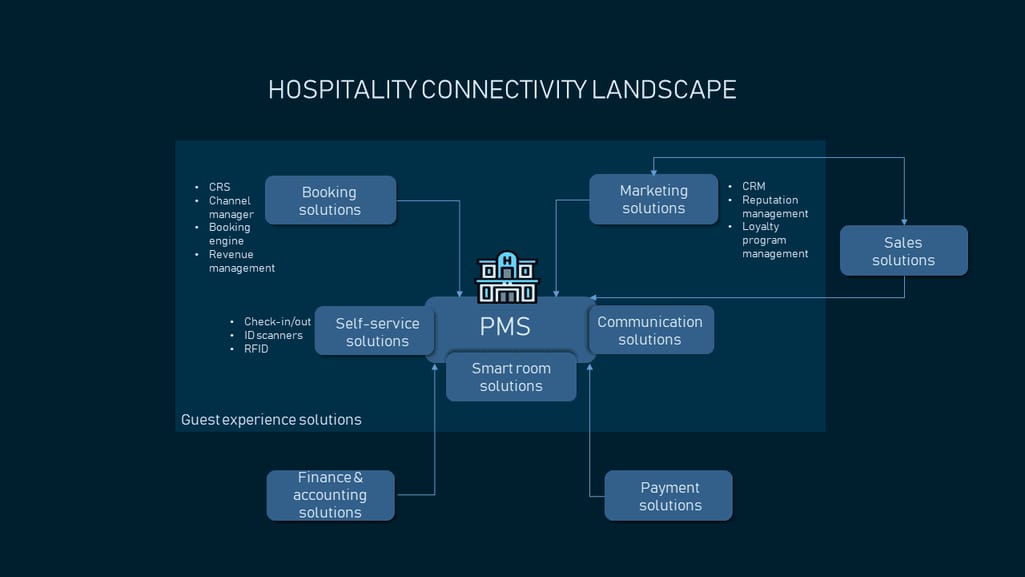 Hospitality connectivity landscape
Software solutions for Guest Engagement and Acquisition
"These are technology applications focused on engaging and bringing the guest to the property, continuing the conversation pre-, during and post-stay and eventually turning the guest into a loyal and repeat guest,"
explains Max. In every business, a client is the center of the activity, so these systems are the core of healthy business function. The first integration from this category is the Central Reservation System.
Central Reservation System (CRS)
A central reservation system (CRS) is a reservation platform that monitors inventory and inventory-related data, like rates and dates. This system can exist either separately or as a part of a hotel PMS. Hotel chains usually have a single CRS for all hotels in the chain.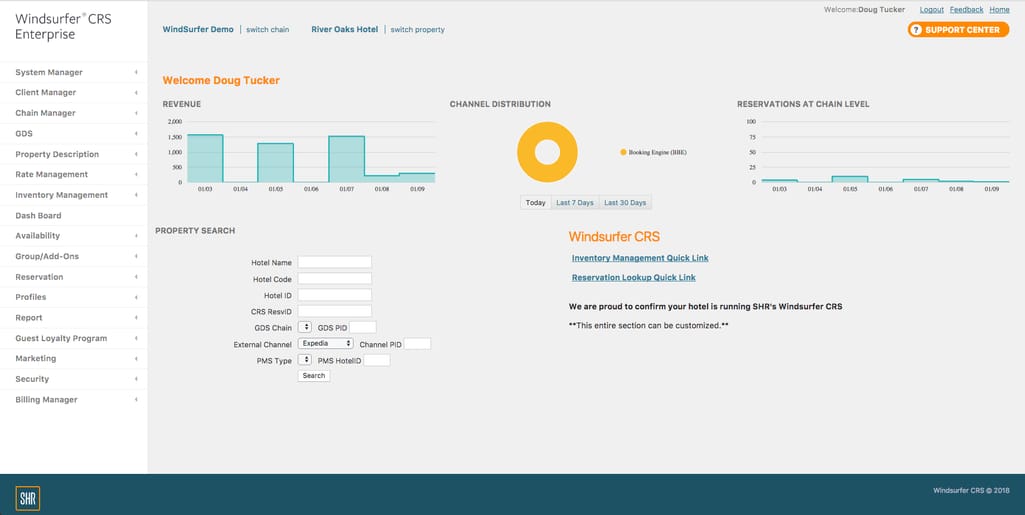 Windsurfer CRS interface. Source: Apaleo
The main functions of CRS are:
Inventory management and allocation
Reservation and booking confirmation
Payment collection and processing
Refund management
Customer data collection and management
Guest notification
Ancillary bookings
Some CRSs are available along with booking engines, like Reztrip's Travel Tripper. We'll look into the functionality of booking engines in a minute.
Key vendors and systems:
Sabre (
SynXis
), SHR (
Windsurfer
),
Clock CRS
, iHotelier (
TravelClick
), RezTrip CRS (
Travel Tripper
).
Which types of hotels need it:
midsize hotels, hotel chains, large independent hotels and resorts, residential properties.
Internet booking engine (IBE)
A booking engine makes booking possible from a hotel website. The main functions of this integration are to ensure room reservation and secure payment processing. These services show the information on rates and availability and have integration to CRS or PMS on one side, and a website or channel manager on the other. Apart from the website, IBE can also be integrated with other third-party websites like Facebook to provide more booking opportunities.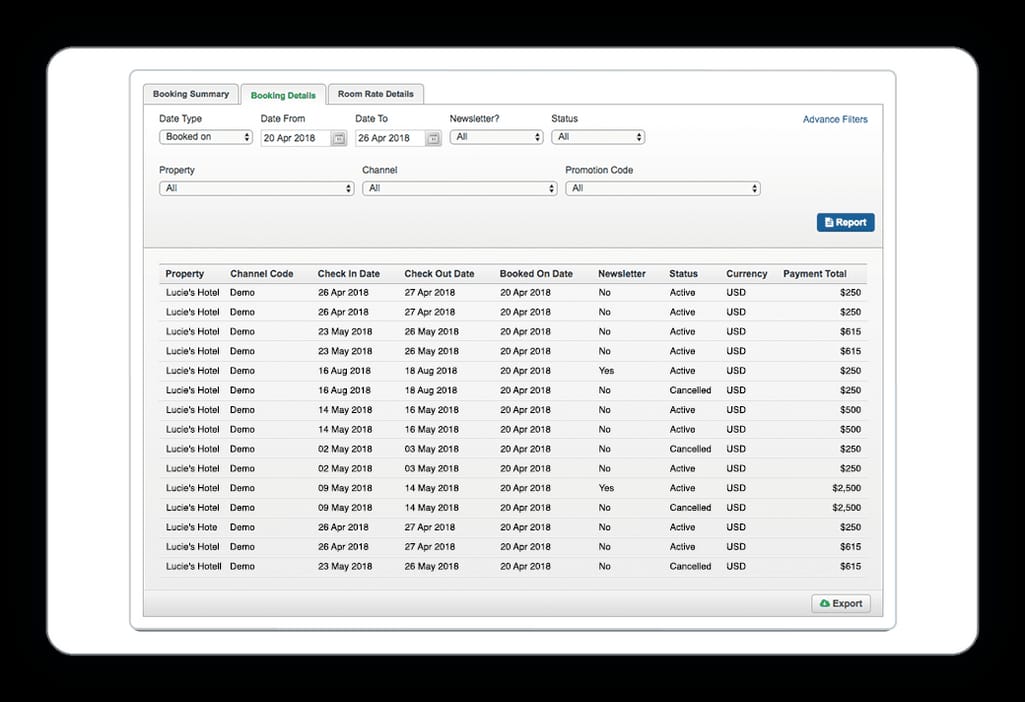 SiteMinder hotel booking engine. Source: SiteMinder
The functionality of an IBE includes the following:
Multiple room booking
Website and content management system integration
Upselling capability
Multiple languages and currencies
Multiple payment options and processing
Booking personalization
Reporting
Owain Powell
, Digital Marketing Manager from
Up Hotel Agency
notes that an IBE must also record and store customer data for further marketing purposes.
"We have worked with hotels who haven't checked and found that their booking engine didn't give them any marketing data which meant we couldn't verify our campaigns."
Key vendors and systems:
SiteMinder's hotel booking engine
, Sabre (
SynXis Booking Engine
), SHR (
Windsurfer
),
Avvio
.
Which types of hotels need it:
small and boutique hotels, mid-size hotels, hotel chains, large independent hotels, residential properties.
Channel manager
While IBE is mainly oriented towards direct bookings, channel manager integration allows for increasing the number of reservations from several different sources. A
hotel channel manager
is a software that connects a hotel's central reservation system to multiple distribution channels. From the hotel side, it's connected either to a hotel's booking engine or a PMS. From the other side, a channel manager connects to the metasearch engines and OTAs a hotel works with. The functions of a channel manager are:
Updating information about available inventory and dates across all distribution channels
Live rate distribution
Overbooking and rate parity issues management
Key vendors and systems:
SiteMinder
,
RateGain
,
RateTiger
,
Sirvoy
,
Cloudbeds
.
Which types of hotels need it:
hotel chains, large independent hotels and resorts, residential properties, small and midsize hotels that use several distribution channels.
Revenue Management System (RMS)
Revenue management
allows hoteliers to make sure that the bookings bring maximum profit, and Revenue Management Systems automate this process.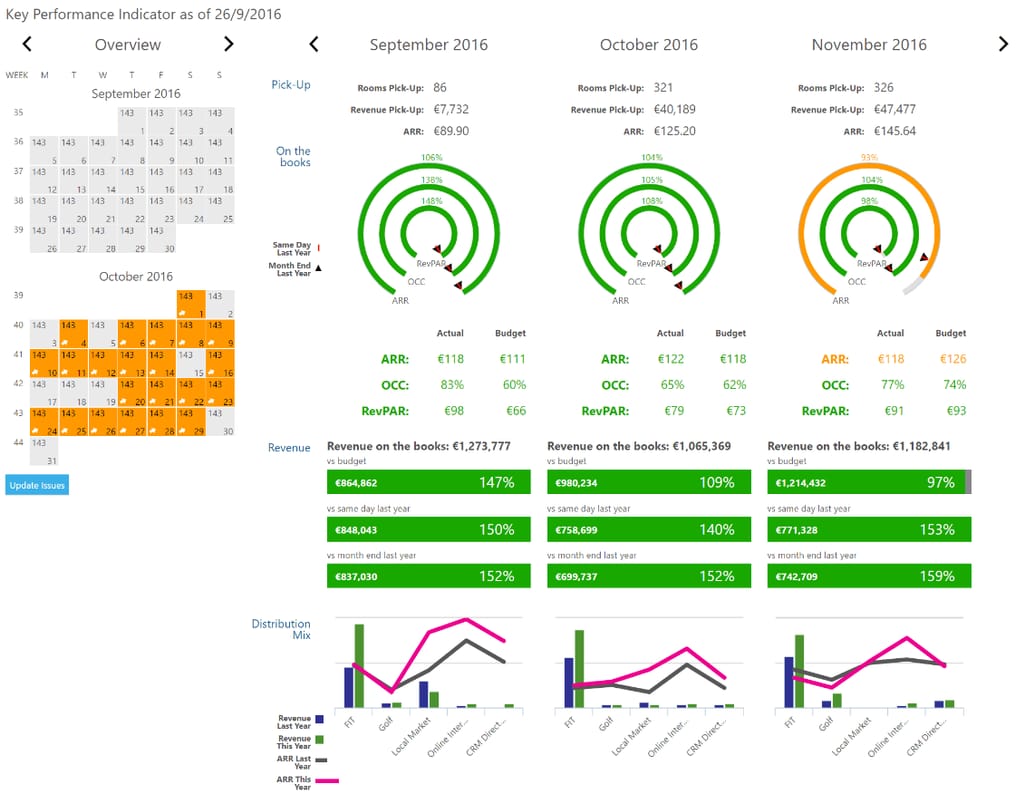 Hotel RMS. Source: Xotels
An integrated RMS facilitates the analysis of bookings and revenue streams, helping hoteliers set an effective pricing strategy for revenue growth. This software can also control the distribution channels and
dynamic pricing strategy
across them, creating analytics that can be accessed from one dashboard. RMSs are typically AI-based and have the following features:
Demand forecasting
Historical data collection
Lost revenue analysis
Revenue analysis based on channel and segment
Performance analysis
Pricing options detection
Reporting
Key vendors and systems:
Duetto
,
IDeaS
,
Infor
,
Atomize
.
Which types of hotels need it:
hotel chains, large independent hotels and resorts, residential properties, small and midsize hotels with several distribution channels.
Software solutions for Guest Retention
Customer Relationship Management (CRM)
If your hotel has thousands of customers – which we hope can apply to your business – you need to keep in touch with all of them: past, current, and upcoming. CRM integration simplifies this task and automates customer interactions. Functions of CRM systems differ depending on the vendor. Some have more advanced features like call forwarding or delivery management. The following are the basic functions:
Customer data export and storage
Purchase history
Lead management
Reporting
Newsletters and marketing material mailing
Accounting
Sending notifications
kissCRM guest profile. Source: dailypoint
As Owain from Up Hotel notes, the minimum for CRM system functionality is email export. He notes:
"Modern systems let you send messages to users around the anniversary of their booking date, based on their length of stay, frequency, and their in-room spend. All these extra dimensions help the hotel to run more targeted and relevant campaigns."
Key vendors and systems:
NextGuest
,
Cendyn
, dailypoint (
kissCRM
).
Which types of hotels need it:
all types of hotel properties with a sizable guest base.
Online Reputation Management (ORM)
Direct communication with guests is always a good thing, but it's also worth knowing what they are saying about you online. Instead of manually searching for all reviews people leave on your hotel, you can automate this process integrating an Online Reputation Management system.
Online Reputation Management (ORM) tools gather feedback on your hotel from all around the internet and platforms like TripAdvisor. If you know more about the experience of former guests, you have greater opportunity for managing conflicts, replying the feedback, and learning about weaknesses that can be eliminated. Some tools use to better filter comments and divide the real from the fake. These solutions can be purchased or used as open-source tools.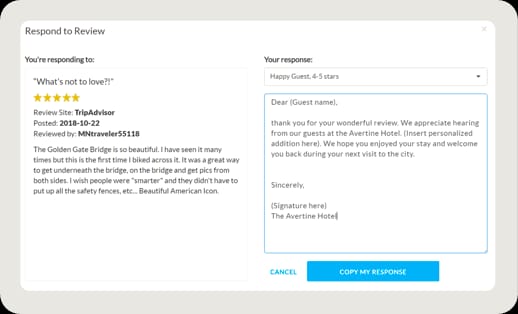 Revinate feedback response form. Source: Revinate
An ORM system's functions are:
Social media monitoring
Review reply
Insight into competitors
In-house problem communication
Notifications about new mentions
Support for several languages
Image analysis
Reporting and analytics
Key vendors and systems:
ReviewPro
,
TrustYou
,
Revinate
,
RateGain
.
Which types of hotels need it:
hotel chains, large independent hotels.
Loyalty program management
It's always more cost-effective to keep existing guests than attract new ones. So the hotels and hotel chains introduce loyalty programs that reward returning customers with discounts or other benefits.
"This empowers the hotel to have a holistic view of the guest's interests; and allows for better personalized opportunities to promote additional services with the opportunity for guests to earn or redeem loyalty points,"
states
Kenneth Purcell
, CEO and Founder of iSeatz, travel commerce and ancillary merchandising technology company.
Loyalty management systems have the following features:
Loyalty card management
Transaction history
Guest data management
Email and SMS notifications
Key vendors and systems:
Arcovo
,
LoyaltyGator
,
eZee Absolute
.
Which types of hotels need it:
midsize hotels, hotel chains, large independent hotels.
Software systems for Guest Service
NYU's Max Starkov explains that guest services technologies are on-property devices or applications that improve guest experience, comfort, and communication with staff, defining two main subcategories:
Self-Service Guest
and
Smart Room Technologies
. We'll take a closer look at them.
Self-Service Guest Technology
These technologies enable hoteliers to speed up check-in and eliminate unnecessary interactions, improving the guest experience. They embrace the following solutions:
Hotel check-in/out kiosks
that allow guests to more quickly register, pay, and get their keys. These systems consist of a credit card reader, key encoder, touchscreen, and sometimes an ID scanner. Among check-in kiosk vendors are
Clock Software
,
EnzoSystems
,
rGuest by Agylysis
,
Zest by Stay'NTouch
.
Clock Software self check-in kiosk
ID Card and Passport Scanners
scan the information from documents (driving license or a passport), allowing receptionists to skip the manual process of filling in registration forms. These solutions verify them and process the information right to PMS. This technology is provided by niche vendors like
IDScan.net
,
TTITechnologies
,
PassportScan
.
RFID technologies
are used in contactless key cards and mobile devices. This technology allows guests to unlock the door to their rooms using an app and the Bluetooth connection on their smartphones. Some of the solutions, like
Flexipass
, unite the mobile check-in with RFID access.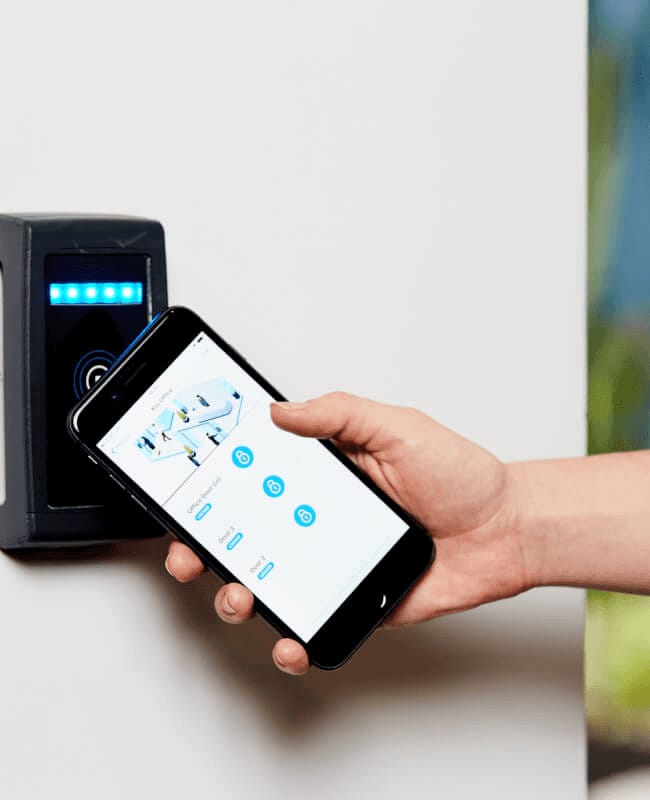 Digital key application. Source: Kisi blog
Which types of hotels need it:
small hotels, apartments and apart hotels, hotel chains, large independent hotels, resorts.
Smart Room Technology
Driven by digital transformation, hotels integrate more Internet-of-Things technologies to improve the guest experience. These integrations allow for room climate-control, entertainment, and even better catering. Max Starkov mentions integrations that allow guests to synchronize their own streaming media accounts with the room's TV, manage the room through voice personal assistants like
Alexa for Hospitality
, and even customize coffee orders via applications.
Button Barista App
Such technologies can be integrated via Guest Room Management Systems, which have multiple functions like:
Electric energy control
Lighting control
Climate control
Room service request facilitation
Entertainment personalization
Key vendors and systems:
Schneider Electric
,
Interel
,
Johnson Controls
,
Smart Room
, Smart Buildings (
Smart Hotel
),
Alexa Hospitality
,
Google Home
.
Which types of hotels need it:
hotel chains, large independent hotels, resorts, boutique hotels.
Communication management
This category of integrations facilitates communication between guests and hotel staff via messaging. This category includes frictionless messaging communication solutions like
Zingle
and
Whistle
.
They allow guests to communicate with the front desk, maintenance, housekeeping, and room service, and the issue resolution technologies that help hotel staff solve problems that arise during a guest's stay.
Guest feedback form. Source: Flexkeeping
Issue resolution technologies are also known as complaint management software. These solutions allow guests to inform hotel staff about disruptions and incidents, while the staff can log this information and solve the problems. Both types of solutions are available in mobile and desktop versions.
Key vendors and systems:
Flexkeeping
,
Guestware
,
Knowcross
,
Runtriz
.
Which types of hotels need it:
large independent hotels, hotel chains, resorts.
Final word: a few bits of advice implementing third-party service systems
No matter how large or small your hospitality business is, evolving technologies drive you to change. As Max Starkov explains, the number of required integrations and APIs is growing, and he forecasts that just in 5 years a full-operating hotel would need approximately a hundred API integrations. When you decide which third-party system to implement:
Take guest needs into account. Obviously, there's no point deploying room service technologies if your guests are struggling with check-in or experience permanent online-booking issues. Triage – Implement the most necessary technologies first.
Choose solutions by the vendors your PMS provider cooperates with.  "The biggest problem for any PMS company is to rethink their API strategy and tech stack," says Max. So, some vendors cooperate with third-party providers with solutions built on similar tech stacks.
Use cloud PMS. If you're thinking of changing a hotel PMS or planning to switch from a legacy system, choose a cloud solution. These solutions are more flexible and supply smoother integration with third-party services. They require less time and technical capabilities to install and upgrade. Also, they are usually available both in desktop and mobile versions.