Businesses must always analyze the ways they operate and interact with customers to stay afloat. While methods for upgrades differ, the goal remains the same: be more efficient and, at the same time, exhaust fewer resources.
Transportation companies can achieve this goal through logistics management. This practice usually entails the selection of the right vendors for cargo shipping and choosing optimal delivery methods. Business players also evaluate the most effective transportation routes and deploy the newest IT solutions to handle internal operations.
Route optimization is one of the components of logistics management. Based on the analysis of GPS and online map data, it helps transportation businesses ensure fuel efficiency and streamline shipping speed.
This article describes how businesses increase their performance by reorganizing goods delivery, developing Internet of things (IoT) solutions, and modernizing service booking and cooperation workflow for both customers and vendors.
On-Road Integrated Optimization and Navigation (ORION) research project by United Parcel Service (UPS)
UPS, the American package delivery company and supply chain solutions provider, perches on the cutting edge of technology development, which explains its impressive market presence for more than a century.
The company's global ground delivery volume is 20 million packages and documents per day. 
UPS's official stats
 place their volume of nationwide ground delivery at about 50 percent of the global volume. UPS employees make about 100 delivery stops each business day. Understandably, the company was looking for ways to provide drivers with the most efficient delivery routes in distance, time, and fuel consumption. In 2003, it started developing
ORION
, a route optimization system.
Five years later, the company installed GPS tracking equipment and vehicle sensors on delivery trucks to gather and analyze data related to vehicle routes, vehicle utilization, and driver behavior. Data from drivers' mobile devices were also studied. The UPS leadership's goal was to determine "where efficiencies can be improved."
The first major deployment of ORION was in 2013, and as of late 2016, the system was completed.
Based on a complex algorithm about 1000 pages long, the system analyzes a vast amount of historical and real-time data to evaluate the optimal routes for drivers. The data includes the day's package deliveries, previous route performance, demands for pickups and drop-offs, pickup times, traffic, and other metrics. From the UPS employee point of view, ORION is a better version of GPS because the data it uses is customized for their needs.
ORION allows the company to reduce fuel consumption to 10 million gallons per year, which is about $50 million in savings. Another positive effect is that fuel savings also reduce carbon dioxide emissions that their vehicles are infamous for.
Drone delivery programs by Chinese eCommerce giant JD.com and Amazon
In 2016, a Chinese eCommerce company
JD.com
 launched a drone delivery system it started developing in October 2015.
JD.com started testing package-carrying drones during Singles' Day. That's the world's largest online shopping festival whose sales reached $25.4 billion in 2017, leaving the US Black Friday and Cyber Monday sales far behind.
Four drone bases were opened in rural areas outside of Beijing, Jiangsu, Shaanxi, and Sichuan to give their residents the opportunity to join the global shopping event. The company also hired nearly 300,000 "village promoters" to simplify and speed up shipping. They take orders from regional delivery stations and distribute them directly to customers.
JD
owns
more than 30 drones that can transport packages weighing from five to 33 pounds (15 kilos) for a distance of up to 31 miles (50 kilometers).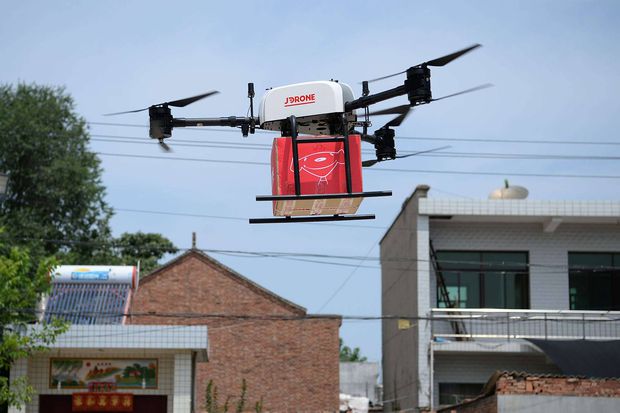 One of JD drones in action
The eCommerce giant continues developing its drone delivery program, facilitated by the government, in particular the state's aviation authority.
Earlier this year, China's Civil Aviation Administration allowed the large-scale trial of delivery drones under the national pilot program. The program will be carried out in the northern province of Shaanxi and entail the building of such facilities as a cloud computing center and a drone center. JD
will also develop
a 300-kilometer low-altitude drone logistics network with hundreds of routes and build heavy-load drones able to carry more than 1 metric ton or 2204.62 pounds.
JD vice president Xiao Jun said the online retailer plans to make this type of delivery standard in two years.
Speaking at the World Economic Forum in Davos in February, CEO Richard Liu
revealed
that the company plans to build a drone network with more than 10,000 drone airports across the country. These measures will allow for cost reduction of
up to 70 percent
and help deliver packages within 24 hours to any place in China.
Richard Liu also noted the company aims to expand services to rural areas by building 185 airports in Sichuan province.
The US is a step behind China, where the drone delivery initiative didn't face regulatory roadblocks. However, companies like Amazon hope to get the approval from the Federal Aviation Administration (FAA) so Amazon can present new air delivery
by 2019
.
Amazon reported a
package delivery trial
in December 2016, three years after it first announced plans to develop Amazon Prime Air delivery system. It took 13 minutes for an automated drone to get a "TV streaming stick and a gag of popcorn" to a customer living near the retailer depot, located in Cambridge, UK.
The company tests a package-carrying drone in the countryside.
A drone can transfer a package weighting up to five pounds (2.26 kilos), which is the average weight of 
86 percent
of deliveries among the company customers.
The retailer claims drone delivery brings great opportunities for customer service enhancement and cost reduction. With the target shipping cost of $1 and delivery time of 30 minutes or less, this pronouncement sounds reasonable.
Sense-and-avoid technology
and redundant (spare) components ensure safety for both package and drone.
Delta's Radio Frequency Identification (RFID) baggage tracking technology
For companies whose annual customer base amounts to dozens of millions of people annually, it's especially important to make each of their clients feel that he or she is the recipient of personal attention. Executives of 100 airlines surveyed by
Sabre and Forbes
in 2016 prioritize customer experience. For example, 61 percent of them believe it's the primary brand promise. In turn, 52 percent of respondents note that outdated IT infrastructure is a hurdle to customer experience improvement.
Delta, the second largest air carrier in the US,
ranked the sixth among the most innovative travel companies
by
Fast Company
magazine this year. The airline's technical solutions aimed at leveraging airport experience explain the high rating.
The airline that handles 120 million bags every year was the first in the US to introduce a game-changing Radio Frequency Identification (RFID) baggage tracking technology in 2016. The program has replaced barcode hand scanning and allowed passengers to track the location of their luggage in real-time without having to input a tracking number.
In 2017, that technology was deployed globally. The airline installed more than 4,600 scanners in 344 locations around the world and embedded more than 3,800 RFID chips into bag tags.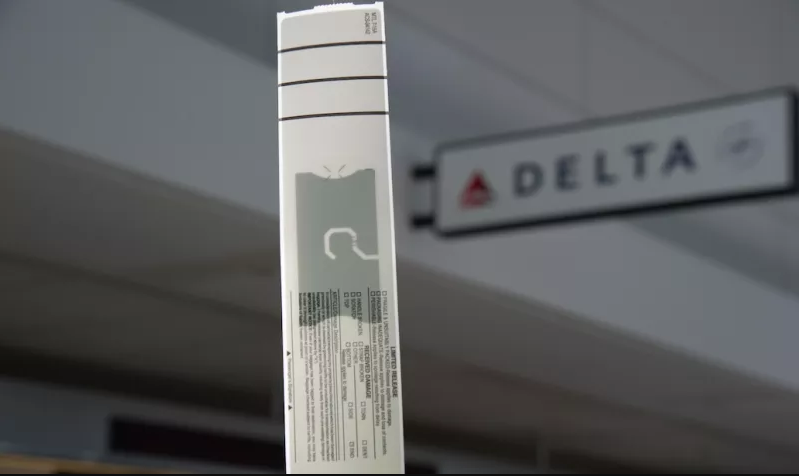 Delta bag tag with embedded RFID chip
The $50 million investment works well for everyone. First, technology simplifies the work for baggage handlers: belt loaders are equipped with sensors showing a green light if a bag is being loaded on the correct plane. Second, RFID saves the airline money it previously spent on compensation because of luggage being lost or mishandled. And finally, customers feel secure about their luggage. The Delta Fly app sends push notifications to smartphones about bags' current location.
With RFID, the airline track bags with 99.9 percent success rate.
A study conducted in 2016 by the International Air Transport Association (IATA) and IT provider for air transport industry SITA
reveals
that deployment of RFID technology could reduce the number of mishandled bags by up to 25 percent by 2022. Efficient baggage tracking can also help the air transport industry save more than $3 billion over the next seven years.
Innovation path of Maersk, container shipping company
Unlike such sectors as eCommerce or airline transportation mentioned above, global freight shipping has been an innovation outsider for a longer time. Even today some companies operate in an old-school way doing lots of paperwork and managing vessels with no sensors installed.
There are exceptions, of course. Danish company Maersk, the world's largest container shipping company operating since 1904, is focused on the use of digital technologies to maintain its leading position within the industry. Maersk transports 12 million containers every year on its 630 ships, which amounts to 18.7 percent of the global container fleet.
While such a large fleet provides beneficial scalability, it requires data-driven maintenance, according to company leadership.
There are other challenges Maersk and other container shipping companies have to deal with to ensure profitability. The industry is growing slowly: 11 out of 12 global companies announced large losses in 2016. Multinational companies tend to build local factories to save on long-distance shipping, leaving business players with fewer opportunities to earn revenue. Freight shipping companies also
struggle with overcapacity
as the actual supply is 20 percent greater than demand. For instance, Maersk specialists
discovered
that moving empty containers costs the company $1 billion a year, apart from expenses on their tracking.
The Danish company has created their Advanced Analytics Team to tackle these issues. The team's big data projects were aimed at providing predictive maintenance of ships, ensuring the efficient use of containers, and optimizing vessel routes and speed. The team also had to solve the problem of high fuel consumption, since overall fuel expenses amount to half of all operating costs. The data-driven strategy allowed Maersk
to increase sales
by 11 percent and reduce fuel usage by more than 13 percent between 2012 and 2014.
The company continued its big data journey. In 2015, they equipped containers with sensors for tracking their location and contents. With port terminals loading and unloading containers to ships more easily, they could depart to a destination faster. For instance, crane operators use the sensor information to stack containers on vessels more efficiently.
In 2016, Maersk partnered with Alibaba as a response to
Amazon's ocean freight forwarding initiative
. The eCommerce giant started providing retailers with a cargo space booking service on the logistic company's vessels. The transportation company also launched a
Maersk Line mobile app
allowing its customers to manage and track their shipments, as well as check schedules.
Besides facilitating delivery planning and cargo tracking, apps by shipping companies can simplify service booking procedures. AltexSoft recently developed a
product aimed at automating service booking and management workflow
for an Australian shipping company. The development team built a delivery constructor that allows clients to configure their service order, calculate its price and book it. A simplified booking procedure streamlined back-office processes and enhanced customer experience.
Maersk strives to develop its digital initiatives. Recently the company announced 
plans to develop a joint venture
with IBM. The solution will be a global trade digitization platform utilizing blockchain technology aimed at providing "more transparency and simplicity in the movement of goods across borders and trading zones."
Conclusion
Successful business players have realized the importance of analyzing real-time and historical data when looking for ways to improve existing operations and provide better service.
Data utilization underpins the work of route optimization software, drone delivery systems, and equipment maintenance systems.
At the same time, sharing information with customers is also crucial. Airlines keep travelers informed about every stage of their trip, which helps win the trust of new customers while maintaining the loyalty of existing ones. Shipping companies engage with clients in new ways providing apps for cargo tracking and booking services.
While solutions differ, their goals are similar: to digitize paperwork, use insights from analyzed data to cut resource consumption, and increase operational transparency.
If you plan to improve your company's performance, consider solutions regarding:
fuel consumption optimization
asset tracking.
The control over resource consumption and the technical state of equipment, as well as the evaluation of the most efficient routes, can be achieved with software tools (e.g. 
fleet management software
) and hardware tools, like the IoT — connected physical devices collecting and sharing data. Finally, data analysis is a necessary component of any digital transformation.
---
To learn more about how digital transformation reshapes different industries, see other articles from the series.