Logistics or managing the flow of things from the point of origin to the point of consumption is the backbone of almost any business. If you have a physical product, somehow you must deliver it to your end customers. And they are unlikely to live next door.
In the era of globalization, sellers and buyers are typically separated by long distances, state and national borders, and oceans. Bridging distances between sellers and buyers typically involves different means of transportation, tons of paperwork, and multiple parties. What's worse, because these parties are frequently strangers to each other, there may be a lack of trust.
Companies employ
logistics management software
to automate some operations and processes along the way. However we can't but agree with Sukhi Jutla, co-founder of
MarketOrders
blockchain platform, when she states,
"In many cases, the logistics and transportation industry doesn't have a full, end-to-end digital footprint."
She further explains that at touchpoints where goods and products are handled in person
"human errors and issues of trust can occur."
This challenge can be addressed by using the blockchain technology that offers businesses a totally new approach to logistics and entire
supply chain management
.
Blockchain logistics: discussing opportunities and benefits
In simple terms, blockchain is a chain of blocks used for recording transactions. Initially invented as the digital ledger for the first decentralized cryptocurrency Bitcoin, the technology proved beneficial for many industries, including
fintech
,
travel
, insurance, and more.
The unique advantage of blockchain is its capability to resist modifications and ensure end-to-end transaction transparency. The ledger is an "append-only" structure, so once added, a record can't be changed or deleted. It allows users to trace the product through the whole supply chain, starting from its origin.
What specific transportation and logistics issues can such an approach resolve in the first place? As explained by Jeff Stollman, principal tech consultant at
Rocky Mountain Technical Marketing
,
"Blockchain gives the opportunity to provide a single-source-of-truth record of all the touchpoints and documentation that occur as an asset is transported from A to B by any number of carriers.
This can include customs documentation, tariff records,
bills of lading
and even incorporate information on sensors such as temperature, humidity, etc.
" Consequently, both shippers and receivers are able
"to track the location and condition of their shipments all along the way."
In addition to Jeff's comments, Maksym Babych, CEO of
SpdLoad
emphasizes the following logistics improvements promised by blockchain:
enhanced traceability and security. No records can be lost, destroyed or replaced. On top of that, a blockchain-based system eliminates the risk of documents or goods being stolen through fake identifiers;
safer and more transparent transactions, leading to increasing trust among all parties involved; and
less manual work and no delays in paperwork. Thanks to smart contracts (self-executing contracts with the terms of deals written directly into a program's code), all the agreement conditions can be fulfilled by machine, without any human intervention.
It's worth noting that currently the international transportation industry still relies on paper legal documents and electronic data interchange (
EDI
) technology for exchanging digital messages — the set of protocols from the previous century that can't provide real-time information. On top of this, shipping parties often have to transmit documents via email, fax, or courier. In the ideal blockchain world, all these time-consuming and error-prone processes will be digitized and automated, with every step verified and forever documented in the decentralized ledger.
Blockchain applications in logistics and transportation are mostly in their pilot phase today. There are many issues to be overcome before widespread adoption of these apps and systems becomes a reality (and we'll talk about key obstacles later), but some solutions are already generating value for the industry. Below, you'll find examples of how blockchain is addressing logistics problems right now.
Container shipping: Maersk and Port of Rotterdam bring transparency into global trade
Maersk, the world's largest container company, introduced the first blockchain-fueled shipping platform called
TradeLens
in 2018. The Danish shipping giant that has approximately
20 percent
of the global market share created its advanced solution on top of IBM Blockchain Platform, which in turn uses the open source
HyperLedger Fabric
codebase from the Linux Foundation.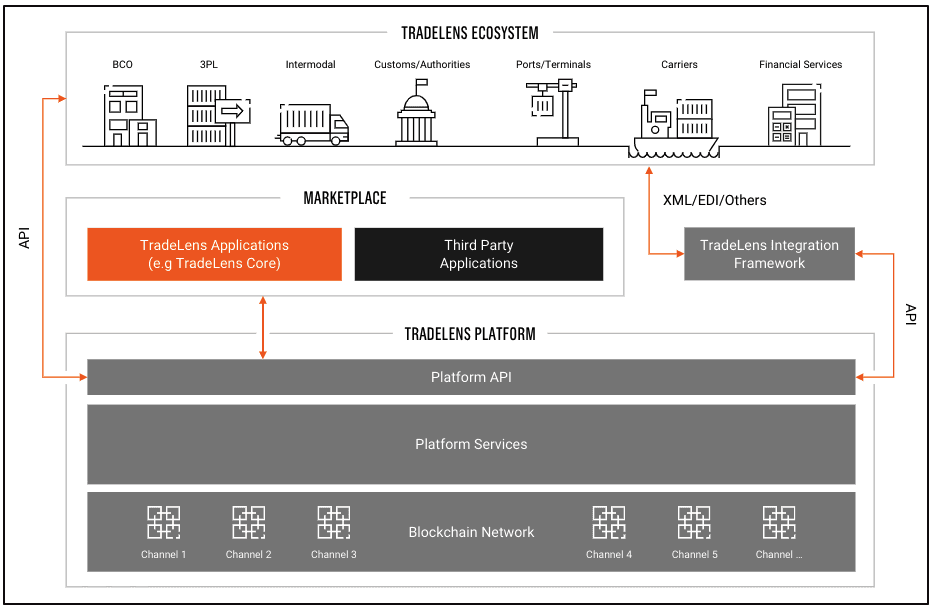 TradeLens platform architecture. Source: TradeLens
Companies can integrate their existing in-house systems with TradeLens through open
APIs
and seamlessly connect to multiple supply chain partners, exchanging real-time data and electronic documents across all parties involved in the shipment process. Participants can create channels or separated ledgers of transactions. It allows members to show their special terms or prices only to specific partners, preventing the sharing of this data with competitors.
As for the end of 2019, over 100 organizations, including large ocean carriers, joined the platform, representing nearly 60 percent of global container freight.
Another blockchain initiative in the field of container shipping was introduced by the
Port of Rotterdam
. Europe's largest and busiest port in partnership with ABN AMRO bank and Samsung SDS launched the blockchain-based, industry-neutral platform called
DELIVER
. The goal of the project is to optimize both physical and financial processes in the supply chain. In July 2019, the platform enabled the first completely paperless, end-to-end tracked shipment. Two containers successfully delivered cargo from South Korea to Tilburg in the Netherlands via the Port of Rotterdam.
Freight invoicing: DHL Global Forwarding focuses on one-off orders
While Maersk and other shipping giants strive to create the end-to-end supply chain system,
DHL Global Forwarding
, an air and ocean freight division of the world's largest logistics brand, invests in solving a more specific issue. Since July 2019, the industry leader has been collaborating with
Hewlett Packard Enterprise
to build a blockchain app eliminating errors in one-off orders — or requests for shipments lying outside a standard freight contract.
Testing the
minimum viable product
(MVP) proved that among other benefits technology could dramatically simplify the approval process, ensure 100 percent invoice accuracy, and minimize manual interventions. Now the freight giant is looking forward to expanding the use of the solution.
Food supply chains: Nestlé, Unilever, and Walmart ensure the safety of their products
When it comes to food supply chains, things get even more complicated because of the perishable nature of edible products. And that's where unrivaled traceability offered by blockchain can support good health and save lives — in addition to time and money. According to the World Health Organization (WHO), almost
1 in 10 people
in the world fall ill because of contaminated food, with 420,000 dying annually.
Existing regulations
oblige
food business operators to comply with a "one step back — one step forward" rule. For instance, retailers are required to know immediate suppliers (one step back in the supply chain) and direct buyers (one step forward in the supply chain). Considering that food supply chains are highly fragmented, with each company relying on its own separate software system, sellers may have no clue where their products were packed or grown. So, in the case of a food-caused disease outbreak, it is often hard and perhaps not possible to pinpoint the source of contamination.
To achieve "from farm to plate" traceability and thus enhance food safety, ten leading food producers and retailers including Nestle, Unilever, and Walmart teamed up with IBM to build the
Food Trust
network with HyperLedger Fabric at its core. Currently, the initiative
involves
more than 80 companies.
The model of a food supply chain based on the blockchain network. Source: Food Logistics
Walmart already ran two blockchain pilots — one involved tracking mangoes sold across the US, the other covered the journey of pork in China. Both trials proved the ability of blockchains to maintain strict quality control along a supply chain and reduce the time needed to determine the product's origin from a few days to a few seconds (in the case of
mangoes
, from almost 7 days to just 2.2 seconds).
Today, organizations can supply data and in that way tap into the IBM Food blockchain ecosystem for free. Fees charged for software-as-a-service modules (including tracing goods for safety) depend on company size, starting at
$100
monthly for small businesses.
Another example of blockchain ensuring food traceability is given by Chinese eCommerce giant JD.com. Since 2017, the company has been using the distributed ledger to track the journey of beef from pastures to supermarket shelves. Consumers can download the JD app, scan a QR-code on meat packaging, and learn all about the cow they are going to eat: its birthday, diet, weight, the date of its death, and even the name of its vet.
In 2018, JD
launched
an open blockchain-as-a-service platform to help other companies build their own traceable systems. The infrastructure includes an app store with ready-to-use software solutions and blockchain base layers.
Letter of Credit: Voltron accelerates transactions
Exporters operating in a highly competitive environment often have to ship their products as soon as possible — before the cargo is paid for. This situation poses high risks for sellers who usually don't know their foreign buyers personally. To guarantee that the payment will be released on time and in full, international traders employ a Letter of Credit (L/C) or Documentary Credit (D/C), a multi-step transaction that involves at least four parties (the buyer, the importer's bank, the exporter's bank, and the seller) and numerous time-consuming procedures.

Documentary credit issuance flow. Source: Paiemontor
The paper-based L/C process usually
takes
5 to 10 days. With blockchain, the execution can be reduced to less than 24 hours. This was borne out by the Voltron platform for trade finance, founded by 8 member banks and built on the Corda blockchain codebase.
Apart from Letters of Credit, Voltron is going to simplify other time-consuming trade finance processes such as sanctions screening and resolving of discrepancies. The platform welcomes other parties to join their initiatives via open APIs.
Proof of delivery: carriers and shippers are welcome to benefit from Ethereum smart contracts
A proof of delivery (PoD) is an important step in the logistics. It confirms that the product was transported to its destination safely and accepted by a recipient. Some companies still require a receiving party to sign paper forms. Others use PoD software to capture IDs and electronic signatures. In any case, there is lots of room for improvement in terms of transparency, credibility, and cost-effectiveness. And this is exactly what blockchain can offer.
One of the existing blockchain-fueled solutions focusing on proof of delivery visibility is
OpenPort
, an open enterprise logistics platform for retailers, carriers, and shippers. Its electronic ePoD system employs
Ethereum
, a public blockchain platform with smart contract functionality. This allows for real-time tracking of delivery events, streamlining payments, documenting transactions in immutable records, and protecting them from external threats — like errors, frauds, hidden fees, or cyber attacks. OpenPort easily integrates with existing EPR systems and third-party services (GPS providers, temperature sensors, and other IoT devices) via APIs and plugins.
Key issues of supply chain blockchain adoptions
The combination of blockchain and supply chain is often described as a perfect marriage or a match made in heaven. Yet, this perfect couple still has a long way to go before it can become really fruitful. The technology is in its childhood (keep in mind, that it's only 11 years old), and we don't quite understand its real capabilities and limitations. Below, we list the major challenges of blockchain adoption and try to figure out how some of them can be resolved. Our conclusions are based on the opinions of experts we've mentioned earlier in this article.
Fragmented software.
Companies often rely on isolated systems, responsible for different operations and using different types of data storage. To effectively incorporate blockchain into your existing business flow, you need to connect all data silos and in most cases even to re-architect the entire IT ecosystem.
The high cost of deployment.
This drawback stems from the previous one. Sukhi Jutla from MarketOrders acknowledges that the upfront costs of the technology deployment "
could prevent small players from participating"
while
"the biggest players could create their own blockchains and charge high fees to be part of this."
The lack of industry-standard solutions.
"Each player creates its own version of a blockchain solution,"
Jeff Stollman explains, "
Each of these blockchains is structured differently. There is no standardization to promote interoperability (it is too early for standards). This will create winners and losers. Some blockchains will survive and others will lose out. Investing in the 'wrong' blockchain will cause some firms to lose much of their investment in one blockchain as they migrate to another. And this is likely to occur several times given the size of the global transportation/supply chain industry."
Currently, three shipping leaders (and competitors) — FedEx, DHL Express, and UPS — are working together on
developing
blockchain standards that can be implemented across the industry. All three are members of the Blockchain in Transport Alliance (BiTA), that unites over 500 freight, transportation, and logistics companies from 25 countries to encourage the adoption of blockchain applications.
Limited ecosystem.
Even if your company is ready to employ blockchain, you can't unleash its full potential before a large number of other organizations — from government institutions to major industry players — build relevant technical infrastructures. And this won't happen overnight for many reasons. Not all companies are willing to share their data, some of them don't understand the value blockchain can bring, and others resist the very idea of decentralization.
Governance problem.
This vexing issue prevents many businesses from joining the blockchain community.
"Who makes rules? Who owns the data? How do I keep my competitors from seeing 'my' data? What is the process to approve updates and changes that will certainly occur?"
Jeff Stollman contemplates governance in blockchain,
"These are political issues that require painstaking negotiation and trade-offs."
But let us end on an optimistic note. In spite of all challenges and institutional resistance, the potential of the technology to transform industries for the better will keep it moving forward. Blockchain entrepreneur Michael Yuan from
CyberMiles
and
Second State
asserts that we are already witnessing how
"blockchain is moving from just another IT solution to an ecosystem builder. The geopolitical implications of this evolution are indeed far-reaching."