Helpful articles:
About Transportation Technology
Transportation is one business area that can both drive and sink all other sectors. Retail, healthcare, finance, travel – all are heavily influenced by technology in transportation. So, fixing logistics problems should be a priority for all businesses that handle shipping or delivery. Use this platform to chat with logistics professionals, learn about the advanced systems and software, and take part in conversations that concern the industry professionals.
I would like to know the key features of DMS for restaurants. When taking for a delivery management system, what are the key points to be consider for having DMS for a restaurants online food delivery operations, and how DMS helps in to make delivery operations smoother?
The main benefit of freight forwarding software is to manage all operations related to freight forwarding. It digitalizes freight businesses. Manage operations like finance, supplier, sales, etc under a single software.
Freight software help reduces the paperwork and backup data, creating final reports, etc. The freight forwarding software has great potential to manage overall freight forwarding services and reach the business's high profit.
In traditional freight companies store their important data in the files. Freight forwarding software like Bridge LCS provides a complete software solution and It can store all the data from the shipment origin to the final distribution. It can generate reports, invoices anywhere at any time.
Freight forwarding software that helps to manage freight forwarding and assists the freight forwarders in the creation and maintenance of jobs, and also helps to tracking consignments, handling finance and payroll, and more under a single software.
There are so many key features in Freight management software, Some of them are Live Shipment Tracking, Customized invoices, Single Touch Report, Multi-Branch.
Bridge LCS is the best freight forwarding software solution. It automates all operations related to freight forwarding, logistics,  customs clearance, warehousing, road transportation, sea freight, and air freight. The logistics software is now available across the Middle East, India, and Africa.
Bridge LCS is an ISO 25000:2014 CERTIFIED logistics & freight software. With Bridge LCS, no need to invest more money in secondary software. It's fast, secure, and easy to handle.
They provide secured backup at 3 different servers with data confidentiality and security. And also provide Free Demo.
Here's a brief selection of major freight forwarders and shipping providers with their own software:
Damco International. Damco is a subsidiary of Maersk, one of the world's largest shippers. Damco has an application suite to manage freight forwarding.
Kuehne + Nagel is one of the top logistics companies. It offers the KN Login system that supports delivery tracking, operations management, collaboration tools, and business intelligence.
Freightos is an online digital freight forwarding marketplace. It connects carriers with anyone needing to ship their cargo. You get instant booking, rates comparison, and delivery tracking.
uShip is another shipping marketplace connecting both shippers and carriers. It uses a bidding system to match a shipping job with a provider.
Easyship is an eCommerce-focused shipping platform with connection to various shipping solutions like DHL, FedEx, TNT, and others. It gives visibility to different couriers, allows businesses to integrate their eCommerce CMS with shipping providers out of the box.
Hi there,
Vehicle maintenance is one of the key modules of fleet management software, as discussed in our article. If you're reluctant to invest in fleet maintenance solutions, here are a few options that won't cost you a penny.
FleetVIP. Its maintenance features include predictive due date technology with customizable alerts, fleet maintenance service history, maintenance scheduling, and vehicle data import. You can download FleetVIP's free version right from their website.
Whip Around. It's a mobile inspection platform that makes DVIR management easier. The app enables designing and editing inspection forms as well as monitoring compliance and maintenance costs. Maintenance records can be easily exported to management or government departments. With real-time email alerts, managers can quickly react to vehicle faults reported from the field. Whip Around is free for one asset in a user account.
AUTOsist.  Free for one user with one vehicle, AUTOsist lets you track and document maintenance completion, make checklists with repair notifications, and set push maintenance notifications and email reminders.
Odoo. Its "one free app" model lets you use a single Oddo app of your choice for free. They offer a fleet operations and management module. Use it to store vehicle history with details about its engine, tires, and battery and write off fleet vehicles with damaged parts or required repairs. It also has automatic odometer updates.
At the end of the day, keep in mind that opting for a free solution means lack of support where the rubber really meets the road. Paid software offers more features. So eventually, you'll have to lay out some cash.
Yes, the market for logistics management solutions is pretty big, and there are applications with an open-source nature. To name a few:
All the products mentioned are platforms that can be integrated with existing systems via API. These tools use command dashboards to track shipments and view analytics. With Zoho Creator, it can be done both on desktop and mobile.
We hope it answers your question!
A cloud-based WMS is a warehouse management system hosted on online servers (in the cloud), and handles the many functions of a warehouse, including, but not limited to: inventory management, shipping, receiving, dock management, picking/packing, and more.
A good example of a cloud-based WMS is 3PL Central Warehouse Manager.
There are many fleet management solution providers in the market and here I can suggest one of the leading companies called Contus that provides customizable fleet management solution to track, optimize, and monitor your fleet.
Well curated list. Here I would like to add Contus, a leading digital transformation company that provides complete customizable fleet management solution matching your needs.
Transportation management system or TMS is a logistics platform for processing fleet operations related to physical movements of freight. The main reason for implementing a TMS is to reduce freight spend.
So, how exactly does a TMS influence freight savings?
Its reporting and analytics tools demonstrate what bad and good business decisions were made. This will allow you to avoid mistakes and tap into the right conclusions in the future.
With TMS you decrease time on freight management. It gathers all shipment-related documents in one place. So once integrated into your ERP, you save time on data entry as it syncs with other cross-departmental systems like aWarehouse Management System.
TMS introduces new delivery capabilities that enable same-day and instant delivery services.
TMS delivery management, scheduling, and order tracking features ensure on-time deliveries. This results in more accurate management of the inventory at hand.
TMS is a puzzle of the logistics management system. If you have any more questions, this article may answer them.
If you realized that your fleet needs a trucking accounting software (TAS), here is what matters.
Features. TAS must be able to perform such necessary operations as:
load tracking: detailed information for each load (delivery date and time, truck info, driver details, etc).
trip reports: generate a trip report with all expenses for each load (vehicle mileage, maintenance, etc. to charge customers and pay drivers)
Income and expenses tracking like tolls, parking, fuel, etc.
IFTA tax reporting: record all the required load details to fill out IFTA reports
Pricing. Let's have a look at what's there on the market. TruckBytes offer a free plan that includes all the necessary features except for IFTA reporting. Its paid version has quarterly IFTA monitoring and is one of the cheapest - $15 a month per truck. One thing is missing though. It's a payroll solution which you'll have to integrate from outside.
Another one - QuickBooks. Although it's a general accounting solution, it's widely used in the trucking industry. Many logistics solutions integrate with QuickBooks for accounting functions. They have four pricing plans starting from $25 up to $150 per month.
However, many TAS providers don't share prices publicly. So, you'll have to contact them directly for the trade in question. For example, a highly customizable software ProTransport. Another example - RigBooks solution for small fleets. They don't share prices either, but they do offer a free 30-day trial.
Learning curve and usability. Answer the following questions to know how soon you'll be able to leverage the TAS you chose:
How fast your staff can figure out the software and start applying it in their daily operations?
Does it cause them any trouble or vice versa - cuts corners optimizing the process?
Customer reviews. Be sure to check what others say about using this solution. It might seem like a perfect fit for you from the first glance, but turn out a disaster because of poor customer support or bugs present. If the solution has a trial version - even better. Don't miss a chance to try it out before making any investments.
By the way, we have an article encompassing a full pack of fleet-related aspects under the umbrella term - fleet management software. Check it for a bigger picture.
Hi there,

A subsidiary of Ford Mobility, TransLoc is a leading provider of microtransit solutions:
If you purchase any of these products, TransLoc will provide you with APIs to integrate their solutions. They don't disclose their prices, so you can contact them directly to find out. You can fill out a contact form and they will be back to you.
If you have this question, it seems like you have a fleet to track. In this scenario, we can identify three steps:
Step 1: Install telematics devices in vehicles if you don't have them yet
Usually, vehicle location data is collected by a GPS locator. It's integrated into the telematics module which then transmits the tracking data. The image below from Exeros Technologies demonstrates it in more detail.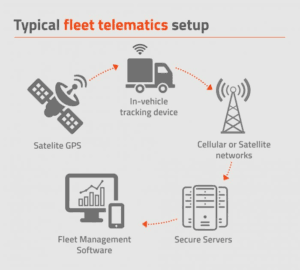 However, many companies offer telematics along with the tracking software. So, this leads us to the next step.
Step 2: Choose an off-the-shelf vehicle tracking solution or design your own
It can be a fully packed fleet management system with a routing module. Otherwise, you can look for a separate GPS fleet tracking system. Some of the best ones are:
Advanced Tracking Technologies - monitors vehicle use and driver behavior
USFleetTRacking - both hardware and software for vehicle tracking, includes live traffic and weather reporting, monitors driving conditions, starts at $29.95 per vehicle
GPS Trackit - alerts for theft and unauthorized movements, temperature monitoring, detailed reports on vehicle use and driver behavior
Step 3: Integrate the chosen software into your management system.
If you would also like to optimize your fleet's route, we have an article addressing this need.
SAP is a software company providing a system of integrated modules for every aspect of business management. But SAP isn't just another Enterprise Resource Planning software, it's number one in the ERP market.
In the context of your question, SAP transportation management aka SAP TM is a standalone module that meets transportation and logistics needs. It provides a centralized environment for end-to-end management of different types of freight (inbound and outbound, domestic and international) and orders (sales and purchase orders, returns, stock transfers). There you can track shipments, monitor logistics and fulfillment processes. If you need transportation management functionality, you can integrate SAP TM with your existing management system.
P.S. If you'd like to broaden your understanding of how logistics management works, peek at our article where we expand on it.
Cross-docking is a logistics technique through which you distribute products directly to their users. Typically, a manufacturer delivers a product to a warehouse, where it will be stored until customer demand arises – if it does. Cross-docking helps to eliminate product aging or damage by handling it immediately.
This usually happens in a hub (often a warehouse), where a truck unloads products and they are scanned, sorted, and reloaded into trucks that will deliver them directly to customers. This can happen as fast as 60 minutes or less. So, trucks arrive, each with its own type of product, and then leave, each carrying a variety of products for each customer. To make this process truly seamless, trucks and warehouses require automation technology. Today, this is the most effective method for delivering products quickly.